Citizen Jake premiered in theaters just a few days ago and already, it's garnered quite a buzz–but not for the film itself. You may already be familiar with the issues surrounding the film's director, Mike De Leon, and main protagonist, Atom Araullo, after a post that was published on Citizen Jake's official Facebook page.
Just to recap, here's an abridged timeline of the events that unfurled:
May 23: Citizen Jake officially premiered in theaters
May 25: De Leon posts his qualms about working with Araullo on Facebook
May 30: At 8:36 a.m., Araullo addresses and responds to De Leon with a Facebook post of his own.
May 30: At 1:56 p.m., De Leon responds to Araullo with another lengthy post.
In the post (which has since been deleted), De Leon writes about his disappointment from working with the first time actor, writing "I only realized later that Atom's journalism was not exactly the kind of journalism I had in mind. It's not the gritty kind but more of the celebrity-centered schlock that sometimes verges on entertainment, even showbiz. Looking back, I can see why he wanted to become a movie actor. Perhaps the journalist was really a closet movie star."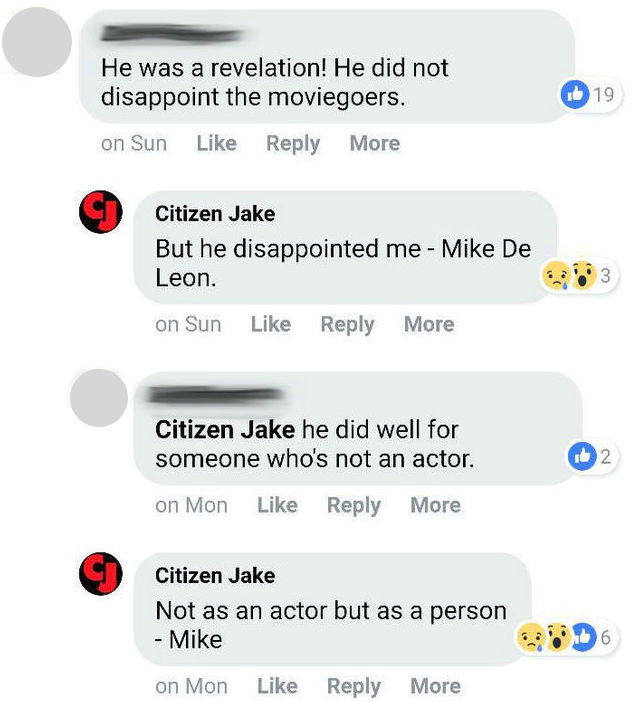 To note, De Leon was adamant about getting a "non-actor" and journalist to play the meta role of Jake Herrera, which is one reason why he approached Araullo despite his inexperience. Many questioned De Leon for criticizing Araullo and came to his defense; it was, after all, his first time pursuing a major role in a film. The director later clarified in a comment that he was not disappointed in the acting, but rather, in his character.
Initially refusing to comment on the issue, Araullo stayed silent until finally responding through a Facebook post of his own, which was published early morning of May 30.
In his response, Araullo writes, "I do not wish to besmirch Mike's reputation the way he did mine. However, I think it's important to explain that while many were shocked by his recent tirade, I was not. It was ony a string of unprovoked, irrational almost random tantrums that I had to endure during the making of this film, determined as I was to see it through."
Further saying, "Mike is a deeply troubled person. The kindest thing I can say about him is that he needs help, patience, and understanding as he wrestles with his personal demons."
Despite claiming that he did not want to "besmirch Mike's reputation," his statements may lead others to villainize De Leon who, let's not forget, is 71-years old.
Araullo also played the victim card, writing, "Mike made deliberately hurtful remarks about my journalism, which, ironically, has nothing to do with my participation in the film. All I can say is that I have never made any claims about the quality of my output or my stature in the media industry."
De Leon was quick to respond with an equally lengthy post (again published on Citizen Jake's Facebook page) just a few hours later.
In it, he starts with a somewhat passive-agressive, "Thank you for breaking your silence, Atom," but eventually escalating it to a more direct hit, writing, "But in your case, nobody is more important to Atom Araullo than Atom Araullo."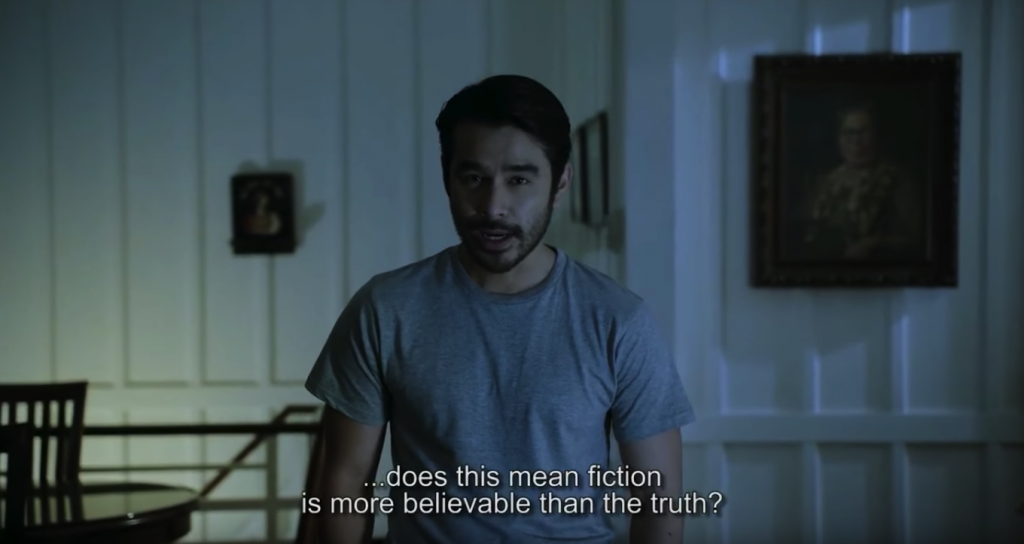 The whole issue seems to be a battle of egos. At the end of the day, only De Leon and Araullo know what really happened, but even so, are subject to their own biases. Regardless, their Facebook exchanges are sure to make great press.
Images from Citizen Jake.
Read more:
The traveling library is now at the CCP
Erwan Heussaff tries to redeem himself with a new taho video