Discovering Israel's culinary scene
You can have authentic hummus, falafel, and Israeli pastries right here in Manila (or even delivered straight to your home)
Mar 6, 2017
Israel is known as the Land of Milk and Honey, but it would never have occurred to anyone to visit the nation for a gastronomic tour.
My first trip to Israel was in the '80s. Shortly after landing, family friends whisked us off to eat a meal in a restaurant attached to a gas station. A miscellany of food was served on our table: pita, hummus, baba ghanoush, Israeli chopped salad, tabbouleh, falafel, kibbe, and shalsik. Because of this eye-opening and mouthwatering experience, our trip continued on to be a food awakening of sorts—and I have been hooked on the food of the region ever since.
In 2002, Israeli cuisine was introduced to the world because of a cookbook named Jerusalem, a celebration of both the city and the cuisine. It was a product of the collaboration between Israeli chefs Yotam Ottolenghi and Sami Tamimi, who found themselves cooking in London. The book instantly became an international sensation, with online discussion groups debating about which of the more popular dishes are better.
Although we still have to travel to London to enjoy the cooking of the Ottolenghi empire, Manila has become home to many expat Israelis who are homesick for their native cuisine—a few of them answering their demand for the taste of home, delighting the rest of us in the process.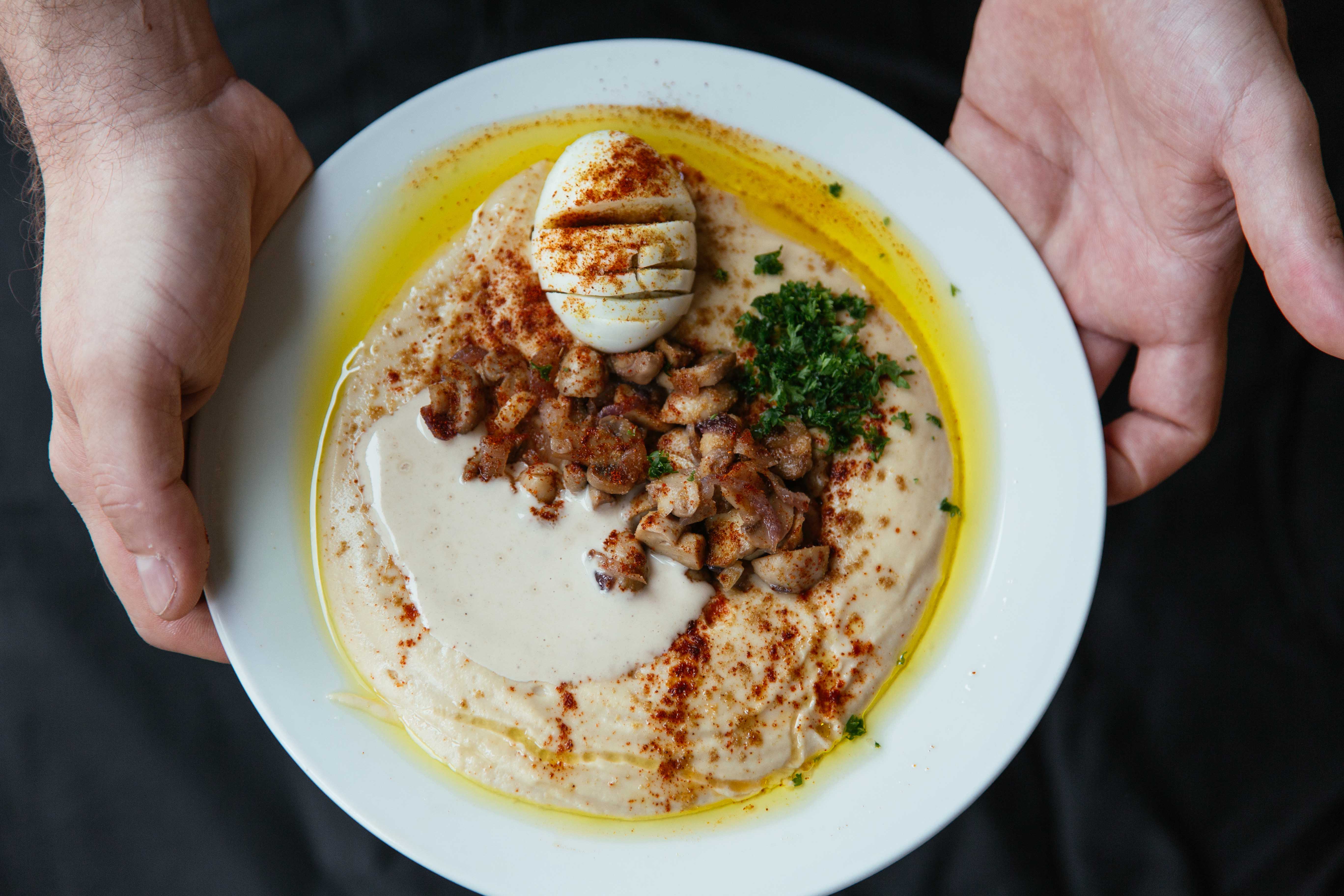 "Hummus is like oxygen for us. It can be a full meal," Eli Lapid muses. He is the owner of Hummus Elijah, known to make incredibly good hummus. He says it all began with one sit-down dinner with some friends at home. After he served a plateful of homemade hummus, encouraging comments overflowed and the idea of selling it arose. "I went after [what] my heart [wanted]," he says. Initially targeting the Israeli expat community, he now runs a brisk hummus delivery business.
Hummus Elijah offers several variants, some uncommon to most people: the creamy and smooth classic, mushroom hummus, hummus with egg, and the chunky mashawsha hummus. Each order comes with a generous serving of pita bread and even includes homemade harif, the green "spicy sauce" accompaniment known as sh'ug which will set your mouth on fire. As an Israeli friend put it, "Eli knows the secret hummus recipes of the best hummus places in Israel." Recently, to meet his customers' requests, Lapid has also started making falafel, flavorful fried vegetarian chickpea balls.
Speaking of falafel, when you crave for one, there will always be only one spot in Manila that comes to mind: Beni's Falafel. When asked about being called "The King of Falafel," Beni Levi coyly responds: "It is the falafel that is king, not me."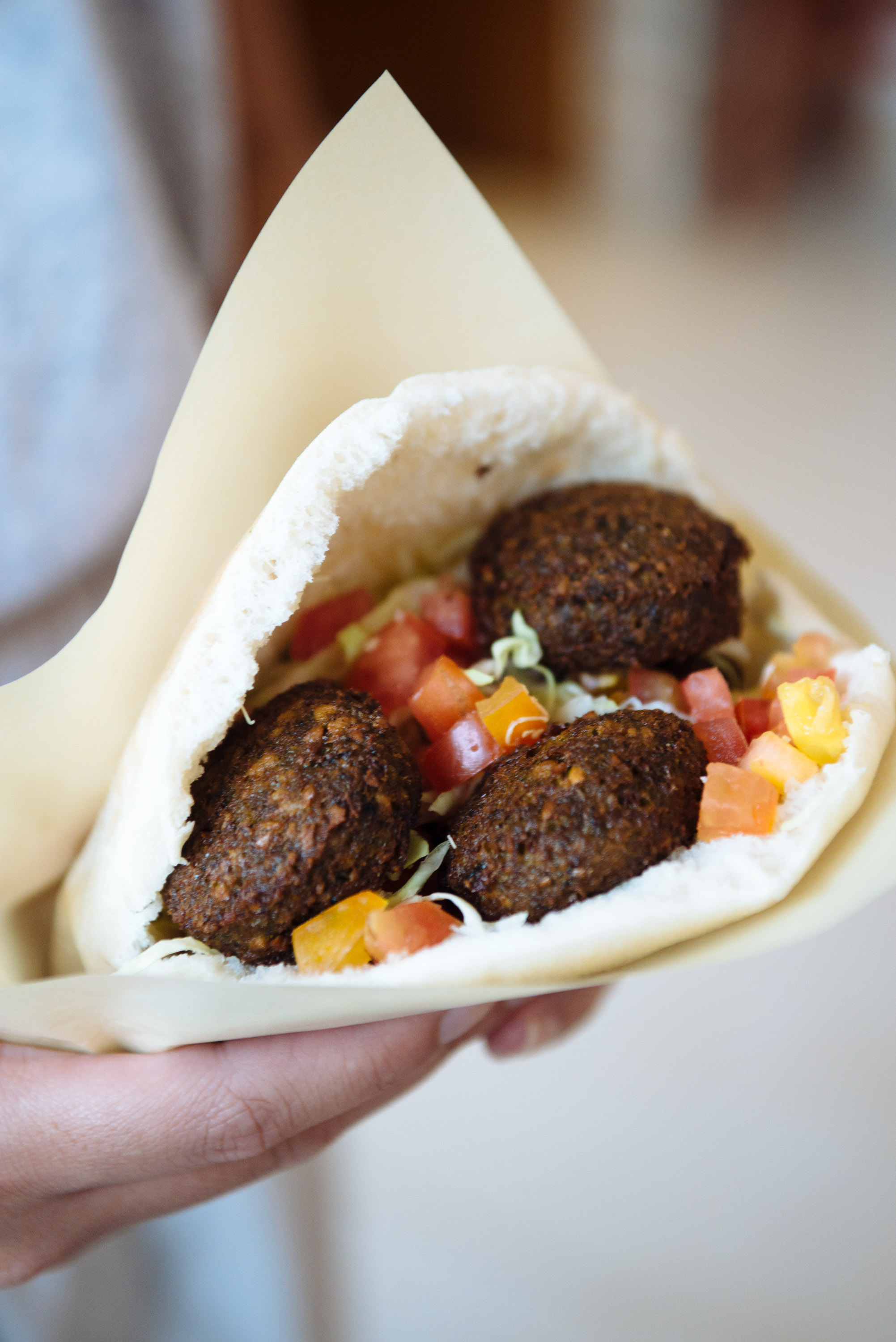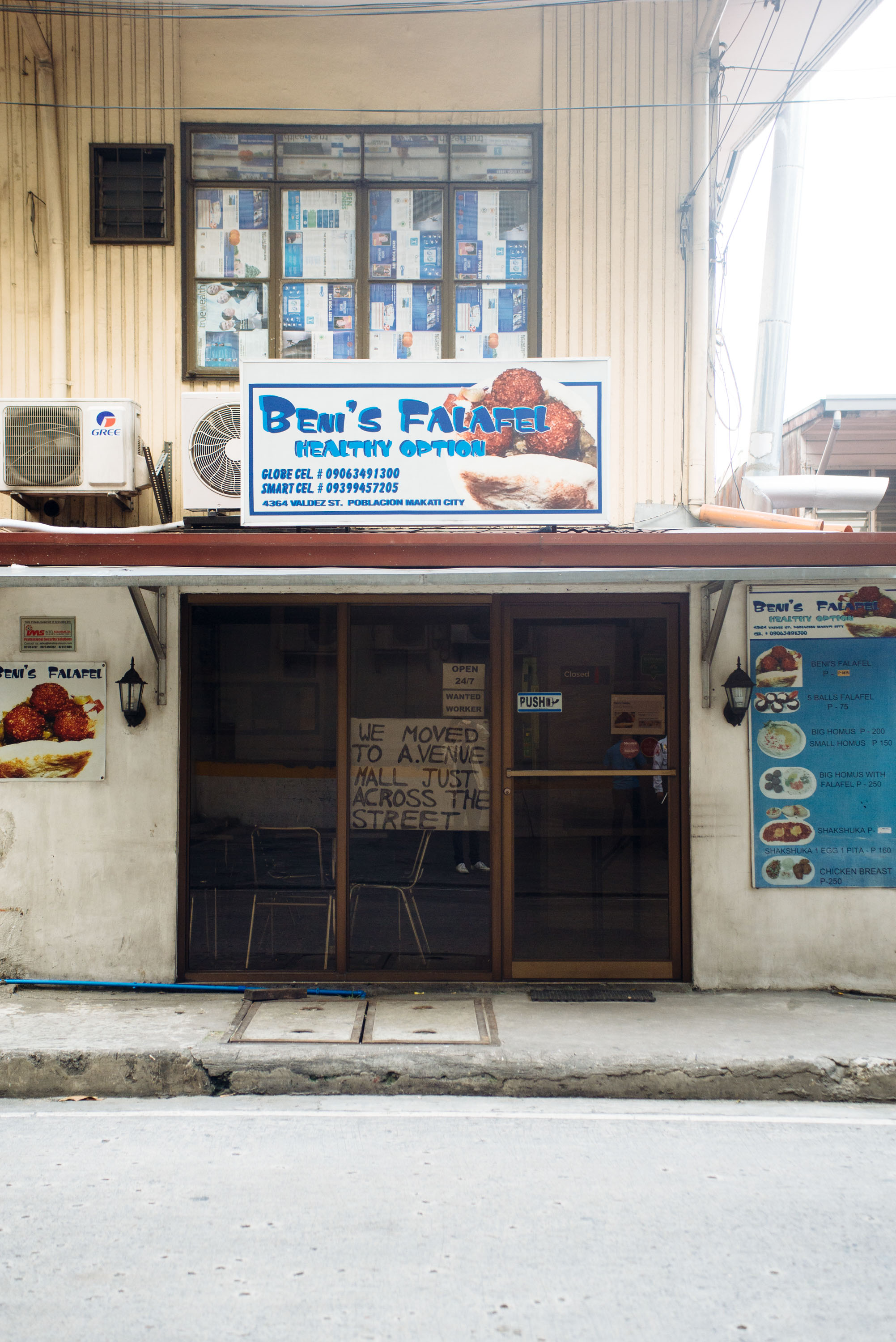 Levi has been running Beni's Falafel on Valdez Street in Poblacion since 2013. As with all good things, the word soon spread, and now, he has a shiny new restaurant in the A. Venue Mall, just across the street from his original outpost, which he plans to turn into a kosher and halal butcher shop soon. His business continues to grow. He opened a Beni's Falafel branch in SM Mall of Asia last September, with another opening in Eastwood by the end of the year. Plans for one in North Edsa is in the works.
The falafel sandwich, served with tahini, a spicy red sauce, is what Levi is famous for. However, his menu also boasts other fares such as hummus, sabich (fried eggplant sandwich on pita), schnitzel, shakshuka, and a Yemini soup.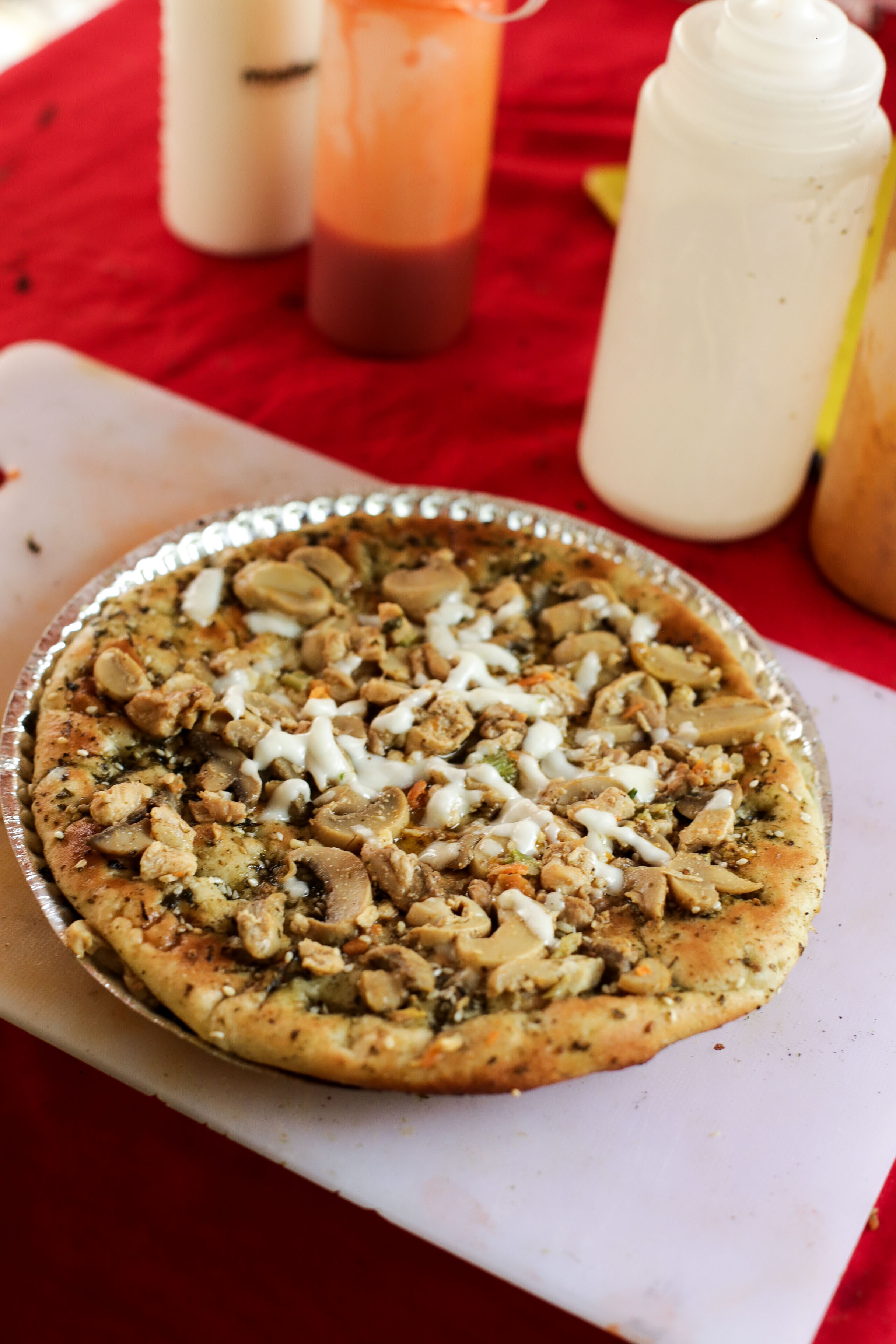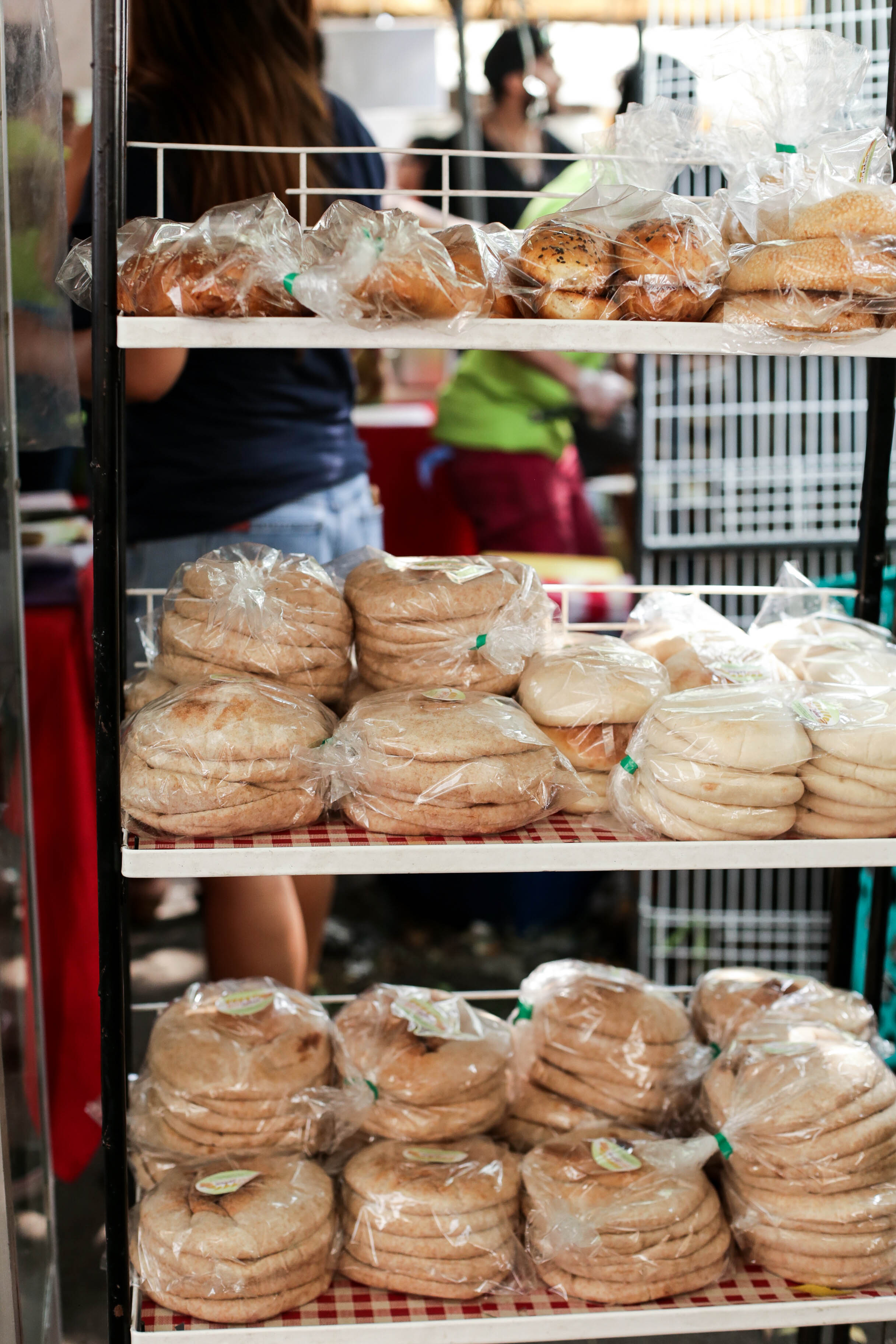 After baking in London, Spain, and of course his native Israel, Michael Tweg, nicknamed "Miki," arrived in the Philippines with his Filipina wife Cristinita and hit the ground running doing what he knew how to do: bake. Three years later, the couple and Tweg's business partner Arik Herskovitz opened Bait Lehem (Hebrew for "house of bread"). The business started as a busy delivery service supplying many Metro Manila restaurants with pita. Last year, they set up shop at the Legaspi Sunday Market where, in addition to selling a variety of Israeli bread products including their now famous pita (also available in whole wheat), Tweg also fries up falafel and serves freshly baked lahmajun to a hungry Sunday morning crowd. Lahmajun, a delicious flatbread common throughout the Middle East, is covered in ground meat and topped with tahini sauce or garlic yogurt sauce. "It's like an Israeli pizza," he explains. Bait Lehem also bakes bagels, a variety of naan, and a delicious challah, which makes for excellent French toast. They also bake traditional Israeli pastries like sambuksak, a turnover-like pastry filled with tuna, beef, chicken, mushrooms, or spinach.
It is very easy to get addicted to these delicious flavors, so it's a good thing they all deliver.
This story was originally published in Southern Living, November 2015.
TAGS: bait lehem beni's falafel falafel hummus hummus elijah Israeli Food nolisoliph pita Poblacion