This new musical is a throwback to Manila in the '70s
Eto na! Musikal nAPO tackles politics and pop culture through APO Hiking Society's music
Jul 3, 2018
In 2006, a band called Kamikazee released a song called Doo Bidoo, which became a huge hit. Every teenager sang along to its lead vocalist's raspy voice repeatedly screaming "eto na!" (here we go!) ending with a drop to signal the intro.
Only a few people may know that this song is actually a revival of a 1980 hit by APO Hiking Society. In fact, many other OPM songs popularized in the 2000s were part of an album called "Kami nAPO Muna," one of the APO's most critically-acclaimed compilations. "Pumapatak ang Ulan" by Parokya ni Edgar, "Batang-bata Ka Pa" by Sugarfree, and "Panalangin" by Moonstar88 were some of the hits that the new generation is familiar with without knowing these were actually a tribute to one of OPM's pillars.
This just proves that the APO's legacy goes back decades, which is probably why their music always finds a way of coming back to the Filipino psyche, whether through revivals by contemporary artists or in form of musicals like Eto Na! Musikal nAPO.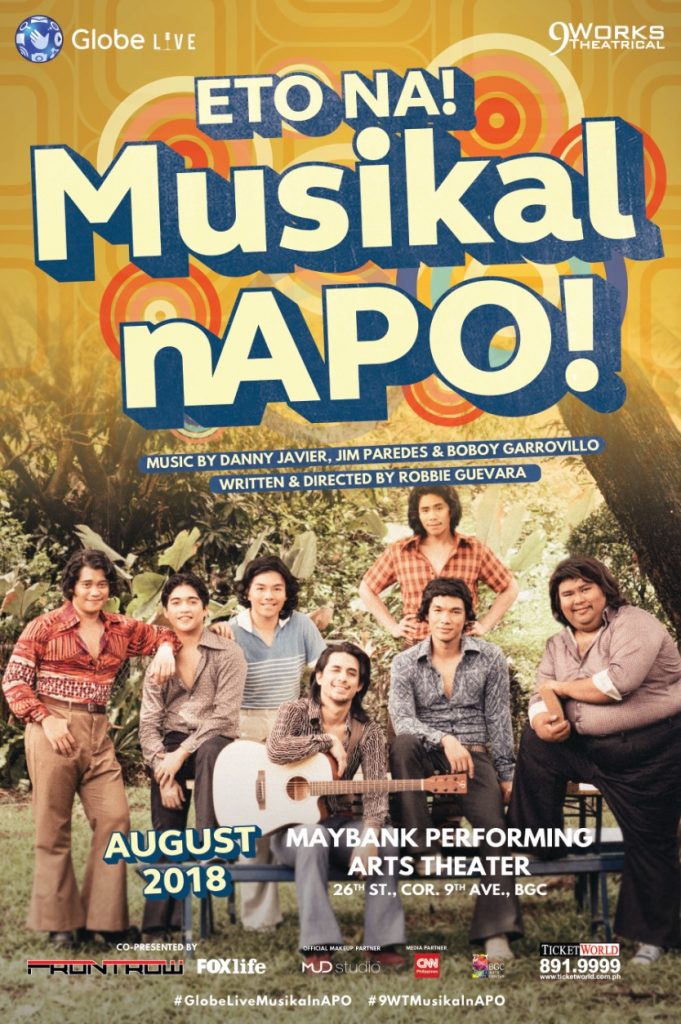 The musical written by director Robbie Guevara tells the story of a group of college friends during the tumultuous time of Martial Law in the 1970s. Set to open in August, Guevara's musical is almost five years in the making, but the original idea came to him in 2003 while he was working with Buboy Garovillo in another musical production.
Based on the story of APO?
Guevara admits that Musikal nAPO is loosely based on the story of the APO members, except for one detail. The musical stars a bunch of seven friends who ended up being three, much like how the original 15 members of the group from Ateneo de Manila High School narrowed down to its three members, Danny Javier, Jim Paredes, and Buboy Garovillo.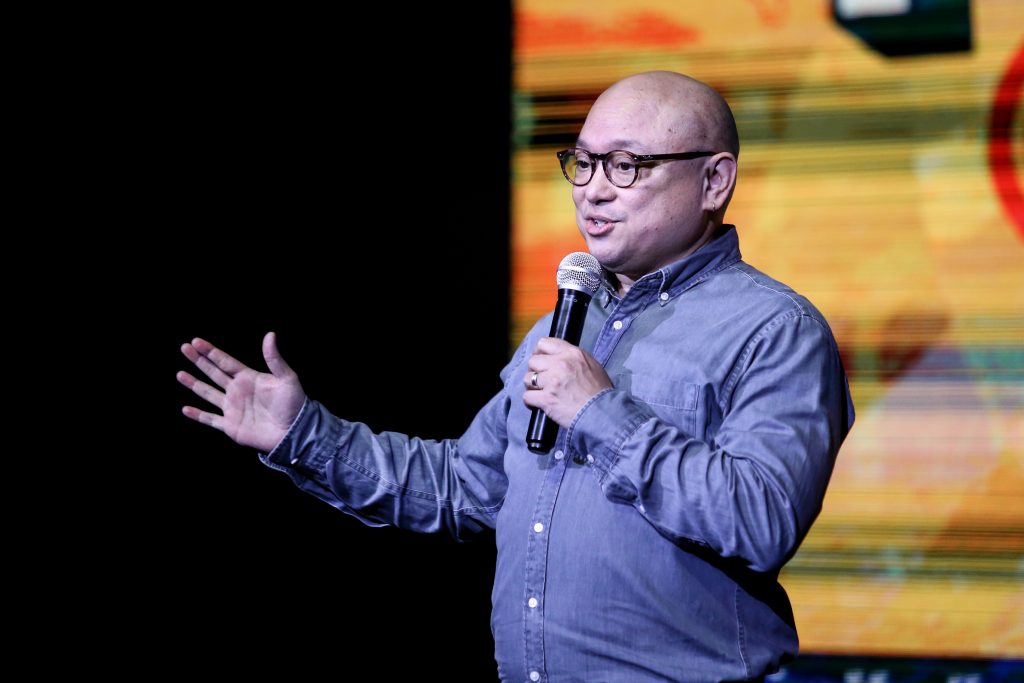 But the story centers not on those who stayed but on the four who left, led by singer and actor Mark Bautista who will play the role of Rick, the group's lyricist and who is also the boyfriend of Anna played by singer-actress Rita Daniela.
Using APO's music to move the story
Guevara with the help of the musical's dramaturg Jon Jon Martin, who he considers to be a bigger fan than he is, put together some of the group's hits into one cohesive narrative.
"We would list down all of their songs based on the circumstance but we would also like to include all of their hits. But you can't sing more than 200 songs in a musical. I suppose 15 to 20 for a two-hour show," said Guevara.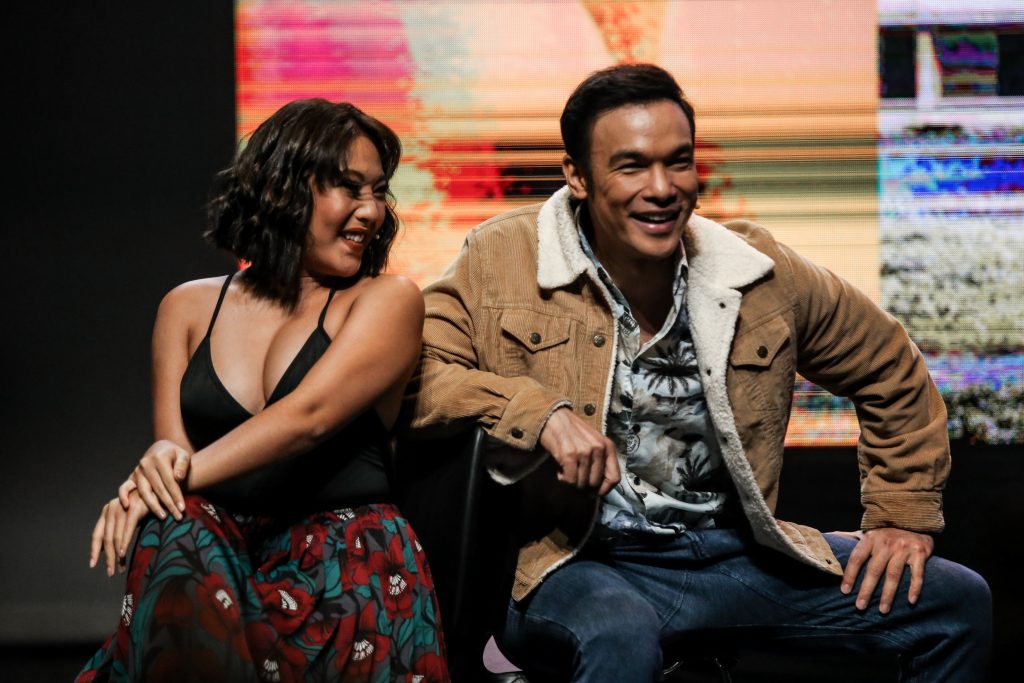 To further define the songs that would make the musical, characters with specific stories and conflicts matching particular songs were created.
Musikal nAPO also reinterpreted some of the group's releases to make more serious, heavier standouts sound comedic and vice versa. Some songs were even revamped to change the point of view—from that of a man to a woman's—to switch perspectives.
Music as a political slant
Set during the beginnings of Martial Law in 1975, the play also touches on the effects of the turbulent political climate of the time to the lives of the characters. Despite being initially reluctant to include a political slant to the musical, Guevara eventually decided to make the setting the onset of Martial Law.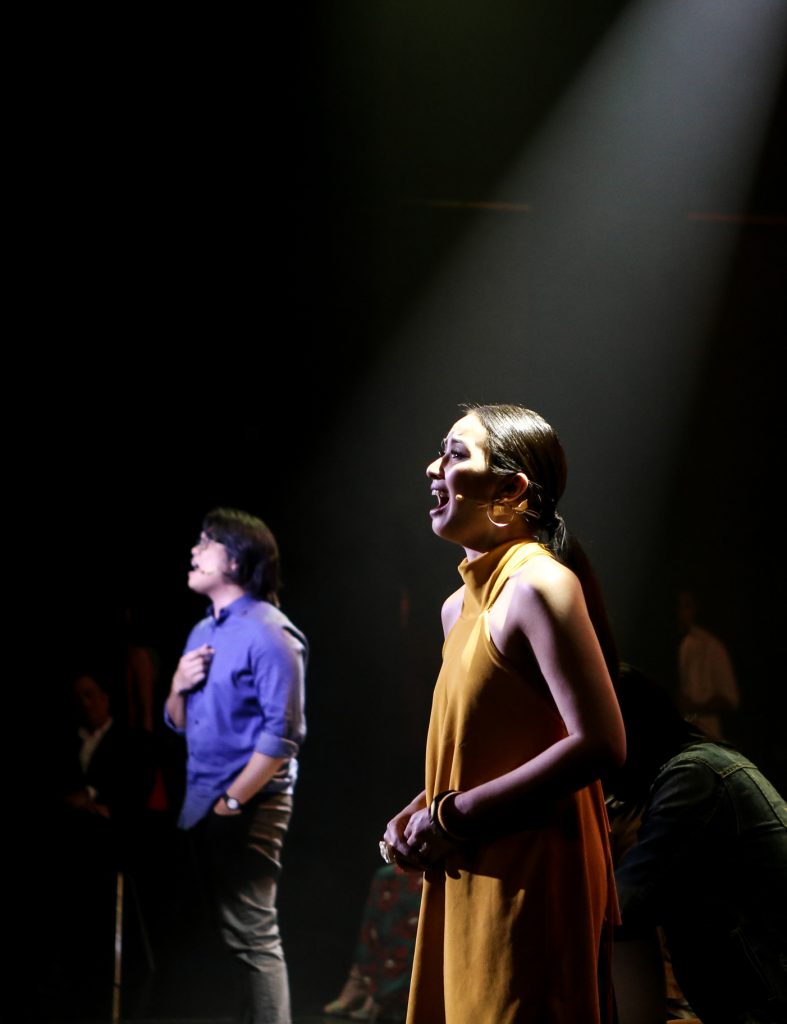 "I didn't want to touch [on it] because my family was personally affected by it. But because in Danny's words, it was an 'unignorable circumstance of the time,'' we cannot depict something in Manila in the '70s and not at least mention what was happening," the director said.
Appealing to a younger audience
One of the primary challenges of the musical according to 9 Works Theatrical's Martin, was how to make it relatable to younger audiences. Guevara even shares that during the auditions most of the pieces sang were actually renditions instead of the originals.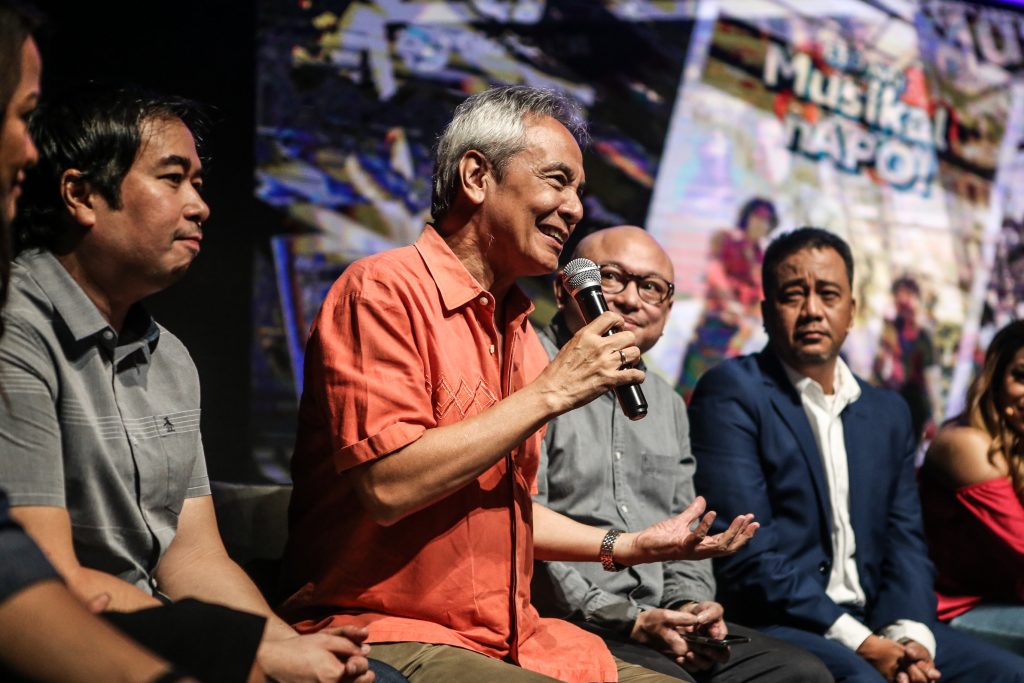 Part of the decision to include the narrative of Martial Law, according to Guevara, was also to educate millennials.
"I hope they learn [about Martial Law] now that we have a political slant. I really hope they hate Marcos more after this show. Seriously," he said. "They need to be reminded of what went on and what could go on if god forbid—" he trailed off.
APO member Jim Paredes recalled efforts to make their hit album Kami nAPO Muna sound young, which worked not only because it reached new audiences, but it also made people want to listen to the original tracks. This reinforced his belief that the audience of APO is not just those who grew up with it but, the general public.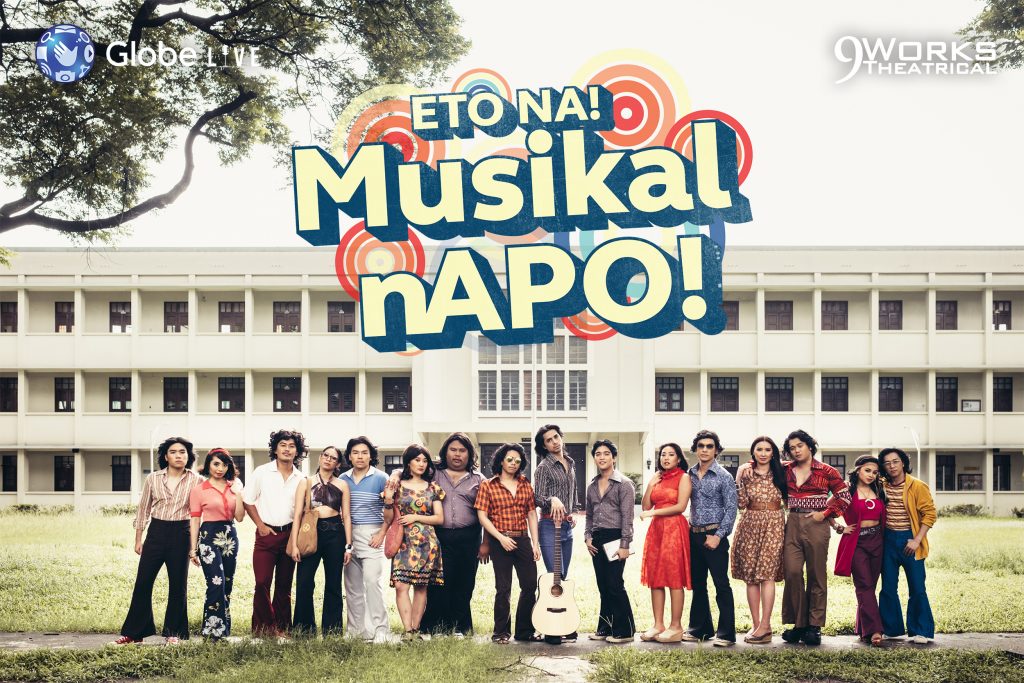 Eto na! Musikal nAPO!  is the first OPM musical production by Globe LIVE which will run from August 3 to 26 at the Globe Auditorium, Maybank Performing Arts Theatre in Bonifacio Global City.
It stars Mark Bautista, Jep Philippe Go, Jobim Javier, Al Fritz Blanche, Jef Flores, Jon Abella, Vyen Villanueva, Rita Daniela, Sab Jose, Marika Sasaki, Raul Montesa, Neomi Gonzales, Anton Posadas, Jourdan Bartolome, Gian Gloria, Shalee Vicencio, Peachy Guevara, and Derrick Gozos.
Follow www.Facebook.com/GlobePH and @enjoyGlobe on Twitter for more updates. Purchase your tickets by visiting https://www.ticketworld.com.ph.
TAGS: sponsored