Have a vacation within the city at La Casita Mercedes
La Casita Mercedes offers not only pleasure but also a dose of history
Feb 3, 2017
Standing on the corner of Enriquez and Fermina Streets in the middle of Barangay Poblacion is a house painted in crisp white, lined with various potted plants around its walls. Any attention given to it is unwarranted, as there are no large signs, no noise coming out from the windows, no sidewalk spectacle beckoning you to turn your head and look. Yet it still catches the eye. At the gate, relatively tiny lettering names the structure La Casita Mercedes, or Mercedes' house.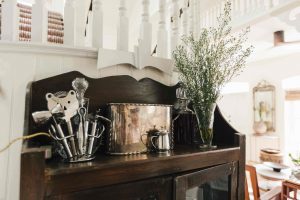 Nobody named Mercedes lives inside, though. Mercedes is a metaphorical composite character in the mind of owner Jon Ramos and the guide for the pre-war house turned bed and breakfast. "She's well-to-do, she's educated, and she's well-exposed. Maybe she had a little money to get a small pretty house, but it's not a house that's luho," he explains. Ramos' meticulousness, paired with a care for preserving culture, makes La Casita Mercedes a space for both history and leisure. Still life paintings and drawings of Filipino culture, antique maps of the Philippines, and other knickknacks from Ramos' travels make the space congenial and inviting. The staircase is lined with a refurbished abaca rug previously found abandoned on a sidewalk. In the mini atrium/patio hang light fixtures shaped like stars, intended as a reference to the three stars and the sun of the national flag. The air comes in through the open space and, at night, the lights shaped like parols shine through entrances. "The thing about having a lot of light coming in is it's something that makes you feel good. [The space] is bright and airy," explains Ramos.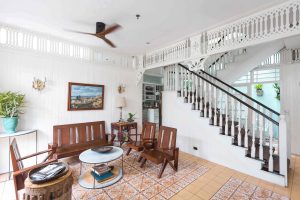 Built in 1933, the house had succumbed to decay and degradation over the years. Ramos found the home decrepit and dilapidated yet still occupied, rented out to five families by a relative of the original owner, who is now living overseas. The house was evidently a house of heritage, and Ramos recognized it. After learning that the house was for sale, he purchased it, and painstaking labor and millions of pesos in funding later, La Casita Mercedes came into fruition. The house retains much of its original architecture, the American and Spanish influences unfading underneath the paint. Under Ramos' care, it was made anew, standing tall just as it was before.
But making La Casita Mercedes into what it is now was not an easy task. Under Ramos' vision for the house, there were high standards to be met regarding the renovation. It had to be torn apart and then built piece by piece, with certain replacement pieces needing to be manufactured first–some parts were even stripped from another old house in Caloocan.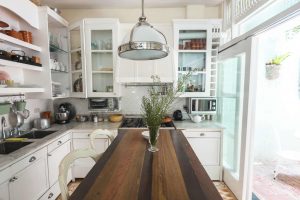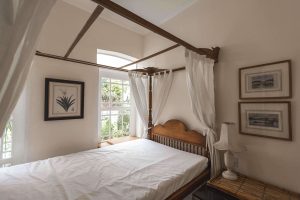 The house did have its own compromises: its orientation changed, and the structure lifted three feet above the ground. Ramos doesn't think that affects the appeal of the building, though. "I think the reason why the house is well-received is because I know when and when not to compromise. Most times I don't, because it's the 'puwede na 'yan' mentality that gets us into trouble."
Ramos intends La Casita Mercedes and its eight rooms to be a bed and breakfast showcasing what the Philippines has to offer. Its appeal would lie not on the idea of a historical getaway but a sense of place. La Casita Mercedes isn't just a success case of heritage preservation, but also a statement on the beauty and appeal of Filipino architecture. Stepping inside, you're not supposed to be transported back to the past. Rather, you are just meant to enjoy yourself and enjoy the details around you. "I don't want to make it feel as if your lola had lived here. Instead, I want to showcase the Philippines. [La Casita Mercedes] is proof that things can also go backward, not always necessarily forward."
This story was originally published in Southern Living, October 2015.
TAGS: bed and breakfast La Casita Mercedes makati nolisoliph Poblacion