LOOK: Negligent pet owner leaves dog inside a parked car
What do you do when you see a dog locked in a car?
Jul 20, 2018
A few weeks ago, I went to the mall with my family on a Sunday afternoon. Needless to say, it was a busy time for most shopping malls, and the parking was pretty full. I had managed to find an empty spot but it was quite far away from the mall entrance, at a corner where very few cars or people passed.
After getting out of the car and locking it, I heard the sound of barking. I looked around me and saw a small dog sitting at the passenger seat of the car next to mine.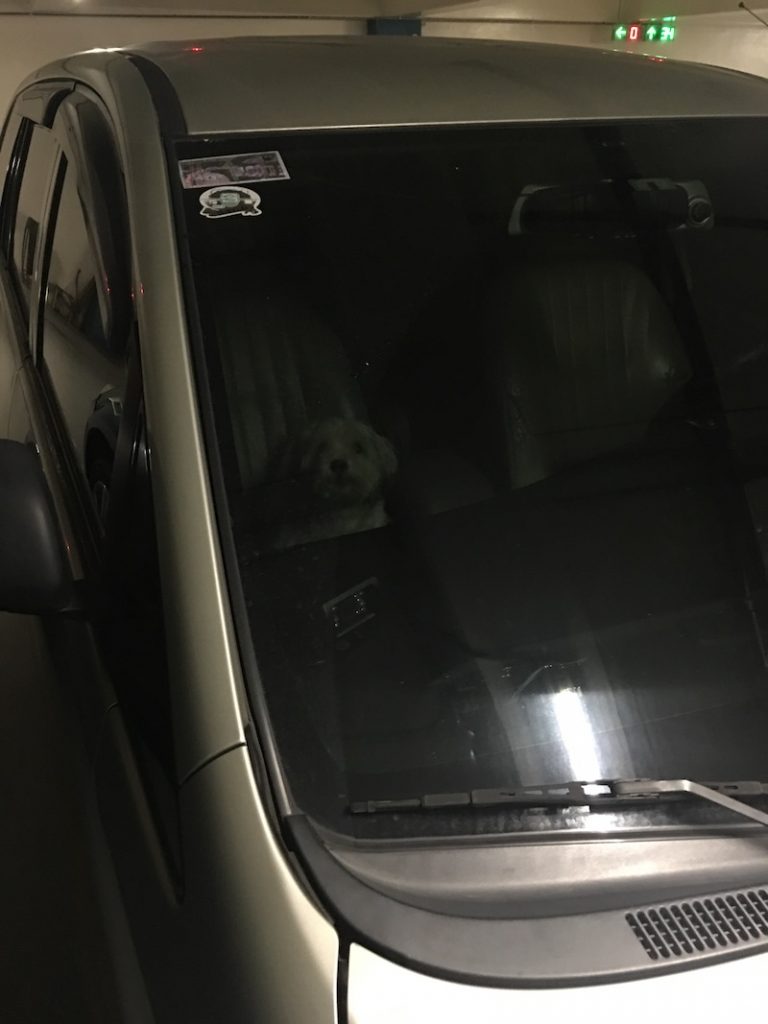 After getting past the initial shock, I immediately looked around the car in search of any open window. I didn't find any, so my next response was to report it to mall security. Considering the unreliability of local security, however, I thought it would be wiser to report it to more than one department of staff.
Not knowing where I could contact the mall administration, and because I had to attend to other matters, I looked up the mall's Facebook page. Some may argue this was a lazy way to report the issue, but remember: social media can be a powerful tool, and an online chat can serve as concrete evidence in some circumstances. In this case, I could at least hold the mall somewhat accountable for the issue.
And it worked.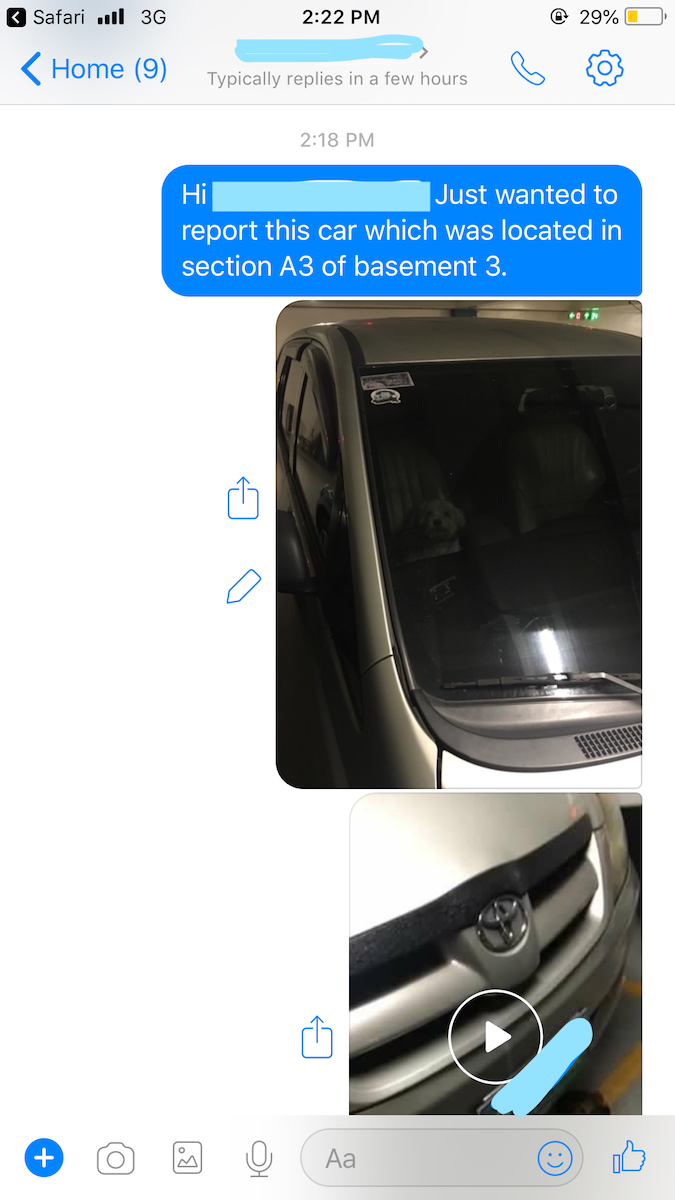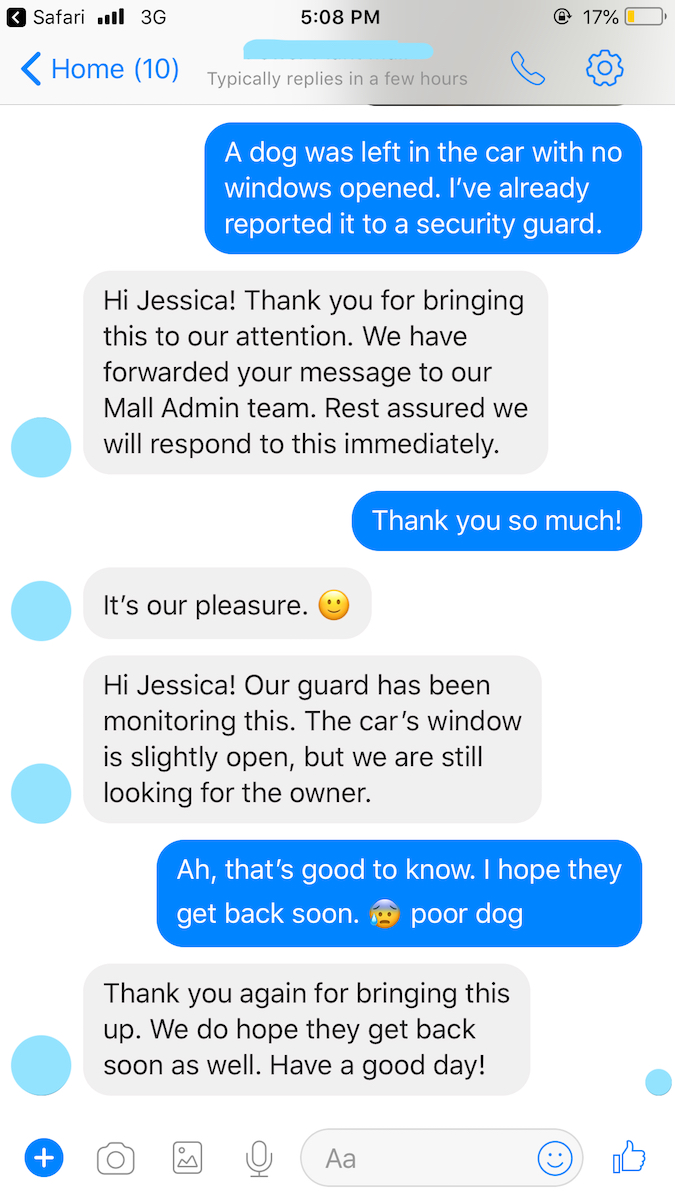 Within a few minutes, I got a response from the mall administration via Facebook chat, and they were kind enough to update me on the situation, even explaining that there was a window left open, although just slightly.
I encountered the dog at around 2 p.m. and the mall administration informed me that the vehicle left the premises sometime around 5 p.m. The dog could have been locked in the car for several hours or just a few. Regardless, the owner had no excuse: that mall was pet-friendly, and they could have easily brought their dog with them.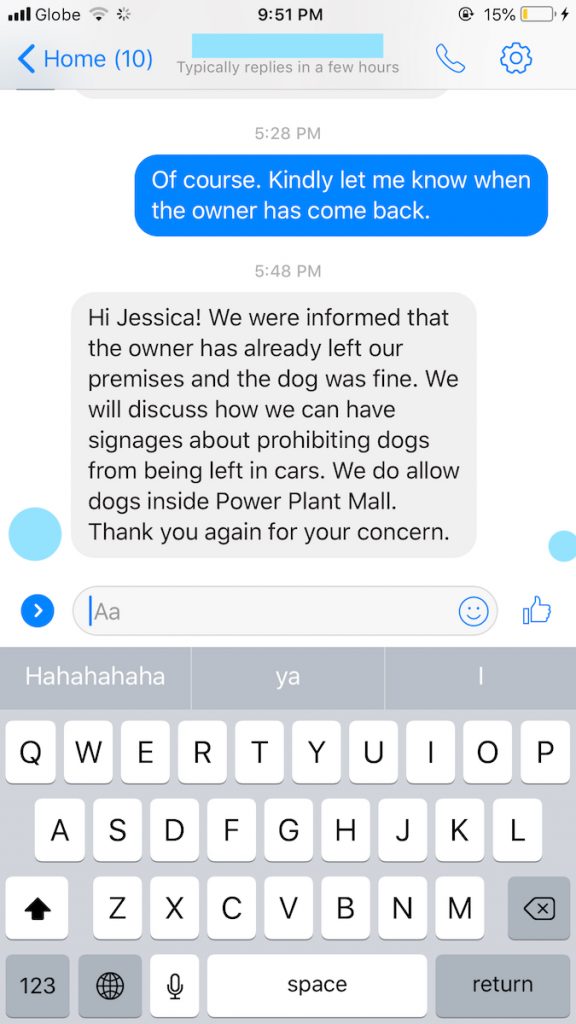 Unfortunately, neither I nor the mall administration could impose any consequences for the owner for leaving their pet, but they did mention that they will be discussing what can be done in the event this happens again.
Under Section 6 of Republic Act No. 8485 (also known as the Animal Welfare Act of 1998), "it shall be unlawful for any person to torture any animal, to neglect to provide adequate care, sustenance or shelter, or maltreat any animals."  However, the act does explain what can and should be done in the case of a pet locked inside a vehicle. We have reached out to the Philippine Animal Welfare Society (PAWS) to ask what the proper protocol.
Until we get a response, here are a few suggestions for those who encounter a similar situation:
Check on the condition of the pet, and if look if there are any windows ajar or if they were left with water.
Capture it on photo and video—this is irrefutable evidence.
Report it to nearby security. I suggest reporting it to more than one person.
Contact the administration of the direct or neighbouring establishment.
If possible, wait for the owner of the pet and vehicle to return—but not at the expense of your health.
Main image courtesy of Unsplash.
Read more:
How to keep your pets cool in the summer
Take your pets out on a date this weekend
How to keep you and your pets safe during emergencies
Read more by Jessica Alberto:
This will give you a reason to take proper care of your books
Has Starbucks found the best alternative to plastic straws?
The longest total lunar eclipse of the century is happening this July
TAGS: Animal Welfare Act cars dogs nolisoli nolisoli.ph pet ownership pets Republic Act No. 8485