Fascinating how a seemingly harmless photo of a man submerged in chest-deep flood water could spark intense discussion on social media about the Filipino's "resiliency" in desperate situations.
The guy happened to smile for the camera while risking his health and safety, like many other Pinoys who have no choice but to bite the bullet every time a crisis hits.
But instead of riding on the photo's caption saying resiliency is the common folk's go-to virtue in challenging times, netizens who've had enough called out authorities who'd rather wait out the flood and pass the buck in case of another blame game.
"Romanticizing" was an accusation against those who immediately agreed that classic Pinoy patience wins. Why call it resiliency when the actual name is government neglect, unsatisfied folks asked.
Some heaped criticism on informal settlers along esteros for setting off the deluge that forced close to 700,000 residents in Metro Manila and nearby provinces to leave their homes.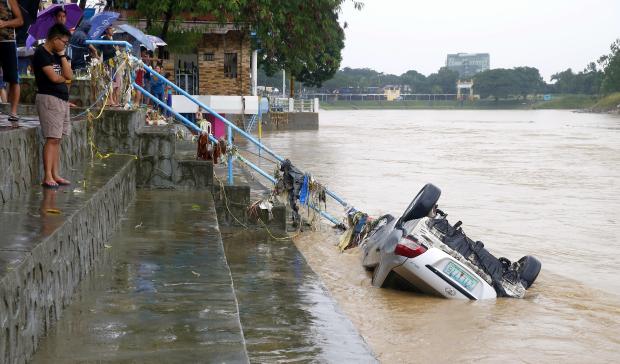 The smug explanation: People who construct makeshift houses on esteros throw their garbage right out their windows and clog the waterways.
Others went one step further, noting that more efficient garbage collection by local government units (LGUs) would have prevented the flood that also submerged Marikina City for hours on Saturday.
Then followed cries of "better urban planning," and the seemingly forgotten lesson of 2009's Ondoy was posted repeatedly on the Internet.
Sensing that guns would soon be trained on his department, an environment official exhorted LGUs to "address their solid waste management problems." He added that all the trash Manila Bay hurled back at the city constituted an "emergency situation."
Waves of garbage are crashing onto shores in the Philippines pic.twitter.com/zkC03iBR0P

— NowThis (@nowthisnews) August 14, 2018
Palace spokesperson Harry Roque followed suit. The invisible President Duterte was very concerned, he assured everyone.
Roque said the President expressed admiration for the flood victims' resilience. The spokesperson also mentioned that government agencies were "ready to provide assistance" and that Mr. Duterte, wherever he/his doppelganger was, remained "in contact to ensure that delivery of services is facilitated."
Laws are in place to prevent floods
This news cycle and the southwest monsoon that sparked it would soon dissipate, as the back-and-forth of opinions that they inspired.
But more than the superficial blame tossing that trended, authorities should probably take a closer look at urgent issues that must be addressed immediately and in a sustained manner if rainy seasons remain non-negotiable in the Philippines.
Netizens are correct for pointing out that the government cannot use resiliency as a mask for mediocre delivery of government services. Waste management is a basic service.  People pay taxes and deserve streets free from floods and garbage.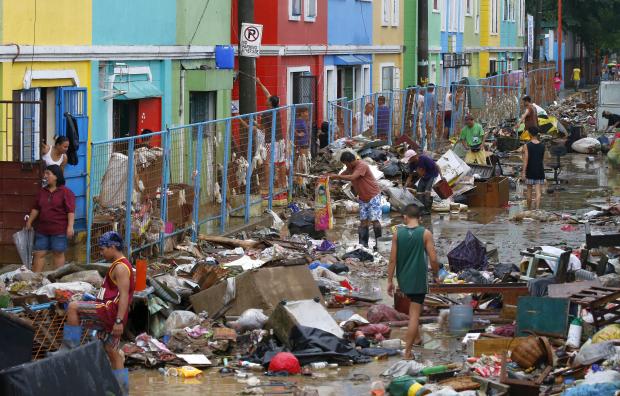 The Ecological Solid Waste Management Act of 2000 signed by then President Gloria Arroyo requires LGUs—meaning the mayor and his environment and sanitation guys—to "retain primary enforcement and responsibility of solid waste management."
The law also mandates a "cooperative effort" among the national government, neighboring LGUs who might share the same landfill, non-government organizations and the private sector.
There is a forgotten government body called the National Solid Waste Management Commission supposedly headed by the Office of the President that calls on the heads of the departments of environment, the interior and local government, science and technology, public works, health, trade and industry and agriculture and the Metro Manila Development Authority to oversee waste management efforts.
So there really is no reason to toss the blame. If poor waste management continues to result in devastating floods, the law lists those who are accountable.
Make contractors pay for ineffective flood control
Then there is flood control that falls under the authority of LGUs and the Department of Public Works and Highways.
Now, here is a never-ending cycle played out every wet season. Rains come, then floods. Meanwhile, the streets are pocked with diggings carried out under the guise of flood control projects. Metal barriers meant to protect motorists carry the names and faces of government officials reminding all that their taxes are working for them.
Isn't it about time that these flood control programs bore results? We pray the Commission on Audit (COA) would choose to scrutinize these projects next and issue notices of disallowance that order contractors (and colluding legislators) responsible for non-working projects to return the amounts the government paid.
Illegal logging is overlooked
Authorities must also pay closer attention to illegal logging activities that hardly get national attention. It is unfortunate that deaths caused by floods and landslides from barren mountains are not highlighted the same way as casualties of President Duterte's war on drugs.
Illegal logging is a safety hazard and it is practiced all over the country. In the last 12 months, the Inquirer reported incidents of unauthorized logging from Isabela province in the north to Sultan Kudarat and Maguindanao in the south.
We can always be wrong but last weekend's floods could have been caused more likely by flood waters from the scraped ridges of the Sierra Madre range running along Quezon, Laguna and Rizal provinces than garbage-filled esteros.
Think about it—water from Manila's clogged esteros flow down the bay, not up Marikina City.
Also, illegal logging persists because local officials under whose jurisdiction those balding forests fall would rather turn a blind eye than arrest brazen loggers and their armed henchmen.
Revive Project NOAH
Lastly, President Duterte should do everyone a favor and reactivate Project NOAH (Nationwide Operations Assessment of Hazards) began by the Aquino administration after the deadly landslides that occurred in Cagayan de Oro City when Typhoon Sendong hit in 2011.
NOAH was a state-run rain and flood forecasting system that delivered real-time "accurate, integrated and responsive disaster prevention and mitigation… especially in high-risk areas."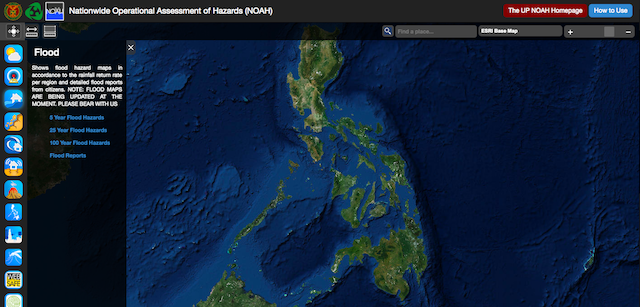 NOAH worked because the 40-man team of meteorologists, hydrologists, environmental planners, geographers and other civilian experts gave vulnerable communities a six-hour lead time to respond to impending floods.
Just before NOAH was officially turned over to the weather bureau for absorption, executive director Mahar Lagmay lamented the inevitable shut down and blamed politicking for "lack of funds" that forced half of the team members to seek compensation elsewhere.
Observers noted that when NOAH shut down in early 2017, the Office of the President enjoyed a huge allotment for intelligent funds that the law exempts from scrutiny by COA.
Tonight, it is possible that many of the 150 families displaced by the weekend floods are still languishing in various evacuation centers with single toilets around Metro Manila.
Given the thought, wouldn't it be better for Congress to revamp its stalled and controversial 2019 budget, remove the allocations meant for the offices of Martin Andanar and Mocha Uson and reprogram these allotments to reactivate NOAH?
Think of the lives that could be saved!
Photos courtesy of Bullit Marquez/Inquirer
Get more stories like this by subscribing to our weekly newsletter here.
Read more:
LOOK: The effects of typhoon Karding and habagat
Here's how you can help Karding and habagat flood victims