Residents of this Malabon compound have been dealing with waist-high flood for over 10 years
How did the community of Artex Compound adapt?
Apr 27, 2017
Living near the water is paradise, they say. May it be a shack by the beach, a cottage by a lake, or a house by a creek, it is the perfect setup to beat the scorching summer heat.
But what happens when one day, the rain poured so hard in your city that floodwater rose and didn't recede even after 24 hours? Or, in Artex Compound's case, after 10 years?
Imagine waking up with the entire first level of your house submerged in floodwater, all your appliances wet and drowned to electronic death overnight and your little sidewalk eatery swept away. There is no other way to traverse the compound but to travel via a do-it-yourself boat. The basketball courts where children played every morning and afternoon is now under water. You have no more places for worship since it sits dredged in water.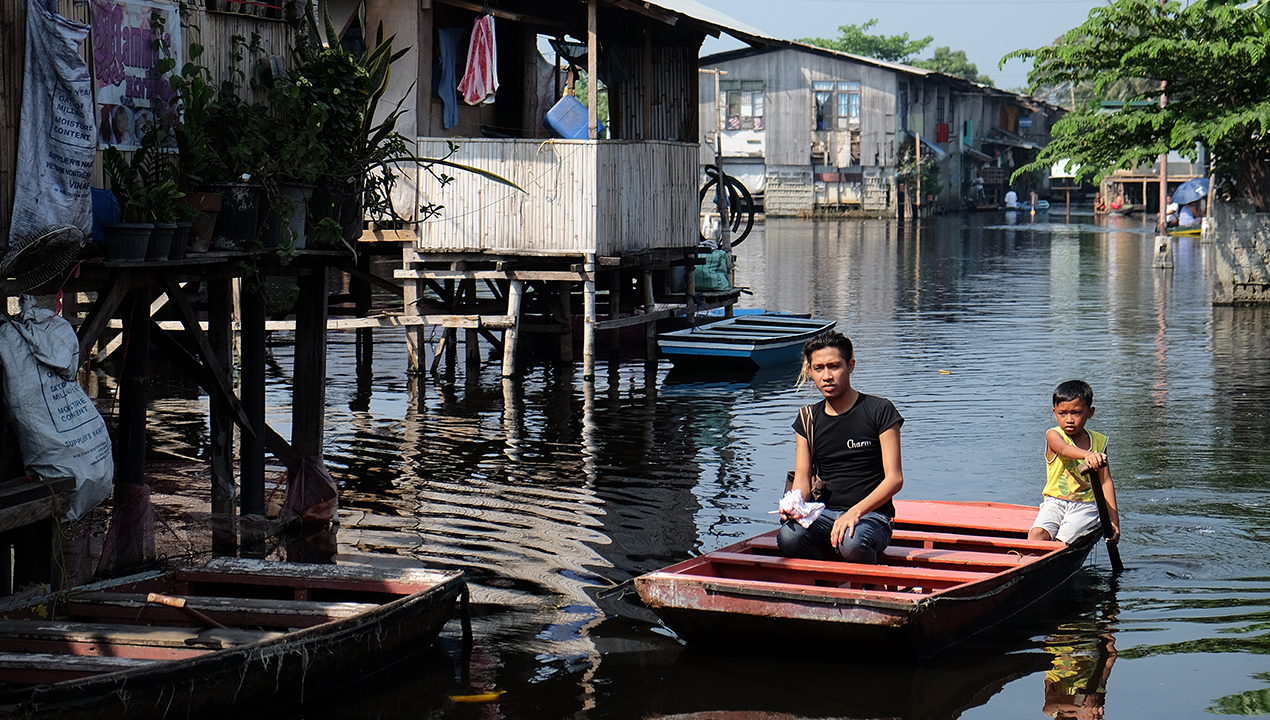 "There was a time when we walked on dry land. I'd do my rounds around the compound during lunch and merienda to sell food," recounts Claire Yocogco, resident and member of PANAC or Pagkakaisa ng mga Naninirahan sa Artex Compound. She describes that the place used to be more lively than somber. "More people would go in and out of the compound because of the annual sports league we'd organize every summer."
"It didn't happen overnight," says Loida Lumagas, a resident since 1979. Malabon is known to be one of the lowest lying areas in Metro Manila, and its residents are no strangers to heavy floods every year. "There used to be a pump to flush out floodwater during the rainy season," she continues. However, it was the residents who shouldered the expenses to operate the pump, and it wasn't cheap. "We pay 10 pesos every day for the oil used." They would use the pump thrice a day to keep the water out, but with the continuous increase of oil prices, the residents agreed that they couldn't pay for the expense any longer, especially with no support from the local government. That was the day they decided to live a life afloat.
How can one live normally in a water world? How do you buy food from the sari-sari store? Where do the children play?
Nature isn't the only enemy. Labor disputes had long been fought within the Artex Yupangco Textile Mills Corporation, the residents' former employer. (The compound was built to house the workers of the said corporation.) Employees were paying weekly rent out of the low wages they were earning from working eight-hour shifts in the factory, so in 1984, the factory workers united and fought for fair wage. Artex subsequently ceased operations in 1989, the owners fleeing without a word. Five words in bold red letters are written on a concrete wall: "We are still on strike!"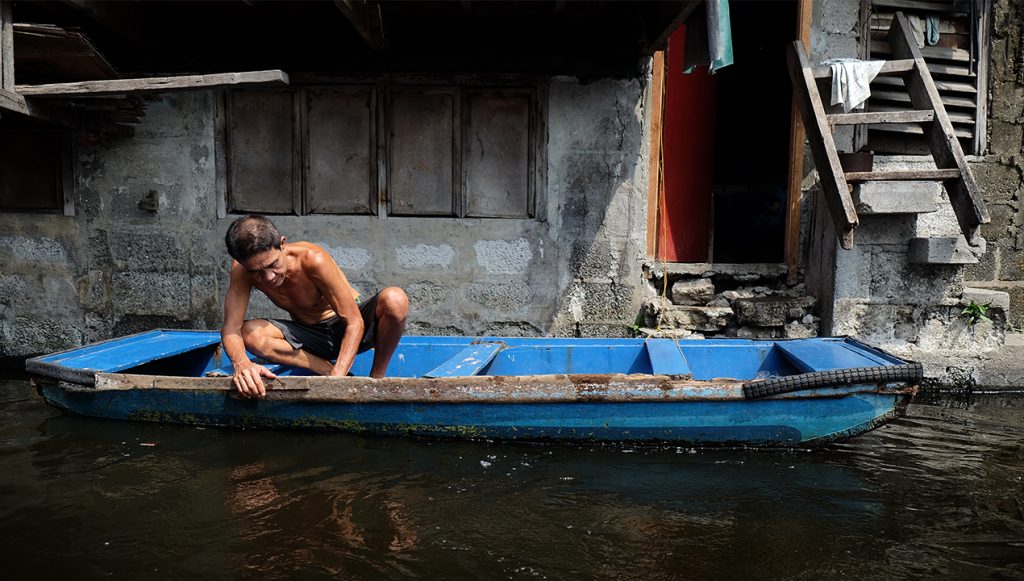 Today, residents live above waist-deep waters during the summers and one storey-deep waters during typhoon season. After over 10 years of adaptation, the residents have learned to live with and love their circumstances. They're able to travel via small boats that could fit four people at most. Owning a boat isn't a must since there are boatmen who are willing to take passengers from one point to another for only five pesos per trip. They use strings to connect one house to another and use them as pulleys to transfer light items. This is especially useful whenever they have to buy something from the sari-sari store.
The compound is still alive. It seems to be an isolated one yet still has everything it needs to survive: electricity, cable, and telephone lines. Karaoke can be heard from one of the houses early in the morning. The sound of breakfast sizzling and kumares gossiping can still be heard. "It took us some time to adjust. If I could sell lunch and snacks before, now I can only sell snacks that are easier to carry on the boat like turon, carioca, buchi, and ginataan," Yocogco says.
Recreation isn't a problem since there's a nearby basketball court outside the confines of the perpetually flooded compound. They still join leagues and continue to win despite the lack of resources. Plus, they have a newfound sport, boat racing, and residents all come together to organize boat races every Christmas and New Year, open to all age groups.
When asked why they chose to stay, Yocogco says, "If we move to a resettlement area, for example, in Bulacan, it would be too far from work." Convenience is also a factor: Artex is near the school, the market, and their livelihood.
Despite the formidable situation, home is still where the heart is. She looks around the place and says simply, "This is where we grew up and found love."
This story was originally published in Northern Living, May 2015.
TAGS: artex compound flood malabon nolisoliph