Sold for P63M: Here's how the Spoliarium boceto went under the gavel
Amid controversy, the boceto was bought at a record high price for a Juan Luna piece by an on-the-phone bidder
Sep 26, 2018
The moment auctioneer Andrew Thomas of Salcedo Auctions hit the gavel for Lot 151 or the 1988 Mauro Malang Santos piece "Carroza," which was sold for P8 million (or P9,344,000 inclusive of tax and buyer's premium) by the way, louder applause began to fill the Rigodon Ballroom of the Peninsula Manila. Everyone knew that next up on the block is Lot 152 or the controversial Juan Luna boceto of his masterpiece "Spoliarium."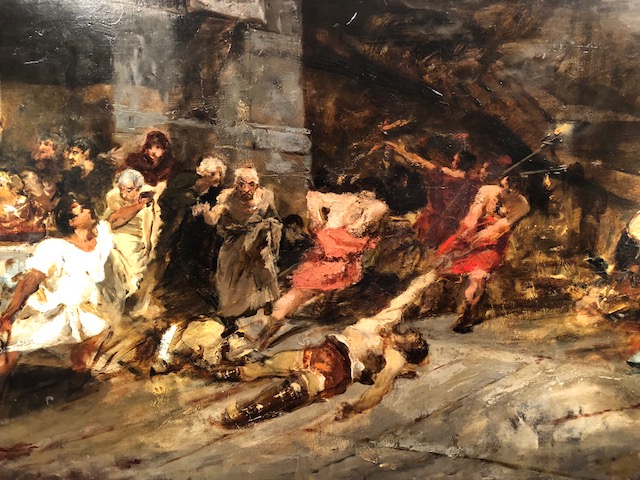 For the past few weeks, the local visual arts scene roughly left the public's eye. This began when what seemed to be a boceto or study of Juan Luna's most powerful painting was put up for sale under the Salcedo Auctions after it had been discovered from a private European collector (Read: A boceto of Juan Luna's "Spoliarium" was unearthed in Europe). The boceto is given more prominence when critics and historians became skeptic of the study's authenticity. Yes, they knew the artist made two smaller copies of the mural which are now owned by private Filipino and Russian collectors. But other than that, nothing else on record proves that Juan Luna made a Spoliarium boceto. Historian Ambeth Ocampo even said in his opinion piece that while the purported study is "definitely old," that doesn't mean it's by Juan Luna.
As if the whole drama and confusion surrounding the authenticity of the artwork is not enough, on the eve of the auction, another purported "boceto" surfaced.
With all these hullabaloo, it's no question why the public is so engrossed in the journey of this artwork. Everyone in that room carried the same questions in their minds: How much would anyone be willing to give for this boceto? Who will take the it home? Or better yet, will we ever see the alleged study of one of the greatest Filipino paintings again after it's been sold?
Even the auctioneer knew the thrill of Lot 152. "Here we are making history as this [piece] has never been in the Philippines."
"Anyone who buys this, you will not have to pay trips to the National Museum of Fine Arts ever," he added in jest, trying to ease the tension before announcing the starting bid which was P25 million, 64 percent higher than the P16 million starting price expected by art critics when the boceto was first discovered.
The bidding hit P41 million in less than three minutes. But it gradually slowed down until only two people were left bidding, a woman at the auction room and a bidder on the phone with Salcedo Auctions director Richie Lerma. After full 20 minutes of bidding, the auctioneer hit the gavel for P63 million, a stunning offer from the buyer on the phone. If inclusive of value added tax (VAT) and buyer's premium, which would add 16.8 percent of the bid to the total amount, the purchase price of the boceto is P73,584,000.
According to a Facebook post by the Salcedo Auctions, a Juan Luna piece never reached this amount before in the Philippines. "[This] is a testament to the exemplary work and dedication of the specialists and staff of the country's premier auction house in achieving this milestone record sale," they wrote.

In 2015, the record high bid for a Juan Luna painting was also sold under the Salcedo Auctions at P46.72 million (inclusive of VAT and buyer's premium). It was for the 1885 painting  "¿A Do…Va la Nave?," a long lost Juan Luna piece found in Argentina.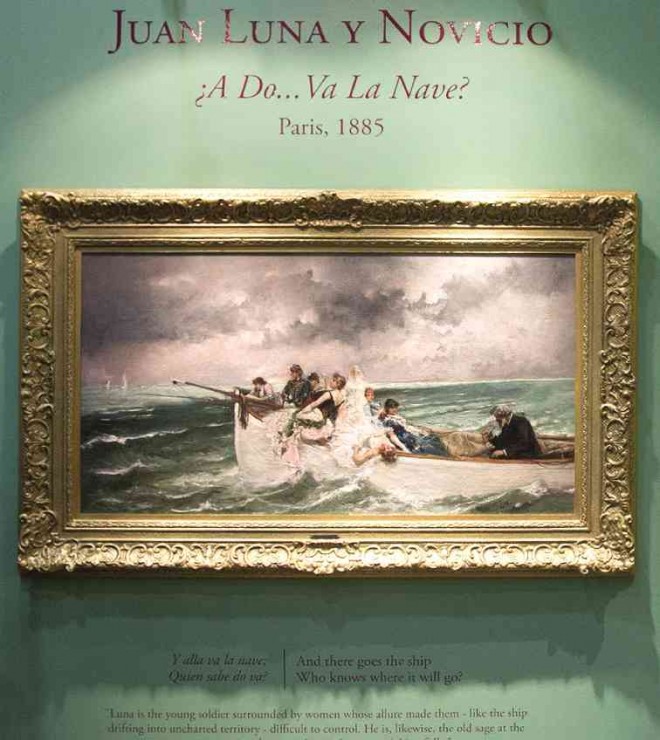 Other remarkable bids from "The Well Appointed Life" auction are works by contemporary and veteran artists. An oil-on-wood painting by Fernando Amorsolo, the first Filipino National Artist for Painting, was sold for P1.9 million, 31 percent higher than the starting bid of P600,000. Another National Artist piece is the 1997 "La Familia" acrylic-on-canvas painting by BenCab, which was sold for P7 million (P8,176,000 if inclusive of VAT and buyer's premium).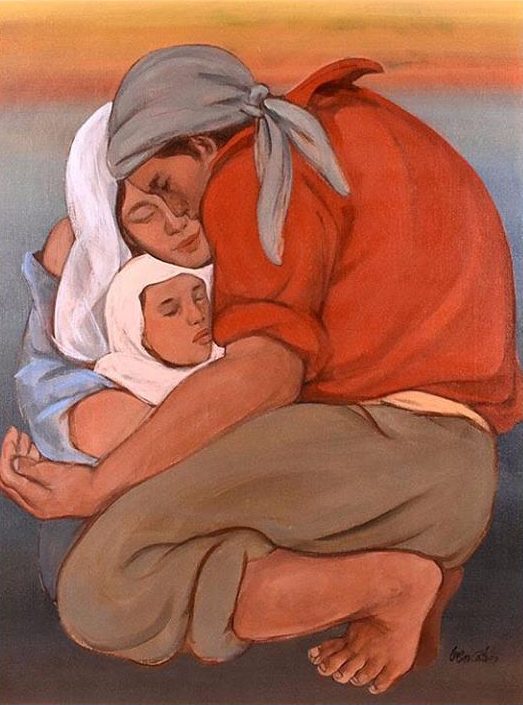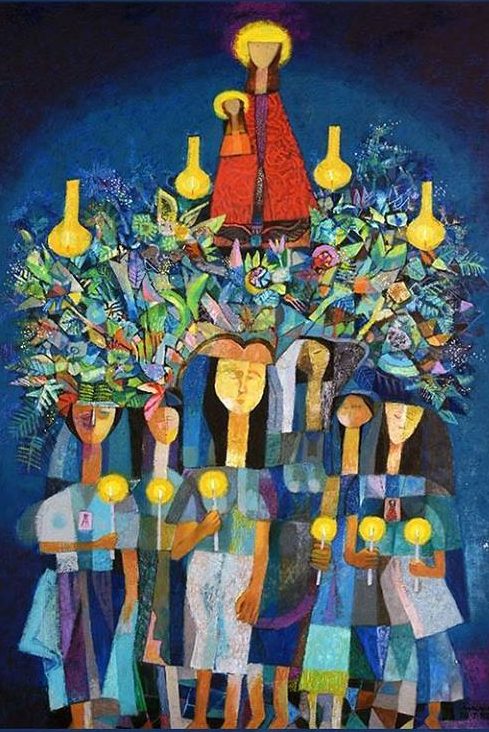 A painting under the Stripes Series by contemporary visual artist Ronald Ventura was also bought for P9 million (P10,512,000 inclusive of tax and buyer's premium), almost thrice its starting price of P3,300,000.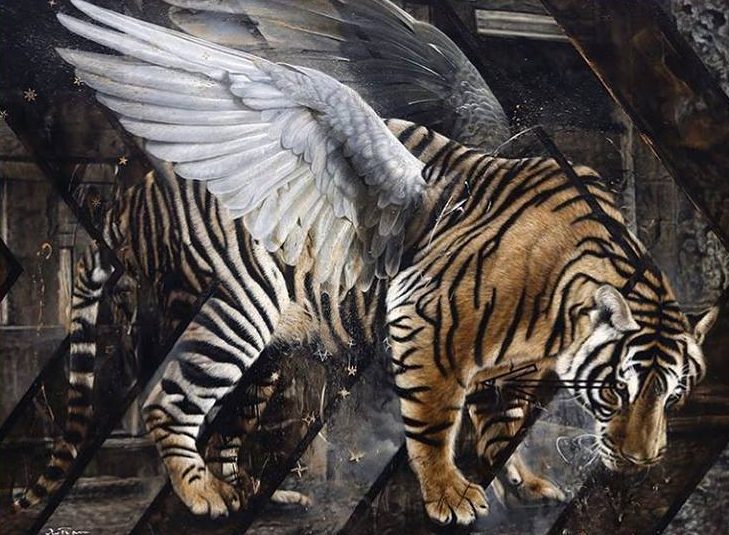 However, other million-worth paintings like the "Cantata for Lourdes" by National Artist for Visual Arts H.R. Ocampo, which had an estimate of P6,500,000 to P7,500,000, and the "Country Walk" by  abstract expressionist Alfonso Ossorio, estimated from P3,800,000 to P4,000,000, remained unsold.
Header photo courtesy of Salcedo Auctions
Get more stories like this by subscribing to our weekly newsletter here.
Read more:
Bonifacio's flag was auctioned off for P9.3 million—should we have allowed it?
Own one of Juan Luna's letters and other important artworks at this weekend auction
Picasso's $115 million naked girl painting and its place in the #MeToo movement
Read more by Amierielle Anne Bulan:
"Malakas at Maganda" as propaganda: Deceitful art during Martial Law
Locals in London: Filipino designer flaunts handwoven garments in London Fashion Week
The government blatantly lacks cultural heritage literacy. Here's why
TAGS: 63 million auction bidding makati salcedo auctions spoliarium