Ever wished you could eat and talk in the library? Enter Tweedle Book Café
Bookworms, it's time to come out now
info
Tweedle Book Cafe

Cafe

12 p.m. to 12 a.m. Mondays to Thursdays, 12 p.m. to 1 a.m. Fridays, 10:30 a.m. to 1 a.m. Saturdays, 10:30 a.m. to 12 a.m. Sundays

0922-8051688

₱

P500 for two people (approx.)
Round up the bookworms and the folks who'd rather have quiet nights in than ride Manila's clubbing craze. In one neighborhood branching out of Tomas Morato's famed nocturnal district is a semi-hidden haven for the coffee-cravers and the book-obsessed. Tweedle Book Café overthrows every city hermit's excuse to spend the evening behind closed doors. With the place welcoming guests into its private library—eating and chatting permitted—revel in the printed word, caffeine-induced conversation flowing seamlessly on the side.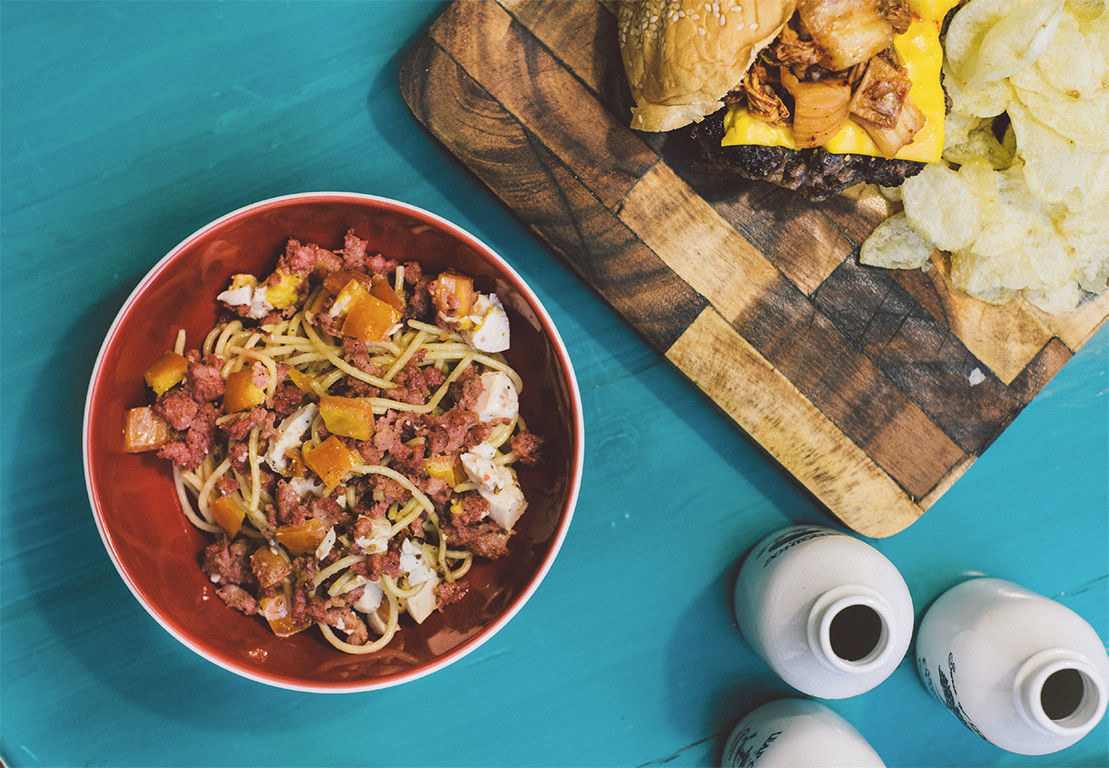 Four clocks line the walls, telling imaginary time from Whoville, Berbanya, Rivendell, and Paradiso. Like prose, it seems to imply that time here is relative and immaterial or, simply, time is fictional, so go lose yourself in books, caffeine, pastry, and every other luxury this little library allows. Their selection of books, arranged alphabetically by author, range from Marvel comics to literary classics. There's Gabriel Garcia Marquez, Liwayway Arceo, and Neil Gaiman, up on the shelves. At the middle of the café is a long teal table where reading group discussions are held from time to time.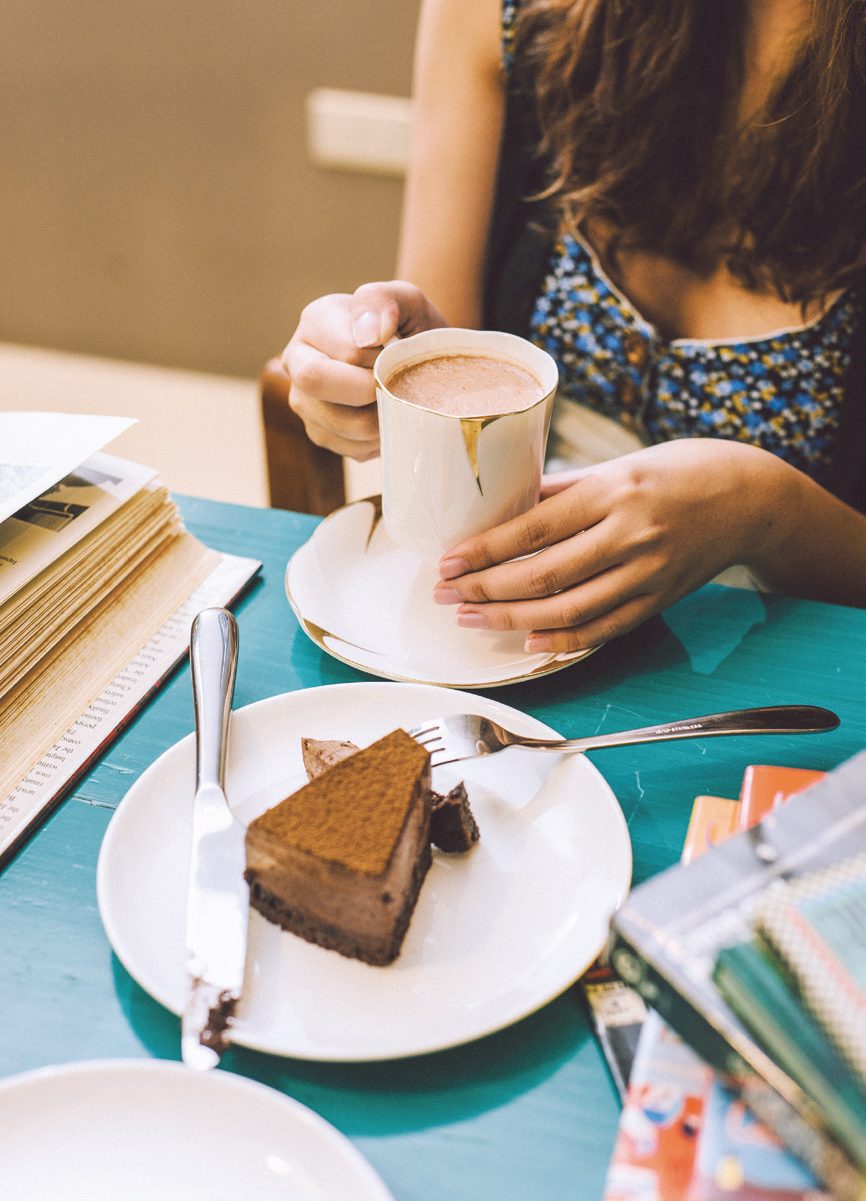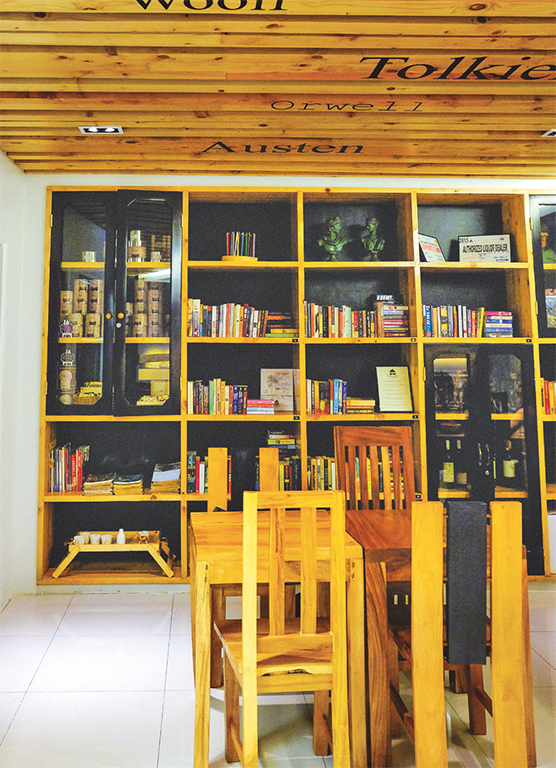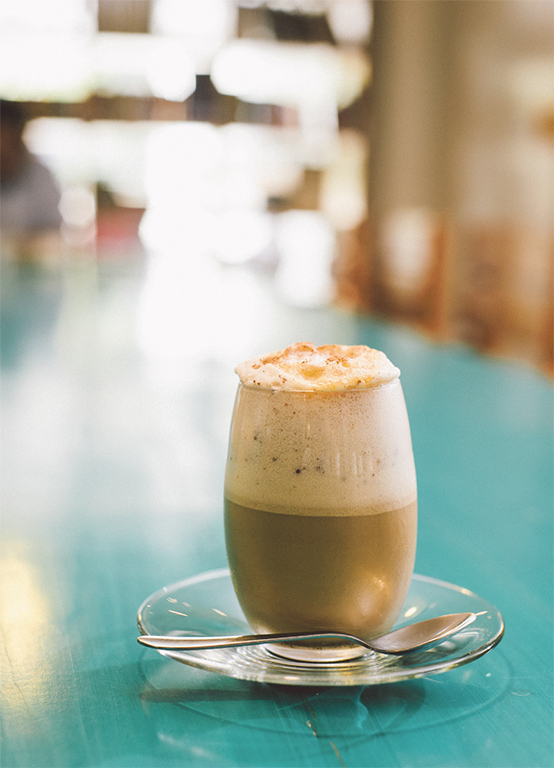 Whereas books feed the mind, fill the appetite with something equally hefty and rewarding. In between chapters, slice through a Wagyu Kimcheese Burger—because unless your mouth can take on the gigantic meat, all the layers are impossible to fit in one huge bite—then taste the ultra-soft Wagyu patty which, like novels, excites with the unexpected: the kimchi's sharp sour kick that surprisingly blends well with the juicy burger. For the reader with a taste for smaller chunks, there's what they call the Pinoy Breakfast: the usual assembly of longganisa, itlog na maalat, and tomatoes, now oddly caught in twists of pasta.
Offset the salty flavor with their Ube Cheesecake and Earl Gray Chocolate—two sweets delighting the palate with their soft, moist texture. Pair their subtle sweetness with a sip of hot choco alongside a book of plays and short stories, or as that mystery novel delivers doses of suspense, munch on The Chocolate Chamber's addictive Choco Nib Cookies to get you through the plot climax. If the reader, however, favors a drink taken straight from a book, there's the Tweedle Butterbeer, the café's own take on JK Rowling's fictional tipple. First, set the straw aside and feel the foam tickle. While drinking down the creamy layers offering sweetness and subtle bitterness, keep in mind how tasting, like reading, is the most innocent form of indulgence—one that this café serves in liberal portions.
This story was originally published in Northern Living, June 2015.
TAGS: books cafe coffee library tweedle book cafe
WHY GO?
You can enjoy reading a good book while munching on treats like the locally-made Choco Nib Cookies from The Chocolate Chamber. There are also options for more filling dishes like the Pinoy Breakfast, which features favorite breakfast food like longganisa and itlog na maalat, but paired with pasta instead of rice.
MENU