Art therapy for young leukemia warriors
A Stroke of Hope teaches kids with leukemia how to paint
Oct 4, 2018
On Sept. 21, as hundreds of people rallied outside to preserve our sense of history, a small group of children and young adults painted in a tiny little hall inside the Philippine General Hospital. The kids, some as young as 5 and as old as 21, were patients of the hospital's children's ward.
Artists and warriors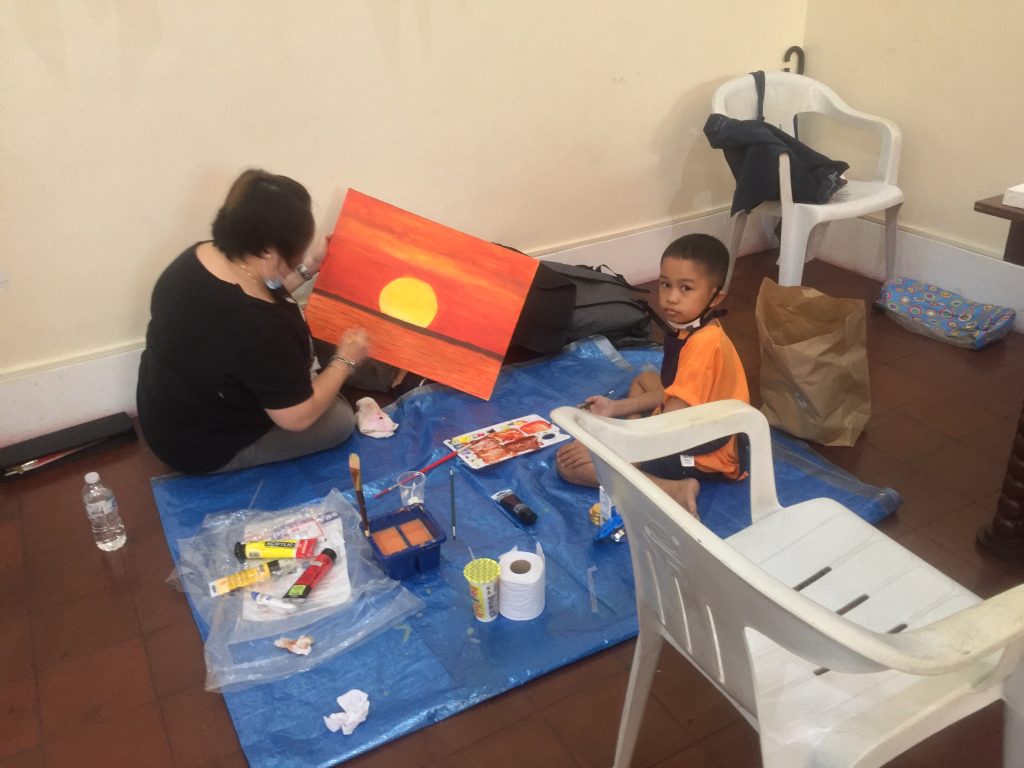 A Stroke of Hope is a one-woman initiative that organizes art sessions for children battling Leukemia—otherwise known as warriors. To Diselle Falcon, the woman behind the initiative, it's a personal thing. She's also a Leukemia warrior, and has been one for nine years.
"I started painting two years ago," Falcon says. Originally, she had planned to hold an exhibit for her own work. Soon enough, however, she realized that she would be doing a huge service to the young Leukemia warriors if she used her exhibition materials to instead teach them how to paint and give them an avenue to sell their work. "I wanted to give back," she says, explaining that she had planned to give the proceeds of her self-exhibit to the children anyways. "Why not share the joys of art with the kids themselves?"
For the art session, Falcon decided to call out all her artists friends to mentor the students. One by one the artists trickled in, and she assigned one artist to every child. "I wanted this to be spontaneous, so the artists have never met their students before. I just paired them with a child that I thought they could work well with."
The children worked with different mediums, all representing their personalities and their assigned artists' styles. We've covered art therapy before, and just like the paintings of the Obra ni Nene girls, the works created by the A Stroke of Hope children express both hope and fear, possibility and uncertainty.
Aside from helping the kids paint, A Stroke of Hope also distributed donations to the children. Some of the snacks were donated by Universal Robina, but many of the items were given by private individuals. For more personalized donations, Falcon collected a wish list from the children themselves. "One girl actually asked for her medication, which was very expensive," she admits.
All of the paintings are up for sale, and the proceeds go directly to the patients to help them pay for their exorbitant medical bills. A Stroke of Hope will be exhibiting the available paintings at various locations throughout the year. Anyone who'd like to buy the paintings should head on over to the Stroke of Hope Facebook page.

Like this story? Receive similar stories by subscribing to our newsletter here.
Read more:
This group of artists holds workshops for communities stricken by the drug war
How women are at the forefront of Marawi's rehabilitation
Have you ever tried harp therapy?
Read more by Zofiya Acosta:
Universities should do more to protect their students
For girls who've survived sexual abuse, art helps them deal with painful, messy emotions
Growing up in the land of promise and why Mindanao is just a normal place
TAGS: a stroke of hope art therapy leukemia philippine general hospital