Our culture is mirrored by language. And both culture and language constantly change.
For the past two years, the social climate in the country has quickly evolved. The beginning of the Duterte administration is in line with the emergence of social media as one of the primary platforms for news and trends consumption. And with the president's controversial use of authority (such as the endorsement of killing alleged drug pushers and users), many citizens have become more engrossed in expressing their opinions on political, economical, and cultural issues through the "free" platforms for communication.
This has greatly affected our use of language.
Just check the comments section of any Facebook news post about Duterte. From this feature, you can already observe how some once uncommon words are now being used in everyday conversations, may it be intellectual, decent, or not. It seems like the more issues this administration face, the more each citizen's vocabulary grows. And this vocabulary is not limited to words available in the dictionary.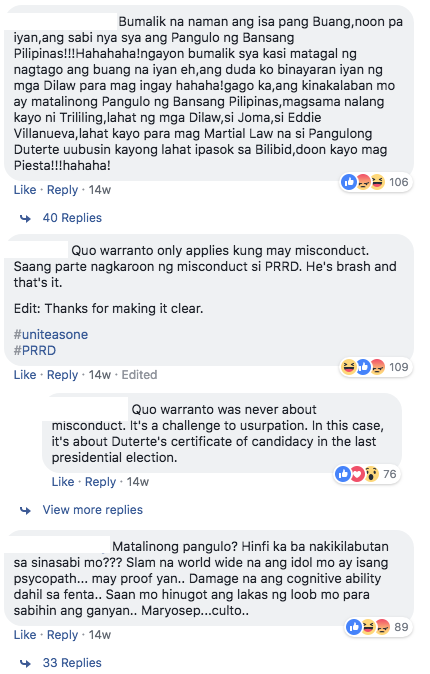 This just shows how culture prompts language to evolve. Let's use the term wangwang for example. Before 2011, that colloquial word was only an onomatopoeia for sirens and a Filipino word that meant "wide open." But after former president Benigno Aquino III declared a ban on the use of sirens for private cars during his term, its use has become more associated with Aquino's policy. With this development (and its lasting effect on our culture), wangwang was declared as the 2012 "Salita ng Taon."
What is this year's "Salita ng Taon"?
Every two years, the Filipinas Institute of Translation (FIT) selects words that represent current topics for discourse. Scholars will propose each word and defend it before delegates of FIT in a national conference.
Ang Sawikaan, the project covering this conference under FIT, called for word entries last July 2018. The words qualified for defense have been announced by FIT Director Joey Baquiran in a Facebook post.
Here's a list of the nominated words:
Dengvaxia
DDS
Dilawan
Fake news
Federalismo
Foodie
Quo warranto
Resibo
Tokhang
TRAIN
Troll
"Mga salitâ itong naging bukambibig sa nakalipas na dalawang taon at naging laman ng diskurso ng lipunang Filipino," Baquiran wrote.
He added that words nominated are those that are (1) bagong imbento (newly developed or made-up), (2) bagong hiram mula sa katutubo o banyagang wika (borrowed from a native or foreign dialect), (3) luma ngunit may bagong kahulugan (old but given new meanings), (4) patáy na salitâng muling binuhay (forgotten but now revived).
This is a project of Sawikaan under FIT  in partnership with the Komisyon sa Wikang Filipino, UP Diliman Information Office, and Opisina ng Tsanselor ng UP Diliman. The words canvass (2004), jueteng or huweteng (2005), lobat (2006), miskol (2007), jejemon (2010), wangwang (2012), selfie (2014), and fotobam (2016) are some of the FIT-declared "Salita ng Taon."
The conference, which is open to public, is slated on Oct. 26 at the Institute of Biology Auditorium in UP Diliman, Quezon City. If you're planning to watch it, just register here.
The official list of word finalists will be announced by FIT on Oct. 20. But if you were given the chance to choose, which word will have your bet?
Header image courtesy of Unsplash
Get more stories like this by subscribing to our weekly newsletter here.
Read more:
Senate passes bill promoting Filipino sign language, deaf rights
Why is our national language Tagalog-centric?
LOOK: This new app translates the language of the Badjao
Read more by Amierielle Anne Bulan:
Locals in London: Filipino designer flaunts handwoven garments in London Fashion Week
Sold for P63M: Here's how the Spoliarium boceto went under the gavel
The government blatantly lacks cultural heritage literacy. Here's why
Writer: AMIERIELLE ANNE BULAN