My love affair with Korean cooking started when I "moved in" with my boyfriend. Every day he would come home to me eagerly waiting on the couch (that was when I was still funemployed) binge-watching whatever Netflix series I find amusing.
He would then take hold of the PlayStation controller and switch to YouTube to see if his favorite channel has uploaded a new video. That is this immigrant Korean woman Maangchi who does recipe videos in her apartment in New York.
Every week or so she would upload simple recipes which would make every novice cook who watches—myself included—feel like they could do it themselves. And do it myself I did.
I started out small with a vegetable pancake or yachaejeon recipe, which consists of julienned zucchini, leeks, onions, and chives mixed in a batter of eggs and flour. It was our go-to meal whenever I don't feel like cooking so much.
Pretty soon, with the help of other home cooking videos, we were able to cook our very own samgyeopsal or spicy pork barbecue strips at home.
One thing led to another and soon we found ourselves hosting a lunch for his friends where we served—to our disbelief and disdain after—bibimbap, complete with all the colorful vegetables like carrots, bean sprouts, spinach, and zucchini.
What is gochujang?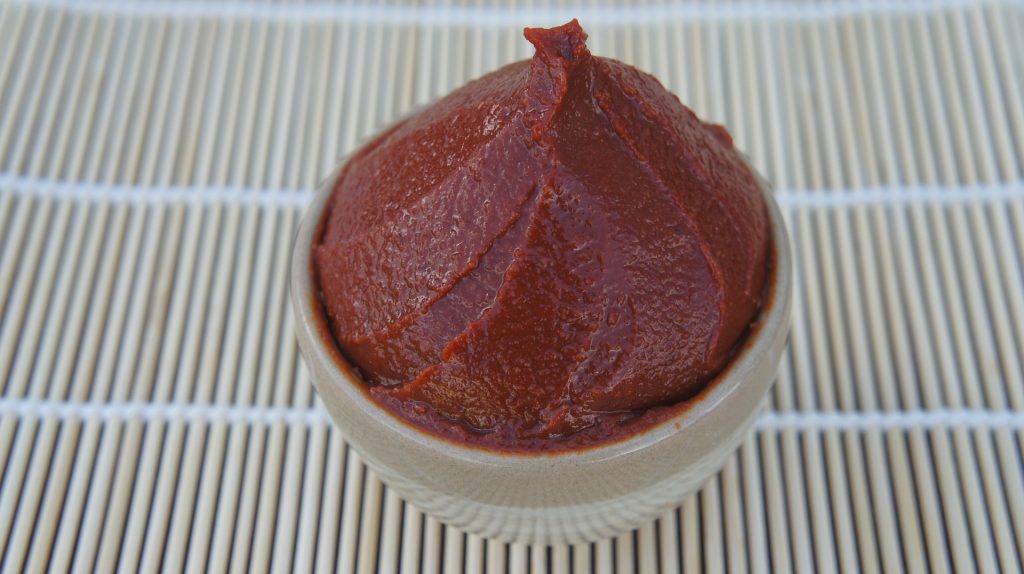 Back when I still had free time in hands, I would frequent the Farmer's Market in Cubao. This is where I would buy fresh vegetables like lettuce for our samgyeopsal and the elusive chives, locally known as kutsay for the vegetable pancake. (One time I was searching for it in a local wet market and the vendors laughed at me because they thought there was no such thing—and said perhaps I meant kintsay or coriander).
As for the condiments and other Korean ingredients, we have our go-to stores in Poblacion, Makati where we source our pancake flour, condiments like doenjang or bean paste for samgyeopsal, and our beloved and versatile gochujang which is basically a spicy version of the former.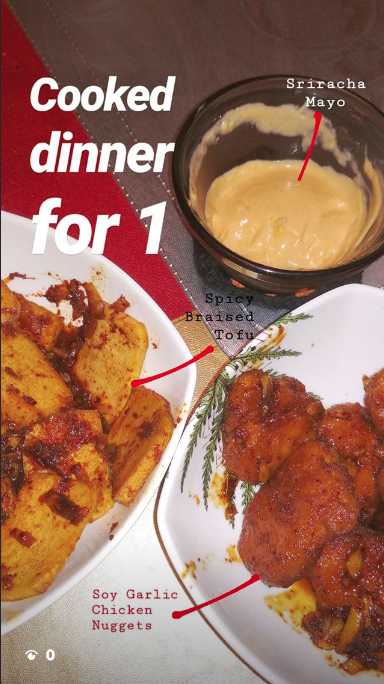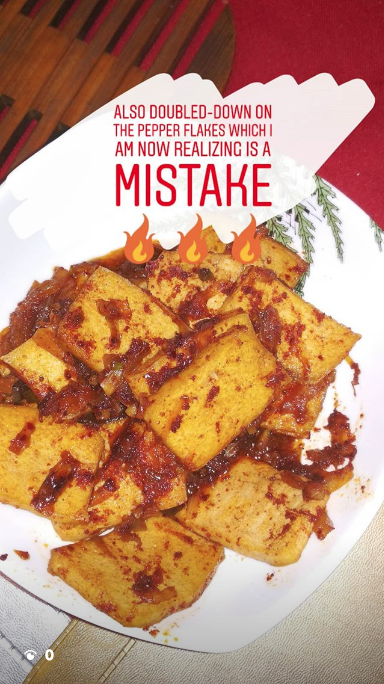 We use gochujang in basically every Korean dish we make, including in samgyeopsal as a marinade, and in bibimbap where it is the ingredient that binds all the rest of the dish together. On times when we forget to refill our refrigerator, it is our trusty companion to spice up a sunny side up egg with plain rice.
But really, if you ask us, gochujang should be a staple in your pantry even if you are not very fond of Korean cuisine. You can make every dish spicy with just a dollop of it. But it is not spicy all throughout. It has a complexity of flavors ranging from spicy to tangy to sweet, which is brought about by fermenting dried soybean paste, chili powder, barley malt powder, and cooked glutinous rice altogether.
Spicy braised tofu recipe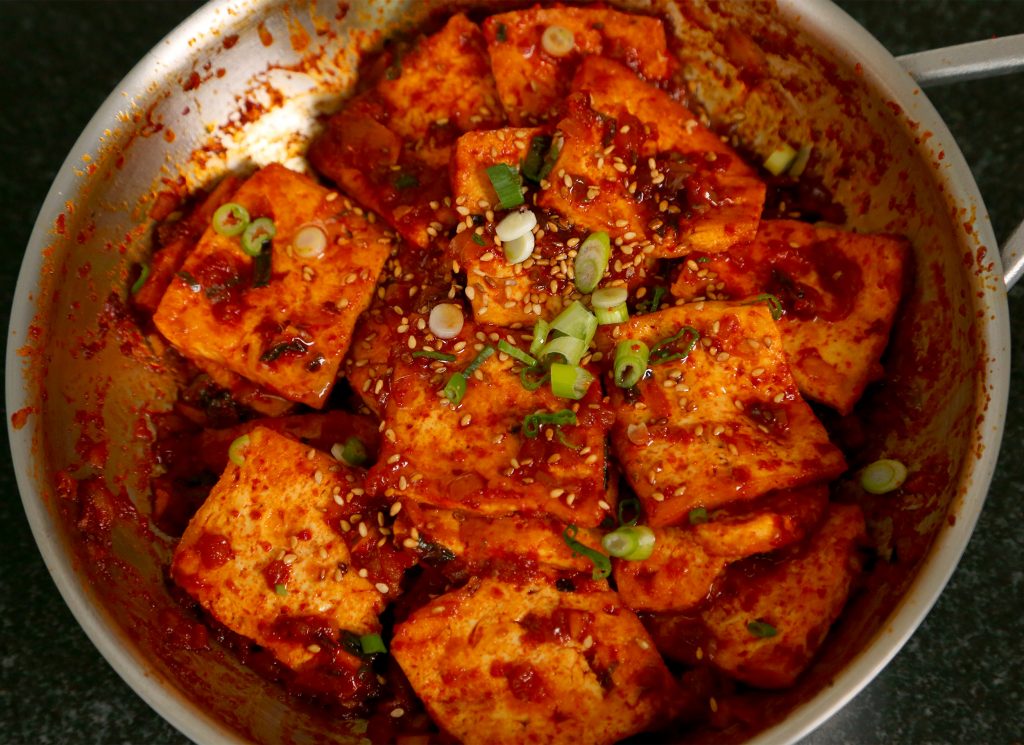 Other than the aforementioned dishes, we also use spicy soybean paste to season braised tofu, another dish I like that is very easy to make, it will literally take you only 10 to 15 minutes to do it.
INGREDIENTS
1 block firm tofu, sliced 1 cm thick
1 stalk of leeks, chopped diagonally
1 onion bulb, finely chopped
1/4 cup cooking oil
3 tbsp soy sauce
1 tbsp vinegar
2-3 tbsp gochujang, or depending on how hot you want it
1 tsp red pepper flakes
1/2 tsp sesame oil
PREPARATION
Fry tofu slices in oil until both sides are slightly golden. This shouldn't take more than 2 minutes on each side. Set aside.
In the same pan, sauté onion and some of the leeks until translucent.
Stir in red pepper flakes.
Add soy sauce and vinegar, simmer for one minute.
Mix in gochujang and stir well until it is completely incorporated.
Let it simmer for 1-2 minutes.
Remove the pan from heat.
Toss in tofu slices and remaining leeks.
Drizzle with sesame oil.
*Recipe adapted from Maangchi's Dubu-jorim cooking video
You can also try our low-carb Kimchi Shirataki Noodles recipe which also uses gochujang.
Header photo courtesy of Pixabay
Get more stories like this by subscribing to our weekly newsletter here.
Read more:
Eat chicken and beer the Korean way at Karrivin's newest joint
Check your beauty kits! These Korean products contain a harmful ingredient