Tucked in a little enclave in the province of Sorsogon is one of the country's rising surfing destinations, Gubat. Despite it being a 12 to 15 hour drive away from Manila, citydwellers still flock to its sandy white beaches to try out its consistent, beginner-friendly waves. We've talked about Gubat's role in promoting eco-tourism in Sorsogon through surfing before, and this year, the local surfing community is renewing its efforts to put Gubat on the map.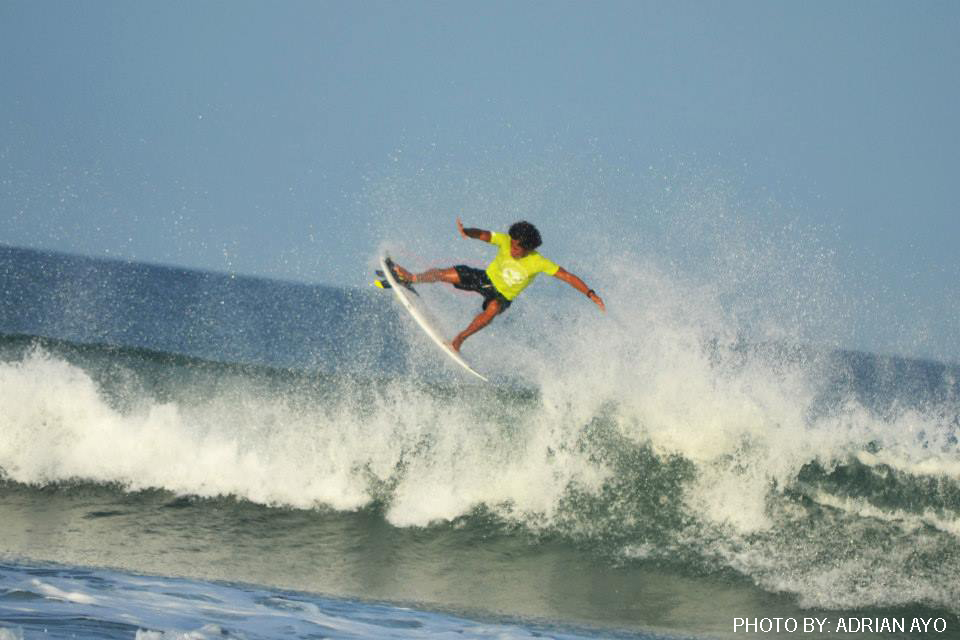 The Gubat Sorsogon Surfriders Association (GSSA), in partnership with the Sorsogon provincial government, is bringing back Lunad sa Balod (which translates to Riding the Wave) for the fourth time. As always, the event is a surfing competition-cum-music festival, inviting even non-surfing enthusiasts to join in the fun, too. The event is also an extension of the province's Kasanggayahan Festival, an annual celebration that marks Sorsogon's independence from Albay. Who said surfing couldn't have cultural relevance?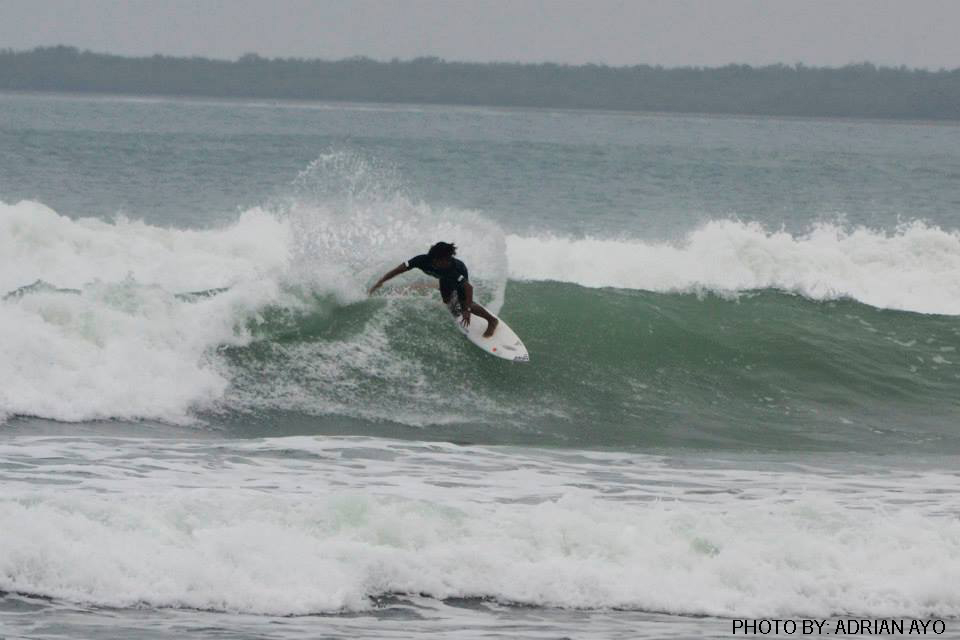 Surfers from all over the country are expected to take part in the competition. Just last year, over a hundred competitors came in to take on the waves of Gubat, and many more are expected to come this year. To keep the participants on their toes, the GSSA has assembled an all-star team of surfers (all respected leaders of the surfing community) to judge them.
More important than the competition, however, is the sense of kinship and athleticism that the GSSA wants to impart onto the competitors. Gubat's local surfers are keenly aware of the need for surfing enthusiasts to come together and celebrate the water sport. After all, they know that the ocean's transformative power can turn something as simple as paddling a long plastic board into something empowering and life-changing. It's in their mission statement.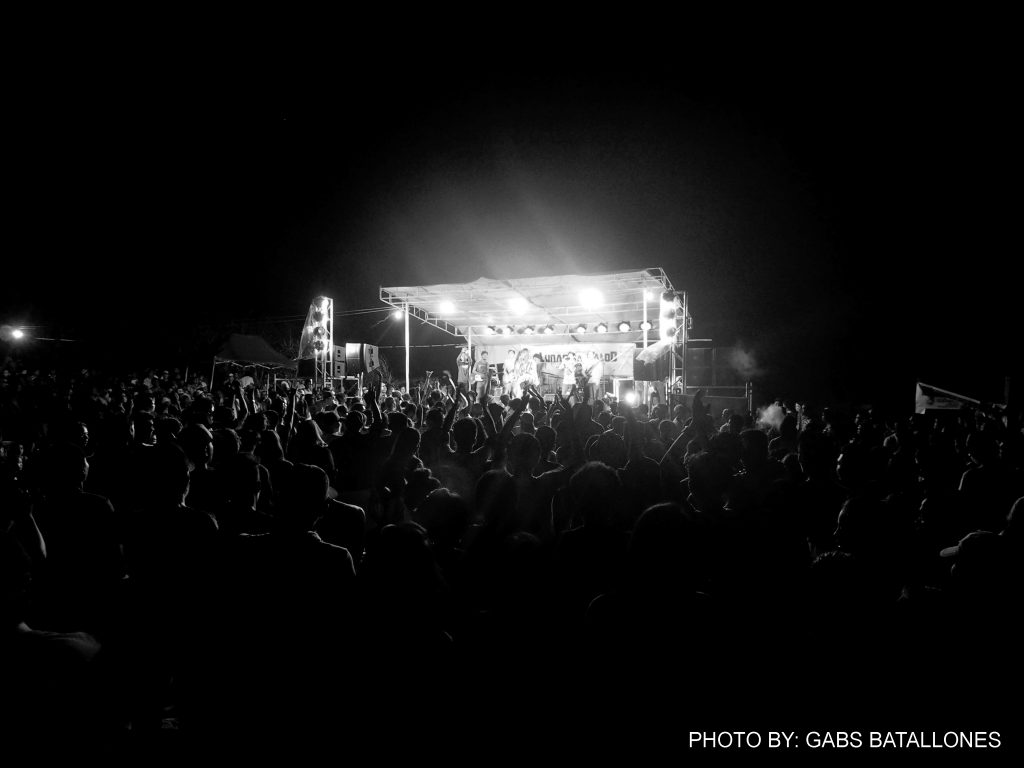 The musical aspect of the beach festival is not something to be dismissed. On the first day is an open mic jam session, with guests encouraged to bring their acoustic guitars and vamp on stage with the local music acts. If acoustic jam isn't your thing, the next two nights will be a full-blown music festival, with local DJ's coming in to cap off the event with their (presumably) tropical beats.
Lunad sa Balod is taking place this Oct. 19-21 at Buenavista Surf Camp in Gubat, Sorsogon. Here's their list of activities if you wanna check it out: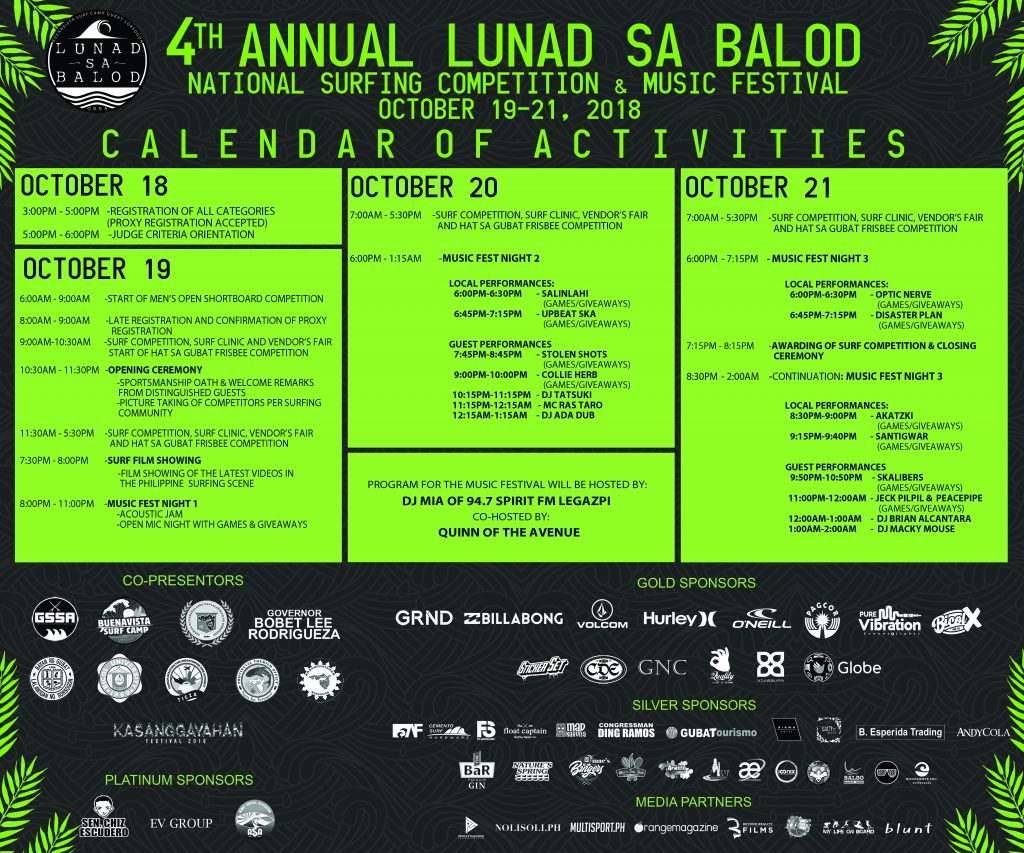 For more details, you can check out the GGSSA's Facebook page or the official Lunad sa Balod page.
Photos courtesy of Adrian Ayo and Gabs Batallones.
Get more stories like this by subscribing to our newsletter here.
Read more:
Gubat, Sorsogon is doing tourism right with Lunad sa Balod
The ultimate, curated guide to El Nido, Palawan
Mindanao beaches could be big winners in Bangsamoro autonomy, says Sen. Migz Zubiri
Read more by Zofiya Acosta:
FYI, Boracay isn't your personal dumping ground
Women should be able to use contraceptives without fear of abuse
Universities should do more to protect their students
Writer: ZOFIYA ACOSTA