Tambai gives Poblacion life with yakitori and sake
At Tambai, the air is filled with conversations with good friends over great food and drinks
info
Tambai Yakitori

5:00 p.m. to 12 a.m.

215-5695 or 0917-7244654

₱

P300 for two people
Tucked in Felipe Street, near P. Burgos Street, a few steps away from the always crowded El Chupacabra, stands a place where Japanese flair meets comfort street food. Only noticeable due to the number of patrons surrounding the light from the counter amid a backdrop of gray concrete, one could mistake the place as a simple karinderya or local eatery; the dining area is composed of wooden cocktail tables and plastic chairs spread out from the counter, almost making its way to the middle of the street in front.
But Tambai is not your regular street food joint. A lovechild of trio Franco Ocampo, Jerome Valencia, and Melvin Viceral, Tambai is what its name suggests: a place to enjoy what Franco calls "straight-to-the-point good food," preferably with good company and a bottle of beer in hand. The concept of the restaurant came about during many drinking sessions together while Melvin coerced the previous owner of the space to rent it out. After two years, the owner finally gave in and what previously was a sari-sari store now stands as a rising favorite among both locals and foreigners making their way to the restaurant. "We were just playing with the idea. But, in a way, we were already planning it," Franco adds.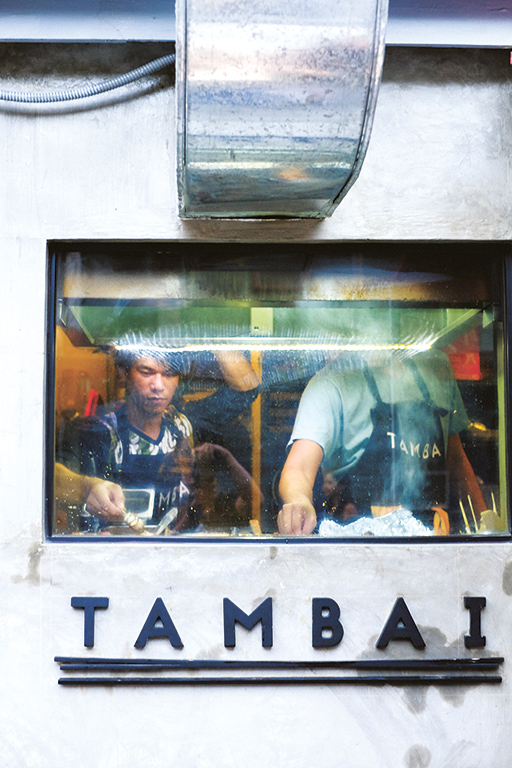 The "i" in Tambai not only suggests a differentiation from other street food joints but also spells out its edge. "Melvin thought of the name. We made it an 'i' just to have a little Japanese feel, to change it up a bit." Although Tambai doesn't define itself simply as street food, it doesn't claim to be authentically Japanese either. Instead, the vibe of Tambai is an embodiment of what the owners would want themselves: "You won't go here and feel like 'oh this place is for this kind of person.' I want good food and a beer, nothing is telling me I shouldn't feel like this place is weird. I want everyone to feel welcome. The concept is very personal to us. It's what we want."
The limited yet well-curated menu is composed of familiar tastes. Aside from the kimchi rice and a side of
salad, most of the menu is composed of skewered pieces of grilled beef, pork, and chicken. The deep fried soft-shell crab on a stick gives a slight crunch with every bite, and the healthier options such as the garlic skewered with fresh basil, cherry tomatoes, and grilled zucchini serve as a nice contrast in terms of flavor. The yakitori is a must-have, and with everything moderately priced you won't think twice of ordering another stick or two.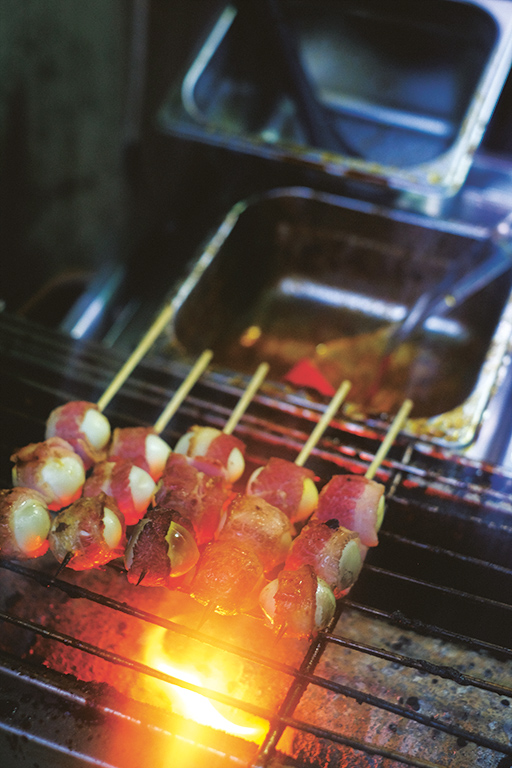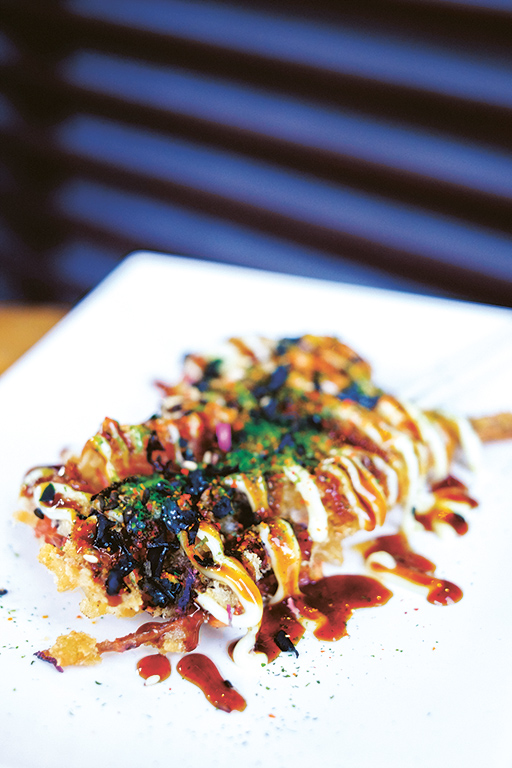 Open from 5 p.m. to 12 m.n., Tambai makes for both a good joint to wind down after a long night or a casual meeting place before venturing further into the streets. Either way, this place is a definite mainstay.
Story was originally in Southern Living, March 2015.
TAGS: beer drink nolisoliph Poblacion skewered sticks Tambai yakitori
WHY GO?
Tambai is great place for an afterwork hangout. Order a plate of chicken skin alongside local craft beers.
MENU