Aficionados of the local arts, jewelry, and fashion are looking forward to the comeback of the FilipinaZ fair,
regarded
as one of the country's most well-curated shopping festivals. With women advocacy group
Zonta Club of Makati and Environs Foundation
at the helm, this annual bazaar gives spotlight not only to handmade works by artisans but also to the fierce, progressive, and hardworking characteristics of Philippine women. "FilipinaZ is a fundraising project that is all about coming together," said Zonta committee chair Maritess Pineda in a press preview. "Meant for both men and women—as men should also do their share in protecting women—the fair serves as a beacon of hope that also enlightens guests on culture and history. From here, we can work towards enhancing our programs and impact lives of women in here and overseas." For the past decades, Zonta has been leading drives that protect disadvantage women. Their missions include providing health care services, enhancing livelihood programs with indigenous communities, and helping in the rehabilitation of sexually harassed women. Zonta also has an ongoing full scholarship that helped fund the tertiary education of more than 150 students. With the fifth edition of FilipinaZ happening on Nov. 9 to 11at the 21st Floor of 8 Rockwell, Hidalgo Drive, Rockwell Center, the women's group aims to raise the funds for women mission drives and the flag for local produce. Here are some works artisans are putting on sale, in honor of the Filipina:
Oil paintings by Ronna Manansala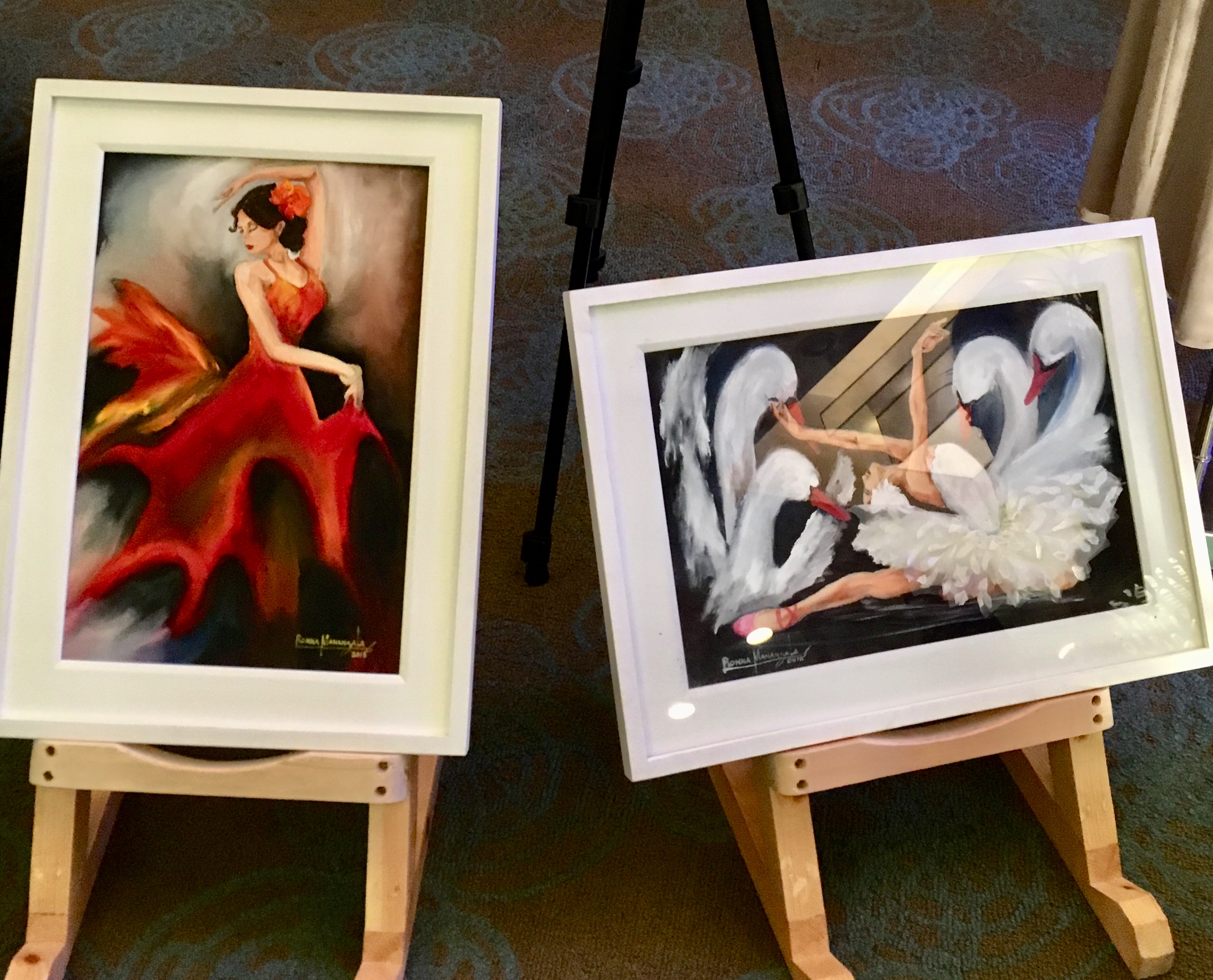 Artist Ronna Manansala's considers dancing as her first love in the field of arts. "Ever since I was little, dancing has been very close to my heart. I try to transcend this passion into the different kind of art I am into now, which is painting," she told Nolisoli.ph.
Mostly oil on canvas, Manansala's paintings to be exhibited in FilipinaZ depicts a wide range of dances varying from the graceful ballet to the folkloric flamenco.
Manansala, granddaughter of National Artist for Visual Arts Vicente Manansala, has long been a recipient of support from women in Zonta, even while she was still in school, she shares.
Shoe with carved wooden heel by Risque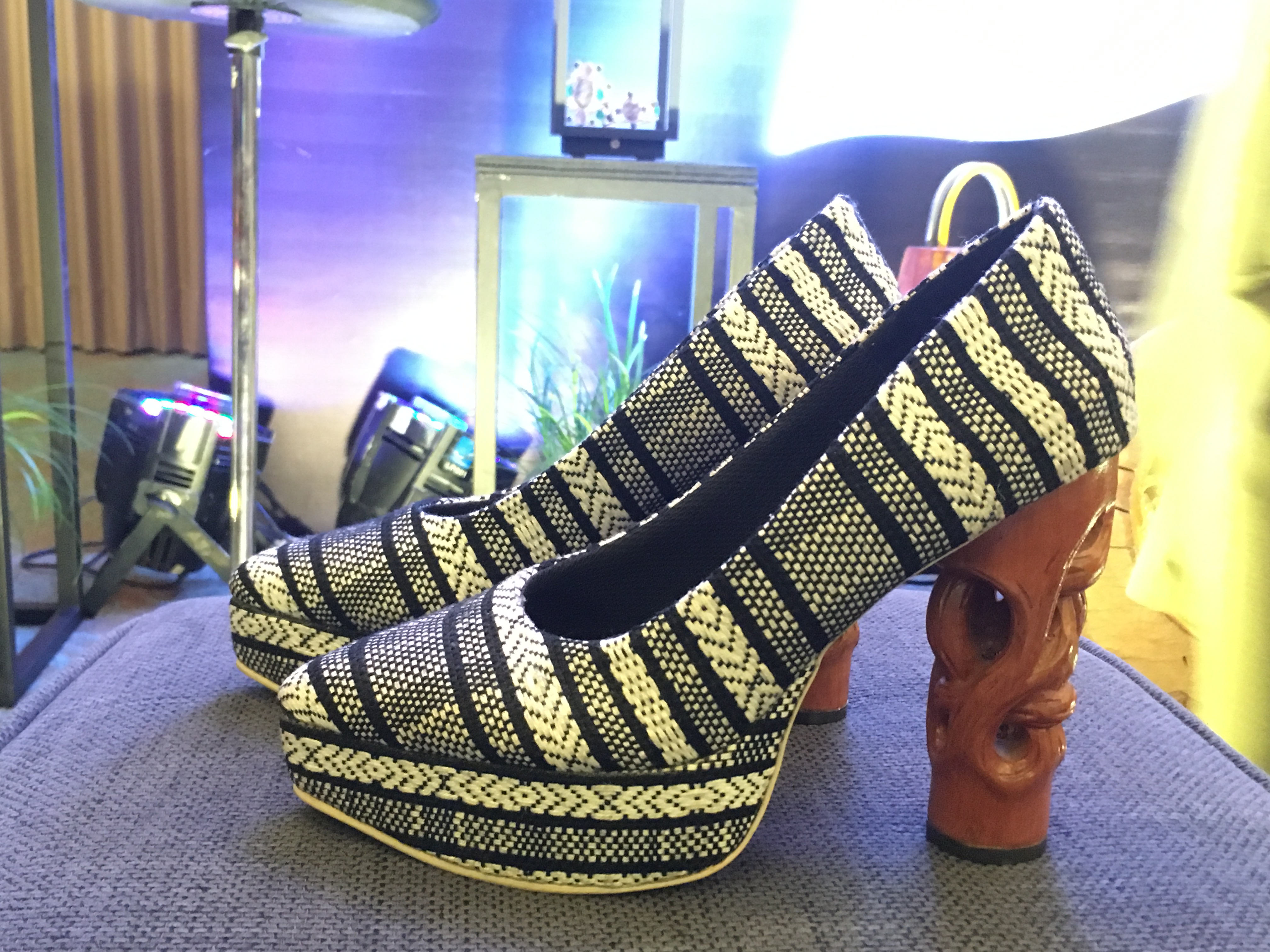 Hailing from the shoe capital of the Philippines, Risque made this intricately designed high-heeled shoe purely with indigenous materials. The fabric used is weaved by the brand's partner indigenous communities, mostly from Negros Occidental. The complex details of the heels, on the other hand, are carved by locals from Paete, Laguna.
Wooden bag by Charming Baldemor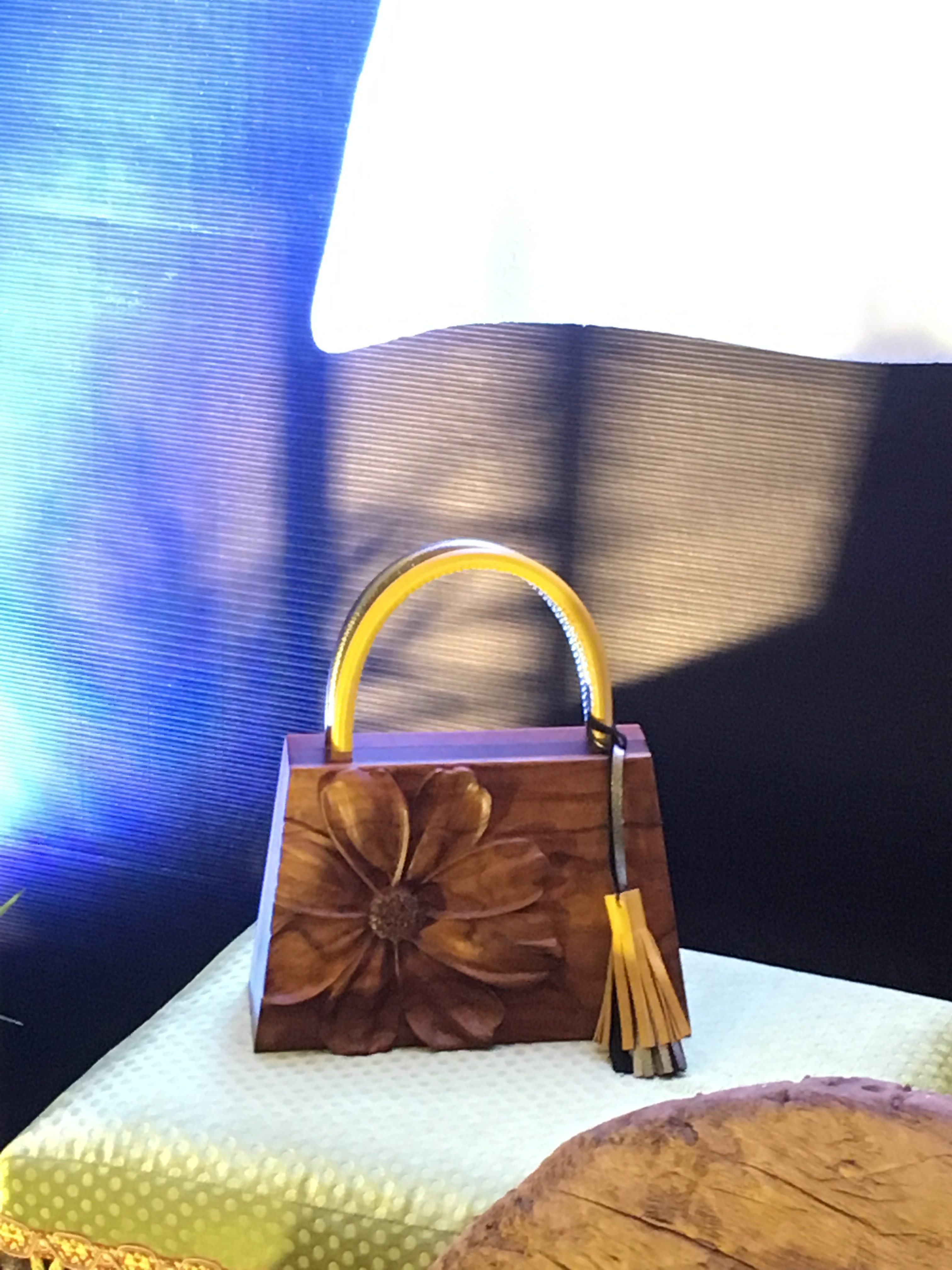 "These bags are not just accessories where you put your valuables. It also serves as a vessel that carries my hope for the future of the environment, for the future generation, and for the empowerment of women," Baldemor said during the press preview. For this year's collection, Baldemor chiseled her signature floral sculptures into repurposed wood mixed with other locally sourced materials, including leather. A member of Zonta Club herself, Baldemor was born and raised by a family of sculptors in Paete, Laguna, the carving capital of the Philippines.
Long weaved vest by Ivar Aseron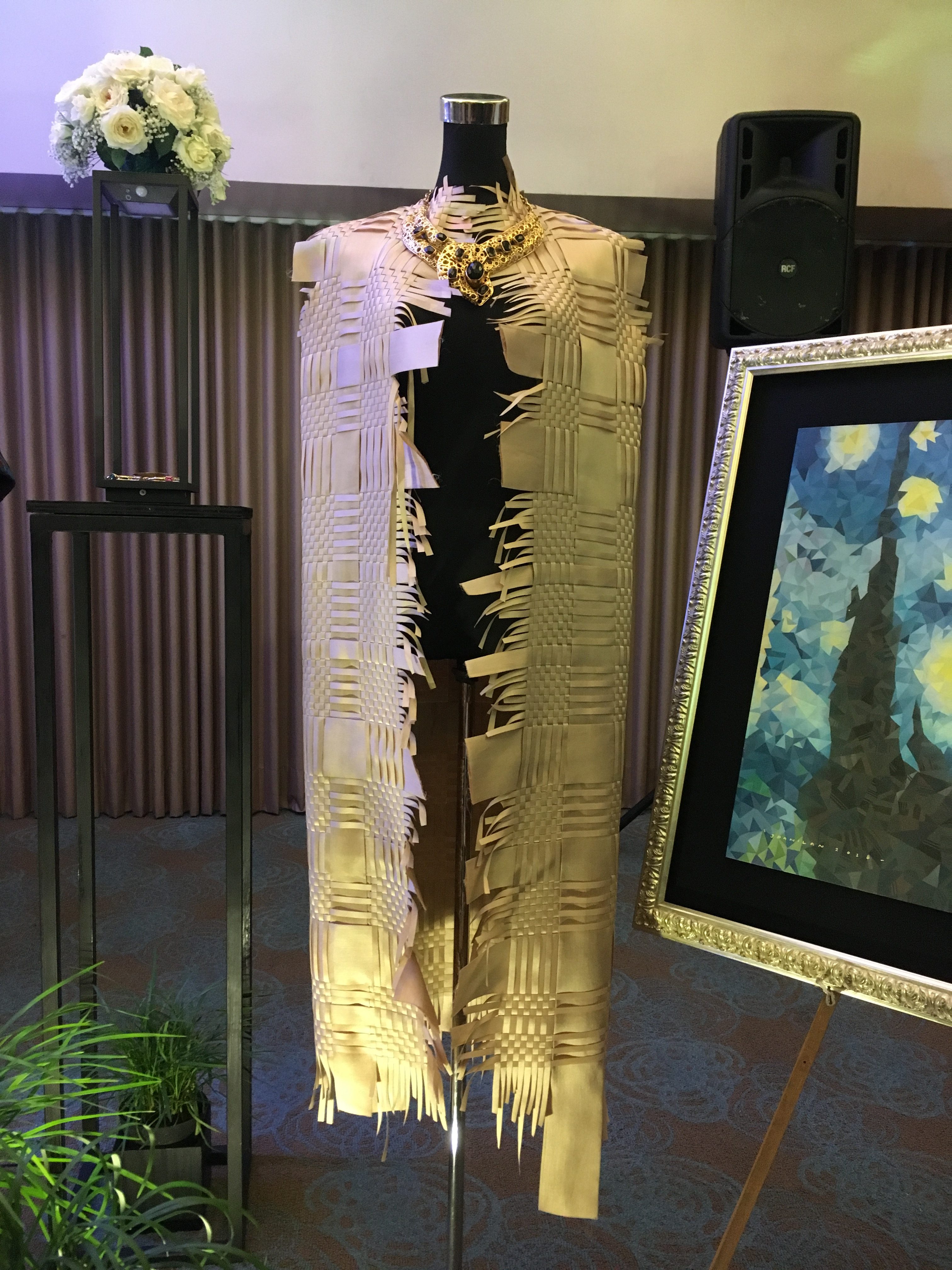 This long and unconventional weaved vest boasts of traditional culture and modern styles at the same time. It embodies what Philippine Daily Inquirer Lifestyle Editor Thelma Sioson San Juan noted in this
article
, which states that Aseron's designs are able to "disrupt our notions of silhouettes, fabrication, color choices, even gender dressing." Accenting the handcrafted vest is Carlo Evaristo's gold necklace, another handcrafted, locally produced statement piece.
Bracelets by Elena Bautista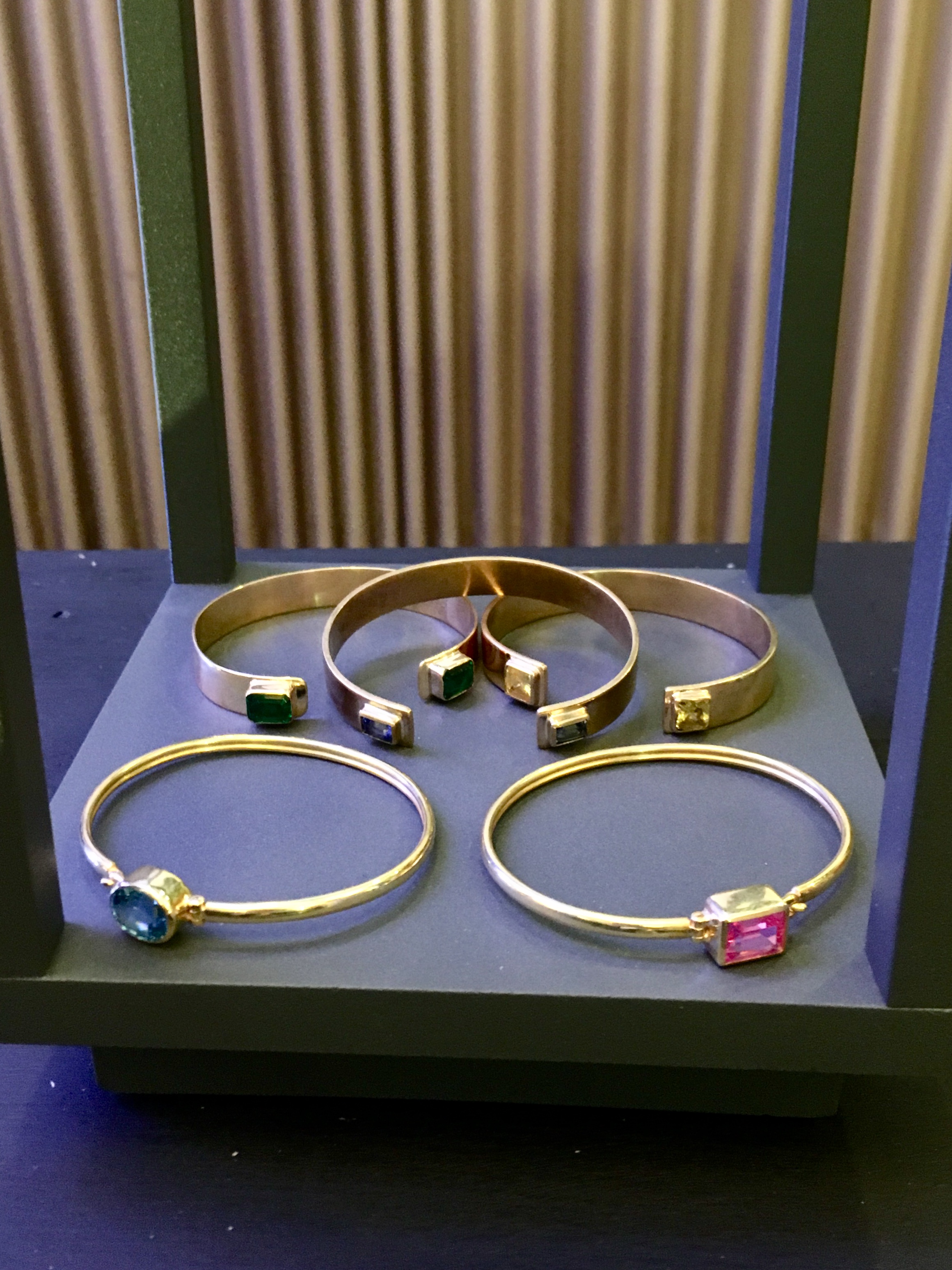 Looking both sophisticated and antiquated, these handcrafted bracelets were individually made by one of the country's premiere jewelry designers, Elena Bautista. The designer is also "resets" and up-cycles old jewelry pieces in her new collection. She was exposed to the jewelry making business ever since she was little, coming from a family of jewelry designers.
An unearthed collection of works by National Artist Ramon Valera will also be showcased in the fair.
Get more stories like this by subscribing to our weekly newsletter here.
Read more:
These finds from Habi Fair can be your next travel essentials
This new art space in Pasay opens with an exhibit featuring 20+ local artists
Self-taught local designer makes painstakingly intricate bag
Read more by Amierielle Anne Bulan:
Locals in London: Filipino designer flaunts handwoven garments in London Fashion Week
MIBF finds: Treat yourself to these self-improvement books by local authors
The rejected tomatoes issue is rooted in our country's lack of local support