Coinciding with the peak of the flu season is the Philippine Atmospheric Geophysical and Astronomical Services Administration's (Pagasa) announcement that the country is now in "amihan (northeast monsoon) season." The cold and dry air brought by the northeast wind will further make the influenza virus, one of the leading causes of respiratory illnesses, more rampant, as studies have proven that it is in most stable state when the temperature is cool and dry.
If you don't want to spend the holidays sick in bed, you have to take early precautions, which includes getting vaccinated. And the vaccine you got years ago when you were still in school does not count. You have to get vaccinated annually to be sure.
But is it safe, you ask? There have been numerous studies saying repeated flu shots may reduce its effectiveness, cause severe allergic reactions, or even trigger a rare illness called the Guillan-Barre syndrome which can lead to weakness, numbness, tingling, and paralysis.
A new medicine research in America, however, proves it's safe (and recommended) to get repeated flu vaccines every year, most especially for children.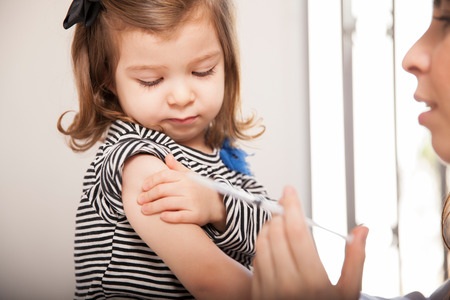 According to the findings of eight doctors, 3,000 children who received annual vaccinations were less likely to get flu than unvaccinated kids. This is because the repeated medicine dosage did NOT reduced its effectiveness but boosted it, debunking all myths and misconceptions about regular vaccinations.
"During the 2011-2012 and 2012-2013 seasons, children primed with 2 doses in a single previous season were less likely to have infection caused by influenza viruses than were unprimed children," the medical experts wrote in the study published last Friday, Oct. 26.
Another research published earlier this year found out that repeated vaccinations for influenza was "highly effective" in preventing the elderly from "severe and fatal infections caused by [the virus]."
"Patients with influenza who were unvaccinated were admitted more frequently to ICU and had more deaths in the 30 days after hospital admission," the researchers wrote.
The reason for this, according to the Centers for Disease Control and Prevention (CDC), is that "a person's immune protection from vaccination declines over time, so an annual vaccination is needed to get the "optimal" or best protection against the flu."
CDC has long been recommending every person aged 6 months and older to get annual flu vaccines. Last August, the center supported a study that proved annual flu vaccination in adults is effective in preventing the most severe forms of flu and reducing the risk of being admitted to the hospital.
"Getting vaccinated yourself may also protect people around you, including those who are more vulnerable to serious flu illness, like babies, young children, older people, and people with certain chronic health conditions," CDC wrote.
Header image courtesy of Unsplash
Get more stories like this by subscribing to our weekly newsletter here.
Read more:
Health over utility: A case against coal-fired power plants
Feeling sick? You might just need to go to the museum
Humans are already eating microplastics, according to study
Read more by Amierielle Anne Bulan:
New House bill appoints health workers within indigenous groups
5 ways to show support for breast cancer patients this month
A mom's right: Maternity leave raised from 60 days to 105
Writer: AMIERIELLE ANNE BULAN