Carabaos and childhood games inspire this jewelry line
Tim Tam Ong's latest collection hopes to pay tribute to Filipino culture
Nov 7, 2018
You've read the history books and seen museum exhibits but, here's a short refresher. Pre-colonial Philippines was already flowing with natural resources, particularly gold. Because gold was so abundant before, women of all classes—from the nobles to the common people—were decorated in gold ornaments. The concept of wearing adornments has long been embedded in our culture as Filipinos.
Filipino jewelry designer Tim Tam Ong hopes to integrate this piece of our history to very specific parts of our culture and identity as Filipinos through her newest line, Heirloom. The collection hopes to pay tribute to Filipino culture by highlighting the details of the jewelry pieces that are reminiscent of days long gone.
With technology thriving quickly as time passes, Tim Tam Ong hopes to take it down a notch because "there is an excessive focus on modernism."
"As a designer, I feel that part of my legacy is to share the wondrous culture and arts of the Philippines to the whole world by making them accessible through jewelry," she points out. "Our culture is our fingerprint, it is what defines us and we should have more of it in our everyday lives. We need to preserve it and take inspiration from it to keep it alive."
The pieces are 100 percent designed and crafted by Filipino hands. To add, the materials they use are also locally and ethically sourced, Tim Tam Ong explains in an interview with Nolisoli.ph. You're sure to find details of anything that reminds you of the Philippines—from the ubiquitous carabao to Pinoy classics such as manong sorbetero.
Check out some of the pieces below: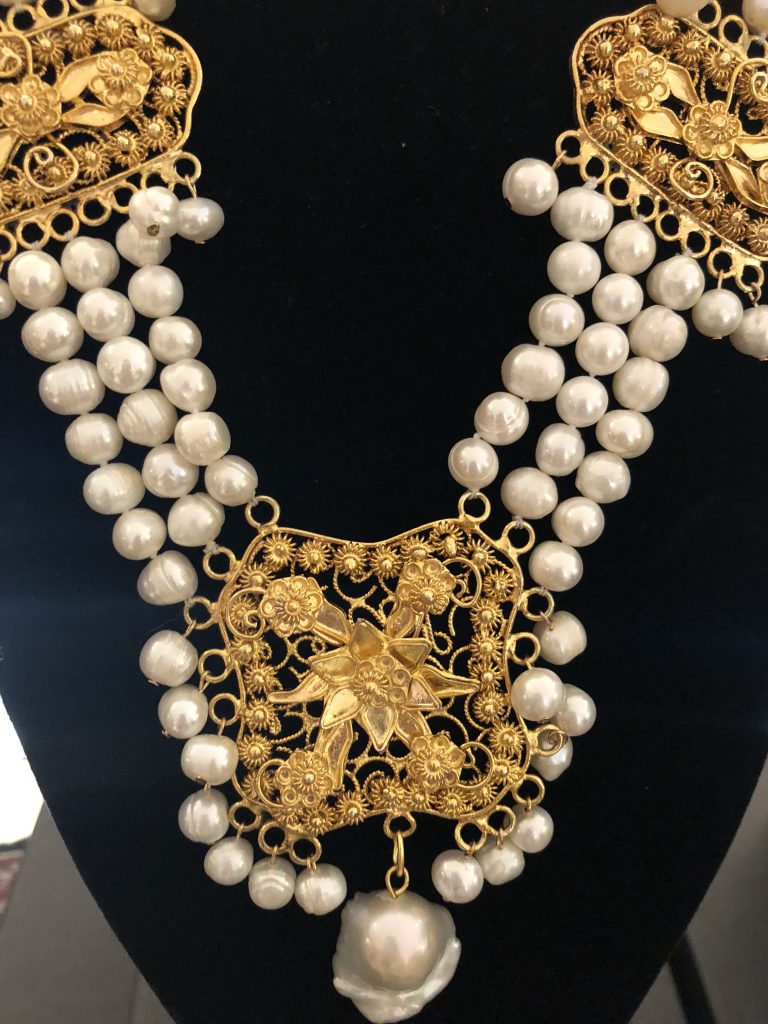 The pearls that are embellished in this matinee necklace are sourced from Palawan. Moreover, the sampaguita-inspired pendants are made from brass coated in 24-karat gold.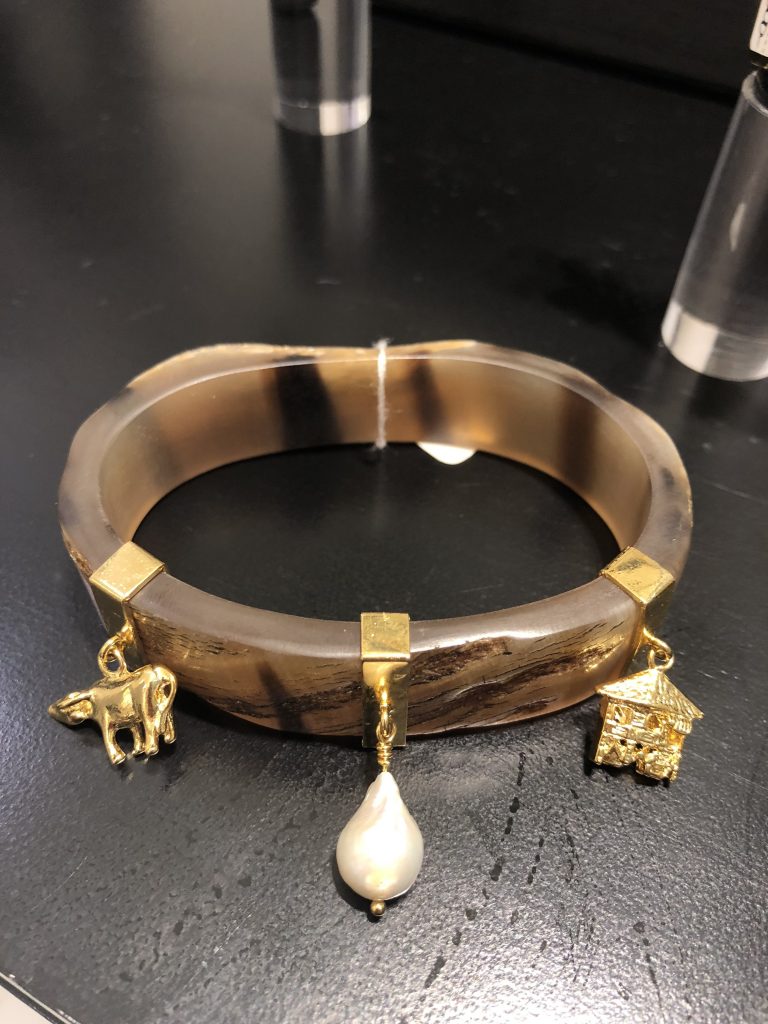 This bangle is made out of carabao horn, adorned with dangling carabao, pearl, and bahay kubo charms. Don't worry though, the horns are ethically sourced from carabaos that have already passed.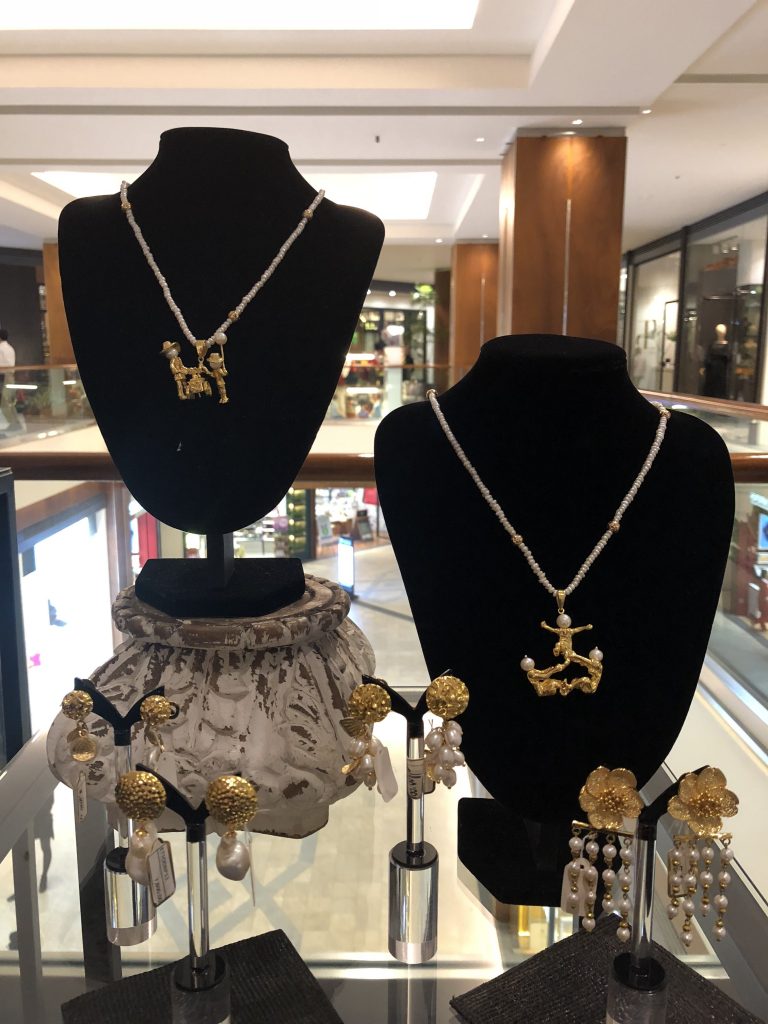 These necklaces draw its inspiration from days of our childhood. If you look closely, you can spot manong sorbetero handing a cone of dirty ice cream to a child. Perhaps, the other piece reminds you of days when you played luksong tinik with your playmates on the streets?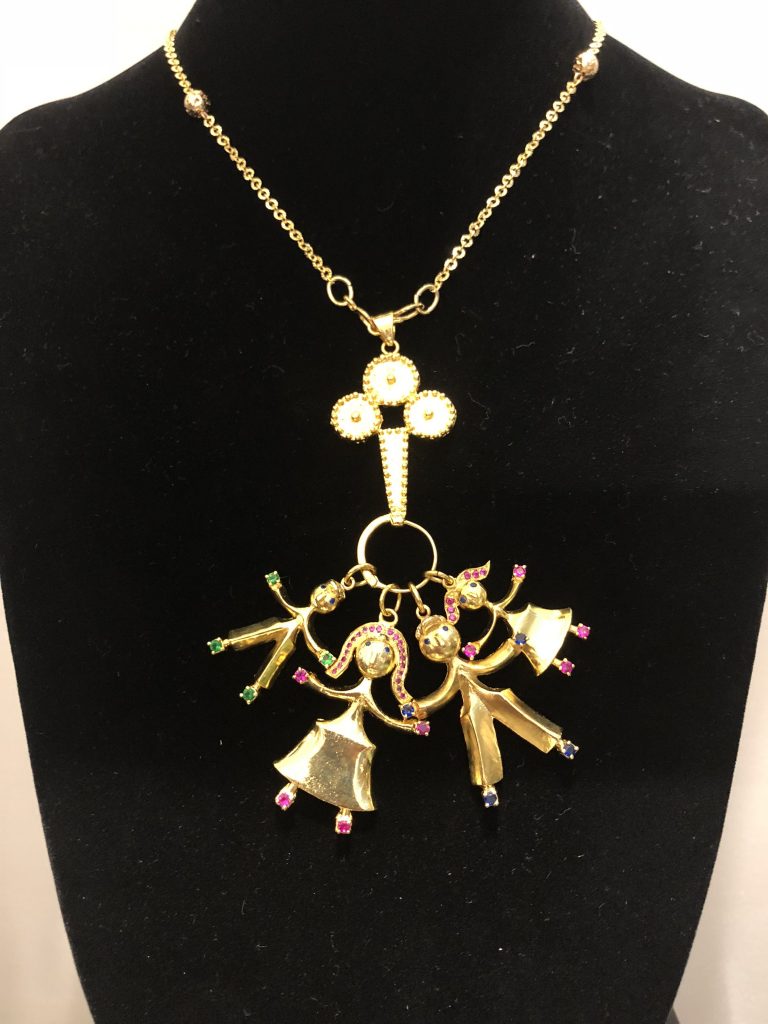 The concept of close family ties is something that hits so close to the hearts of many Filipinos, and this pendant hopes to highlight just that. The pendant is also made from brass dipped in 24-karat gold, with added colored pieces of cubic zirconia.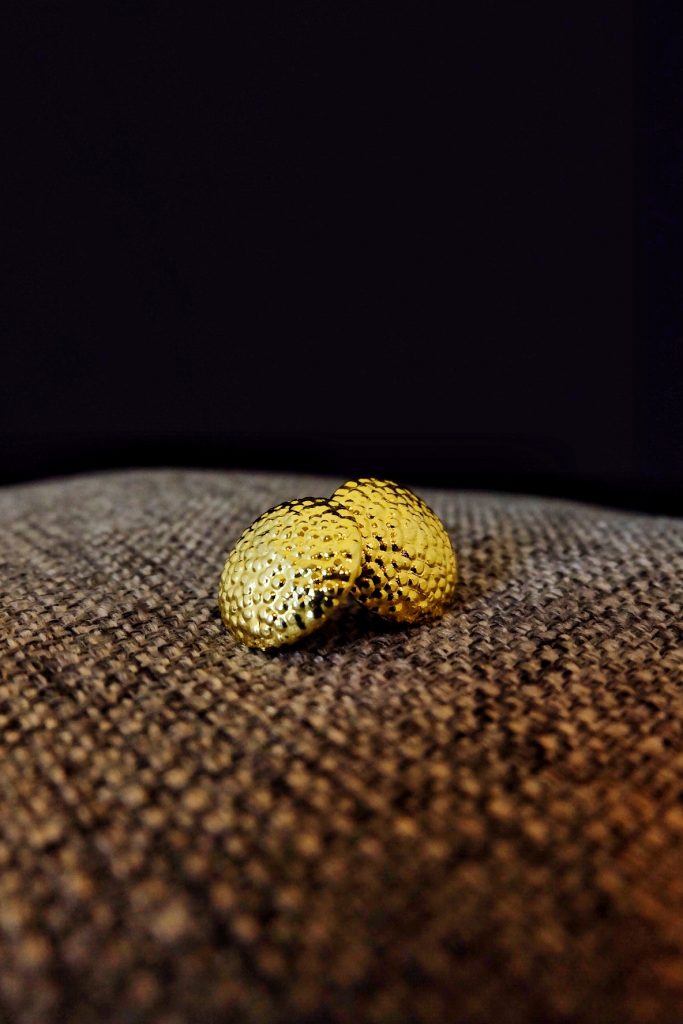 This pair of golden button earrings is inspired by pre-colonial jewelry that ancestors wore before.
You can catch the full collection at the 2nd Level, New Wing of Power Plant Mall, Rockwell, Makati City.
Header image courtesy of Tim Tam Ong.
Read more:
Smart holiday pampering? Why not try saving up for fine jewelry?
Fine jewelry to season your everyday style
Personalize your jewelry with these 5 local brands
Read more by Jill Chua:
Feeling sick? You might just need to go to the museum
You will soon see cleaner waters at Manila Bay
TAGS: bangle earrings jewelry makati necklace nolisoliph Rockwell Tim Tam Ong