Ballet Philippines proves that a heavily pared down Carmen still works
The dance company is celebrating its 49th year
Nov 14, 2018
I caught up with Ballet Philippines  to see The Innovators: Carmen and other Dances. The production was a compendium of dances helmed by three of their best known choreographers: Denisa Reyes, Augustus "Bam" Damian III, and Alden Lugnasin. Both Reyes and Damian had had their hand at being BP's artistic director, while Lugnasin served as associate artistic director for BP and artistic director for BP2. With the 49-year old ballet company nearing its golden jubilee, it's been doing retrospectives on its rich and glossy history and impressive repertoire. The Innovators is no different; the six dances chosen for the production were taken straight from the oeuvre of the three choreographers, each one showcasing the choreographer's unique style and mastery of the art.
I'm a huge theatre girl, but I don't know much of the other disciplines under the performing arts. Ballet is pretty foreign for me, save for a brief stint when I was seven when my mother still had pretensions of turning me into a dancer. In college, I had attempted to learn more, and so some hazy Saturdays were spent catching a train to CCP to watch La Revolucion Filipina or Noli Me Tangere. This is to say: I'm no expert at ballet.
Even still, I enjoyed Carmen and Other Dances. There was a technical skill to the dances that even my inexpert eye could appreciate, and I could read the stories the dancers were spelling out through their bodies. Some of my favorites of the night were Te Deum, Swimming the Ilog Pasig, Carmen, and After Whom.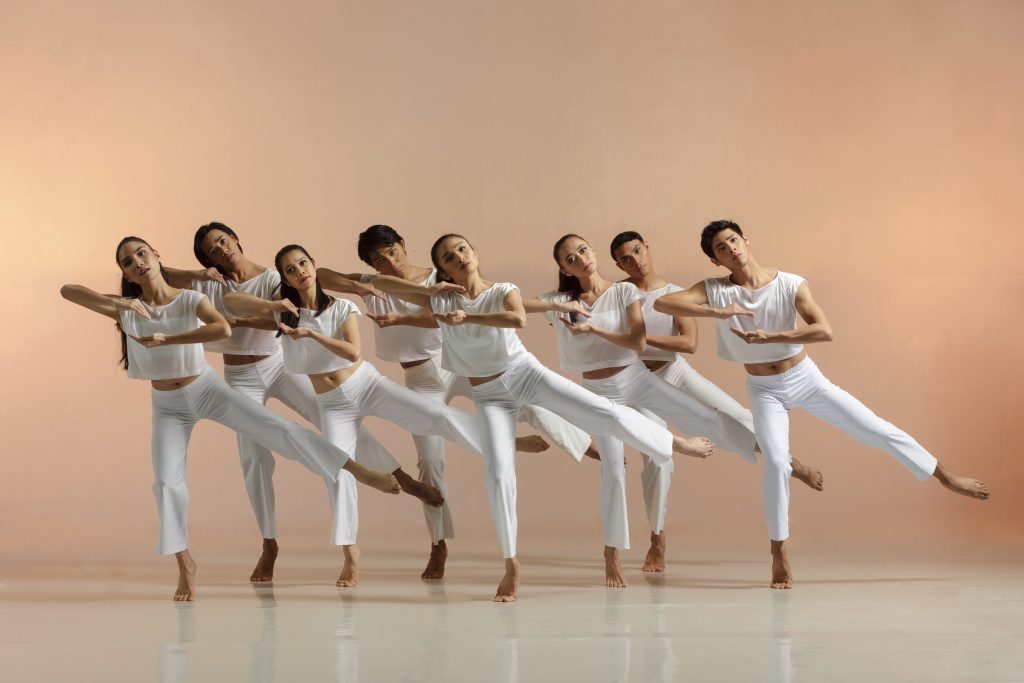 Te Deum was a piece that was charged with socio-political meaning. Originally premiering in Manila a year before Martial Law had ended, the dance reflects the anxieties of that time, and, with the way it was choreographed by Denisa Reyes, offers its own commentary on the current age. There's a sort of biblical (or at least, religious) allegory going on with Reyes' piece, with the set decked with church pillars and the dancers arrayed almost like in frenzied prayer at times.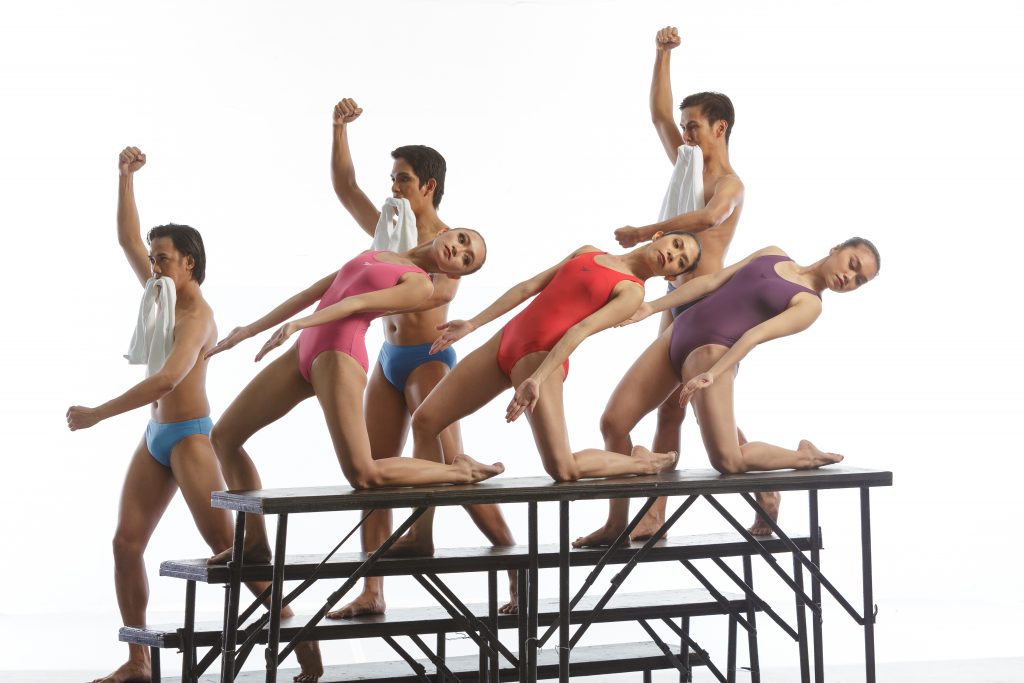 Compared to that, Alden Lugnasin's Swimming the Ilog Pasig was a far lighter piece. It's inspired by both the Barcelona Olympics and the Pasig River clean up, and so the dancers were decked out in old school swimwear. It features tracks by Joey Ayala and has the dancers gracefully taking on swimming movements on a set resembling bleachers. As someone with a past life as a swimmer, it was pretty fun to watch.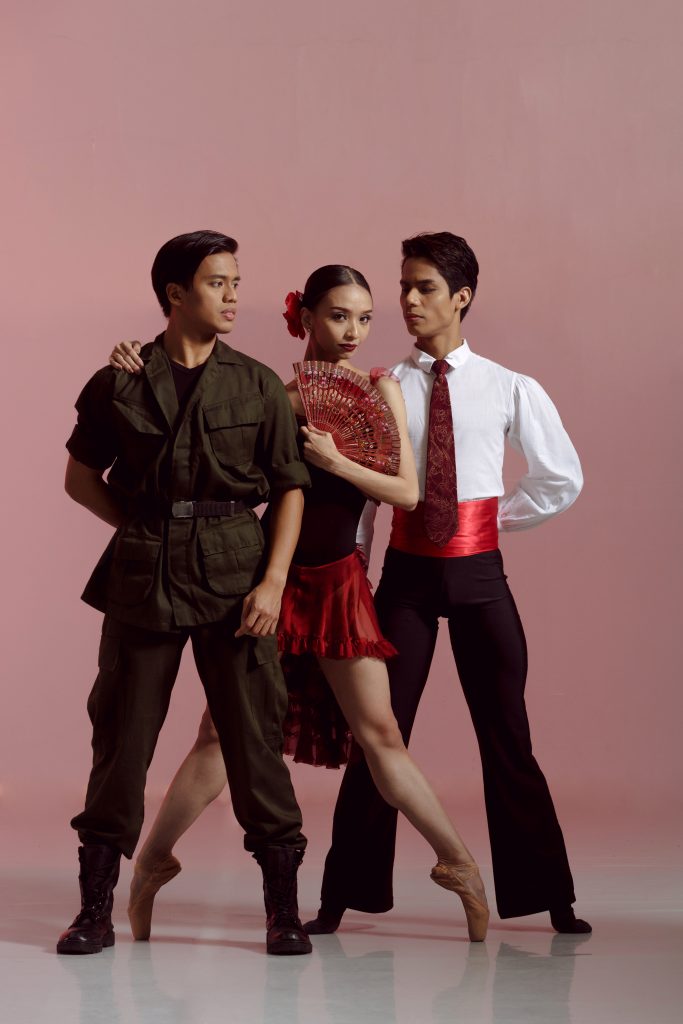 I'll be honest, knowing that they were doing Carmen was what got me to watch the production. I'm inclined to think that Carmen is pretty much the best opera ever (Habanera is my favorite aria and I have it on standby at all times in case I need a musical pick-me-up), so I came in with high hopes for the dance.
I wasn't disappointed. The dance choreographed by Bam Damian was, of course, not like the opera: it was a heavily pared down version. "I only have three dancers carrying the entire narrative. Because there are only three people, there's nowhere to hide. The three people have to sustain the narrative physically, technically," Damian explains. It works for Carmen. After all, Bizet's opera is really just the story of Carmen, the soldier she has beguiled, and, albeit to a lesser degree, the torador that seduces her.
The night closed with After Whom, an abstract set also choreographed by Bam Damian. Being an abstract piece, Damian stresses that he prefers people watch the play as it is without searching for any hidden meaning. "[Don't] look for any philosophy, any intent or content, but primarily [look] at it as a showcase for the dancers…and enjoy the music [as well as] the choreography."
However, he admits that the dance is "loosely about the subjugation of women." The title is from watching how men and women walk together in some cultures in the Middle East. Women in these places are conditioned and forced into walking behind the men, never together or ahead. The question is then posed: "Who walks ahead? And who will walk after whom?"
All in all, I greatly enjoyed the show, and I found it interesting how each dance reflected the choreographer's own unique vocabulary. Check out the dance company's Facebook page to see more of their dances this season.
Photos by Jojo Mamangun, courtesy of Ballet Philippines.
Like this story? Subscribe to our newsletter here to receive similar stories.
Read more:
The agony and ecstasy of being a ballet dancer
Don't miss this grand gathering for Philippine dance
Read more by Zofiya Acosta:
The physical labor of beauty
Who's afraid of the contractual workers?
Writing a nation: Should we start using Baybayin again?
TAGS: alden lugnasin Ballet Philippines bam damian III carmen and other dances denisa reyes nolisoli.ph