One thing that comes across very strongly when you talk to Bidge Villaroya, a surfer and founder of the Gubat Sorsogon Surf-Riders Association, Inc. (GSSA), is the idea of a community. Talking about the brotherhood of his local surfing community, he laughs as he recounts a time when the young surfers came back from an event with black eyes. They went to a surfing festival, he explains, and got into a brawl with another group, young kids fighting with and for each other. "Samahan talaga," he shakes his head.
He'd know. A former NGO-worker in Manila, Villaroya himself started the GSSA shortly after coming back to his home province of Sorsogon. It was a sort of splinter group of another surfing association: the older group followed a more business-centric model, Villaroya wanted to focus on taking care of the kids under him more. Head over to Multisport if you want to read more about how he looked after the kids, but in any case, by taking care of the kids, Villaroya found himself cultivating a close community of surfers. And within that community, he's imparted a sense of responsibility. Everyday, he tells me, they would clean up the beaches of Sorsogon, not for the tourists or for any publicity, but for the sake of protecting the beaches. He also reveals that in 2015, the group was even able to eradicate the illegal fishing problem that had been plaguing the town for 30 years. "Hinuli namin yung nets, hinuli namin yung boats, naglakasan lang ng loob."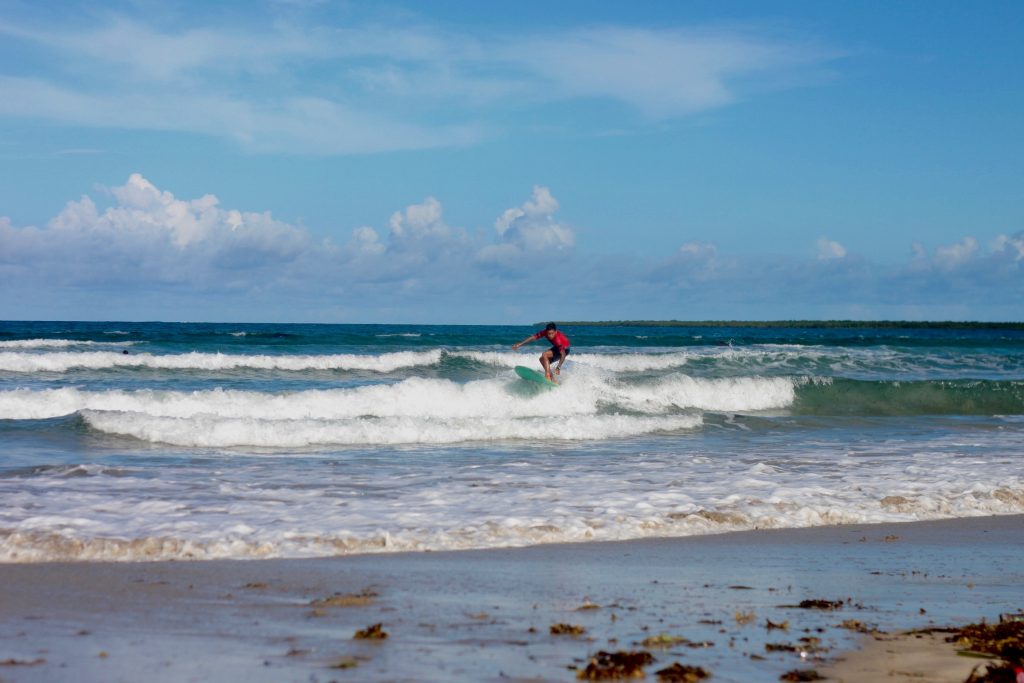 I'd be the first to admit that I don't know much about surfing. My relationship with the sport is comprised of a lifetime of watching Disney Channel Original Movies set on the beach and a sort of surfer ex that I drifted off from before we could catch the waves together (if you're reading this, A, you're still a bitch). Not exactly prime surfing material. But even through my novice eyes, I could see that the GSSA's flagship event, Lunad sa Balod, was something special. For one thing, the surfing was coupled with a music fest each night, featuring both local and Manila-based acts. For another, the GSSA took pains to foster a a sense of kinship with the surfers. Every night, I heard, the competing surfers were treated to unlimited amounts of crab, no matter how well or how badly they did.
Surfing events come and go. In the four years since Lunad was born, many of the other festivals that started at the same time have already folded. Gubat's humble surfing competition, instead, has only grown exponentially. I learned this after talking to a surfer who's followed the event since its beginnings. Knocking back a bottle of beer, he describes to me how the crowd has grown, and how the event has garnered enough recognition that they've been able to pull acts that usually play in bars in Poblacion. Gubat is more than half a day's drive away from Metro Manila, so it's no small feat.
"Surfing is a cult," the surfer then jokes. He explains that he didn't use to be a surfer, but after working with surfers he quickly knew he had to be one, too. "You can't be a poser among surfers. You have to prove yourself to them." It's a trial of fire of sorts. I heard a variation of this when I talked to Villaroya. When the GSSA was still starting out, Villaroya had to enter surfing competitions—and do well—to prove to the rest of the Philippine surfing community that Gubat was worth watching out for. "Hindi ko mapahiya yung town," was something he clung on to while making a stake for Gubat.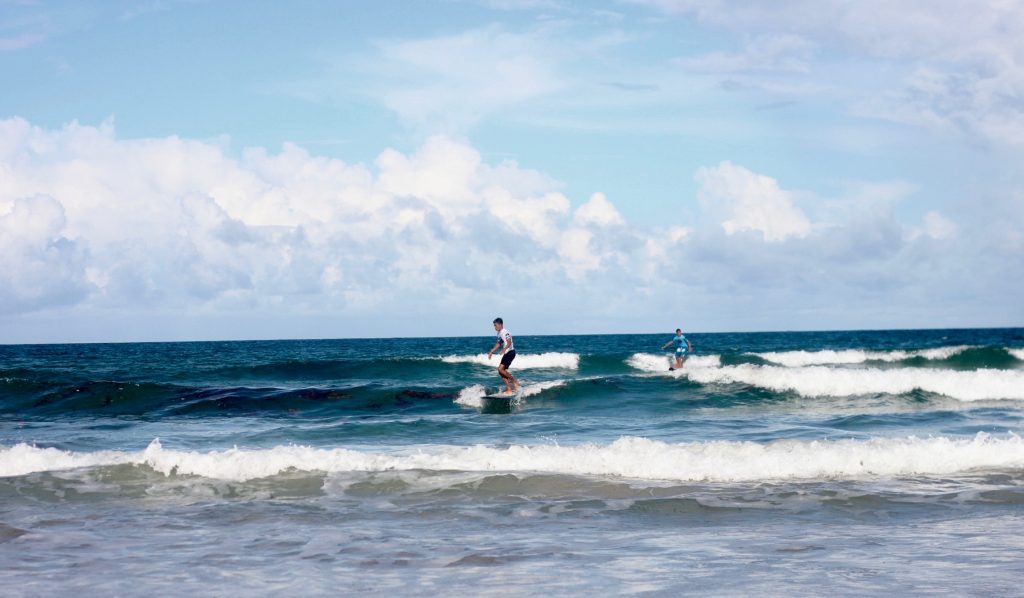 "The surf community is super small," Villaroya says, telling me how it's hard to do any kind of shady thing within the community because everyone's connected. If someone from, say, La Union approaches you and you don't know who that person is, you can just call someone from the La Union tribe and ask, "Pare, kaibigan mo to?" and if that person is notorious, you'll get all the nitty-gritty details of why that person shouldn't be trusted. The reverse is also true: if the community sees that you're worth watching out for, they'll come, and they'll be telling others.
This is probably why Lunad sa Balod has lasted for as long as it has. The network of surfers has seen what the GSSA has been able to do. Apart from their work with children, apart from their efforts to make Gubat a surfing destination (the old guard of surfing, the surfers who were surfers before it became a big thing, had already been riding the waves in the area since 1965, but it remained a secret destination privy only to those in the know), is the fact that hosting the event itself is proof of a sheer force of will. When you think about it, the event is a logistical nightmare for any event planner: a three-day surfing and music festival, built from the ground up by one surfer, and wholly organized by that surfer and his sister. In the hands of literally any other person, Lunad sa Balod would have been a disaster. But it hasn't been.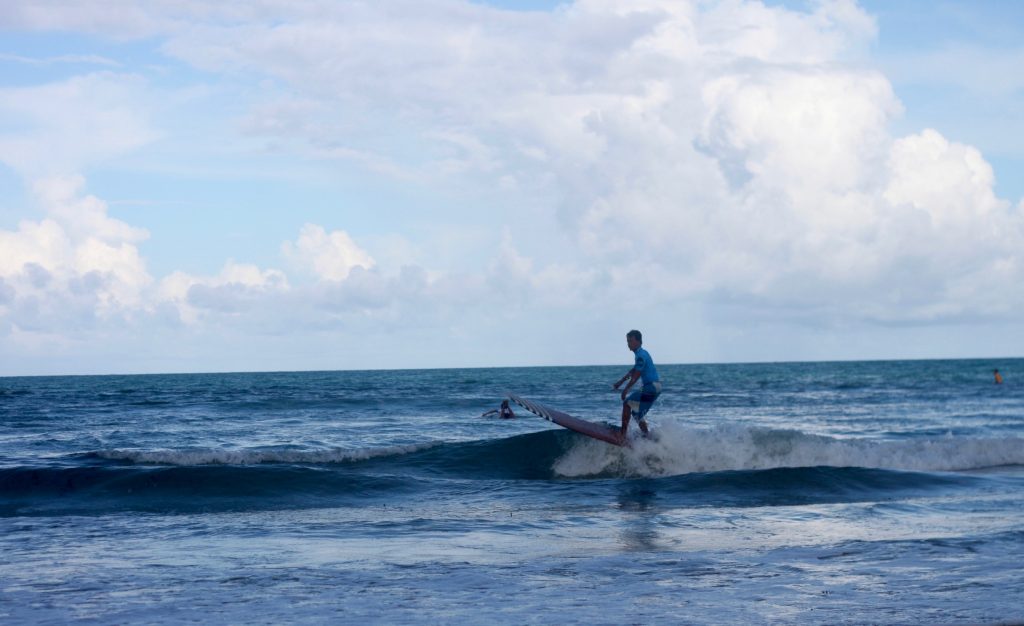 Pretty good for the youngest surfing community in the country. "Honest to goodness," Villaroya says, "kami ang youngest surfing community." Not that no one had surfed in Gubat before the GSSA started. "Ang dami ng nag-surf here before, but they never really left boards or lived here, so a surfing community was never maintained. Mga passing surfers lang."
And six years after the the young community's inception, it's made enough waves that, at the 2018 Lunad sa Balod opening ceremony, one of the speakers announced that for the whole surfing community, the third of week of October will always be Gubat's.
The beach festival ended with a huge concert. I cut the night early, walking past the milieu of people that have gathered at the beach (there are tents on the shore, many are camping out with their friends). Away from all the people, all the lights and the noise, I turn to look at the sea. At night, the isolated beach looks like an alien planet, the waves crashing against each other in darkness, almost in warning: you may think that you can control the sea, but her furious waters say otherwise. I think about the old, somewhat debunked myth that the surfing community in the Philippines started because of the movie Apocalypse Now, the frenzy of that dark movie inspiring people of Baler to take up their boards and ride. Underneath the night sky, at this underrated beach destination made popular through the efforts of the surfing community that it houses, the youngest one in the country,  I could believe it. Anything's possible.


Get more stories like this by subscribing to our newsletter here.
Read more:
Gubat, Sorsogon is doing tourism right with Lunad sa Balod
At Lunad sa Balod, surfing is more than just a sport. It's a community
How this little town became Sorsogon's tourism goldmine
Read more by Zofiya Acosta:
A year after #MeToo, and I'm still hurting
Plastic exchange campaigns can lead to incentivizing plastic consumption
The physical labor of beauty
Writer: ZOFIYA ACOSTA
PHOTOS KLYDE MANANSALA