Love cheese? Treat yourself to a monthly cheese box subscription
La Petite Fromagerie curates the best cheeses from all over the globe
Nov 21, 2018
La Petite Fromagerie describes itself as the church of all things cheesy. The catering service and online store allows for various ways of worship: styled cheese buffets, cheese towers, raclette dinners, grilled cheese parties, and immaculate cheese spreads (the truffle cream cheese and the Camem-beer varieties are sent from the heavens). For regular veneration, which is highly suggested for every true devotee, La Petite Fromagerie offers a monthly cheese box subscription, featuring three special cheeses and all the necessary accoutrements for absolute enjoyment.
"I wanted to come up with a way to educate people about different kinds of cheeses available in the country, whether locally made or imported," shares chief cheese curator Karla Reyes. La Petite Fromagerie plays around with its theme per month, except that every box is sure to offer variety—by way of origin, moisture level, source of milk, and even mold. "In our first cheese box, we featured French cheeses: Chabichou du Poitou, a goat cheese; Le Camembert Bonchoix, a fresh variety with a bit of a stronger taste than the boxed Camembert; and Bleu d' Auvergne, made from cow's milk." For their October box, they featured cheeses of varying origins—Saint-Paulin from France, Balarina aged gouda from Holland, and Cambozola from Germany.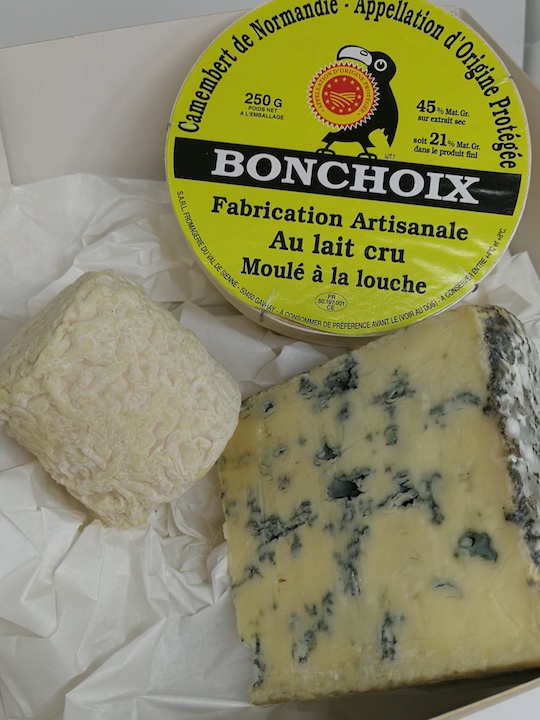 The craft has also allowed Reyes to expand her knowledge on cheeses: "Honestly, it has also been an opportunity for me to learn more about cheese, wine, and their pairing. And it also allows me to impart this information to my clients." She fills every Full Cheese Box (P2,500; good for 4 to 6 servings) with grapes, crostini, and a bottle of wine that matches with the cheese varieties. (A half box, without the bottle of wine and good for 2 to 3 servings, retails for P1,350.) Prices include free delivery already. "I also offer tasting notes and serving suggestions. I occasionally send in some freebies. Last October, I gave samples of truffle honey, which paired well with the Balarina Goat Cheese in the box," she shares.
Future boxes will also feature local cheeses beyond the classic kesong puti. "I want to educate Filipinos that we already have wonderful artisan local cheese available," shares Reyes. "I want to be the bridge to make it available to my clients and educate them about it and how it can be used everyday in their meals." Three-, six-, and twelve-month subscriptions will also soon be available. How's that to start your cheesiest devotion yet? 
The November box includes Delft Bleu, the extra mature cheddar Cornish Cruncher, and the soft Caprice des dieux from France—it's the cheesiest way to welcome the holidays. Ordering are accepted until Nov. 27, while the fixed delivery date is on the 29th. To order, visit their website lapetitefromagerie.ph. (Tel. no.: 725-6205; mobile no.: 0917-7912865)
Get more stories like this by subscribing to our weekly newsletter here.
Read more:
Here's a pancit canton hack: add cheese and chicken
Here's a stress-free guide to cheese plating
Read more by Idge D. Mendiola:
Pancit Center in Kapitolyo showcases regional varieties of palabok
Myth busted: We found banana ketchup at Mcdonald's
There's a heartwarming story in each cup of The Dream Coffee
TAGS: Cheese cheese box la petite fromagerie