10 of the best fried chickens and where to get it in Metro Manila
From the Korean glazed version to Thailand's fuss-free street food, here's where you should be having fried chicken right now
Sep 12, 2019
Filipinos are hardcore fried chicken fans. How else will you explain the deluge of fast food chains serving this fried fowl dish? It's something everyone can easily whip up at home [READ: Make fried chicken like it's 1736] and yet, there is comfort in knowing that any minute cravings hit you, you could count that there is a restaurant near you serving it. Here are the best fried chicken places in Manila that go above and beyond just serving this comfort food.
5772 Ebro, Brgy. Poblacion, Makati

Here's a fun fact: "Khao khai" is actually Thai for chicken rice, that's why it's no surprise that their top-sellers are their chicken dishes. One variant, in specific, has patrons coming back—it's called the gai tod, a Bangkok-style fried chicken. The chicken is made fragrant with jasmine and spices, and its golden brown skin is as tasty as it is appealing to look at, which is to be expected from the purveyors of chicken (again, it's created by the same minds behind Señor Pollo).
88 Esteban Abada St., Loyola Heights, Quezon City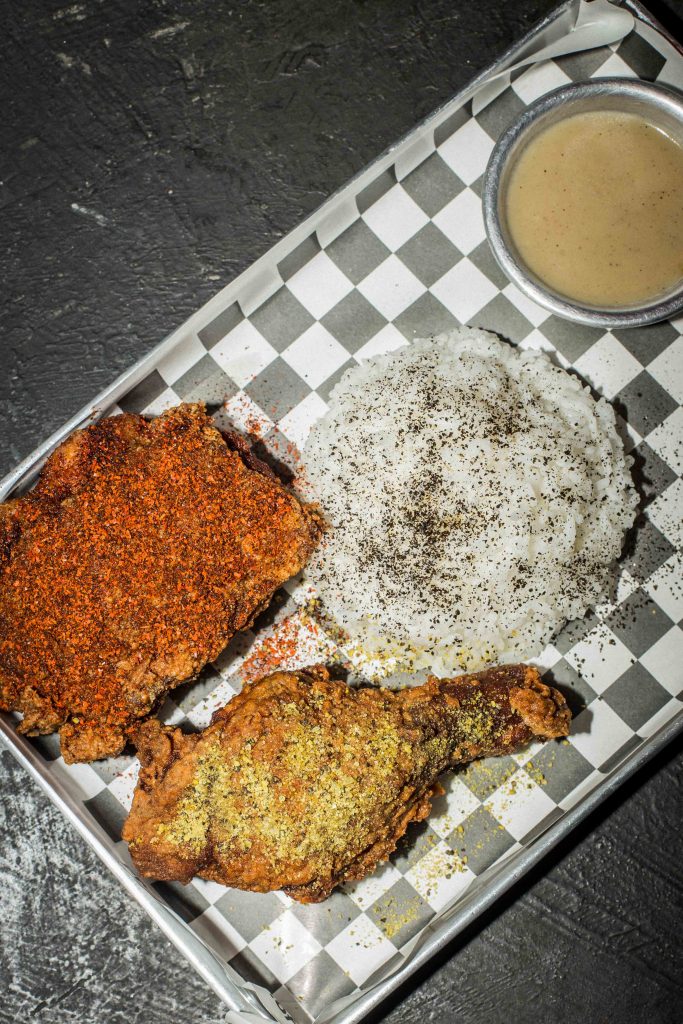 The love for fried chicken knows no age. Although this Katipunan place exudes millennial streetwear sensibility with their collection of wearables, their signature fried chicken, which comes with a serving of rice sprinkled with nori and a buttery gravy, is for everyone. They offer it in three different spice levels: Sansho, a tangy, lemony homemade blend of spices; Ichimi, made with togarashi, a relatively mild Japanese spice; and Kaneda, another homemade blend with a smoky and slightly tangy taste—the spiciest option available.
Tom Sawyer's Old-Fashioned Krispy Fried Chicken
Tiendesitas, Ortigas Ave. cor. E. Rodriguez Jr. Ave., Pasig
View this post on Instagram
What's a fried chicken list without the undisputed classics? Since closing its first store (which dated back to the '80s), faithful Tom Sawyer fans didn't stop dreaming of its return until it came back in 2014. Today, the same crispy and juicy fried chicken attracts a new generation of costumers, who, like their parents, long for its nostalgic taste.

Korean Traditional Chicken
5648 Don Pedro Street, Poblacion, Makati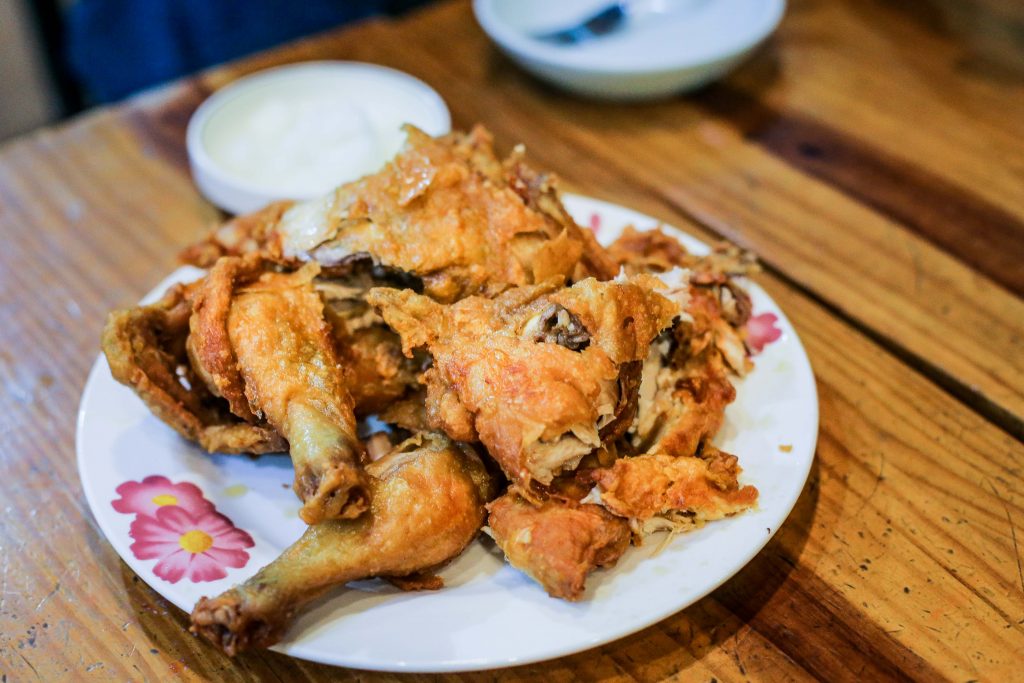 What fried chicken list would be complete without KFC? Korean fried chicken, that is. In Poblacion, this shop serves spicy Korean chicken with an insanely crispy skin and a juicy, well-done, spicy inside. The secret? Their chicken is marinated with imported Korean spices for 8 hours on each side then double fried at a high temperature for a few minutes. You can choose to have it on its own or order it with their spicy Korean barbeque sauce to amp up the hotness.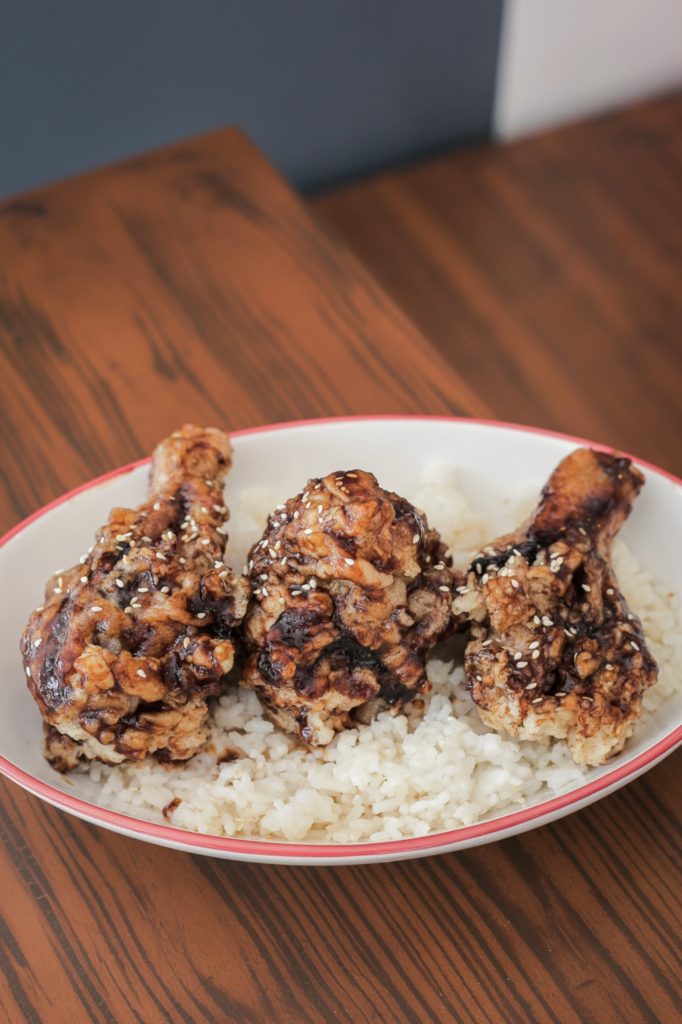 Another quintessential Korean chicken to try is this one from White Camp in Quezon City. Unlike the famous fast-food chicken posing to be Korean, this one—although also inspired by the same real dish—at least, has the decency to do it right. And by that we mean, the glaze and the flavor seep into the meat.
Stall 1, The Grid Food Market, R2 Level, Power Plant Mall, Rockwell, Makati
View this post on Instagram
Bucky's have moved out of their original Poblacion branch and now comfortably sits alongside other concepts at The Grid in Power Plant Mall. Along with the move, their menu changed and their crowd-fave boneless chicken with roasted garlic mash and red cabbage gravy is no longer with us. But they have a new, equally good one. Though sans the sides, the new fried chicken tenders (still boneless, yay) comes with your choice of honey or barbecue sauce and can be ordered a la carte or paired with other dishes like twister fries, or baked ziti.
Unit 1D, Ground Floor, Icon Plaza, 25th Street Corner 6th Avenue, BGC
The availability of fried chicken even in a fancy restaurant just proves its universal appeal. At 210 Degrees, alongside pork belly and entrecote, the humble fowl shares a spot at the chef's table. Chef William Mahi's take is reminiscent of the one we miss so much from home: one that is crisp and seasoned with herbs and spices on the outside and tender and juicy on the inside. Plus points for being boneless.
Megamall / Hole in the Wall, Century City Mall/ Serendra BGC / Robinsons Manila / U.P. Town Center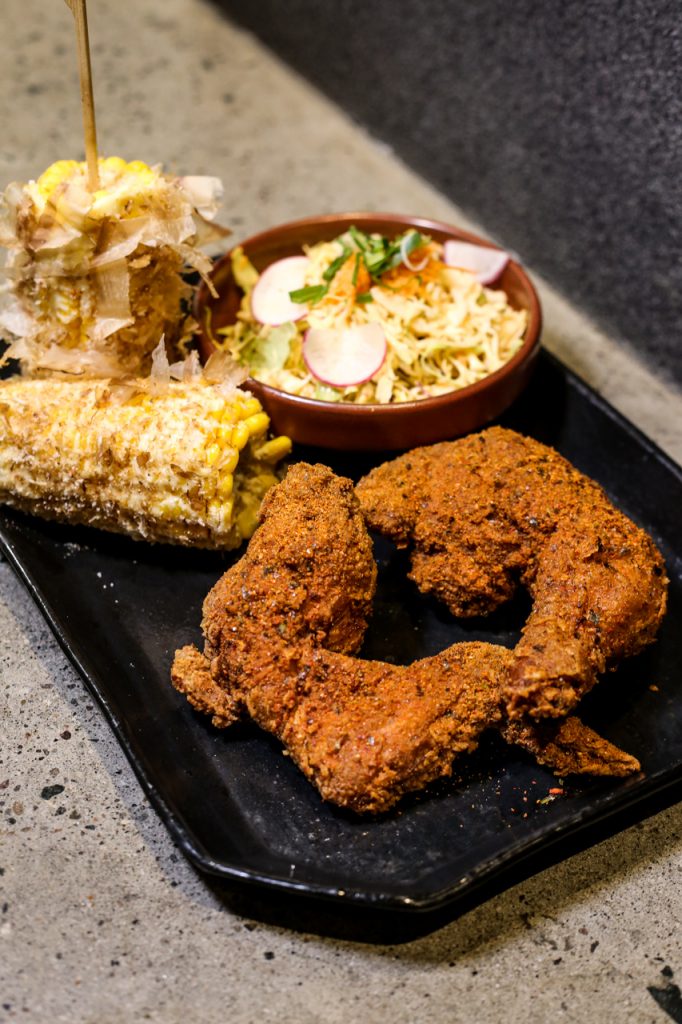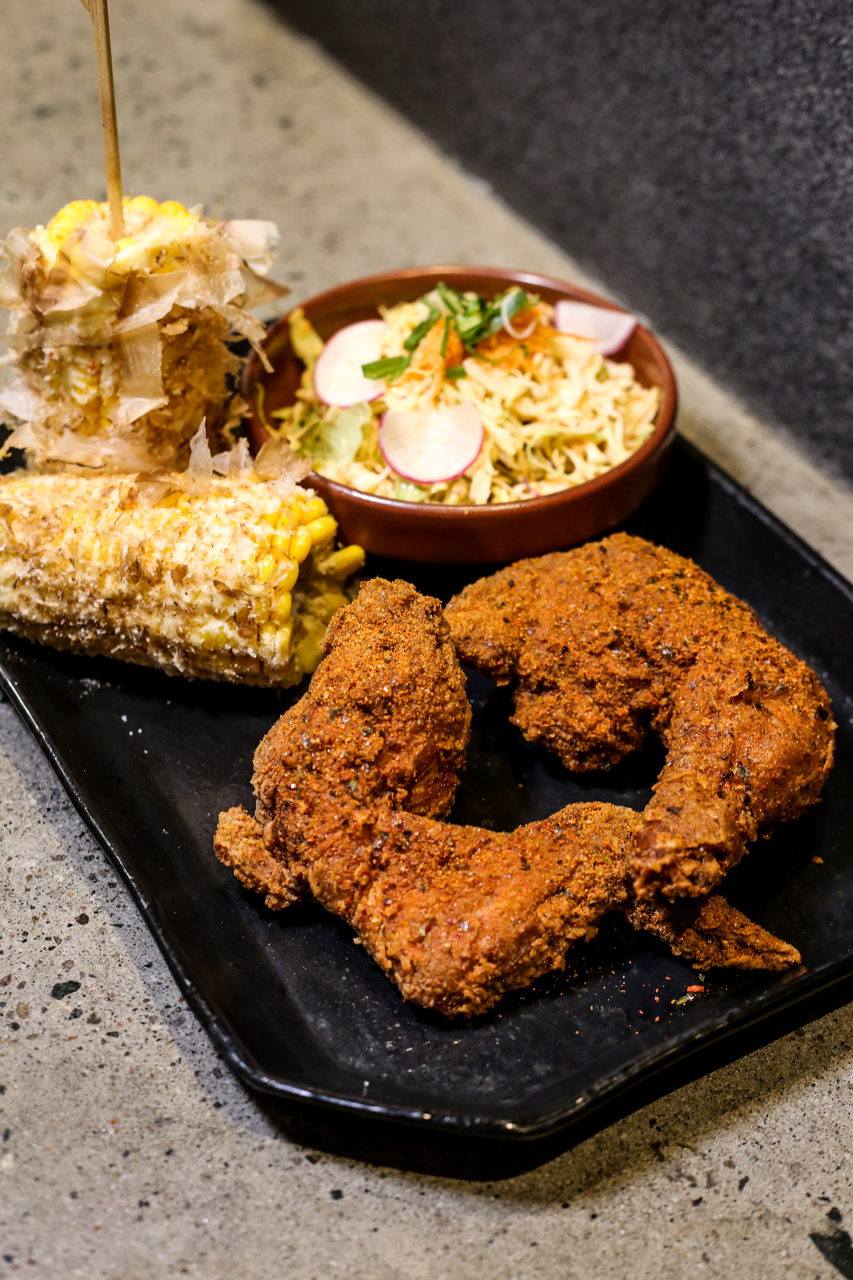 This chicken chain is quickly gaining notoriety in the metro with stores popping up in some of the biggest malls. Bad Bird takes pride in their umami fried chicken—offered in three spice levels: safe, spicy, and for the daring, chemical—which first made its appearance at Hole in the Wall. It's big in size and in taste, proving it to be a favorite among diners looking to have the most out of their money.
Shangri-La Plaza / SM Aura
In 2015, we featured Fireside with its fried chicken tenders, a take on its sister chain, Kettle's beloved dish. Nothing beats the original. Kettle's buttermilk fried chicken still continues to charm patrons years after opening its doors, and for good reason. Theirs is marinated for 24 hours making every bite a tender, flavorful burst of spices.
U.P. Town Center / The Podium / Three Central / Festival Mall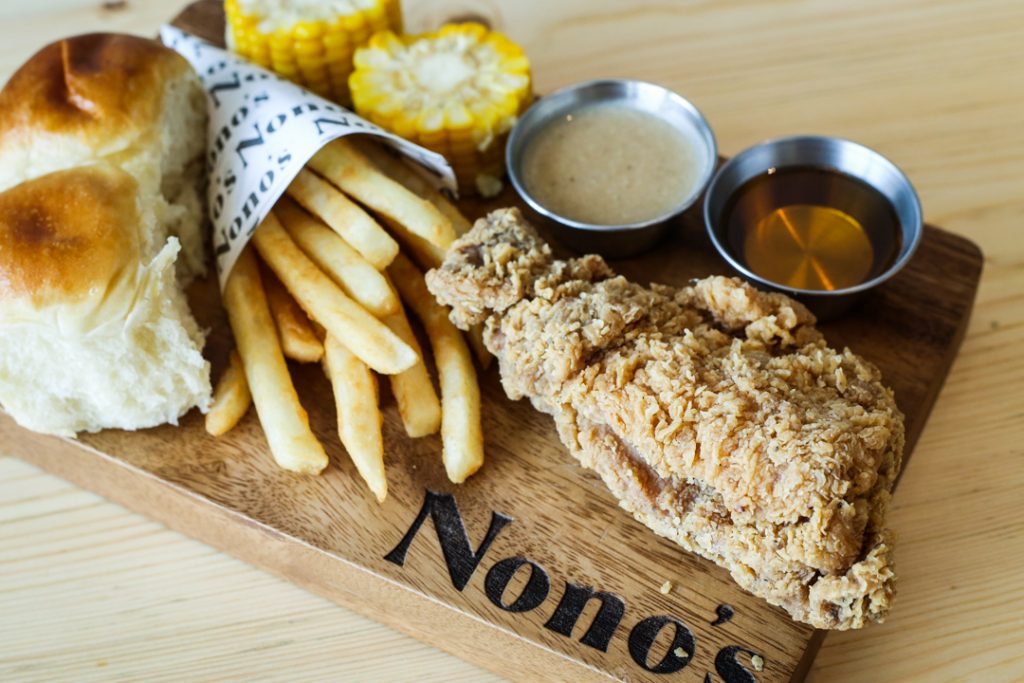 There's nothing like home-cooked fried chicken. Nono's knows that for sure. That and that Filipinos love to have theirs with rice, so Nono's offers options for sides such as a combination of dinner rolls, potato fries, and corn on a cob. What's more, they've also changed up the gravy recipe to taste more herby than peppery, along with the addition of a honey dip that seamlessly complements the gravy.
Get more stories like this by subscribing to our weekly newsletter here.
Read more:
Lumpia and Filipino-style fried chicken are drawing customers to this Chicago restaurant
Here's a pancit canton hack: add cheese and chicken
A local chocolate brand puts chicken skin in a bar
TAGS: 210 degrees bgc bad bird Bucky's fried chicken kettle khao khai thai chicken house korean traditional chicken Nono's TETSUO tom sawyer's old fashioned krispy chicken white camp cafe + kitchen