Simbang gabi presents many rewards for the faithful. The nine-day day masses culminating with an evening mass on Christmas eve is believed to grant the wishes of those who complete it. Those who did not are also rewarded, not with a wish granted, but with a consolation in the form of puto bumbong and bibingka sold outside the church.
The yuletide season, however, is more than these two quintessential misa de gallo rice cakes. There are far more sticky and sweet treats that the Filipinos enjoy Christmas or not. Kakanin has become an identifying part of our culture that binds us despite our geographical differences.
Whether to reward yourself for almost completing the nine days of simbang gabi or just to indulge in or reminisce with your favorite childhood merienda, here are 12 kakanin you can munch on while counting down to Christmas day.
Bibingka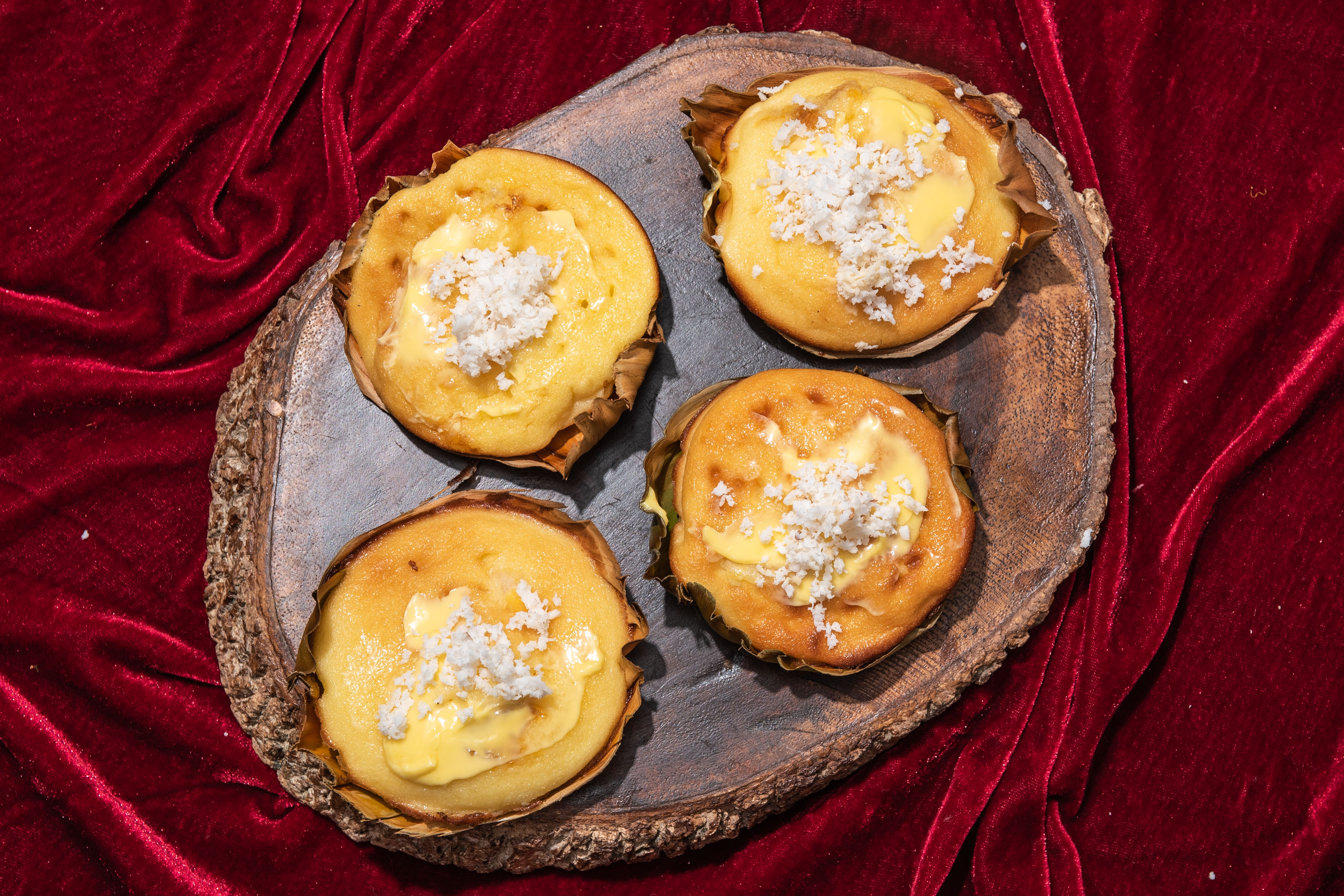 In a 1900 ledger containing presidential disbursements for various expenses during the Aguinaldo administration, a particular account dated 1899 enlists an unidentified woman by the name "bibinquera ng presidente" who was paid to make Aguinaldo's favorite kakanin: bibingka.
The humble rice cake hasn't lost its charm up to this day. It still enchants many if not all Filipinos with its fluffy cake base made with galapong (rice flour), eggs, and coconut milk cooked in an aluminum pan over a charcoal stove. It's topped with salted egg slices, kesong puti, and sometimes eaten with grated coconut meat.

Puto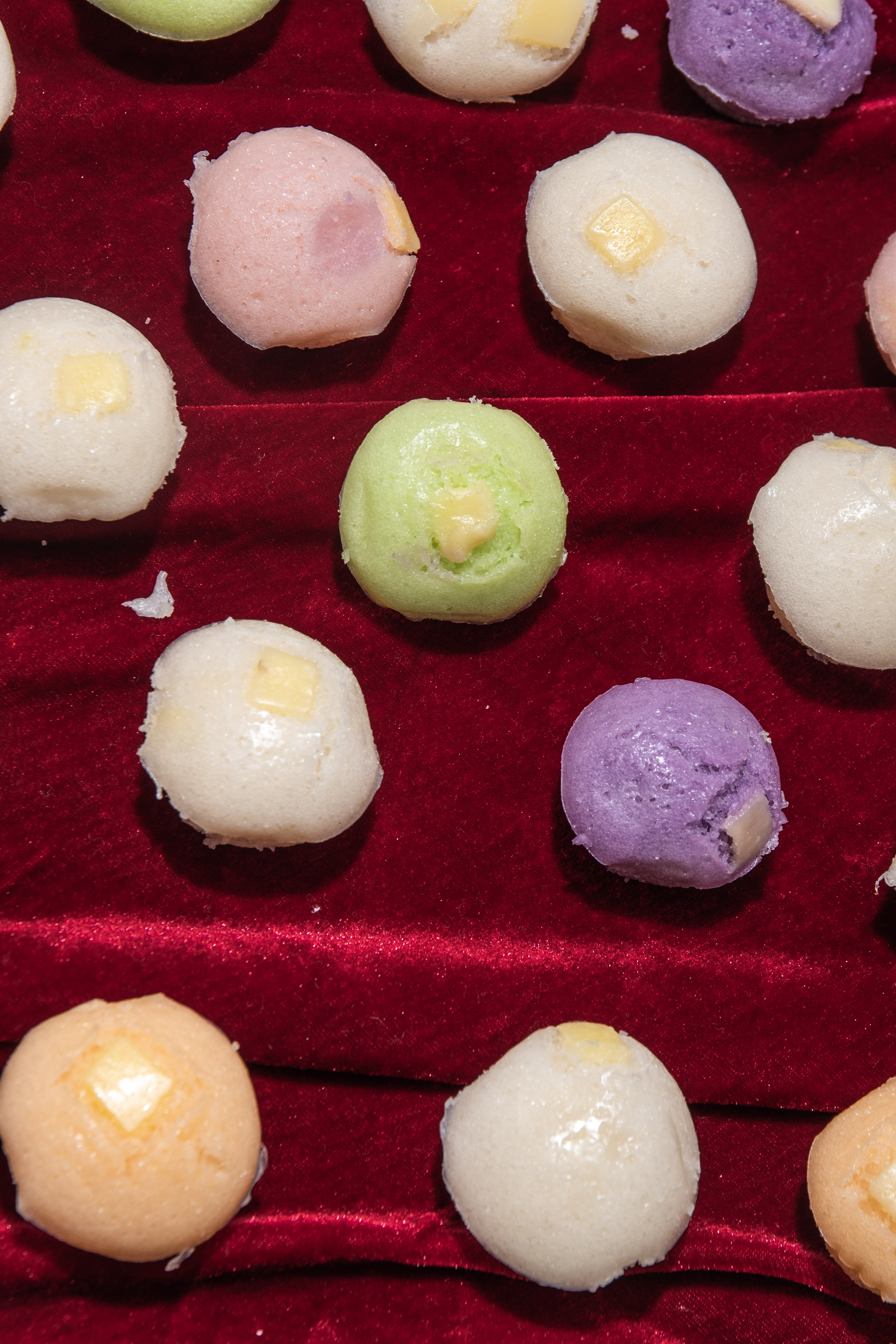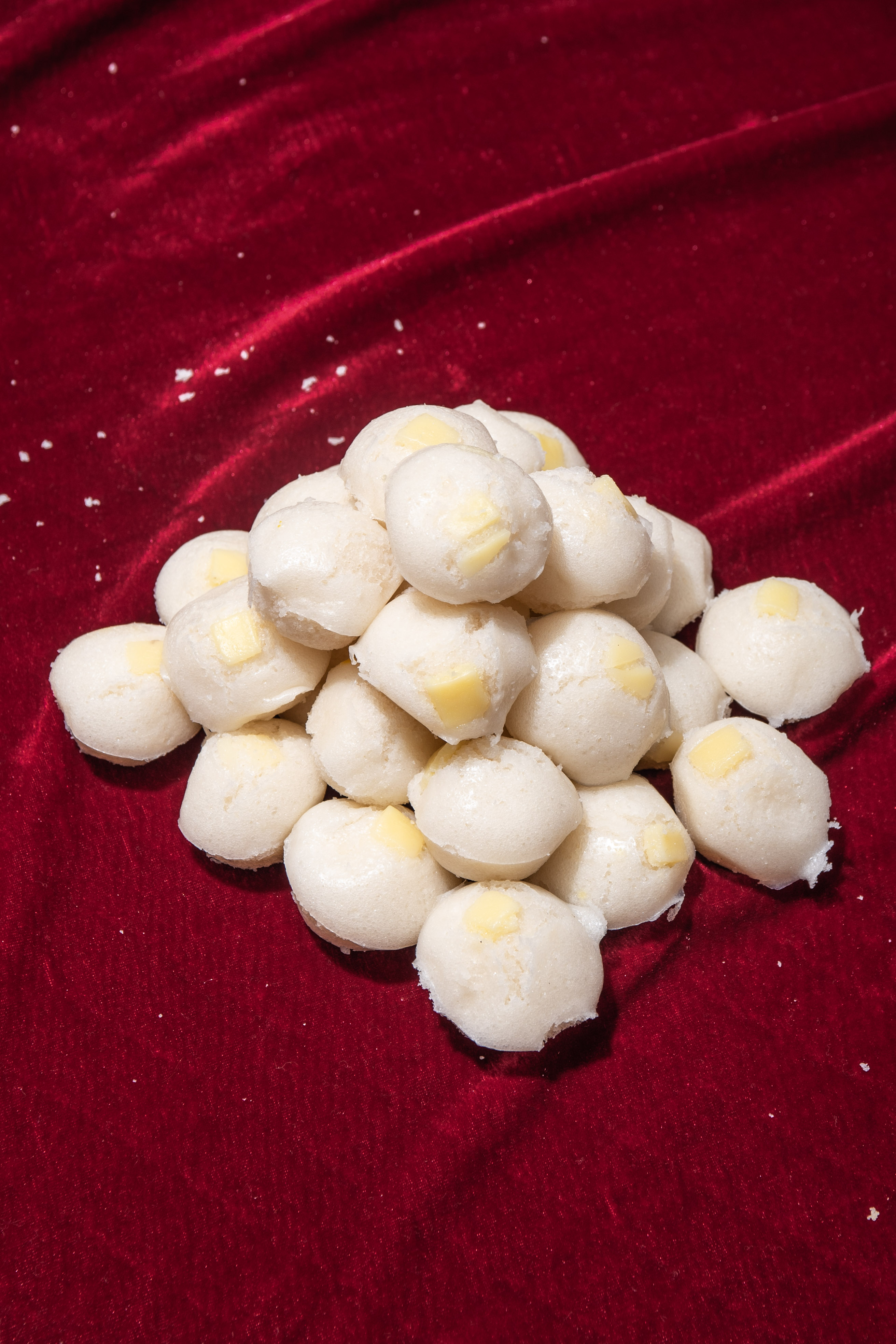 In the same 1900s ledger, on two days (May 25 and 27) a breakfast spread for soldiers included puto, although what particular kind it was was not disclosed.
Today, puto is an umbrella term for different kinds of rice cake cooked by steaming. It has many variations named after its place of origin, its appearance, or sometimes, as in the puto bumbong, the way they are cooked. It looks like a cupcake or a muffin and can be found in any local market, or even upscale Filipino restaurants where it is paired with the savory blood stew locally known as dinuguan.

Puto bumbong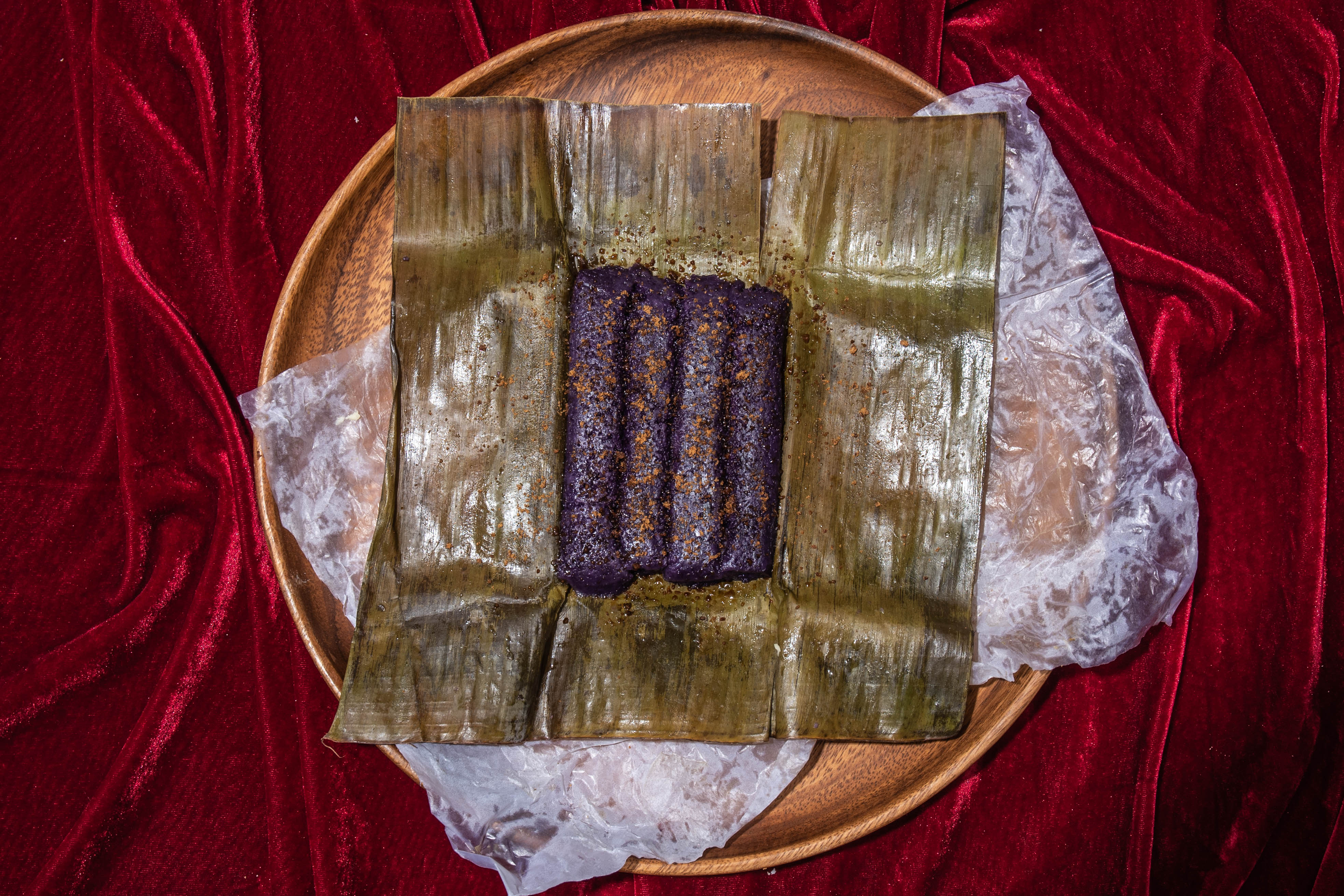 One of the many variations of puto, this kakanin is usually associated with simbang gabi. Known for its vibrant purple color, puto bumbong is made with a glutinous heirloom rice variety called pirurutong which has a natural purple hue.
Bumbong, on the other hand, refers to the way the delicacy is cooked: steamed inside a bamboo tube. The cooked elongated rice cakes are then released from the tubes and served in threes or fours, slathered with margarine and served with grated coconut and muscovado sugar.

Sapin-sapin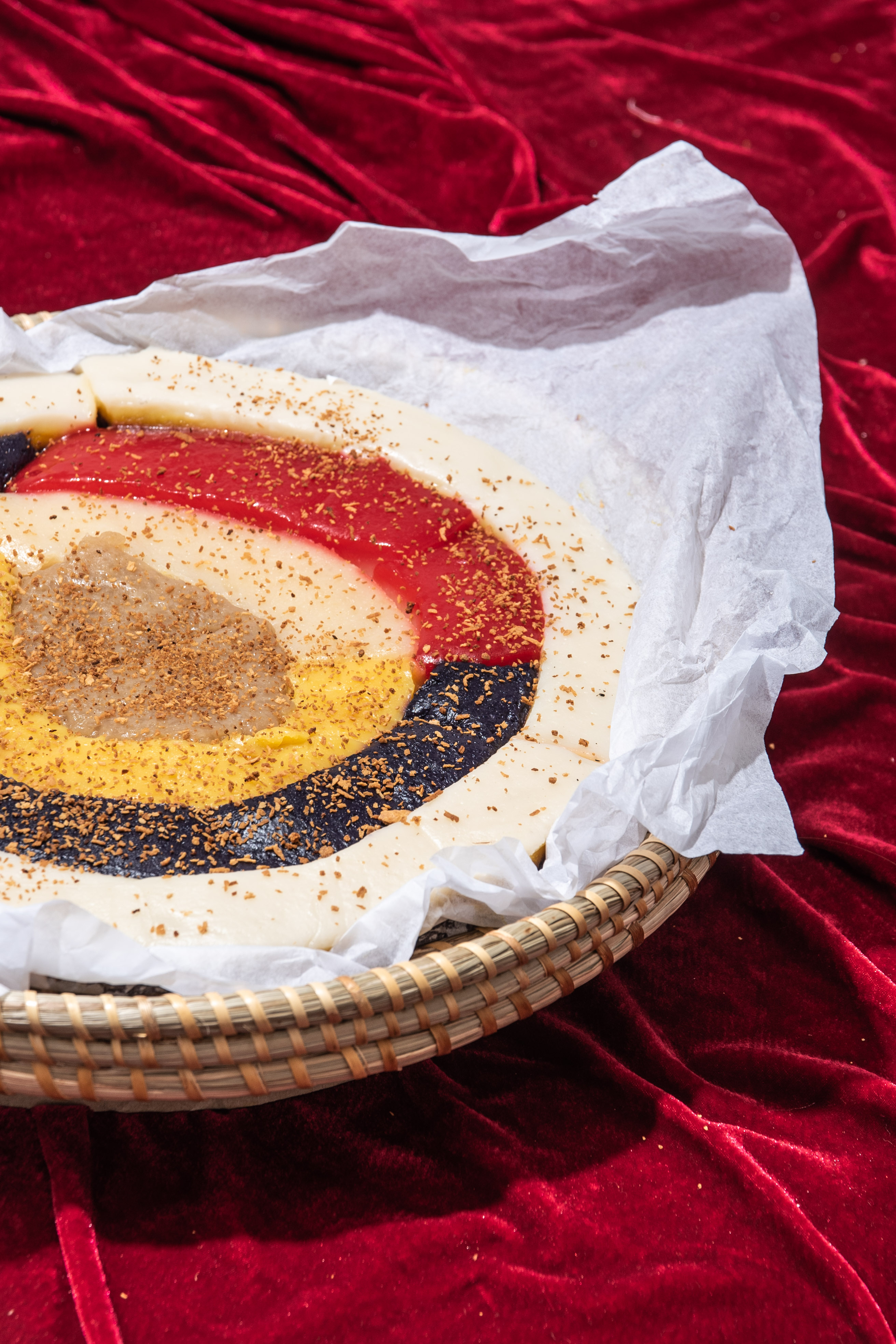 Believed to have originated from the province of Abra, sapin-sapin takes its name from the Filipino word for blanket.
This tri-colored layered rice cake is a product of love as much as it is of labor. Each color—purple, yellow, and white—are subsequently poured on top of one another but only after the previous layer has cooked. The result is a silky and smooth sticky cake that has various flavors ranging from ube to mais, and over variations depending on where it's made.

Cassava cake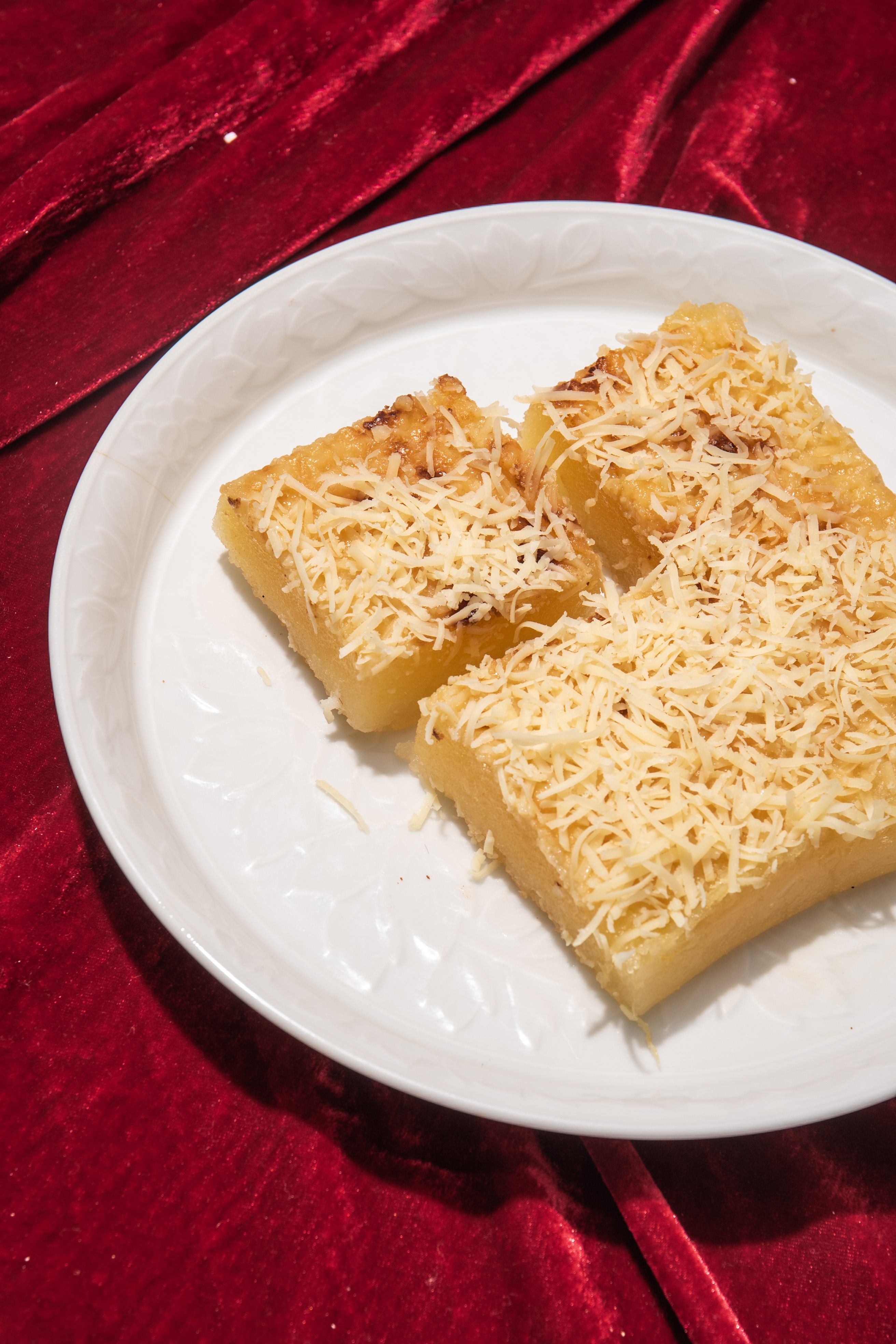 Over the years, kakanin has become a catch-all term for cakes made not just with rice by also local crops like cassava used in nilupak, pitsi-pitsi, and cassava cake.
This baked kakanin is also called bibingkang kamoteng kahoy and shares the essential ingredients of the bibingka batter. Vietnam has a very similar delicacy called bánh khoai mì which has two variants: one that is baked and another that's cooked by steaming.

Pitsi-pitsi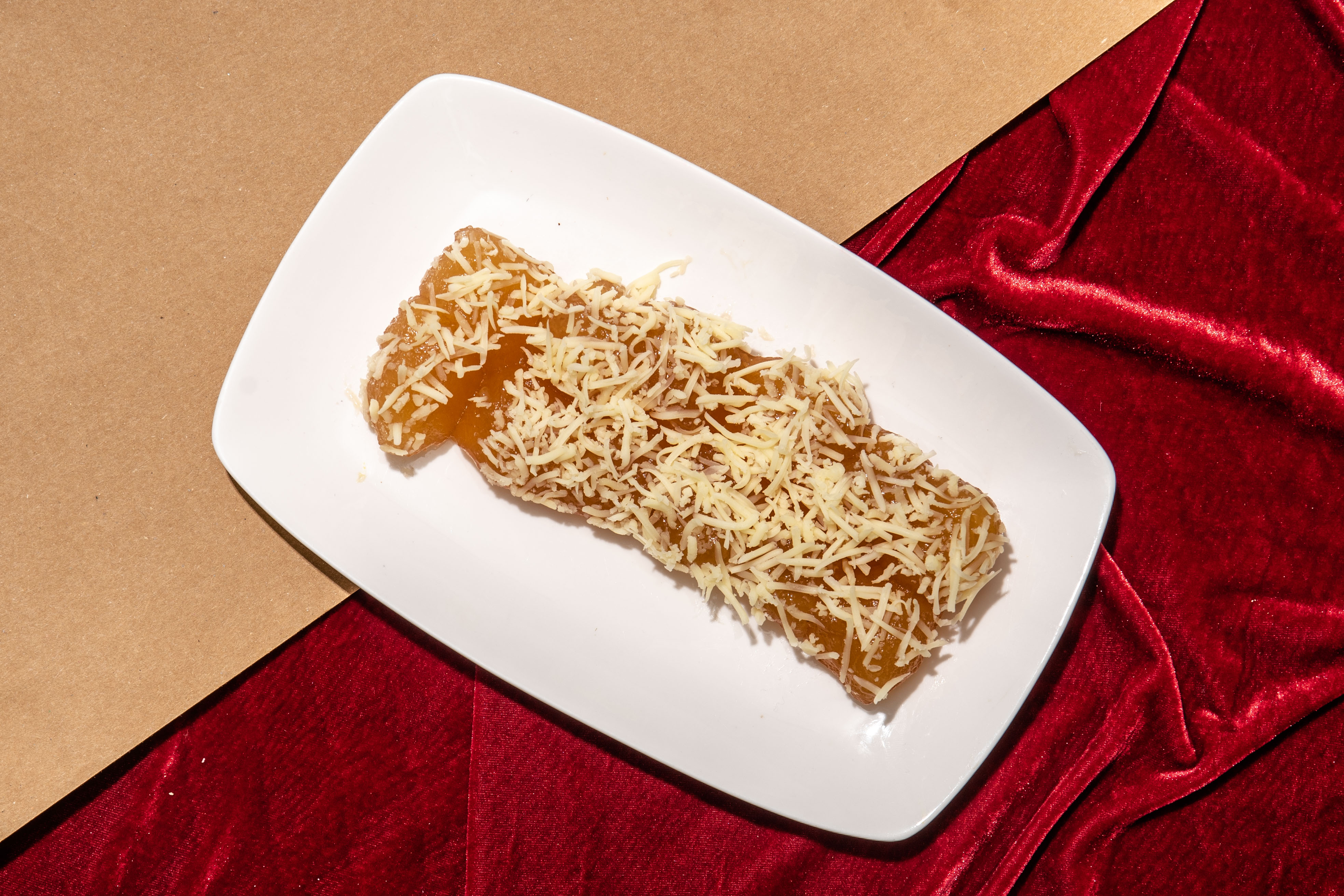 The use of lye (sodium hydroxide) or lihiya in food preparation is met with raised eyebrows to this day. Some of our kakanin like kutsinta and pitsi-pitsi make use of this but only in very small amounts (and it has to be food-grade), plus it needs to be diluted with water.
Modern adaptations of this recipes skip lye altogether and substitute it with baking soda which is said to yield the same chewiness if not better. Even then, improper preparation and handling of the cassava root crop can lead to poisoning. It's a good thing there is cassava flour that's readily available in the market.

Kutsinta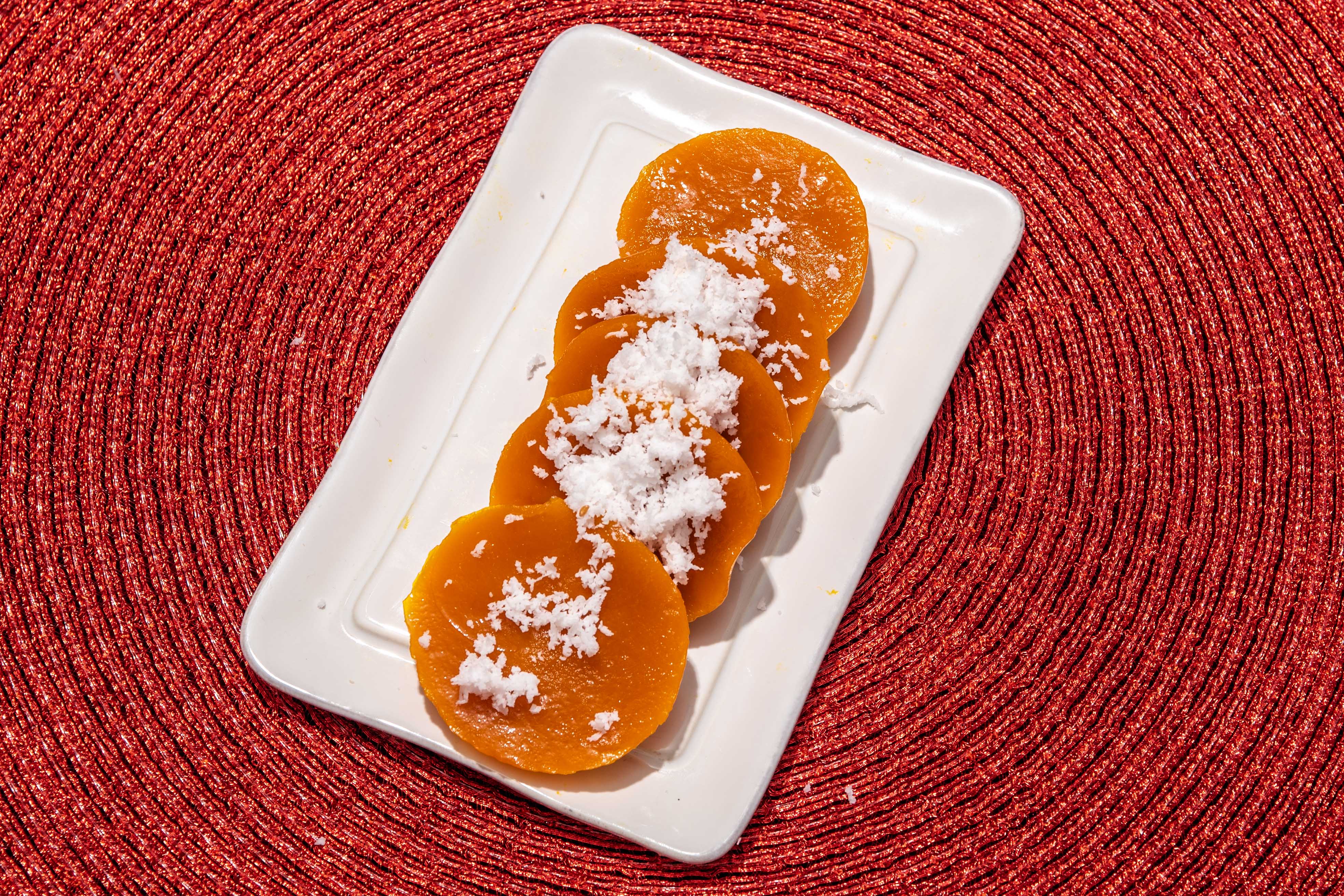 Another gelatinous treat that makes use of lihiya is this popular brownish orange rice cake that is molded in small cups and topped with grated coconut meat.
Its origin is shrouded in mystery but two stories prevail, one that says it was named after an obsolete kitchen tool used to shape it and another which claim that it derived its name from a Chinese-Hokkien term for cake which is kueh tsin tao.

Suman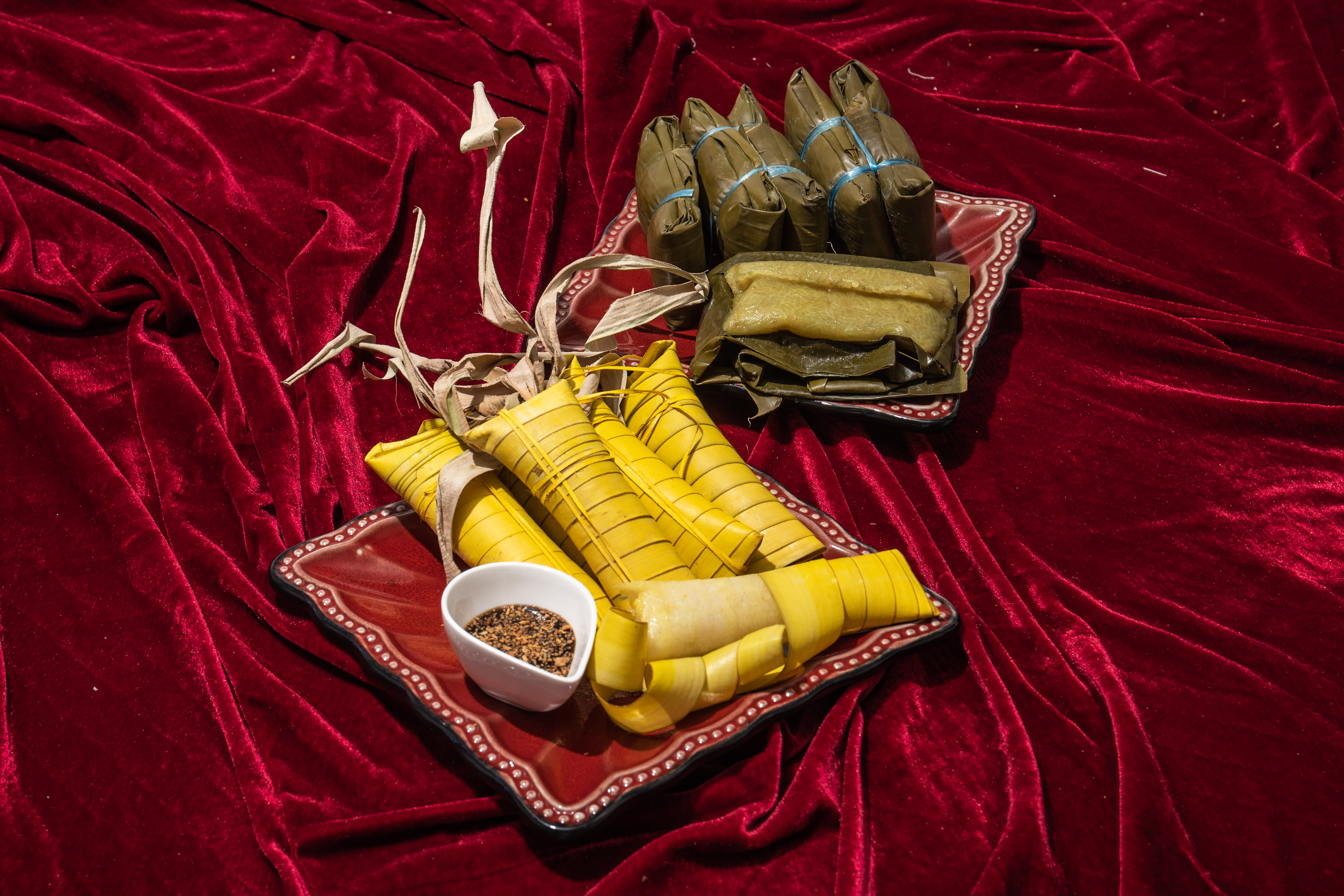 Every May 1st in Antipolo, a festival solely dedicated to their delicacies is celebrated. It's called the Sumakah Festival, short for suman, mangga, kasoy, and hamaka. But throughout the year, a trip to the city, especially in the streets leading up to the Nuestra Señora de la Paz y Buen Viaje (Our Lady of Peace and Good Voyage) cathedral, there are vendors who sell these palm-wrapped rice cake. No wonder, because according to scholar Antonio Pigafetta, even before the Spaniards came we were already making suman and offering them as alay to our gods.
And it's not just in Antipolo. Suman is widely enjoyed in many parts of the Philippines. There are varying versions of this rice cake but its core ingredients, the glutinous rice and coconut milk remain the same.

Muron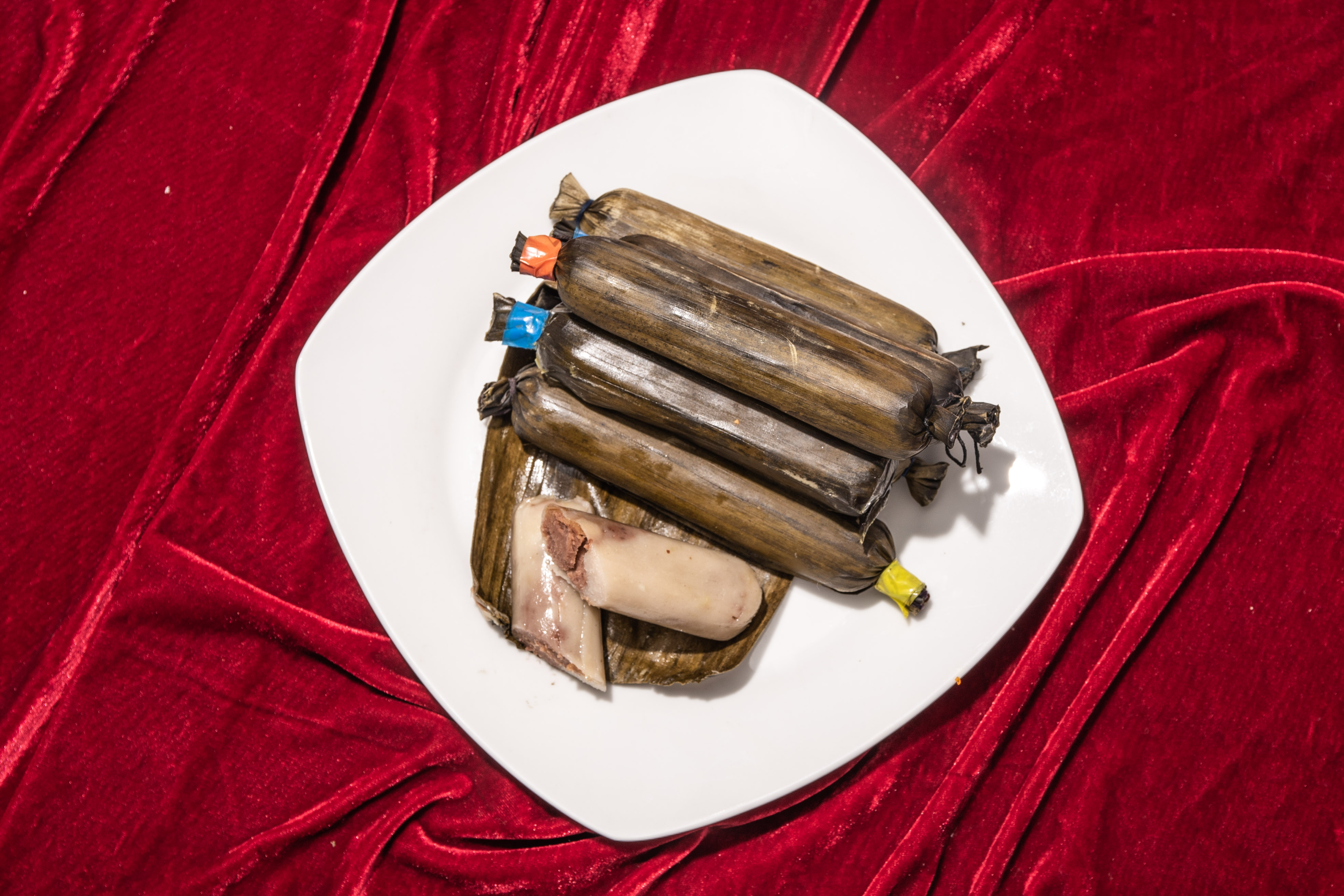 Speaking of a different version of suman, this one originating from eastern Visayas is the preferred rice cake of the people from the south extending even to Mindanao. Muron or morón adds a brilliant twist to the classic suman by gyrating the glutinous rice with tsokolate tablea.
Another noticeable difference is the way morón is wrapped. It ditches the usual palm leaf wrapper for a more aromatic banana leaf.

Biko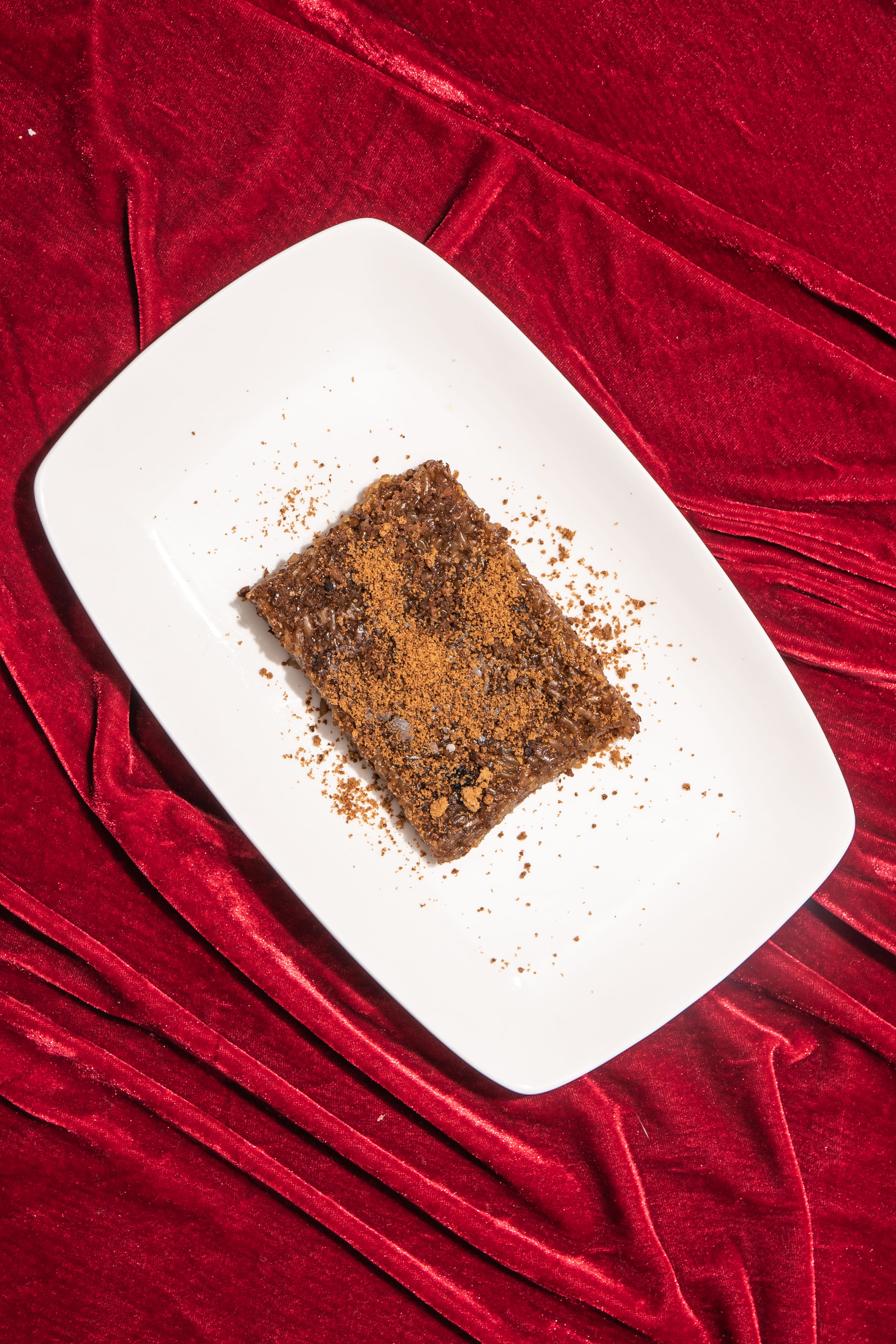 Kakanin mostly uses rice but in powdered form. It is rare to see one that is made with whole grain like suman and biko, which basically shares the same ingredients (plus brown sugar in biko) except they differ in presentation. One is encased in palm leaf while the other spread out over banana leaf, and the latter is sprinkled with another coconut by-product called latik or coconut curds that result from cooking the gata until it turns to oil.
Throughout the archipelago, there are many iterations of this delicacy including a much darker one made by the Tausug in Mindanao called wadjit.

Palitaw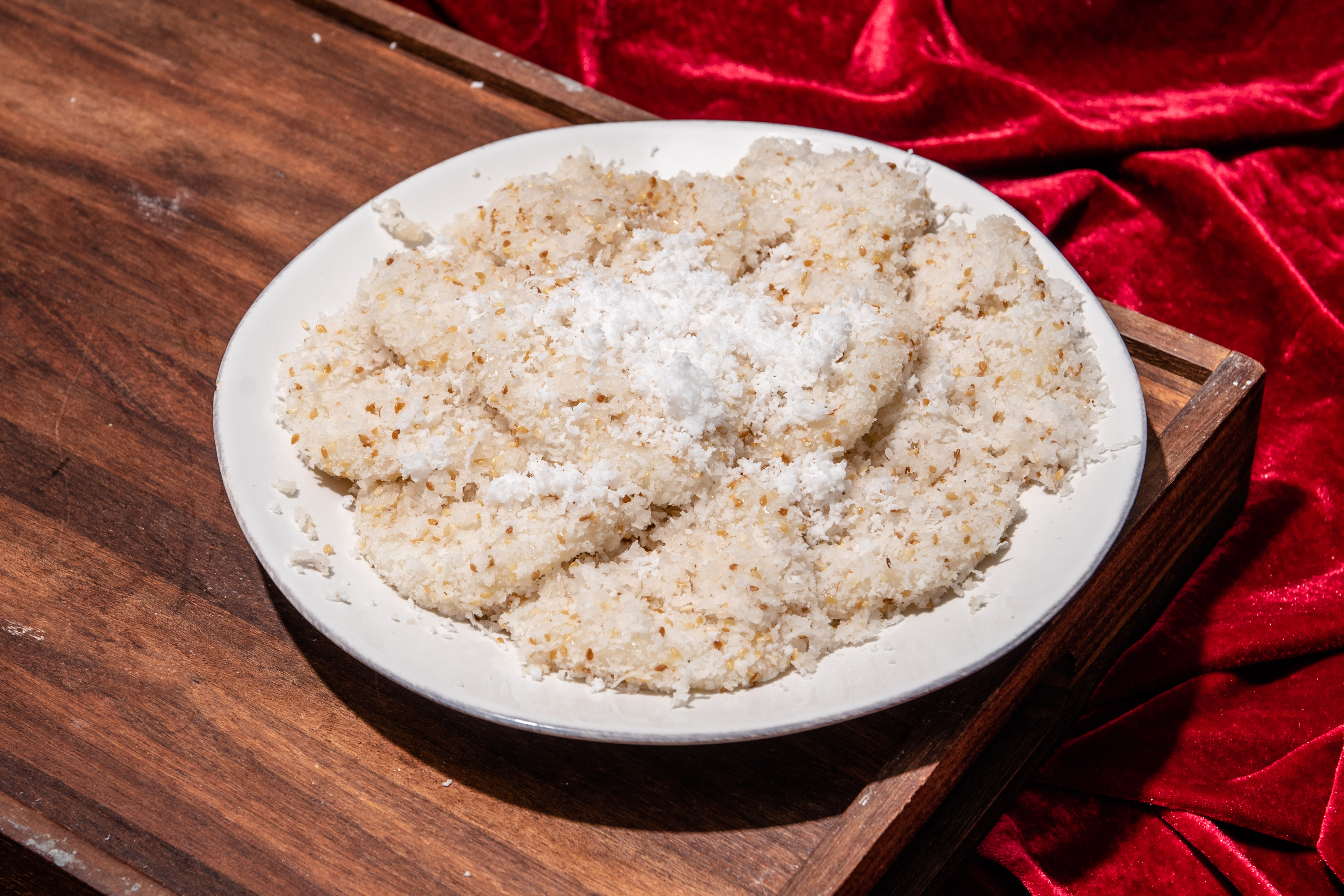 This small disk rice cake is perhaps the easiest to make of all the rice cakes in the list (it's so easy we cooked it in our office pantry!). It's just glutinous rice flour dough poached in boiling water and then covered with coconut meat, toasted sesame seeds, and sugar.
It gets its name from its method of cooking wherein to know if its done one has to wait for it to surface from the bottom of the boiling water thus the name palitaw, an iteration of the word litaw which means "to surface."

Kalamay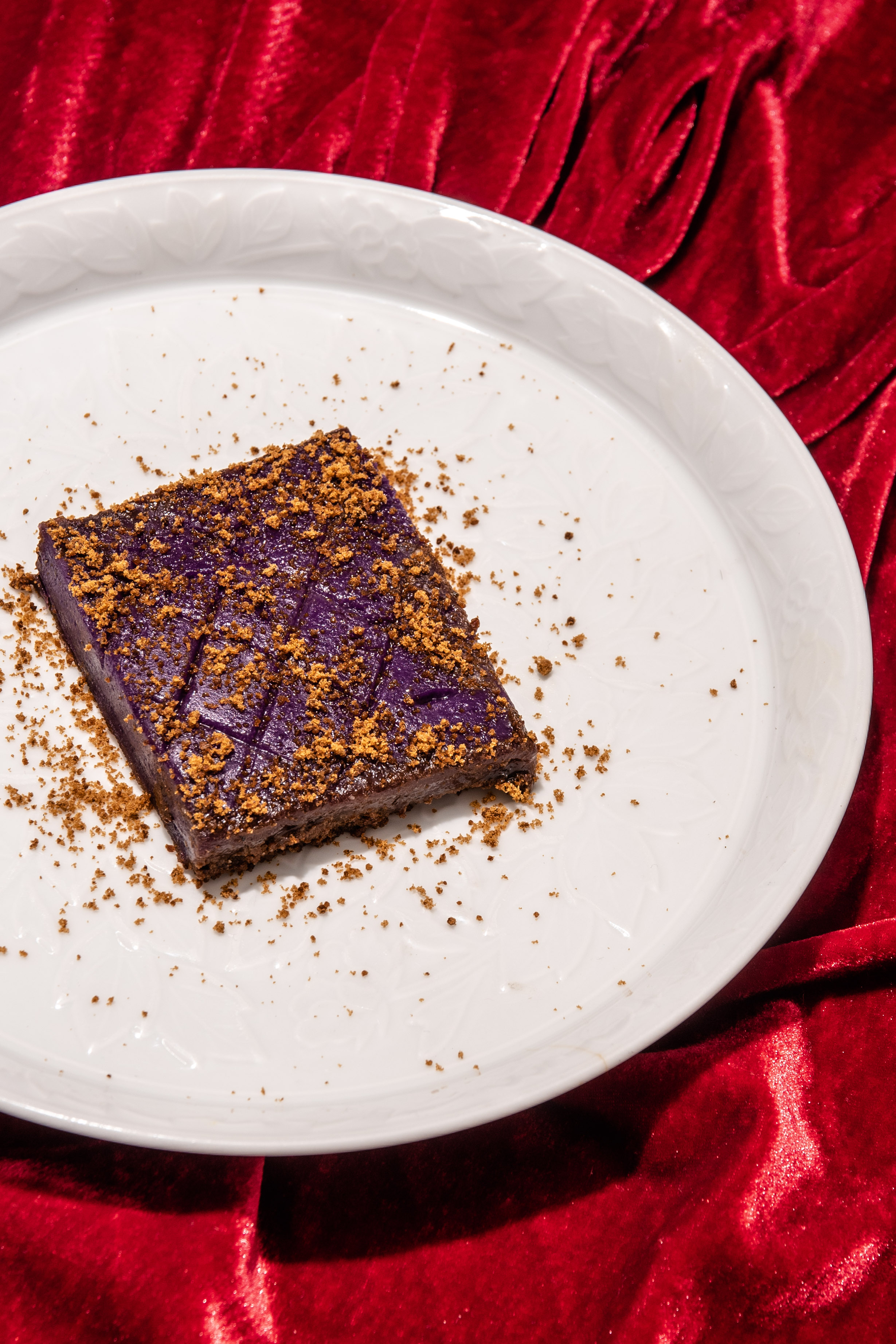 Most Tagalogs, when asked what a kalamay is, will show you a brown gooey slab made with glutinous rice served on a banana leaf. This is the version most popular in parts of central and southern Luzon. However, if you ask anyone from the northern regions or say Visayas, they may show you something a bit different.
In these places, kalamay is stored in empty coconut shells shut closed with a piece of red crepe paper. In Baguio, there's a thing similar to kalamay served in smaller nut shells and eaten by scooping the gooey stuff inside with a stick. This one is called sundot kulangot after the manner by which booger is picked. No worries though, it's clean and made with the same ingredients as a regular kalamay.
Get more stories like this by subscribing to our newsletter here.
Read more:
Here's where you can get roasted turkey and cochinillo for your Christmas dinner
What to listen to over the holidays: 12 Days of Christmas Records
Edible Christmas gifts as suggested by pets
Read more by Christian San Jose:
7 sweet gifts your foodie friends would love
4 dine-in places in the north to take your family to this holidays
What exactly is this "Q" taste that is so essential in Taiwanese cuisine?
Writer: CHRISTIAN SAN JOSE
PHOTOGRAPHY JP TALAPIAN