What to listen to over the holidays: 12 Days of Christmas Records
"On the first day of Christmas, my true love gave to me [a record player]."
Dec 13, 2018
I have a sizable collection of Christmas polka records sourced chiefly from the bargain bins of local vintage shops, which sounds disgustingly pretentious, but hey, it's Christmas. Leave your judgement at the end of November, you can pick it back up next year.
All kidding aside, the reason why I collect Christmas records is because of its unique character. "The Christmas Album" is its own weird beast, with artists using it to make stock of their own vision of festive cheer. Sometimes it's great, sometimes it's a completely free gift to fans, and sometimes it's a lazy cash-grab on the season. I won't be subjecting anyone to holiday Czech dance music, so instead here are some albums that you can pop on your record player to celebrate the season (or in lieu of that, you could play most of these on Spotify).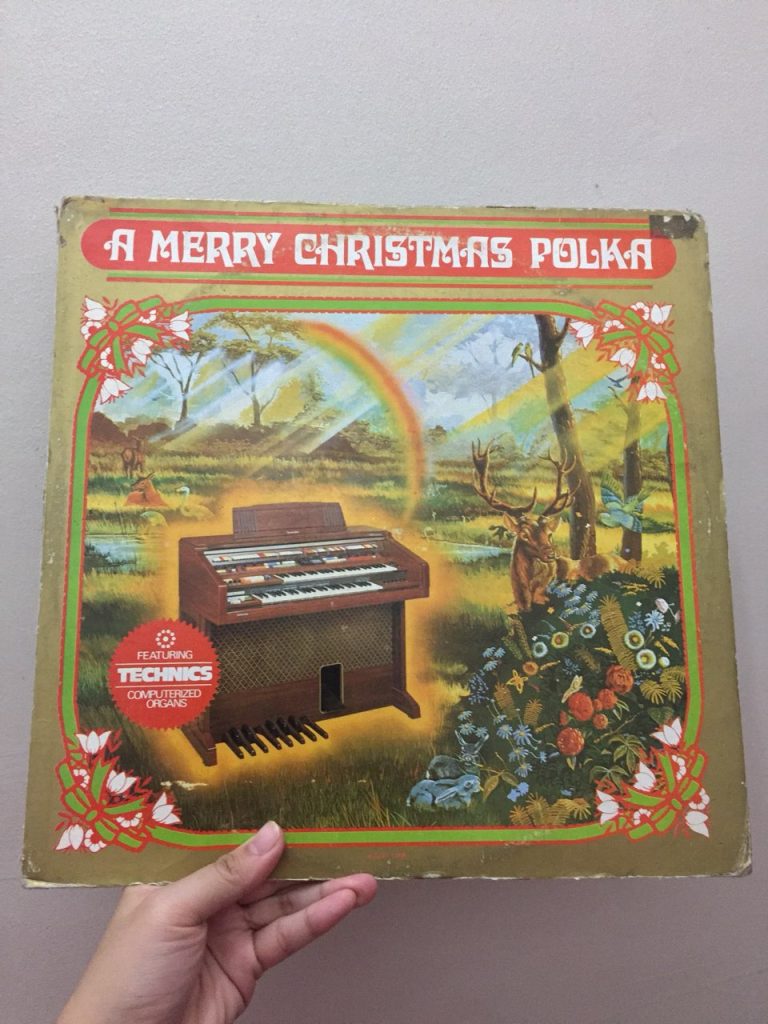 1.  The Beach Boys' The Beach Boys' Christmas Album

The Beach Boys is the swinging '60s surf rock band that became the progenitor of the entire surf pop and rock subgenres. They're known for their rich, almost-orchestral harmonies (just listen to "God Only Knows"), which should've lent its way to making a coolly traditional Christmas album. However, the band couldn't ever get away from the sun-soaked Californian scapes for the life of them, even musically, resulting in this markedly sunny take on the season. (Their "Frosty the Snowman" is pretty thawed out.) Our Christmases are hotter than most, so it's a welcome departure from the usual wintery covers.
2. Apo Hiking Society's PaskonAPO

There's no questioning the staying power of Apo Hiking Society. Fifty years since their first big performance, we're still playing their albums. I think it's because there's an inherent pleasantness to their songs, a cheery disposition that shines through even the most political ("Blue Jeans") or saddest ("Now That It's Over and Done") of their songs. It definitely shines through their 1991 Christmas album, best encapsulated by the penultimate song, "Tuloy Na Tuloy Pa Rin Ang Pasko." It's a bright, cheery, and hopeful song about celebrating Christmas in bad times—so bad New Year's might have to be delayed! Instead of hamon, they'll be having bagoong!—because love needs to reign, because it's enough to have Jesus with you (or any secular alternative), because no matter what, "tuloy na tuloy pa rin ang pasko."
3. Ella Fitzgerald's Ella Wishes You a Swinging Christmas

The First Lady of Song recorded a holiday album, enough said.
Well, okay, since it is my job to write, Ella Fitzgerald is one of the best jazz singers to live, period. When people talk about who the best female jazz vocalists are, the singers who are pit against each other are always Ella, Billie Holiday, and Etta James, and with good reason. Ella Fitzgerald's voice is silken, but she knew how to employ a mean vibrato. When she did scat, she outperformed the best horn players.
This makes Ella Wishes You a Swinging Christmas a joy to listen through. Pay particular notice to her rendition of "What Are You Doing New Year's Eve," a song where the persona wonders if her loved one will kiss her when New Year strikes, alluding to the Western superstition that if you won't be kissed, you'll have a year of loneliness. Other covers of this turn it into a deeply affecting torch song, but with Lady Ella it's a playful, come-hither sort of tune.
4. Sufjan Stevens' Songs for Christmas

Sufjan Stevens is almost a mythical figure in the indie circuit. Known for his breathy folk music, Stevens has always embedded his songs with a sense of mysticism. His lyrics read like long-forgotten epics coming to light for the first time, a feeling aided by how textured he makes his music (on one song, he can play up to 11 instruments). This five-volume box set (and its sequel, Silver & Gold: Songs for Christmas, Vols. 6-10) is no different. From the comical ("Come on! Let's Boogey to the Elf Dance!") to the traumatic ("That Was The Worst Christmas Ever!"), Stevens weaves complex tales about the season. I've been listening to Suf' for years, ever since I heard his tearjerker "Casimir Pulaski Day," and this is something I come back to a lot during the holidays.
5. Frank Sinatra's A Jolly Christmas From Frank Sinatra

If you haven't caught on yet, there's something deeply sad and sentimental at the core of most classic Christmas songs. It's as if melancholy is rooted in the season, and it's most apparent with songs like "White Christmas," in which the persona longs for Christmases gone by, and "I'll Be Home For Christmas," the tragedy of which is encapsulated in its parenthetical subtitle: "(If Only In My Dreams)." Frank Sinatra's crooning captures this better than Bing Crosby's originals ever did, bless him.
6. Ariel Rivera's Paskong Walang Katulad

Choosing this purely because of "Sana Ngayong Pasko." One of my qualms with this song is that with its many overwrought covers, its initial poignance has been wrung out (note to future cover artists: over-singing diminishes a song's power and subtlety is god. Let a song sit). Still, I can't deny the emotions of this original.
Runner up to this was VST and Co's Boogie Woogie Christmas Day, by the way. It's ostensibly the better album, but I can't recommend it in good faith. Rape and corruption just aren't things I can get past, especially during the holidays.
7. David Sedaris' Holidays on Ice
One of the best things about making a list on Christmas records is that I'm not limited to music albums. Holidays on Ice is a spoken word recording of David Sedaris' 1997 holiday collection of the same name. It's made up of a bunch of essays that the humorist wrote about Christmas, including the wildly entertaining polemic "SantaLand Diaries," which follows his brief stint as a Santa Elf. His sister, comedian Amy Sedaris, also shows up to read some of the essays.
8. A LaFace Family Christmas

'90s in the best way, A LaFace Family Christmas is a compilation album featuring different artists from the now defunct-LaFace Records. This includes '90s heavyweights TLC, OutKast, and Toni Braxton. Pop this record on if only to hear TLC's version of the '50s classic "Sleigh Ride," which completely reworked the light orchestral into a chilled out R&B ditty with new lyrics and an entirely different hook. This underrated Christmas cover is honestly pretty genius, and remains one of the girl group's best works.
9. Timbre Cierpke's Silent Night

There's something incredibly healing about the harp, so much so that harp therapy is a real thing. When Abraham Alcala played for us during our visit to his home, the soothing sounds plucking away everyone's tensions, and someone on the team almost cried. The harp has a magical sweetness to it that other stringed instruments don't have.
This makes Timbre Cierke's Silent Night all the more sweeter. It's an incredibly tender album, even for a Christmas one, and the harpist's gentle plucking and heartful singing will tug away at your heart strings. If that doesn't get to you quite yet, she's also employed the help of other instrumentalists and a full-fledged orchestra.
10. Low's Christmas

Low's Christmas is a pretty short album, tapping out at 29 minutes with just 8 songs, since it was meant to be a humble little release for fans. Still, the lofi acoustic album managed to become a well-loved indie classic (Tracey Thorn of Everything But The Girl covered "Taking Down The Tree" in her own Christmas album). It's a soft and somber take on the season, and "Taking Down The Tree" perfectly encapsulates that eerie sort of melancholy that sets once Christmas ends and it's time to pack up the decor.
11. Mariah Carey's Merry Christmas

Decades from now, Mariah Carey will still be performing as a Christmas Queen, all by the virtue of this album's hit single. "All I Want For Christmas Is You" is the best modern Christmas song, full stop. In the 20 years since the song was first recorded, no other artist has made an original Christmas song that has the same staying power or even plain listenability—Britney Spears' "My Only Wish (This Year)" comes close, but it doesn't quite make it. Just the sheer force of which Mariah Carey sings it is hard to beat (she goes from G3 to the high note of A6 throughout the course of the song). Mariah broke all the rules of the Christmas jingle when she recorded this, and for that I'm thankful.
12. Nat King Cole's The Magic of Christmas (1963 reissue)

When this album was first recorded in 1960, someone made the supremely unwise decision to leave out "The Christmas Song," which Nat King Cole first sang in 1945. Thankfully, this was rectified in the 1963 reissue, and from then on the album was renamed to The Christmas Song. The recording of "The Christmas Song" made for the reissue remains the definitive version of  the song.
Why does this song resonate with me? Christmas is inherently a season of clichés. The Santa hats, the Yuletide carols, the retelling of stories to children too young to understand that they're just myths. We follow these traditions every year, but why? Because it doesn't matter if it's sentimental or cliché, we do it for each other. The real magic of the season is that entire communities, even secular, have given it meaning, real enough that it once managed to briefly put a war on pause. And so, as Cole intones: "Although it's been said many times/ Many ways, Merry Christmas to you."
Merry Christmas, folks.
Get more stories like this by subscribing to our newsletter here.
Read more:
Get nostalgic while streaming APO Hiking Society on Spotify
Feeling stressed? Listening to Christmas songs helps
Baby It's Cold Outside isn't the rape anthem you think it is
Read more by Zofiya Acosta:
A case against (unethical) dog cafés
Peque Gallaga's "Magic Temple" is getting a remake
Here's where you can get real evergreen wreaths this Christmas
TAGS: a jolly christmas from frank sinatra a laface family christmas all i want for christmas is you apo hiking society ariel rivera christmas christmas album christmas record christmas songs david sedaris ella fitzgerald ella wishes you a swinging christmas frank sinatra holidays on ice low mariah carey merry christmas nat king cole nolisoli.ph paskonAPO paskong walang katulad silent night songs for christmas sufjan stevens the beach boy's christmas album the beach boys the christmas song the magic of christmas timbre cierpke