To get rid of the pork barrel, voters must choose leaders who genuinely want it out of the system of governance. It is that simple.
All the head-shaking, cursing, and tut-tutting in the world is not going to help.
People must vote for leaders with the balls and determination to delete the pork barrel from the annual budget.
This is going to be very difficult though. We've witnessed how a lot of well-meaning political newbies eventually turn their backs on earlier promises and embrace the pork barrel system because it is, well, very tempting.
Imagine having at least P60 million a year (officially).  It would be enough to repair defective roads in your legislative district. And probably have extra for flood control, a two-room school building…
It IS hard to say "no" to a perk that could guarantee your reelection, if not extra income in case you have a "cooperative" project contractor.
Collusion is a very important element in earning from pork barrel. An unscrupulous lawmaker cannot do it without an enabler-contractor.
The contractor executes a government-financed project in a district. Contractors are often private companies that have proven they can complete multi-million infrastructure projects like roads or buildings.  This means they should have ready manpower and heavy-duty equipment like trucks and the like.
In many cases, the unscrupulous lawmaker already has a favorite contractor willing to overprice a proposed infrastructure project and split the bloated earnings with the lawmaker.
We've heard of contractors who turn out to be relatives of government officials. Check the Philippine Daily Inquirer's story about Budget Secretary Benjamin Diokno allegedly favoring a small-time Bulacan-based contractor to execute projects in far-flung Sorsogon. (Diokno is the same budget chief who allegedly inserted P75 billion pork barrel without President Duterte's consent.)
Now imagine perpetuating this practice for nine years within three terms as congressman or twelve years within one's two terms as senator. Visualize the zeroes after the peso sign.
Mind you, the pork barrel system had been in place even before the dictator Ferdinand Marcos closed down Congress at the start of martial law in the early 1970s.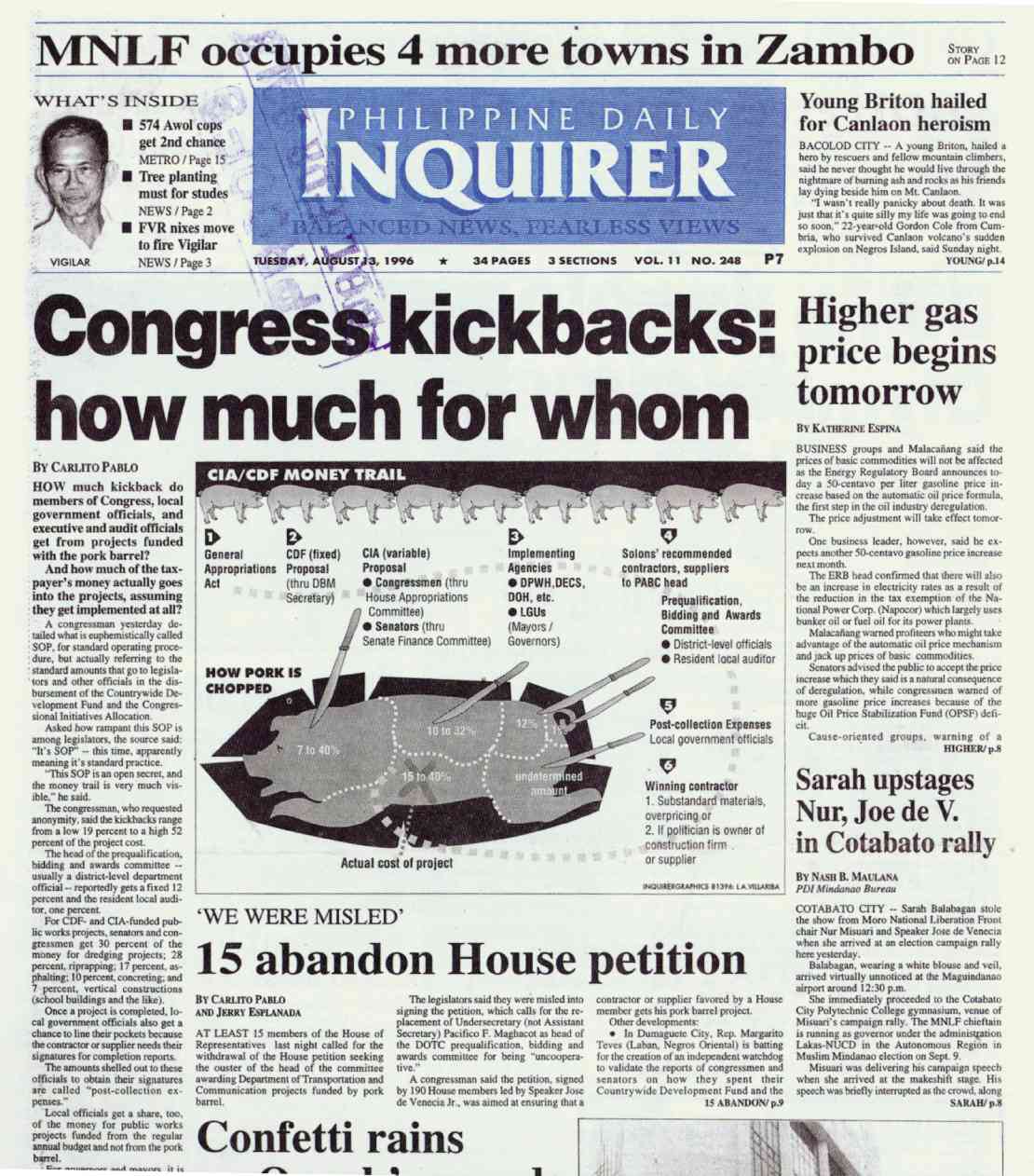 In fairness, the government has tried to contain the hemorrhaging of public funds due to pork barrel. President Benigno Aquino once ordered erstwhile Justice Secretary Leila de Lima to build cases against political opponents perceived to have earned millions from the practice.
We know what happened next. Former senator Bong Revilla was recently acquitted despite the Sandiganbayan acknowledging he received more than a hundred million from the Priority Development Assistance Fund, a 21st-century pork barrel monicker.
Colleagues Jinggoy Estrada and Juan Ponce Enrile are currently out on bail even if the plunder charges they face due to alleged pork barrel kickbacks should be non-bailable.
Current news has confirmed new and disturbing details about pork barrel these past few days:
Of the draft P3.8 trillion budget for 2019, there is now a phenomenon called "parked pork" where "well-connected" lawmakers with huge amounts of pork barrel (a.k.a. those close to Malacañang) hide or "park" their multi-million appropriations in the legislative districts of colleagues who are not as blessed.
This allows the less-connected lawmakers to identify projects in their districts that would be funded by the pork barrel of their luckier colleagues.
The thing is, it is the better-connected lawmaker who chooses the contractor that will execute the project. This means kickbacks of as much as 40 percent of a project's allocation, according to recent news.
It was Sen. Ping Lacson who drew attention to this new practice, quoting a still unnamed congressman who was allegedly approached by a senator's staff with the offer of "parked pork" for the congressman's district.
And in a separate development, there is an ongoing tit-for-tat in the House of Representatives involving minions of President Duterte and Speaker Gloria Macapagal-Arroyo over egregious amounts of pork barrel.
Before his "parked pork" revelation, Lacson alleged that Speaker Arroyo has P2.4 billion worth of pork barrel hidden among the folds of the 2019 General Appropriations Act that she is supposed to consume for residents of Pampanga.
Arroyo's supporter, majority leader Rolando "Nonoy" Andaya Jr. immediately countered that House leaders who fell from grace after the last chamber reorganization have much bigger pork allowances.
More specifically, Davao del Norte Rep. Pantaleon Alvarez, whom Arroyo replaced as Speaker last July, reportedly has P5 billion. Duterte ally and secretary to the Cabinet Karlo Nograles is no longer a congressman but allegedly has P4 billion tucked away while Ilocos Norte Rep. Rodolfo Fariñas whom Andaya replaced as majority leader has P3.5 billion.
Andaya's pronouncement prompted Arroyo to comment she is "only upper middle-class as far as the (pork barrel is) concerned."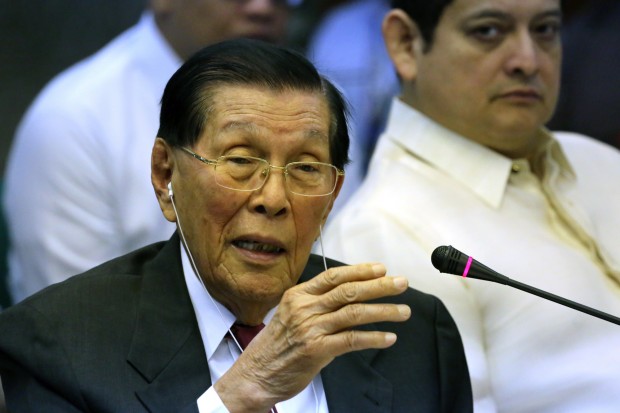 Alvarez loaded his guns soon after, charging that Arroyo et al will drop a plan to abolish the graft-ridden Road Board, a government agency that collects the road user's tax now amounting to P45 billion because they intend to use its funds as pork barrel.
Alvarez also hinted that Arroyo and Andaya could be behind the move to drop the plan to abolish the Road Board, seeing how lucrative preserving it would be.
But Andaya is not done yet. Last Sunday, he warned that "a former member of President Duterte's Cabinet" is behind moves to turn flood-control projects into "cash cows."
Andaya, in an Inquirer story, noted the 2019 draft budget has P544.5 billion intended for the graft-prone Department of Public Works and Highways (DPWH). He noted that P114.4 billion is supposedly earmarked for flood control, almost a quarter of the department's entire 2019 appropriation. The amount has now ballooned to P133 billion, Andaya said.
The congressman said the P133 billion is not listed in the DPWH's original budget request of P488 billion submitted to Congress and that some congressmen are not even aware that their districts now enjoy bigger infrastructure allowances following the added but unexplainable appropriation.
Andaya also reported that a Bicol town mayor told him that a former member of the Duterte Cabinet was the one who facilitated the "parking" of P300 million in pork barrel for a flood mitigation project in his municipality. The ex-Cabinet member is now running for public office, Andaya said.
We do not need to point fingers at anybody to prove that kickbacks from pork barrel will continue for as long as lawmakers in charge of approving the annual appropriations and executive officials responsible for drafting and submitting budget proposals to Congress collude with each other.  And the presence of cooperative contractors only worsens the situation.
Hence it is up to those of us who choose the country's leaders to make sure Congress is occupied by those with a strong conscience that cannot be easily swayed by the allure of pork barrel and its accouterments.
The pork barrel ties that bind are hard to unravel but it is possible to do so. We must remain vigilant. We must exert effort to know who we choose as leaders, have the determination to make them win and make sure they stay clean.
We cannot rely on those in power to change the system where they benefit from. It is our choice of leaders that will determine whether pork stays or goes.
Get more stories like this by subscribing to our weekly newsletter here.
Read more:
Is the new extension of martial law really necessary?
Duterte's arrest order against Senator Trillanes should alarm Filipinos
No surprise: Duterte's misogyny has trickled down to the rank-and-file
Writer: CATHY CAÑARES YAMSUAN
ART TRICIA GUEVARA