Dec 19, 2018
This restaurant's menu has no text, only colors
At Helm, each course is defined by color. And with a 12 to 15 course meal, that's a lot of color
At Helm, Josh Boutwood's intimate 10-seater restaurant, you can now eat according to color.
Each diner is handed a menu upon seating. No words. Only blocks of color on double vertical grids.
The prix-fixe menu is composed of 12 to 15 courses, depending on the produce and the mood of the chef, who prepares each course in front of diners, like dinner theater.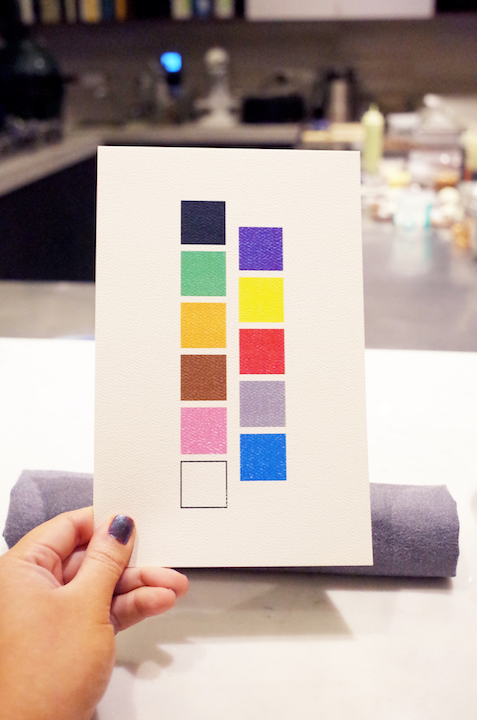 Each course is determined by a color, with a progression commencing with black. That first course, in blacks and grays, consists of smoked mussels, squid ink, eggplant and black garlic. The smokiness of the mussels, encased in some kind of gelatinous capsule, evokes—via the palate and the eyes—the blackened planks of a wood fire.
Green is a delicately prepared seabass, a spoonful of dill sauce gently ladled over it, topped with cilantro for texture.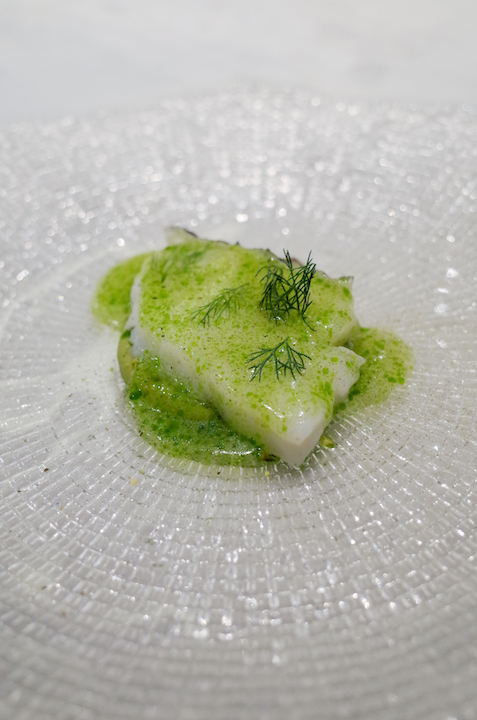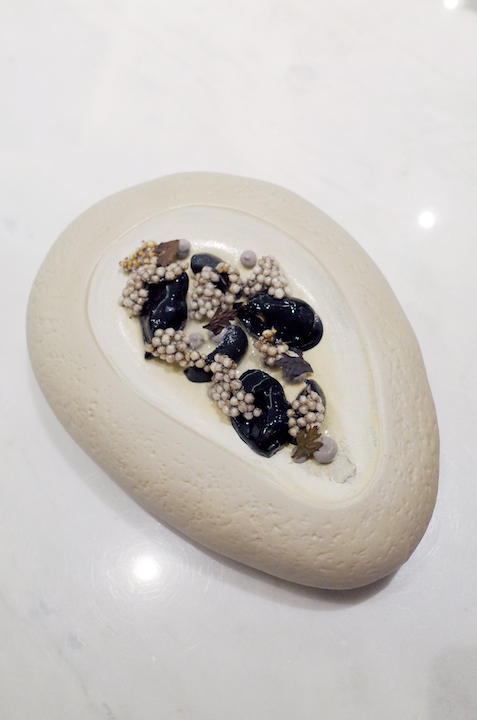 Bright yellow is an egg yolk on a kasubha potato foam with chicken chunks. Crispy quinoa dots the creation, adding a necessary crunch. "Break the yolk and mix it with foam," Boutwood directs the diners. The sunshine-hued yolk provides a luscious counterpoint to all the pale hues on the bowl.
Cubes of tender beef tongue with tendons on a bed of ash make up the gray course, while beetroot, beef heart and vinegar-soaked cabbage offer a meditation on yellow brown.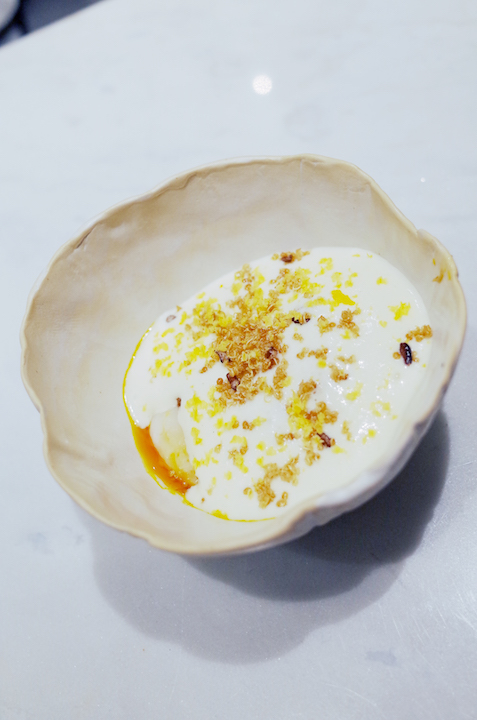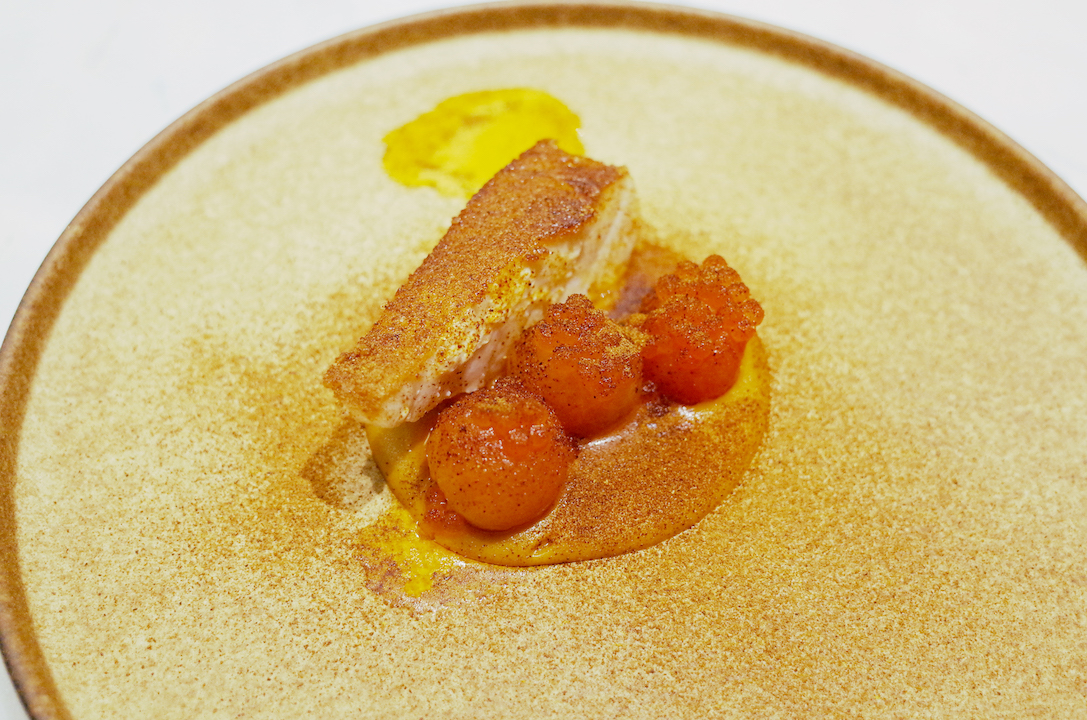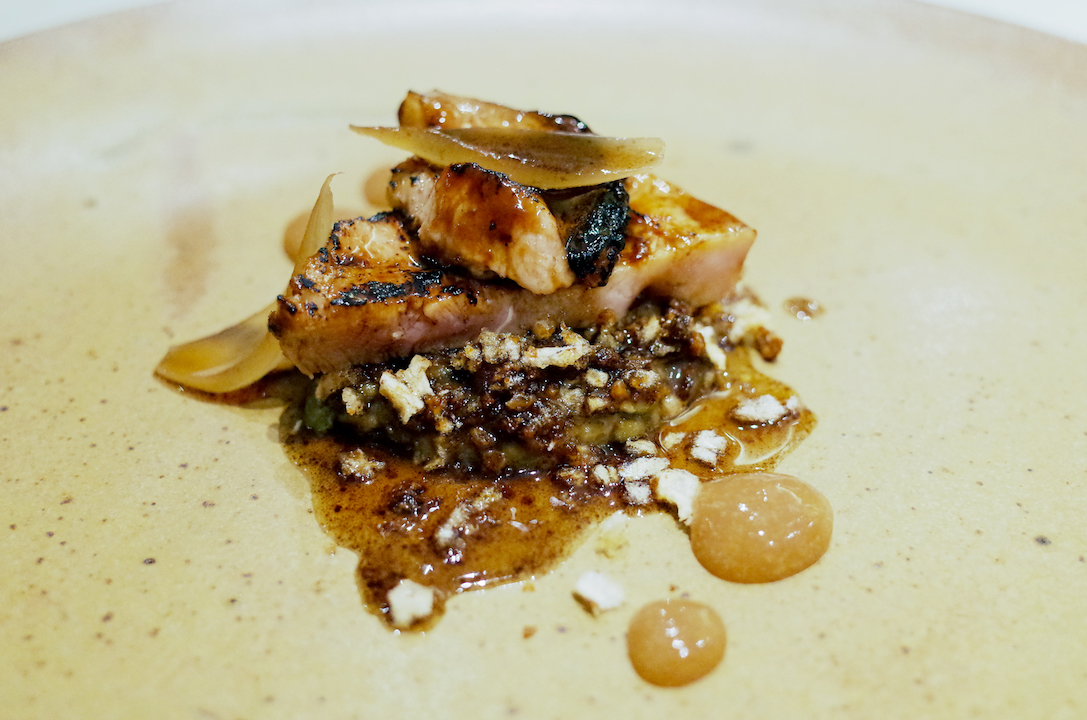 Boutwood is interested in crafting thematic dining experiences. His first menu was centered on indigenous ingredients. In the bread and butter course, for example, the butter was actually pork fat rendered to the same creamy consistency as butter but with an amplified savory element—since, Boutwood notes, there was no butter in the Philippines before colonization.
The chef's new menu is clearly hinged on the aphorism "You eat with your eyes first." And Boutwood's keen on expressing his state of mind, his culinary mindset, via color.
And as my favorite Hallmark card author Carl Jung once said, "Colors express the main psychic functions of man."
The Menu
BLACK
Mussel, ink, eggplant, black garlic
GREEN
Seabass, dill, pistacchio
RED
Lapu-lapu, sweet potato, roe
BROWN
Pork loin, mushroom, munggo, sampaloc
PINK
Dragon fruit, pomelo, strawberry
WHITE
Coconut, pandan, macapuno
VIOLET
Cabbage, duck liver, ube
BRIGHT YELLOW
Egg yolk, kasubha potato, chicken
YELLOW BROWN
Beetroot, beef heart, cabbage vinegar
GRAY
Beef tongue, tendons, ash
BLUE
Blueberry, blue ternate, yogurt
The dinner is P3,850 including tax and service charge. Since Helm only has 10 seats, diners must book via www.Ticket2me.net, their reservation platform.
Helm is located at The Plaza, Arya Residences, McKinley Parkway, Bonifacio Global City.
Get more stories like this by subscribing to our weekly newsletter here.
Read more:
Chef Josh Boutwood's newest resto is an intimate 10-seater spot
Chef Josh Boutwood's survival guide to Manila's culinary scene
Everything is cooked over open fire at Savage
Read more by Bea Ledesma:
The easiest 20-minute pork and bean soup for a rainy day
Wine for people intimidated by wine
Interesting, a beef adobo recipe with coconut milk
TAGS: helm josh boutwood