There's a salon devoted to body scrubs in Mandaluyong
I tried it and here are my thoughts
Jan 28, 2019
When my editor asked our team who could do a feature on a scrubbing salon, I volunteered immediately. After all, I haven't tried getting my body scrubbed by a "professional" ever. Also, I like trying out stuff (I started to fear nothing after getting my first Brazilian wax).
Roman Baths Scrubbing Salon is a mini spa that's focused on body scrubbing with either Himalayan pink salt or sugar honey with calamansi. It opened mid-2018 on the fifth floor of SM Megamall, joining other salons and wellness centers in the area. Its scrubbing service claims to "improve blood circulation, smoothen skin's texture, minimize pores, prevent acne and breakouts (they have a quick facial service), fights signs of aging, evens out skin tone, and allow better absorption of skin products."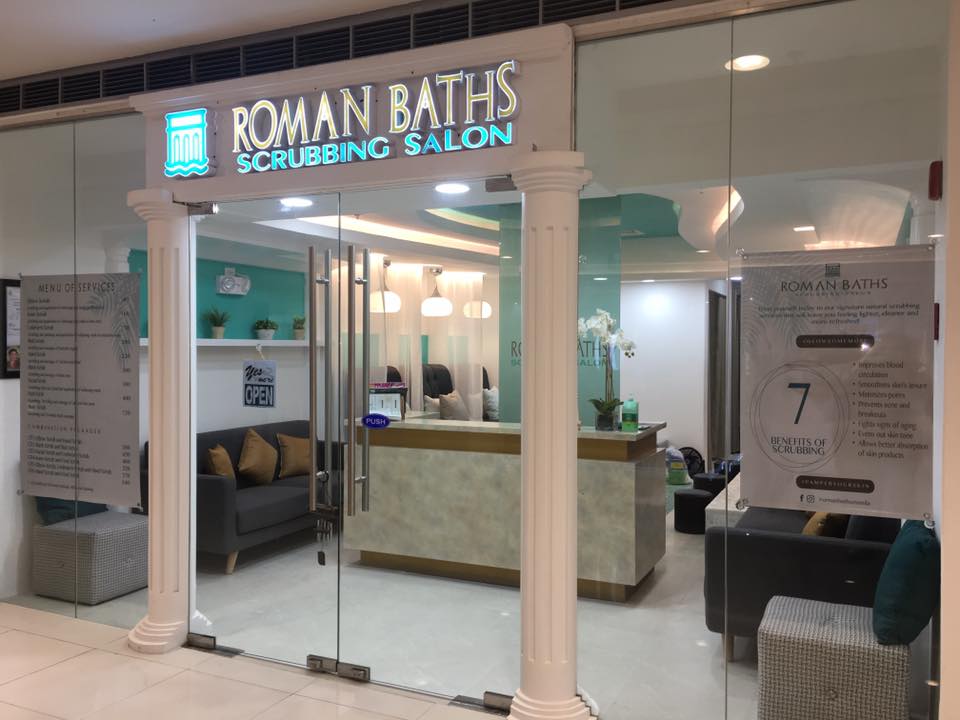 Aside from full body scrub, they also have elbow, knee, underarm, butt, hand, back, facial, and foot scrub. Elbow and knee are the cheapest at only P160. Clients can add nail cleaning for only P80.
I didn't know what to expect from a whole body scrubbing session—except that I'll be wearing only a pair of disposable panties. Okay.
Before I went there, I reserved a slot for a body scrub with a 30-minute massage. It costs P720. But upon getting there on a weekday after work, I noticed that Tuesdays must be one of the slow days at Roman Baths—no need for reservations—I could count their clients that time (it was 7:30 p.m.) on one hand.
The receptionist then asked me what scrub I wanted to use. As I've mentioned, there are two choices: the trendy Himalayan pink salt with a blend of oils, which they recommend for those with dry and rough skin as it doesn't easily dissolve; and sugar honey with calamansi, which they recommend for those with sensitive skin. I chose the former. I have a pretty thick skin that's already undergone good and bad waxing but is still fine.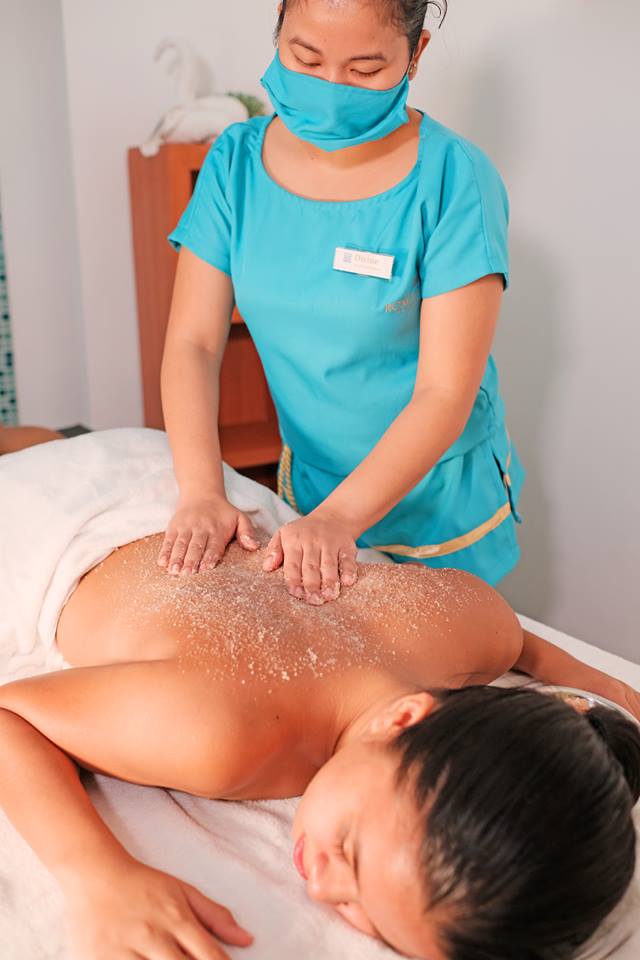 While I was waiting for my room to be prepared, a middle-aged woman just got out from a body scrub and massage session. She was breathlessly telling her friends there how her skin's glowing like Kathryn Bernardo's now after that rejuvenating session. I got excited. I wanted a Kathryn Bernardo glow, too.
A few minutes after, I entered my room. It was like a regular waxing room (you see, I love my waxes) only with a spacious shower area on the right. My therapist Ms. Angie told me to take off my clothes, slip into the disposable underwear, and wear a shower cap. I obliged and then laid on the massage bed face down. A few minutes later, she entered and started the session.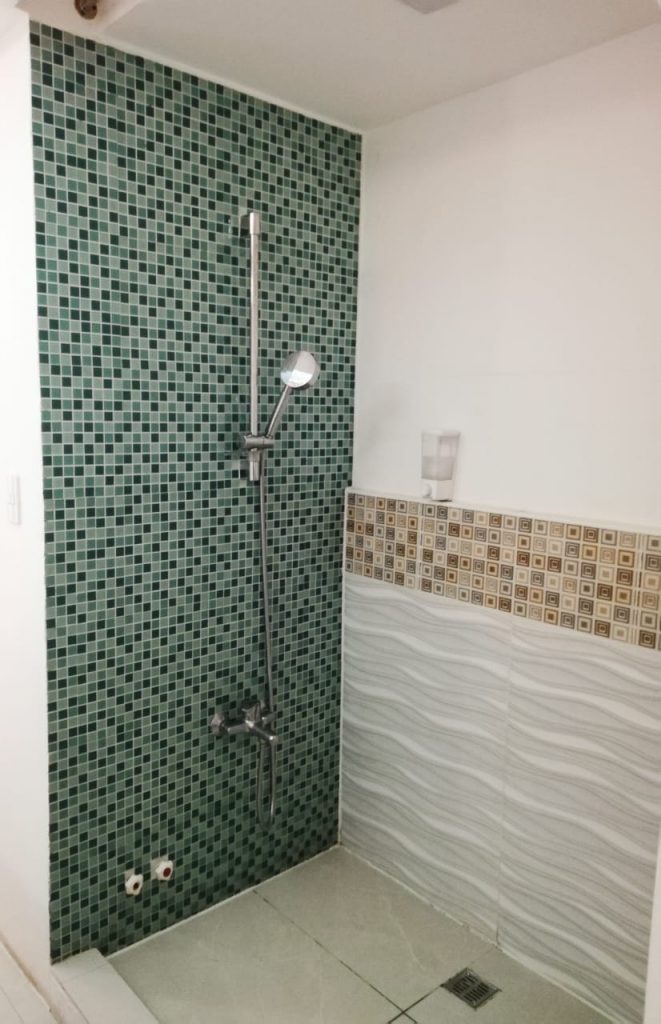 She sprayed hot water on my right leg first and then scrubbed my lower limb aggressively. "Okay lang po ba, ma'am?" Ms. Angie asked, referring to the scrubbing. I said yes. I think the scrubbing can be too harsh for other people, but I was okay with it. She was massaging (with her gloves on) with the salt in big and small circles and I found it relaxing. She spent around three minutes on each part of my body including my soles and singit—thank heavens, I wasn't born ticklish.
After a 30-minute scrubbing spree, Ms. Angie told me to rinse in the shower. A few minutes after I dried off, we continued with the session. She slathered a thick gob of aloe vera gel on my body and massaged. It was cold, which was nice after that kind of hot scrub, and super smooth on the skin.
Overall, it was a nice experience. It did help soothe my desk neck and back, and would most probably help your achy spin or yoga class muscles. I didn't get to see if my skin glowed like Kathryn Bernardo's that time because they didn't have a full body mirror. My skin, though, felt hydrated and soft, my butt, silky. As for the smell, my skin only has a faint trace of aloe vera gel from the massage. If abrasives are therapeutic for you, go for it.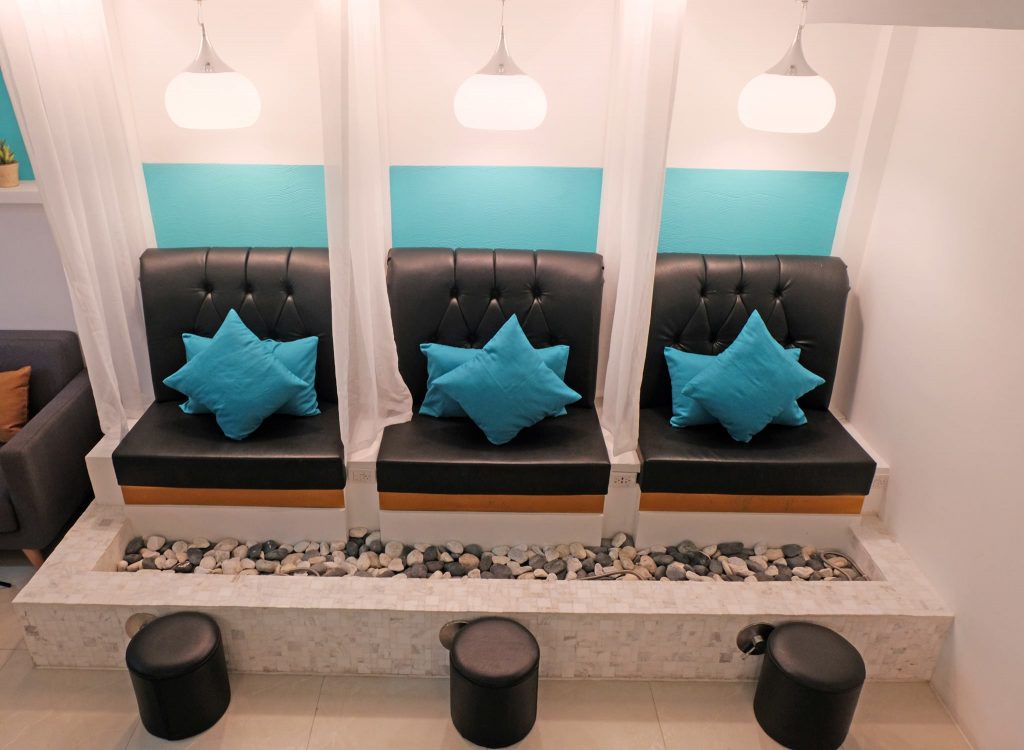 Having been named after the historical social and recreational activity in Rome (and Greece), I expected a kind of a more sophisticated service and interior design, though. The Romans, after all, had three rooms when bathing—warm, hot, and cold rooms—so it could've been nice to have that similar experience now. That additional touch could've made me feel how the Romans elevated bathing into a fine art since we're already here borrowing a piece of their culture.
Roman Baths may also need to step up in the ambiance department. I understand that they have to make do with the space they're given, which is relatively small compared to other spas I've been in, but small touches like scented candles, louder ambient music, and more fragrant towels and pillows would be great.
But that aside, would I go back? Yes.
Roman Baths Scrubbing Salon. 5F SM Megamall Building A, EDSA cor. J. Vargas Ave., Mandaluyong. 0923-7297292. 10 a.m. to 10 p.m.
Get more stories like this by subscribing to our newsletter here.
Read more:
What happens in a sensory deprivation pod?
Have your own night at the museum in Laguna
10 spas you deserve after a long day at work
Read more by Yazhmin Malajito:
Where to buy environment-friendly body scrubs
7 shops where you can buy shampoo bars
Shops where you can buy sustainable feminine bars
TAGS: body massage body scrub roman baths scrubbing salon sm megamall