You have a voice in a global environmental pact in 2020
The global petition "Voice for the Planet" is in preparation for a major environmental conference in 2020
Feb 4, 2019
You probably know by now that climate change isn't a myth. If you don't believe me, just turn on your television (or in this day and age, Google it) and you'll see how it has transformed the way we and seven billion other people in the planet live. From extreme weather patterns to decreasing supplies of food and water, studies have shown that the effects of climate change will continue to be disruptive if nothing is done about it now.
Thankfully, it's become a global concern that world leaders and ordinary people are starting to pay more attention to. If you want to help out on a micro to macro level, here's something for you: A new social initiative called "Voice for the Planet" allows you to add your name in a global petition that calls on to world leaders to agree to put an end to humanity's impact on nature.
The petition is in preparation for the New Deal for Nature and People, a comprehensive biodiversity framework that will lay out global plans and strategies for protecting the planet in the next decade. World leaders will convene at a conference in Beijing in late 2020 to finalize the framework.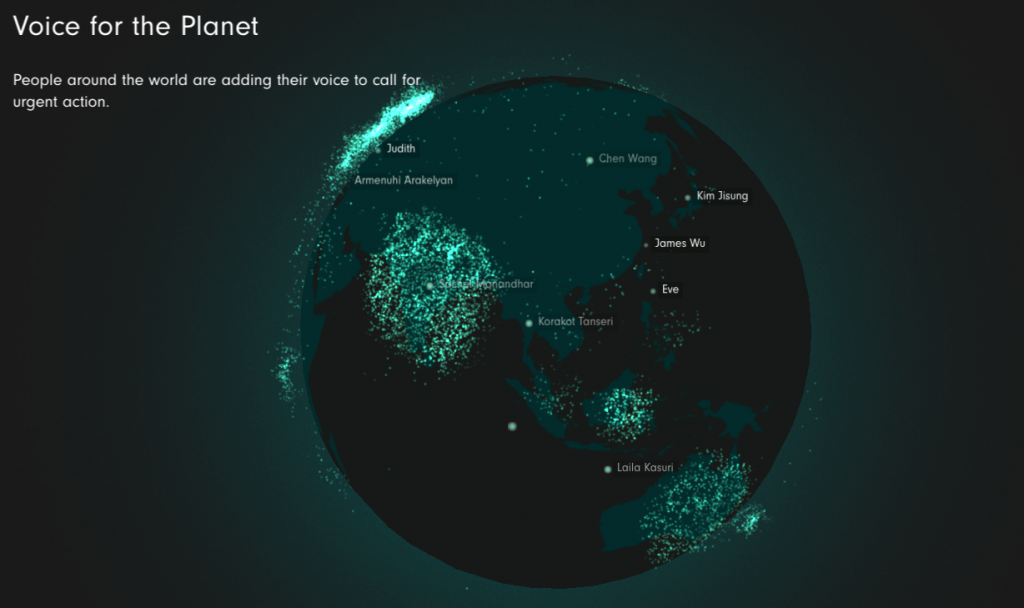 According to the World Wide Fund for Nature (WWF), the online petition will act as a "visual representation of the global demand for action to save our planet, and will be presented to heads of state in 2020 when new global targets on nature will be set by governments across the world."
"The world needs to wake up to the risks of biodiversity loss. All stakeholders; business, government and people, need to act now if we are to have any hope of creating a sustainable future for all and a New Deal for Nature and People in 2020. For this to happen, we need a cohesive vision and strong political will—something COP14 has unfortunately lacked," said Marco Lambertini, Director General of WWF International, in a statement.
How can I help?
Visit their website and from there, fill out all the necessary details such as your name and email address. Once you're done, you can select one pledge towards a more sustainable planet (and please be sure to stick to it).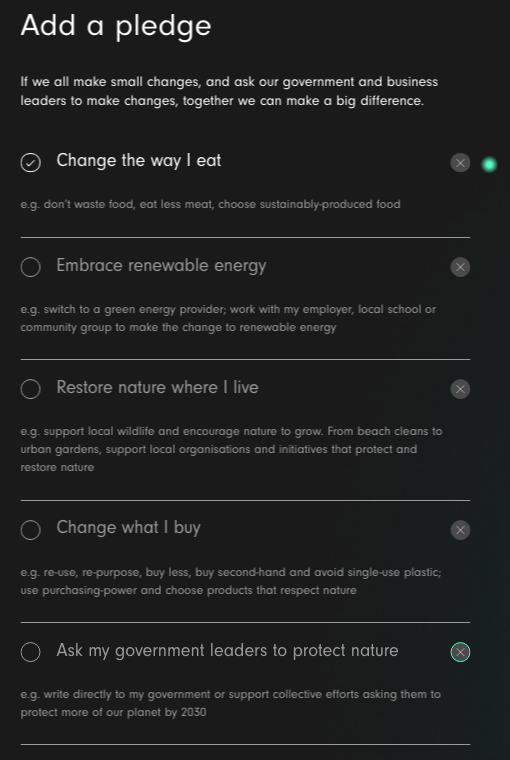 Your voice will then be represented by a tiny glowing dot hovering above the Philippines or wherever you're based. It hopes to raise 1 million signatures by the end of the year. As of writing, there are currently 36,815 pledges all over the world.
If you want to be part of the global environmental movement, sign the petition now. You'll never know what one small action could lead to.
Read more:
3 things you do every day that are slowly killing the planet
This planet-saving fitness trend is picking up steam
ICYMI: This is what Duterte had to say about our environment
Read more by Jill Chua:
Our country's corals aren't 'living coral'
This eco-friendly beauty brand is coming to retail outlets
DENR to close more establishments by Manila Bay in the coming weeks
TAGS: climate change environment global warming nolisoliph petition voice for the planet