UP students and staff have a new shoulder to cry on: emotional support dogs
Exam week got you down? Let these emotional support dogs console you
Feb 13, 2019
Dogs are not named "man's best friend" for no reason. We've seen in many movies and books just how important the role they play in our lives is. Here at Nolisoli.ph, we have told similar narratives like a woman who finds meaning from living with dogs she's rescued from the streets and how an artist made a home with 25 dogs among many other animals.
The therapeutic benefit of having a canine companion is best illustrated through the example of emotional support dogs which are trained to "provide comfort and support in forms of affection and companionship for an individual suffering from various mental and emotional conditions."
The University of the Philippines Diliman is one of the institutions who has recently adopted this approach towards ensuring the welfare of its students and staff. UP Diliman Chancellor Michael Tan along with animal advocates in the campus just introduced the first batch of emotional support dogs, two aspins named Cotton and Tisay who were found in the College of Mass Communication and Quezon Hall, respectively.
According to Tan, this is part of the university's efforts to strengthen psychosocial support for students and university staff experiencing depression or anxiety and managing the animals on campus.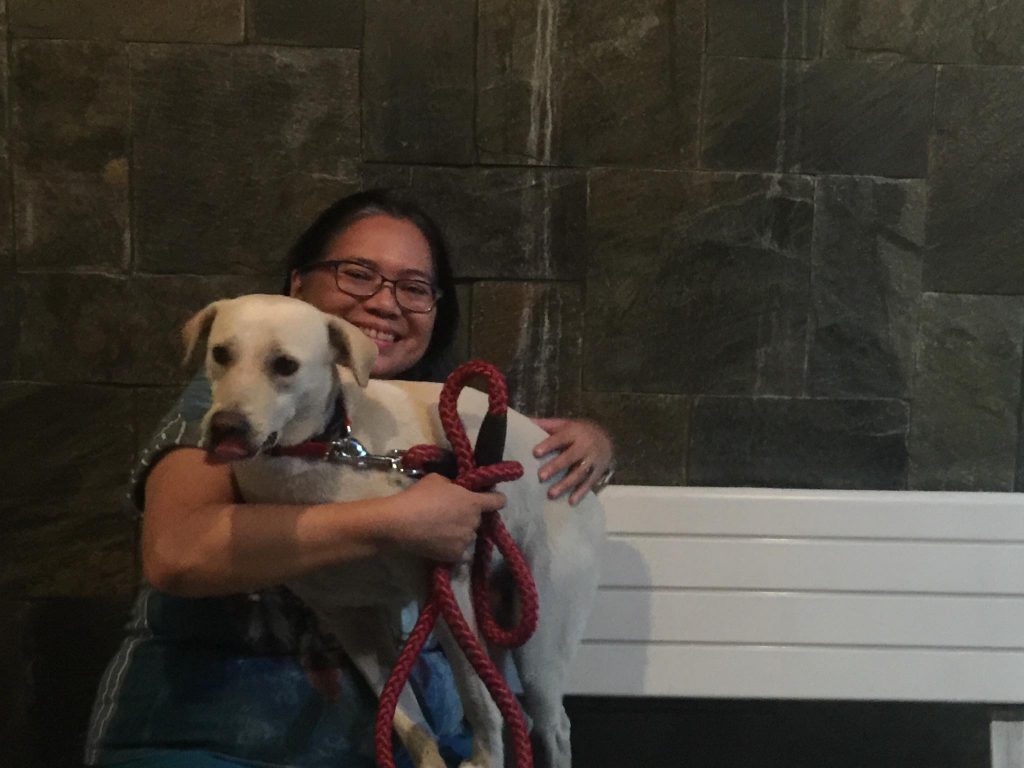 "Last December, when we had our semestral 24/7 Kapihan which provides students with 24/7 review spaces," Tan said in an interview with Inquirer.net, "We thought we could add other stress reduction measures. Then we thought, why not bring in dogs that are properly trained and can be carried and petted?"
Cotton and Tisay, who both wear maroon collars signifying that they are vaccinated, neutered and friendly dogs, according to Tan, are "tambay dogs that can be approached if you need a shoulder to cry on."
Last year during the annual Lantern Parade, the dog ban in the academic oval was lifted to give way to the dogs and their humans who wanted to join the parade. Similarly, there are other animal welfare initiatives throughout the campus (which you can also support!), like a spay and neuter project which benefits the campus' cat residents and bolster the university's bid to become a pet-friendly space.
Photos courtesy of Prof. Khrysta Rara of Friends of Campus Animals – UP
Read more:
Heads up, you can adopt these retired K9 service dogs
Here's how you can spay and neuter your pets for less
Want to foster or adopt cats and dogs? Check out this Instagram account
Read more by Christian San Jose
What it's really like rescuing dogs according to a woman who converted her home to a shelter
LOOK: Sunflowers are starting to bloom at UP Diliman for graduation season
You can help give retired K-9 dogs a home with this NGO in Bulacan
TAGS: dogs emotional support dogs UP Diliman