Why this motel's pancit sa bilao has a cult following
It delivers 24 hours a day
Feb 14, 2019
Okay, maybe "cult following" is too strong a term. But people, especially those who live in Pasay, know what's up at Mahal Kita Drive Inn and Restaurant. Aside from the fact that it's meant for quick stays (we're talking three, five hours here).
This motel, tucked into the bustling Pasay Rotonda and surrounded by bus terminals, train stations, and other motels, has really delectable pancit sa bilao. And buttered fried chicken. And I heard lumpiang shanghai, too.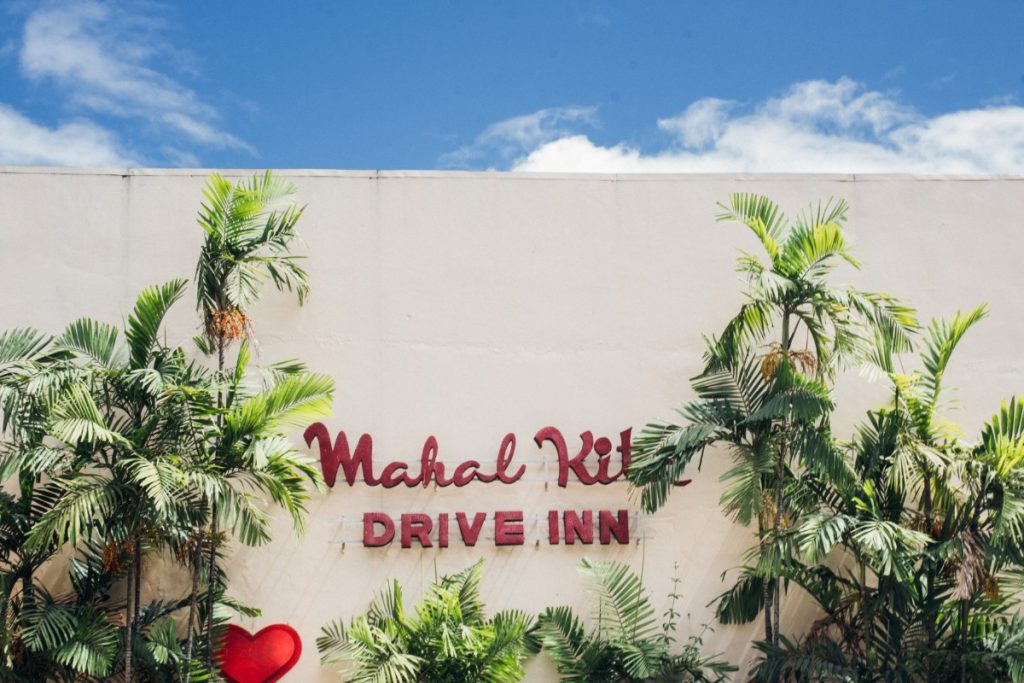 "It was Christmas of 2016 and my brother recommended the pancit at Mahal Kita the motel in Pasay. We (me, my fiancé, and my brother) went there and ordered the pancit canton with a separate sauce. We did not check in, though. Their service is great with very polite staff. When we got home, we tasted the pancit and sure enough, [it] was the best-tasting pancit canton I've ever had! I am not a pancit lover, but their pancit was my favorite! I rate it five bubbles compared to Amber's!" says one guy on TripAdvisor.
"We loved the butter chicken. It's moist and tender and you can really taste the butter. We previously were able to order pancit and we love it, too. Best dishes are buttered chicken, pancit canton, kaldereta, and shanghai rice (special fried rice)," reviews another.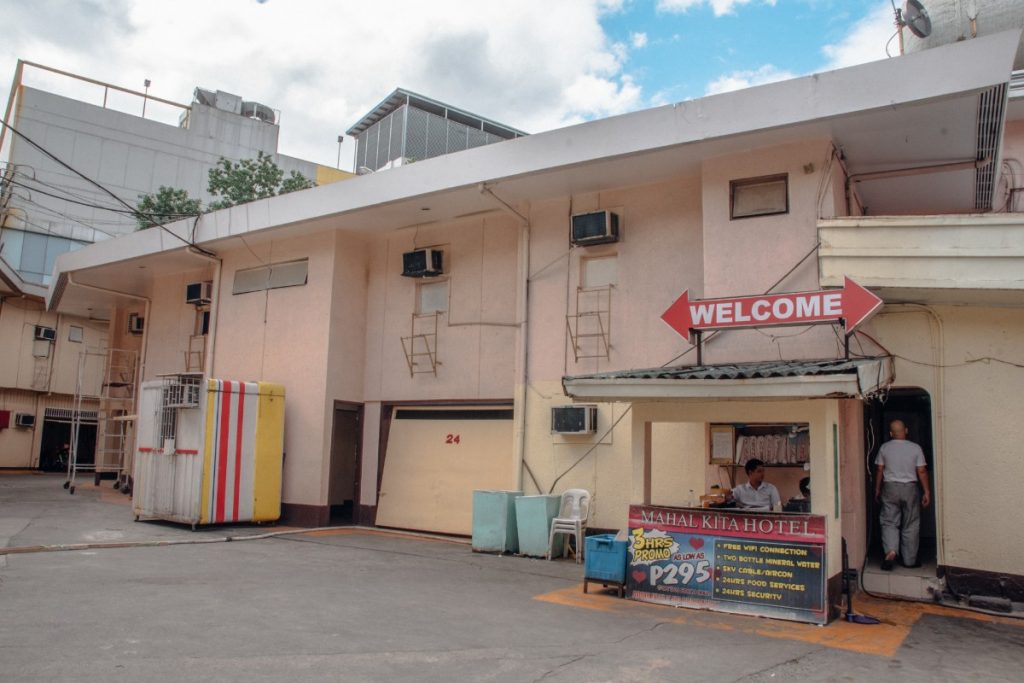 We paid the humble drive-in motel a visit one day. It was so different from the other motels we've been to—no lobby, no proper reception area, and no decent waiting room—only a big-ass open kitchen that doubles as a roundabout in the meager compound.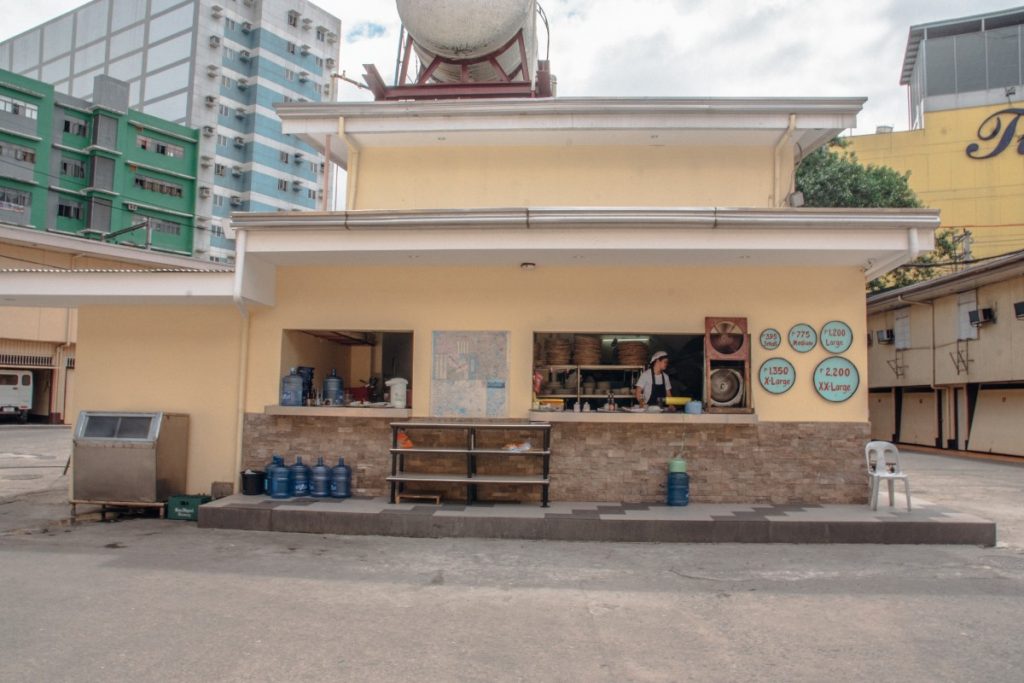 And unlike what their name states, Mahal Kita doesn't have a physical restaurant—it's a takeaway place if you're not checking in. But they have a 24-hour delivery service which they offer for free to those who live in the vicinity. Those who live in Makati, Taguig, or Manila would have to pay P100 for delivery.
We ordered a medium-sized pancit sa bilao (bihon and canton, mixed) for only P775, half buttered chicken (eight pieces) for P460, and crispy pata for P485. It's already quite a feast with these three dishes as they can already feed up to 10 people (this is what the medium bilao promises). We had to wait for almost an hour for our orders, which remained steamy until we got to our office in Makati.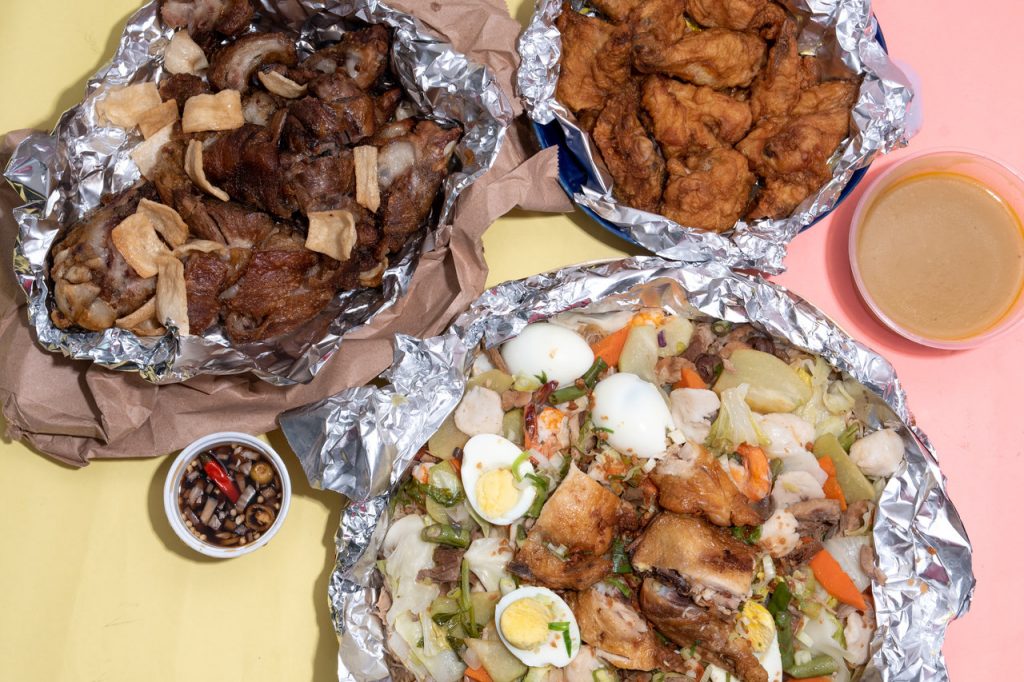 The pancit is indeed worth a rave—siksik, liglig, at umaapaw as they say. The bilao brims with pancit bihon and canton with an inundation of toppings like fried chicken, strips of pork meat, pork liver, shrimp, squid balls, hard-boiled eggs, and fresh vegetables. It's already a complete meal by itself. This is what I'd order if I'm going to throw a Galentine's Day.
Their buttered chicken and crispy pata was alright—they're meant to be eaten immediately to enjoy their crunch. Nonetheless, we still enjoyed their juiciness with our pancit.
If you're wondering what else Mahal Kita offers, here's the menu:
Pancit sa Bilao
Small (four to five) — P395
Medium (eight to 10) — P775
Large (10 to 12) — P1,200
X-Large (12 to 15) — P1,350
XX-Large (20 to 30) — P2,200
Palabok Seafoods
Small — P495
Medium — P975
Large — P1,350
Spaghetti sa Bilao
Small — P480
Medium — P795
Large — P1,100
Rice Special
Shanghai Rice — P185
Shrimp Fried Rice — P195
Yangchow Rice — P195
Garlic Rice — P120
Pilaf Rice — P170
All-time Favorites
Buttered Chicken — P460
Fried Chicken — P400
Crispy Pata — P485
Patatim — P495
Kare-Kare — P295
Beef Kaldereta — P295
Beef with Oyster Sauce — P235
Chicken Curry — P225
Chicken Pork Adobo — P245
Sweet and Sour Fish Fillet — P290
Sweet and Sour Pork — P230
Calamares — P230
Ginataang Hipon — P295
Bulalo — P295
Pinakbet — P230
Chopsuey — P235
Lumpiang Shanghai — P240
Beef with Broccoli — P265
Mahal Kita isn't the only motel famous for its food. The other members of the Flower Group in Pasig (Orchids and Jardin) are also famous for its pancit, and Hotel Sogo for its pork sisig and crispy pata. Just so you know.
Mahal Kita Drive Inn and Restaurant
2929 Taft Ave., cor. EDSA, Pasay City
0925-8803692, 852-2641, 852-5520, 519-2717
Read more:
Single on Valentine's Day? Cry and dance to these songs
You don't have to be a couple to enjoy these Valentine's specials
Quiapo's sex toy overpass is gone, but the sellers are still around
TAGS: buttered fried chicken crispy pata mahal kita drive inn and restaurant motel pancit sa bilao