Europe-based brothers make contemporary art out of Filipino home pieces
Plus their recommendation on where to get sculptural furniture
Feb 26, 2019
Sibling tastemakers Noel Manalili and Raul Manalili's mission for their late parents' retirement home in Quezon City is pretty simple: to make it more like a vacation house—and while they're at it, put the spotlight on Filipino designs and furniture that appeal to their contemporary design sensibilities. After all, Noel now resides in Le Havre, Raul in Madrid, their two sisters on the other side of the world, and they have a 300-sq. m. space in Quezon City to themselves.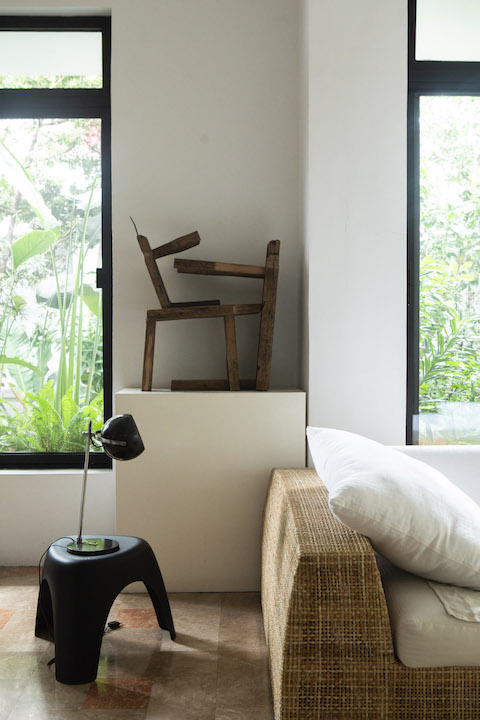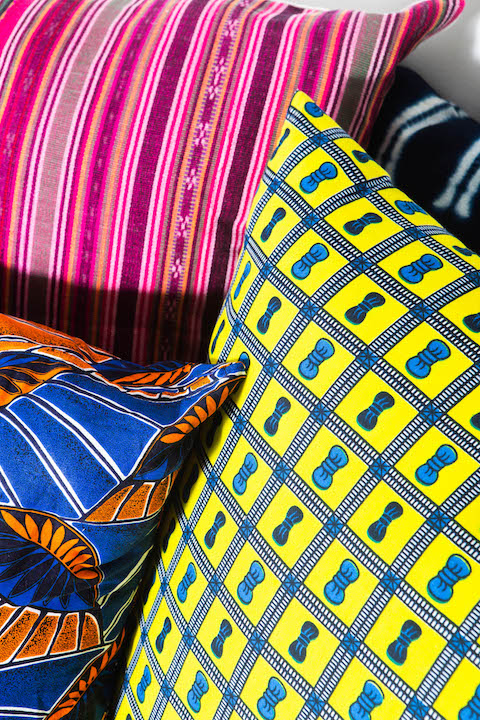 What used to be a dated, cramped, and dark space adorned with too many details finished with dark wood varnish two years ago now basks in a constant supply of light through the huge windows. The 30-year-old abode flaunts its space made bright and vast by the white painted walls, giving room for the carefully selected furniture and curios to stand out as characters in their own right. Items made with natural materials give warmth to the space—there are banig sourced from Bukidnon, wooden plantation chairs from Pampanga, and Milo Naval-designed daybeds with woven rattan as wraparound arms and back.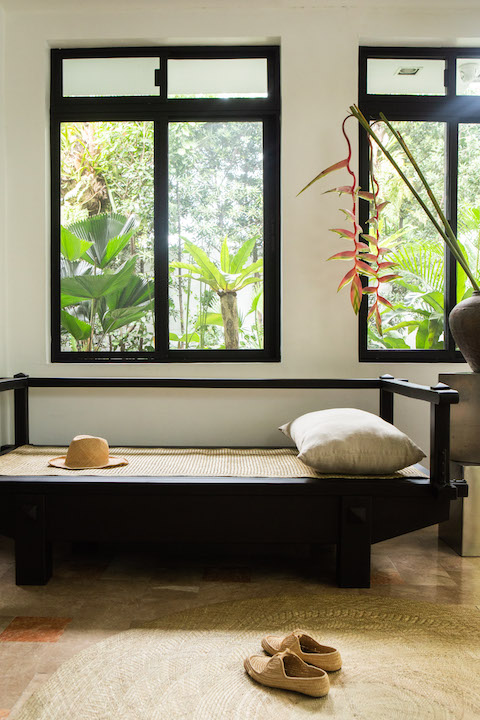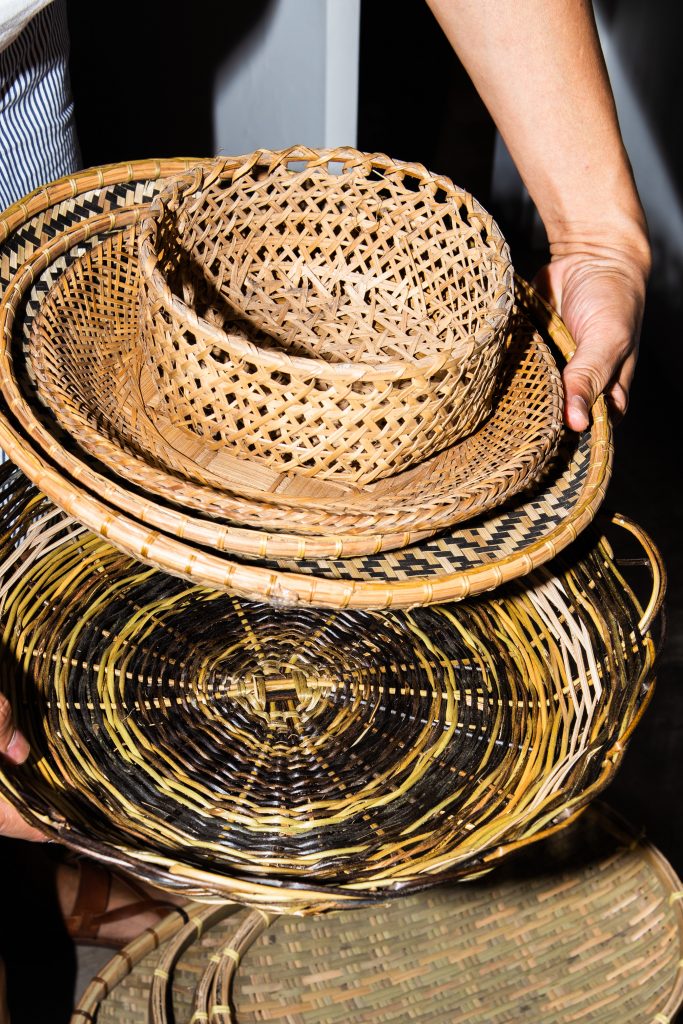 "We always try to find ways of doing things differently," says Raul. "Like do a different version of things that are Filipino, make them emanate a different feel, more contemporary." One time, they met Ruben Maranan, a former cardiologist and now a furniture maker, at Sidcor Sunday Market at Eton Centris. They went to his place to see more of his old wood-based pieces when a particular item in Maranan's kitchen caught Raul's eyes—it's a kudkuran ng niyog or a stool with a coconut scraper attached on one end. It's mostly used in the province, pre-electric grater. It was "such a nice sculpture," says Raul, that they had Maranan make two more specially for their home. Now, the scrapers stand on a rectangular pedestal on one side of the house.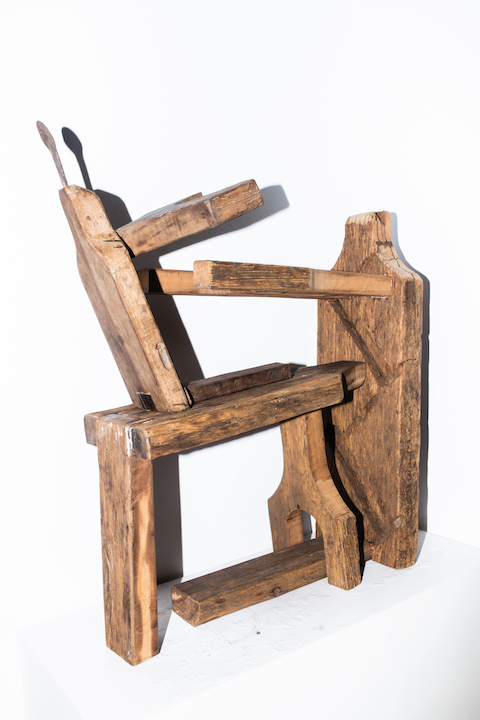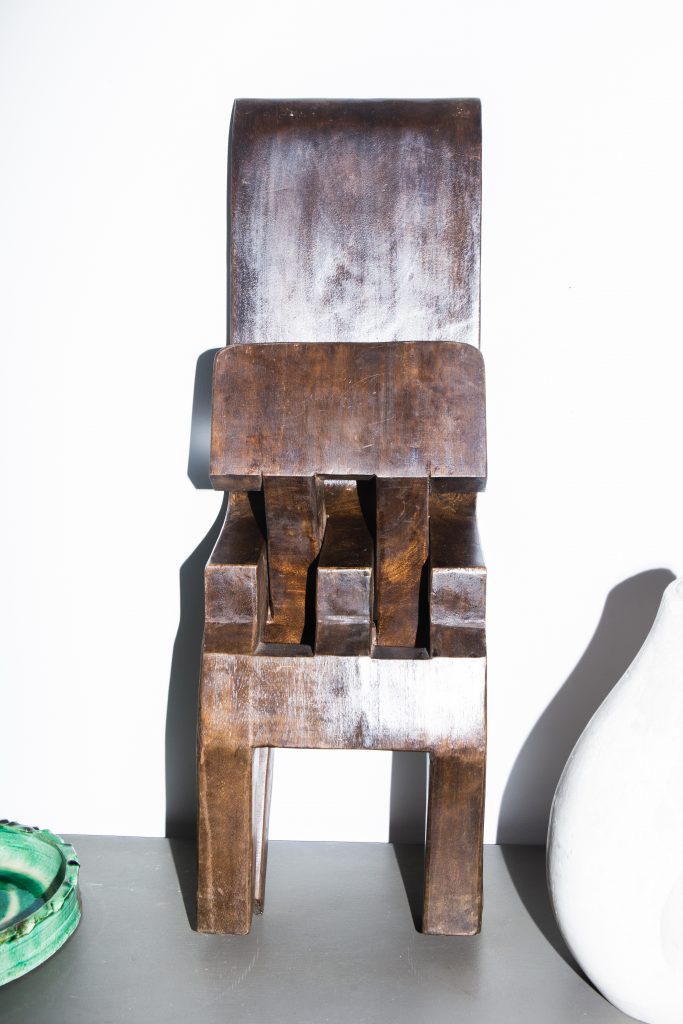 Another item of interest is a stool Noel acquired from Bontoc, Mountain Province. A curious- looking sculpture when folded, "it's carved from one piece of wood without any joints. It's quite a feat," says Noel. And his latest favorite find? A sleek, rustic, and clean Filipino papag made from acacia by Maranan. They also had it altered, got rid of some details to make it minimalistic and painted it black.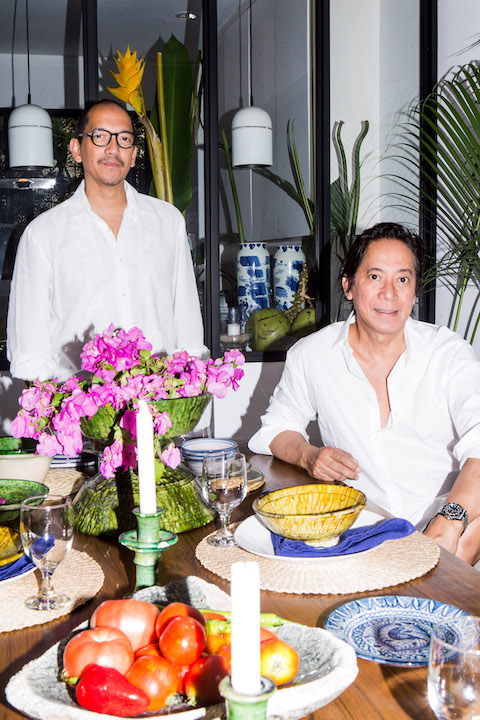 Overall, the house, which they call Villa Andresa (named after their mother), is elegantly sparse, which Noel admits is a style that he's very into right now. "It's just a matter of choosing strong pieces so we won't feel the need to add more," he says. "We want the objects and furniture to stand out so we can appreciate the materials used more," says Raul.
"This," referring to Villa Andresa, "will always be a work in progress," says Raul. The two will always scour flea markets all over the world. And the two will always find ways to showcase them in a different light.
"[We always try to] do a different version of things that are Filipino, make them emanate a different feel, more contemporary."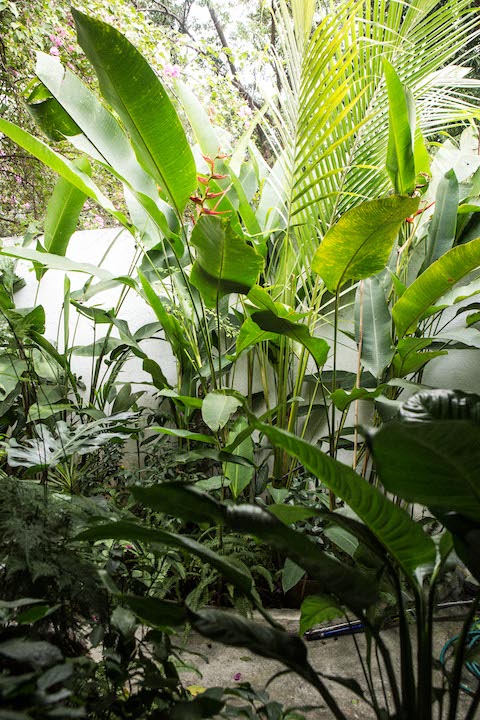 Watch out: The Manalilis are launching an online shop this year featuring unique functional objects for the home, sourced inside and outside the Philippines. For the meantime, though, here are some furniture shops and markets they recommend.
Omo Furnitures
Suite 129, LRI Design Plaza, 210 Nicanor Garcia St., Makati City
Mon. to Sat., 10 a.m. to 7 p.m.
www.omofurniture.ph
403-1208
Milo Naval is the renowned furniture maker behind Omo. Utilizing locally sourced materials, his designs emanate a warm and natural vibe in any space.
Artelano 11
Unit A11, 2680 F.B. Harrison St., Pasay City
Daily, 10 a.m. to 7 p.m.
www.artelano11.ph
832-9972
Artelano 11 or A-11 is an eclectic space curated by designer Eric Paras. Here you can find almost every kind of furniture, art, accessory, and kitchenware for your home.
Calfurn
Manga Road, Pulung Bulo, Angeles City, Pampanga
www.calfurnph.com
(045) 322-8186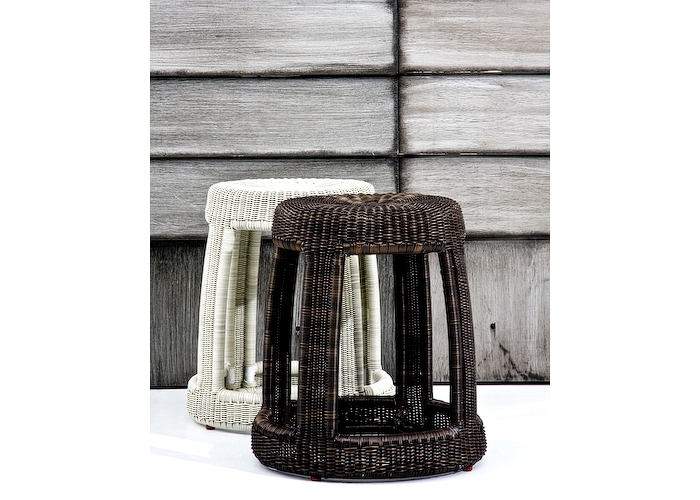 Calfurn is an Angeles City-based furniture manufacturer which makes great baskets and furniture.
Sidcor Sunday Market
Eton Centris, Quezon City
Every Sunday, 6 a.m. to 2 p.m.
This is where the Manalilis discovered Ruben Maranan and his old wood-based furniture. You might want to track him down here, too.
Salcedo Sunday Market
Jaime Velasquez Park between Tordesillas and Leviste Sts., Salcedo Village, Makati City
Every Saturday, 7 a.m. to 2 p.m.
In the middle of artisanal food and local produce stalls, there are hard to find trinkets and pieces that would look good in your space.
Legazpi Sunday Market
Between V.A. Rufino and Legazpi Sts., Legazpi Village, Makati City
Every Sunday, 7 a.m. to 2 p.m.
The brothers got their banig from Ding Perez at this weekend market. Check out his other handicrafts and houseware here.
This story originally appeared on Northern Living Recalibrate Issue
Read more:
Meet the Filipino architect reimagining domestic space in Hong Kong
This new art space in Pasay opens with an exhibit featuring 20+ local artists
Industria Edition has a steel grip on artisanal furniture
TAGS: noel manalili raul manalili