Make sure your pets are vaccinated annually, especially during summer
DOH warns pet owners against rabies, which is known to be rampant during the hot season
Mar 5, 2019
If more and more Filipinos continue to reject vaccines, measles will not be the only "completely avoidable disease" rampant in the country.
The Department of Health (DOH) urged pet owners in a statement earlier today to have their dogs and cats vaccinated with anti-rabies shots this month, as rabies cases are more prevalent during summer.
Some dogs tend to bite someone due to the excessive heat in the summer, DOH spokesperson doctor Lyndon Lee Suy says in a previous interview. "Siguro mas hindi comfortable ang aso, just like humans, 'pag mainit ang panahon," he says. "Or ikalawa, ang mga bata ay mas nasa kalye, which would make them prone [to stray and uncomfortable dogs]."
There's a huge chance that unvaccinated animals could be carriers of rabies especially if they are left roaming around in your community unleashed since, at one point or another, they are exposed to bites or scratches from infected animals. The World Health Organization (WHO) stressed that rabies virus are usually spread via saliva, affecting both domestic and wild animals.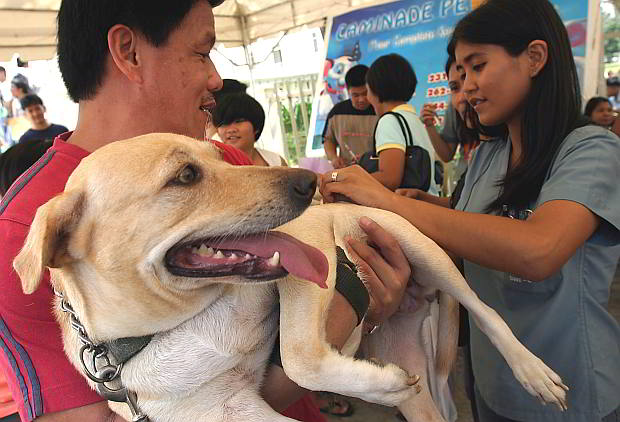 WHO also reported that it remains as one of the most neglected tropical diseases "that predominantly affects poor and vulnerable populations who live in remote rural locations."
Latest DOH statistics shows that rabies is the cause of more than 59,000 reported deaths worldwide for the past year. Over 95 percent of these deaths occur in Asia and Africa. At least 200 Filipinos each year die from this vaccine-preventable viral disease.
Their records also showed that 92 percent of the cases were due to exposure to suspected rabid dogs. Rabies from cats followed at 3 percent.
"Be a responsible pet owner and vaccinate your pets," DOH Secretary Francisco Duque says. "This is the most cost-effective strategy to prevent rabies."
"We have made great strides in eliminating rabies particularly in the Visayas region where a number of provinces were declared rabies-free. Let us continue this positive trend and work together towards completely eradicating this deadly disease," Duque adds.
House Minority Leader Danilo Suarez, however, said in a Bandera report today that the problem also lies with hospitals, especially public and government ones, which lack anti-rabies vaccines. "That's a risk in terms of the safety of our citizen na nakagat ng aso," he says.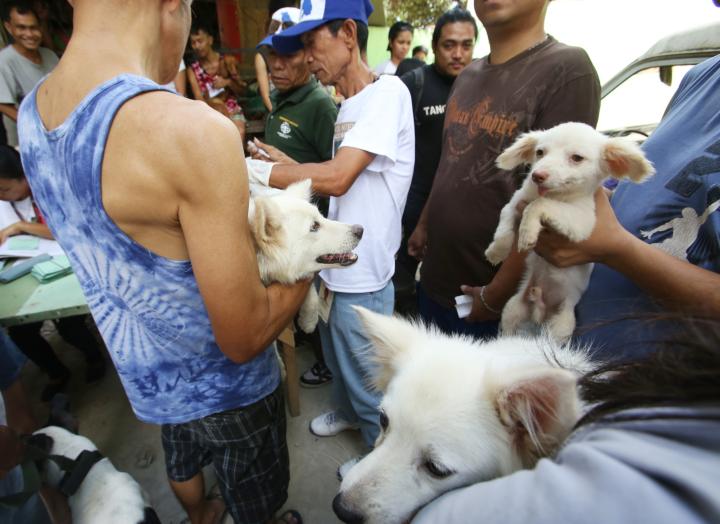 The DOH assured the public through a statement that they will continue to focus on vaccine availability at established Animal Bite Treatment Centers, along with their campaign to uphold responsible pet ownership. The DOH partnered with the Department of Agriculture, Department of the Interior Local Government, local government units, and non-government organizations to ensure that these will be implemented.
Aside from the DOH campaigns, make sure you're also up-to-date with your local government's healthcare programs since they usually hold anti-rabies campaigns and free pet check-ups during the summer.
This March, which also happens to be the National Rabies Awareness Month, it is high time to visit your local animal clinic and get your furry pals vaccinated. And make sure you, too, are properly vaccinated (not with anti-rabies, of course) so that you can assure a fun summer ahead with your pets.
Get more stories like this by subscribing to our weekly newsletter here.
Read more:
Here's how you can spay and neuter your pets for less
Fleas make your pets antsy. But using flea pills to repel it makes them worse
Want to adopt a dog? Check out these 6 pet adoption organizations
Read more by Amierielle Anne Bulan:
All the best places you can bring your pet for a date
Artist sketches dog portraits to help a shelter of 600 pets
TAGS: animal Disease DOH health Hospital pet Pet vaccine Rabies Vaccinated vaccine wellness