Would you try whiskey-flavored vegan ice cream?
Ambassador's Vegan Ice Cream has some pretty interesting flavors for everyone
info
Ambassador's Vegan Ice Cream

Desserts

10 a.m. to 10 p.m.

₱

P110 to P220
We previously mentioned that ice cream and people who are lactose intolerant don't mix but a recent visit to Ambassador's Vegan Ice Cream proved us wrong (yes, vegan ice cream exists). From the makers of Go! Salads and Shoobie Sorbet, the humble ice cream shop has all-vegan flavors. You wouldn't need to worry about the toppings and cones because they're vegan, too.
(READ: LOOK: Manila's first vegan soft-serve sorbet at UP Town Center)
JR Gonzales, the man behind the brands, spent weekends in the mall with his grandfather looking for desserts. Low-sugar desserts were scarce by then so JR decided to create his own line of more inclusive desserts. His latest venture is Ambassador's Vegan Ice Cream, which is named after his own grandfather who used to be a diplomat himself.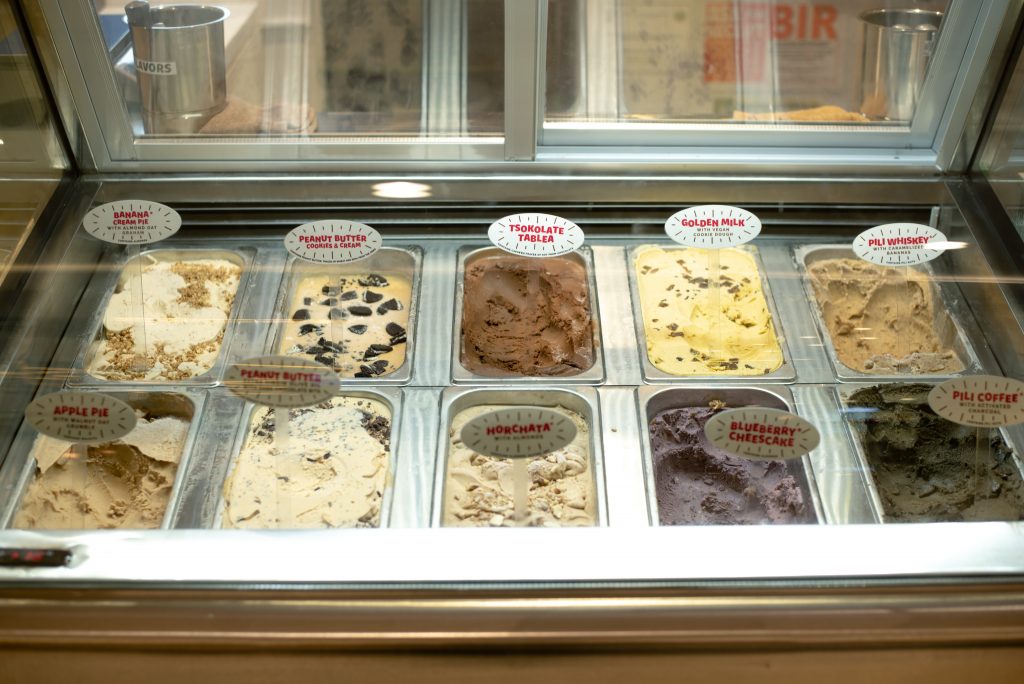 Located at SM Megamall Fashion Hall, it's fairly easy to spot their stall at the third level, just by the row of restaurants at the middle. They currently have a total of ten flavors in their selection, all of which are made with lactose-free ingredients. Their ice cream flavors are sweetened with coco sugar which has a lower glycemic index, making it friendlier to diabetics.
And contrary to popular belief, their flavors show that vegan ice cream can be fun. It's all-inclusive, too, which means that there's a flavor for every palate, from kids to adults. You can get up to two scoops of ice cream in a cup or cone.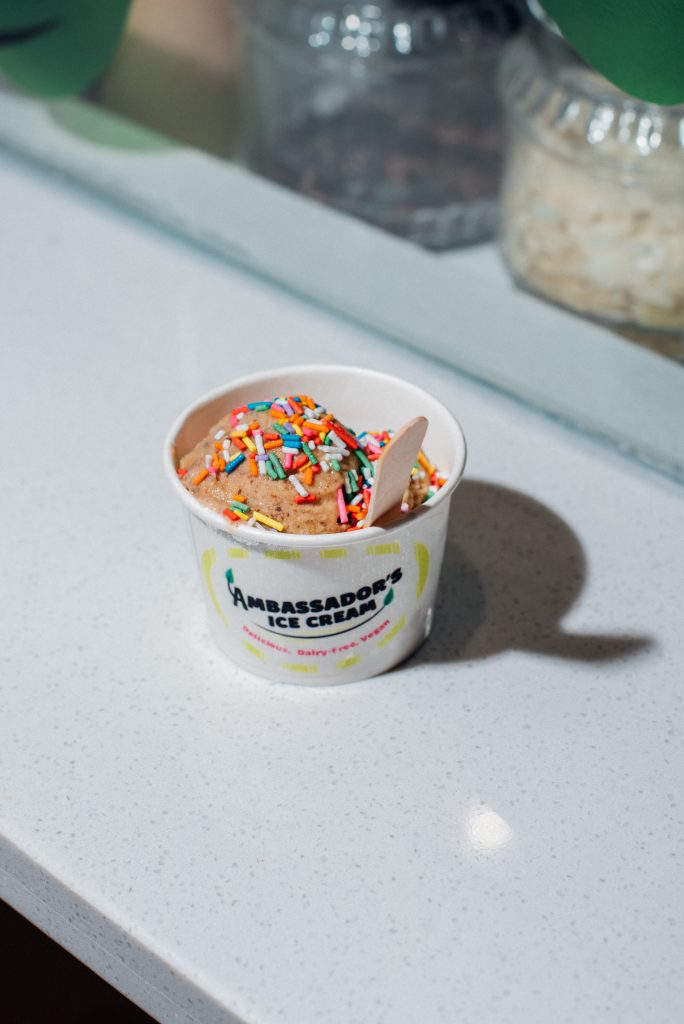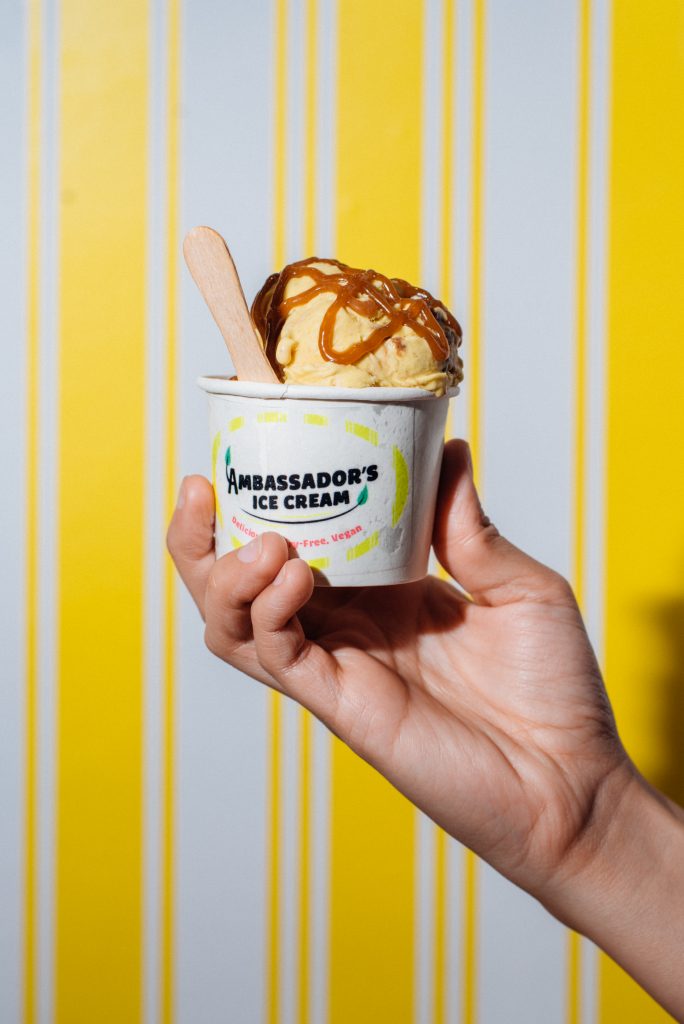 The pili whiskey variant piqued our curiosity instantly so we tried that one first. You know those instances when you're advertised a certain product only to be disappointed that it isn't what it said it was? This isn't one of them. Whiskey lovers won't be disappointed with this one as the flavor doesn't shy away from the exact taste of whiskey. It contains caramelized bananas and pili nuts to add extra texture.
But if you want something subtle, go for blueberry cheesecake. You wouldn't need to include additional toppings because the abundance of almonds infused in the ice cream make up for it (I had to chew the ice cream in every bite).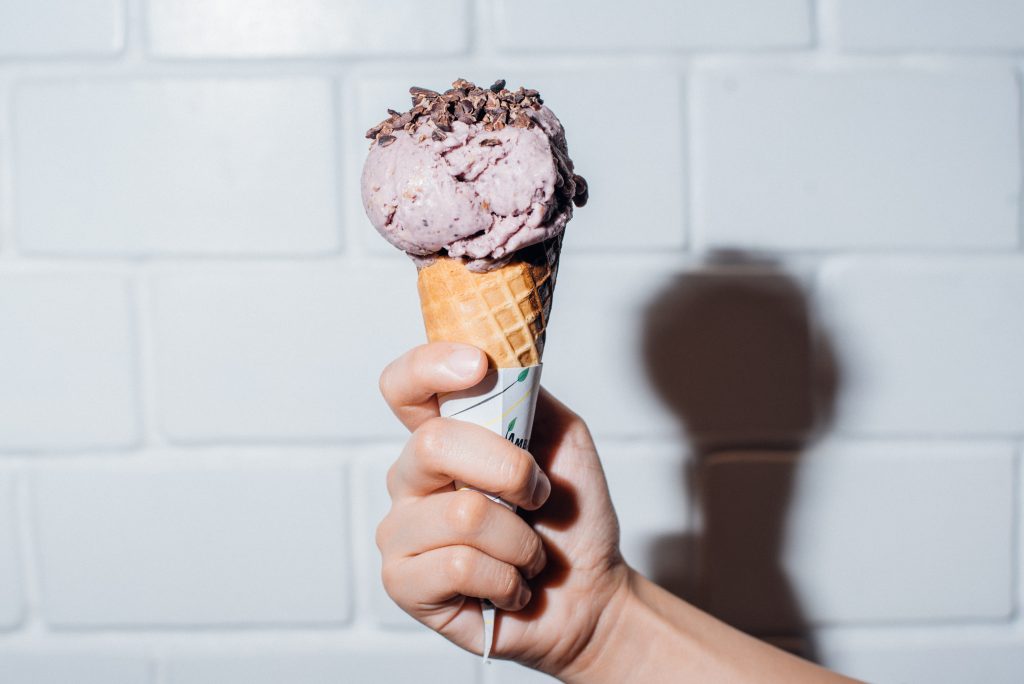 For something with a bit of spice, try horchata or golden milk. Horchata is inspired by a Mexican beverage made from rice, milk, vanilla, and cinnamon while the latter has hints of turmeric and is filled with vegan cookie dough. The spices in the flavors are evident but not overpowering.
As we're gearing up for warmer days ahead, we wouldn't mind spoiling ourselves with a delightful cup (or two) of low-sugar and guilt-free ice cream that can taste pretty good, too. If SM Megamall is too far from you, we'll let you in a little secret: Ambassador's Vegan Ice Cream is opening another branch in Rustan's, Makati this month.
Read more:
10 plant-based restaurants for every price point
Cosmic's secret club makes a case for a veganized Poblacion
Boston's coolest ice cream hangout makes its way to Manila
Read more by Jill Chua:
This tropical "food park" isn't really a food park
Here's a guide to regional wine and cheese pairings
TAGS: blood sugar ice cream lactose intolerant nolisoliph sugar-free Vegan vegan ice cream whiskey
WHY GO?
Go for the plethora of interesting flavors such as banana cream pie and pili coffee.
MENU