Why be stuck in traffic when you could be at a classical music concert?
Listen to a live performance of Vivaldi's Four Seasons while waiting out traffic
Mar 12, 2019
The waiting game for easing rush hour traffic is getting more and more unbearable. For normal citizens, options of where to go and what to do to are becoming limited citing fewer public spaces available for leisure. I guess what I'm getting at is that you can't pass time without spending a single buck so might as well get the traffic over with—long lines, road congestion, and all.
So why not spend your money and your time somewhere worthwhile and worth it?
Ayala Museum has just the answer. For its Rush Hour Concerts series, they will be holding "Vivaldi's Four Seasons" featuring Italian violinist Alessio Benvenuti alongside the Manila Symphony Junior Orchestra (MSJO).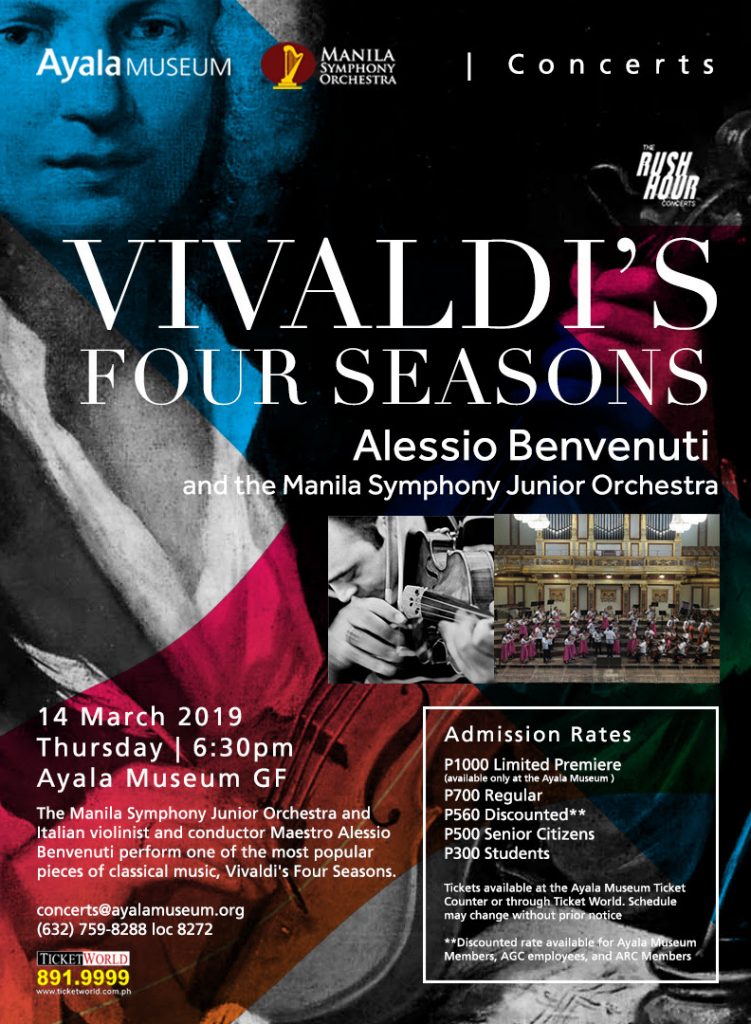 Benvenuti, the prolific violinist who started at the age of four studied under the wing of some of the 20th century's most revered maestros like Henry Szering, Franco Gulli, Riccardo Brengola, Boris Belkin, Uto Ughi, Ruggiero Ricci, Igor Oistrach, Dorothy DeLay, and Yuri Zhislin.
He also studied in some of the world's top performing arts schools including Cherubini Conservatory in Florence, Academy Chigiana in Siena, Mozarteum in Salzburg, Juilliard School in New York, and the Royal College Of Music in London.
MSJO, on the other hand, is the youth orchestra program of the Manila Symphony Orchestra. They have toured internationally in cities like Salzburg, Vienna, Prague, Munich, Florence, and Rome. The group which consists of MSO Music Academy and Philippine High School for the Arts students won 1st prize and 2nd prize (2018 and 2017, respectively) at the Summa Cum Laude International Music Festival held in Vienna.
Maestro Benvenuti will be conducting the MSJO as they play one of classical music's most celebrated piece, Antonio Vivaldi's a four-part concerto, Four Seasons.
"Vivaldi's Four Seasons" with Alessio Benvenuti and the Manila Symphony Junior Orchestra happens in Mar. 14, Thursday, 6:30 p.m. at the ground floor of the Ayala Museum. Tickets are available at the Ayala Museum ticket counter and through Ticketworld.
Header photo courtesy of Manila Symphony Junior Orchestra Facebook page
Get more stories like this by subscribing to our weekly newsletter here.
Read more:
Is the best seat to a concert always the most expensive?
Waiting out the rush hour traffic? Attend a concert
Forget classical music—heavy metal can help your mental health more
TAGS: Ayala Museum classical music rush hour rush hour concerts vivaldi four seasons