Water crisis: government, private concessionaires and consumers all bear responsibility
Inadequate water can be countered by adequate response
Mar 13, 2019
Manila Water, the privately-owned water and wastewater service provider for Metro Manila's West Zone, has learned a difficult lesson about what opaqueness does to business.
Vagueness about details leads to suspicion, conspiracy theories and in some unfortunate cases, street fights among impatient customers forced to spend the wee hours waiting for firetrucks to deliver a contingent supply.
The theme of most complaints was consistent: Manila Water, which boasts of 6 million customers in Metro Manila and nearby Rizal province, allegedly failed to provide them advisories about the schedule and length of the interruptions that began late last week.
Residents from Bel-Air in Makati to Bagong Ilog in Pasig claimed not a word from Manila Water was received by households before the sudden and drastic drying of taps.
"In the past, when Manila Water would conduct even just pipe repairs, they would send around flyers and inform the village leaders of the plan. Pero ito gulatan talaga. Kawilihan Village in Pasig has not had water since Thursday (Mar. 7), around 7 p.m.," a 20-something female resident said.
The source's family has been forced to purchase two 250-liter containers that members would shuttle to relatives' homes in Manila and Cavite to collect water from.
While firetrucks visit to provide water for residents, the amount given to each family is limited. Fights have already erupted among neighbors, especially when the queues got unruly.
A fuming resident in Bel-Air, Makati reported "murky water" coming out of faucets since Thursday, if some flows out at all. The homeowners' association is still waiting for Manila Water's explanation.
Inquirer.net's reports indicate that Mandaluyong City is apparently the most adversely affected among the water service provider's concession areas.
Photos of queues for water dominate the online news. Residents said Manila Water promised only 22 hours of dry taps and two hours of "reduced" water supply. But no water came even during the times of limited supply.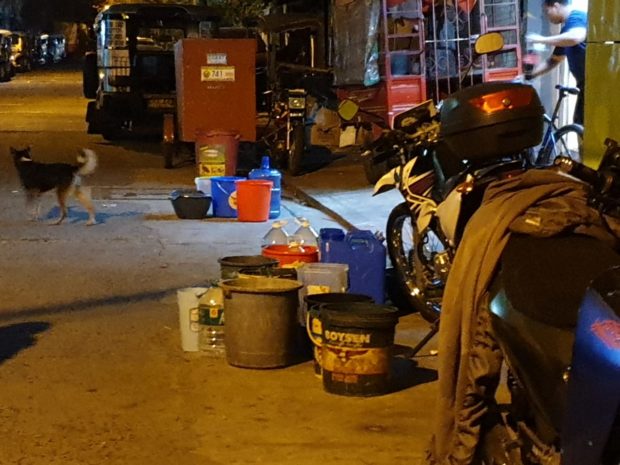 Even Maynilad
To be fair, Manila Water announced last week that the supply in only three areas—Brgy. Buwayang Bato, Wack Wack, and Barangka Drive—would be significantly reduced. But 11 areas or villages eventually suffered dry faucets as the week went on.
All this, however, does not mean that Manila Water's East Zone counterpart, Maynilad Water Services, Inc. was able to give its customers an uninterrupted supply.
Residents in the Parañaque area were warned of "low water pressure" over the past weekend. This turned into a scenario similar to Manila Water's customers in at least one village, but without the street fights. Huge trucks bearing the concessionaire's logo were seen driving around Tahanan Village after waterless residents enlisted for free water delivery.
So far, officials of Manila Water and Maynilad have announced talks of "cross-border flow arrangements" that would allow Manila Water to lend as much as 50 million liters a day from Maynilad to address its customers' needs.
But this was only after Manila Water issued a statement blaming the El Niño phenomenon for its problems. The company pointed to the dwindling water supply in La Mesa Dam in Quezon City where it gets most of the water delivered to customers.
Observers, however, were quick to point out that Manila Water and Maynilad ultimately get their water supply from the same source—Angat Dam in Central Luzon. La Mesa Dam is supposed to be a "reserve" dam so why is the reserve source the first to lose its supply?
This especially since Angat's supply, although also in danger of hitting critical level at any time, is still considered "healthy" at this time.
Conspiracy?
Among the biggest theories flying around the Internet is that the La Mesa Dam shortage is man-made and could be used as an excuse to justify the construction of a new, possibly foreign-funded dam. Which is not actually a bad thing at present, considering the fast-growing population in Metro Manila and the projected unpredictability of climate change.
But we'd rather not give credence to any suspicion or fear at this point.
There are a few things, however, that urgently require our consideration—El Niño, climate change, government response, and the people's discipline.
For starters, the Philippine Atmospheric Geophysical and Astronomical Services Administration (PAGASA) offered this scenario by the end of March: 22 provinces likely to experience "dry conditions"; 41 provinces likely tortured by a "dry spell," and nine to brace for a "drought."
The weather bureau has not yet announced officially the start of the summer season but noted that El Niño, that worldwide brutal season of less rain and more intense heat that begins at a year's end, has already destroyed local crops and dried up water sources around the country.
Health officials are warning of climate- and heat-related diseases.
So far, Ilocos Norte farmers have been forced to harvest corn before the heat destroys it.  Zamboanga City has declared a state of calamity after "drastically reduced water levels" in its rivers and the Pasonanca watershed.
Fishpond operators are harvesting possibly immature tilapia to preempt a fish kill and farmers everywhere are studying whether to dig underground to search for deep wells.
Agriculture Secretary Manny Piñol said he will tap the Philippine Air Force to fly planes over La Mesa Dam and conduct cloud seeding operations to encourage rainfall. By this, he apparently means implanting "dispersing substances" like dry ice into clouds to encourage precipitation.
A higher water level in La Mesa Dam will be good for Metro Manila households but it leaves out the farms.  Besides, experts warn that cloud seeding is expensive and does not guarantee thunderstorms every time it is done.
Factor in earlier warnings of a possibly inadequate rice supply to projections of leaner agricultural harvests.  What do we await in the coming months then?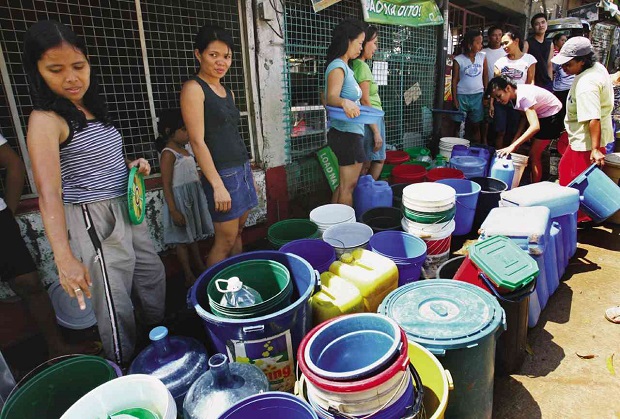 Water conservation is everyone's responsibility
Dry spells have always been a reality in the Philippines.  We live near the equator and El Niño had been a regular visitor since it was first detected in the mid-1980s.
Consider also that the reliable Angat hydroelectric dam supplies 90 percent of "raw water requirements" for Metro Manila and also "around 28,000 hectares of farmland" in Bulacan and Pampanga was built more than 50 years ago.
It began operations in November 1967 when the metropolis' population was significantly smaller. Metro Manila, now with around 13 million heads, has already joined the ranks of the world's megacities.
"We saw it coming," Manila Water COO Geodino Carpio insisted before reporters in a news conference called Tuesday afternoon. He also promised the water company has "contingency activities lined up," including drilling more deep wells—a thing that experts are concerned about.
Carpio admitted that Manila Water's "deficit" is due to "growing demand and limited supply." But doesn't this observation also always cover our food supply, land, and other basic necessities?
This ongoing phenomenon again reflects how unprepared concerned sectors are.  Blaming El Niño for inadequate water is one thing.  But doesn't being a major player in providing water to millions of Filipinos raise one's accountability or expected response to the situation?
Affected residents also share in the responsibility.  We are constantly reminded of ways to conserve water.  Check the pipes for leaks, take quick showers instead of long baths, use pail and sponge instead of a hose when washing the car and don't allow the faucet to keep streaming as you brush your teeth.
The instructions are simple, although they may require some effort.  But discipline always pays off and we become better for exercising it.
We cannot afford either public services or the government to formulate knee-jerk reactions when the red light starts to flash. And we as citizens are also not absolved if we continually expect the two to manage all accountability when we consume water daily.
El Niño is a recurring thing.  It does not catch anyone by surprise. So we should stop acting like we are.
Get more stories like this by subscribing to our weekly newsletter here.
Read more:
Avoid heat stroke: Here's how to keep cool during the hotter days
How to keep your pets cool in the summer
Read more by Cathy Cañares Yamsuan:
The Manila City Library is proof that public spaces aren't gov't priority
When the right-of-way law violates one's right to live a life of quality
TAGS: el nino la mesa dam Manila Water manila water crisis maynilad water crisis