March is flying by so fast. If the state weather bureau PAGASA didn't warn us last Monday that our country's climate status is under El Niño, I wouldn't realize that we're already in the middle of 2019's third month. It seems like it's only yesterday when we were all complaining about the drizzles and cold weather in January.
But as the often used quote says (which I can't trace if it came from a book or a song), sunshine is always better than rain. It's best that we make use of this sunny season this weekend (before the summer rush kicks in) and head out. We listed below arts, fashion, and food events you shouldn't miss this Mar. 23 and 24:
Vegan Food Festival

Almost 50 brands that advocate a vegan lifestyle will be gathering this weekend in Yogi Fair. There will be a pop-up vegan carinderia, vegan bakeshops, gluten-free goodies, healthy drink alternatives, and more. The fair organizers also aim to promote "a minimal to zero-waste policy" by encouraging all fairgoers and merchants to bring their own eating utensils.
Aside from the food, Yogi Fair will also have free yoga classes (you can sign up here) and eco-friendly products from local artisans like loom-weave blankets from Ilocos Sur.
Catch this vegan food festival at Plaza Cristo Rey, Poblacion, Makati.
Lagimusim pop-up
View this post on Instagram
Japanese brand Lagimusim is bringing its ergonomic and light Paani bags to a two-day pop-up at Guava Sketches in Greenbelt 3, Makati. The translucent bags may look thin and easy to tear, but it's actually not. It's made with a strong material that can stretch horizontally, made for carrying even large and heavy items. The bag can also be folded in the most compact size possible which makes it easy a good partner for shopping and traveling.
Ottomondi pop-up
Local fashion brand Ottomondi is known for making quality street wear and bags from local textiles, including inabel. This Mar. 21 to 24, the line will be debuting its new collection in a pop-up at Pineapple Lab in Poblacion, Makati City.
Pottery, installation, and painting exhibits at Silverlens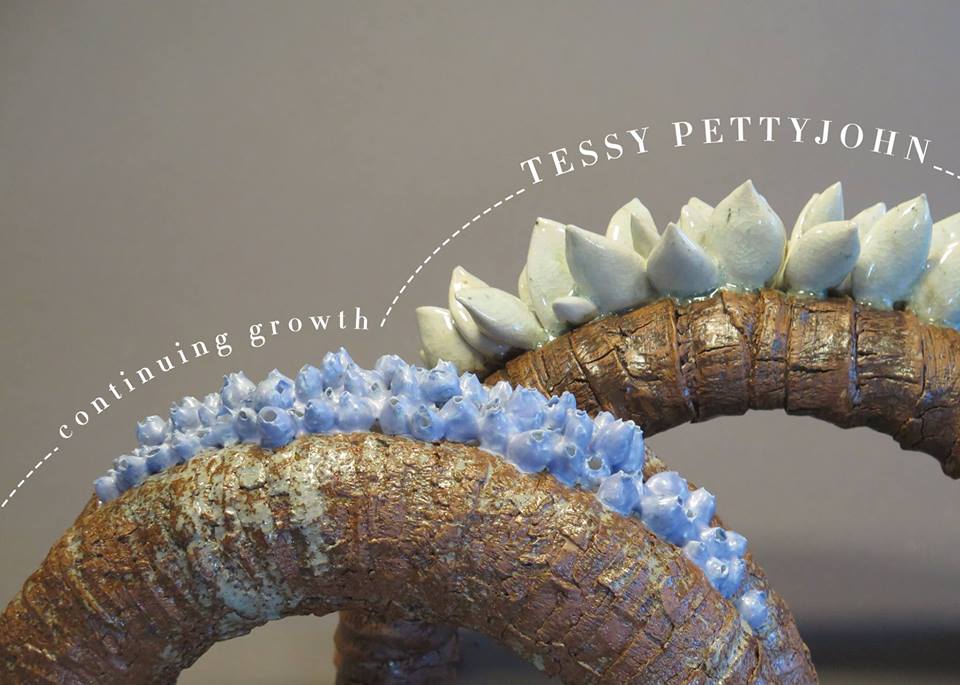 After Art Fair and Art in the Park, the galleries of Silverlens in Chino Roces Ext., Makati will give space to the ceramic works of Tessy Pettyjohn and the paintings of Jose Santos III, Bernardo Pacquing, and Chati Coronel. They're opening on Mar. 23.
Titled Continuing Growth, Pettyjohn's exhibit will feature artworks that draw inspirations from her garden. As her husband Jon wrote, her first exhibit solo exhibit at Silverlens gives a glimpse of the growth of her works which "has stepped a little further beyond the progression and has moved away from the vases."
Zero Infinite, the exhibit of Santos, Pacquing, and Coronel, on the other hand, will show what three different artists can make when connected to each other. This also marks the second time Santos and Pacquing's art will be shown together after their first exhibit in 2000, which is when they were awarded by the Cultural Center of the Philippines.
Three exhibit openings at Artinformal
Works by local and international artists will be exhibited starting Mar. 23 in the three galleries of Artinformal in Karrivin Plaza, Chino Roces Ext., Makati. To be displayed at the main gallery are the sculptures created by Italians Valeria Dardano and Andrea Famà. Titled Visions Awake, Dardano and Famà's works will explore narratives on memory, time, and places that "influences space to recreate new forms." Victor Balanon and Lui Medina will occupy Galleries 2 and 3, respectively, with their paintings and drawings rooted in their inspirations from nature, literature, and topographies.
Cine-Sabi: Lecture-workshop on filmmaking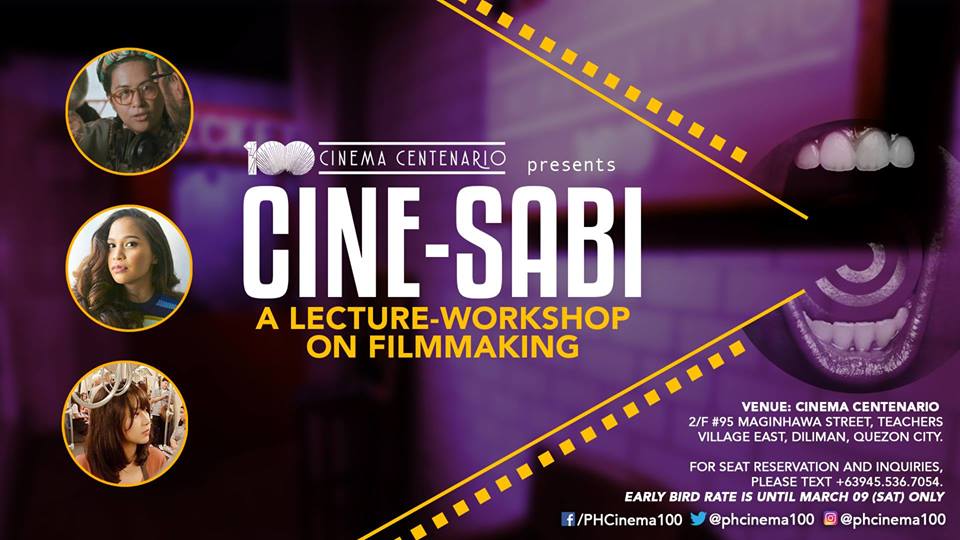 As we continue to celebrate the works of women this International Women's Month, Cinema Centenario will host a lecture-workshop on filmmaking with an array of female directors at the helm. On the 23rd, Gusto Kita with All My Hypothalamus director and screenwriter Dwein Baltazar will give tips on directing and screenwriting, and on the 24th, indie film Stranded director Ice Idanan will discuss cinematography.
This will be held at Cinema Centenario on Maginhawa St., Quezon City.
Photography exhibit by Tarzeer Pictures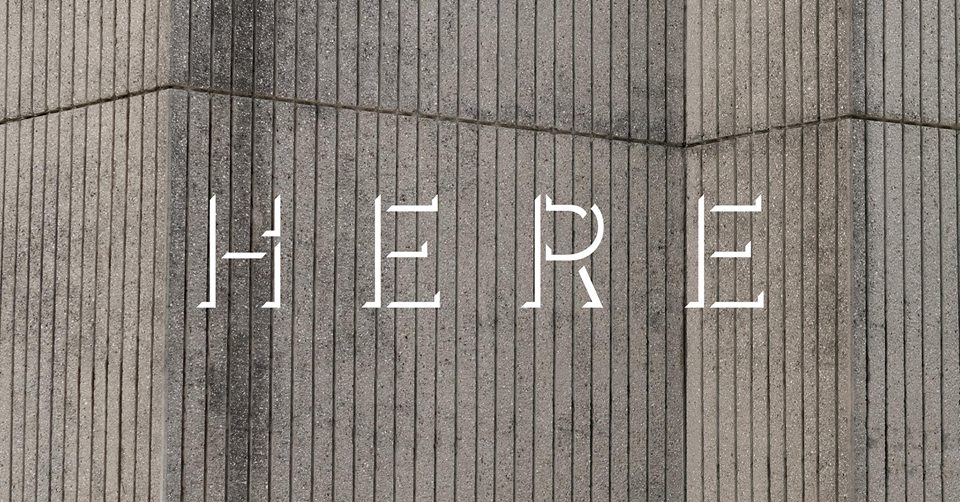 On Mar. 23, Tarzeer is opening "Here," an exhibit featuring long-form photography series by three Manila-based photographers—Jilson Tiu, Geric Cruz, and Dianne Rosario. The series explores the "often contradictory connections between the city, its inhabitants, and the surrounding nature." The exhibit also coincides with the launch of Tarzeer's first photobook zine entitled There. It features long-form photography series by three Filipino photographers living abroad—Jed Bacason, Geloy Concepcion, and Stine Danielle. It will be at Tarzeer's space on 2288 Chino Roces Ave. Ext., Makati City.
Reel Treats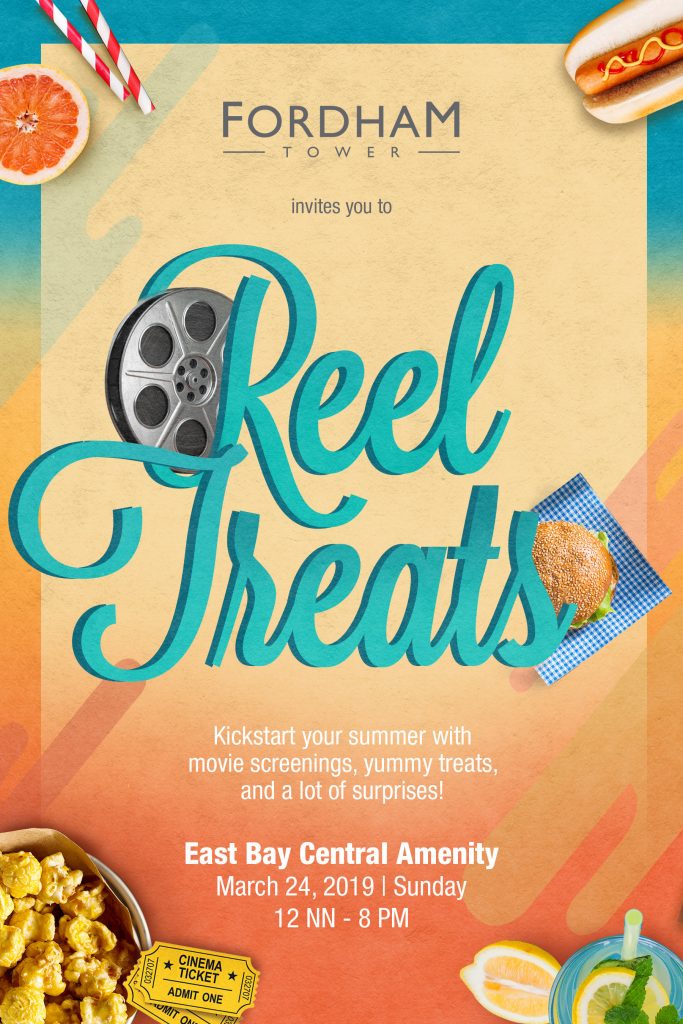 Attention south people: Instead of heading to the malls, bring your family to the Central Amenity of East Bay Residences in Sucat, Muntinlupa City this Sunday from 12 nn. to 8 p.m. There will be a series of movie screenings and unlimited treats. Just make sure you register ahead here.
For more events, check out our Do page. Also, follow us on Instagram.
Read more:
Local movies will soon premiere on Fridays instead of Wednesdays
FYI, don't abandon your kids to watch a horror movie