10 summer workshops for kids and adults
Because learning doesn't stop
Mar 21, 2019
Summer is already here. Kids are about to have all the time in the world for around three months when the school ends. The adults, though they don't have the same luxury, should also take advantage of this season's bright and lively weather to sign up for workshops and short summer classes.
Don't know where to start? Here's a list of workshops to keep your children or yourself busy this summer.
DreamPlay's Summer Dream Workshop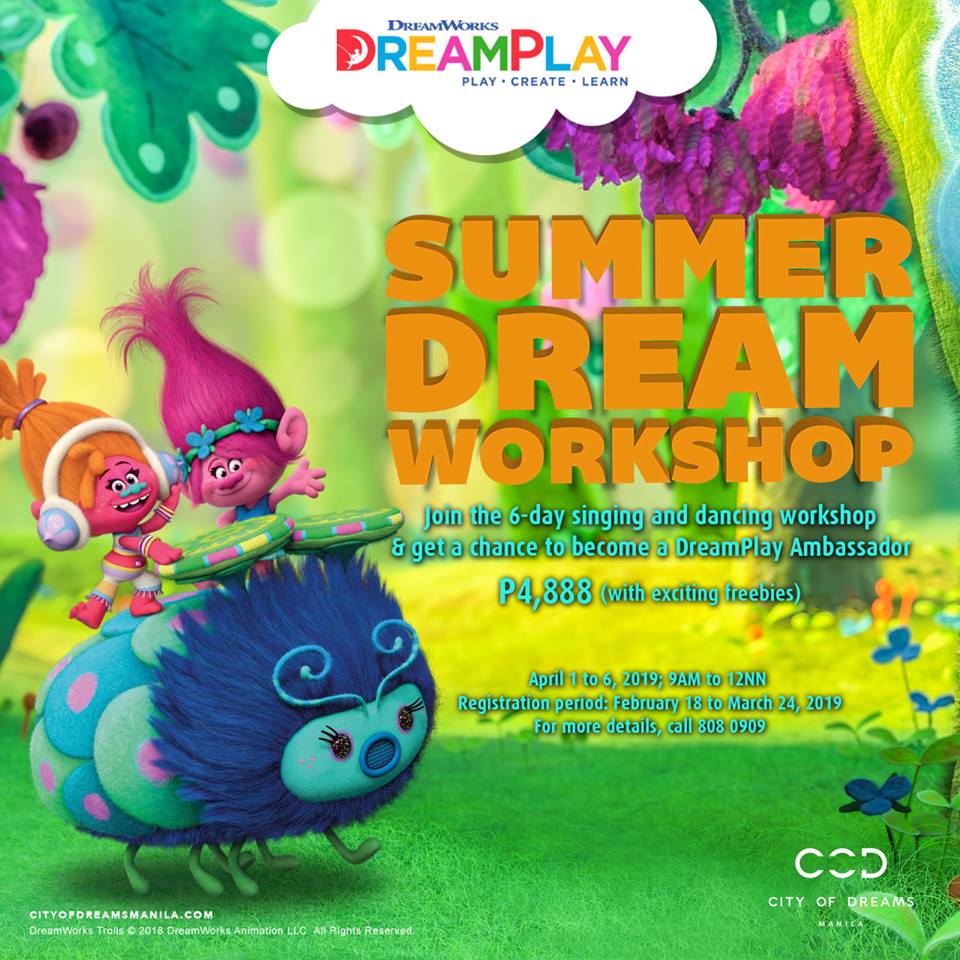 Summer Dream Workshop is a six-day singing and dancing workshop for children ages six to 13 on Apr. 1 to 6 at City of Dreams Manila. It aims to enable kids to hone their skills in performing arts, build their self-confidence, make new friends, and perform with DreamWorks characters. Registration period ends on Mar. 24. For more details, call 808-0909.
PETA Workshop Express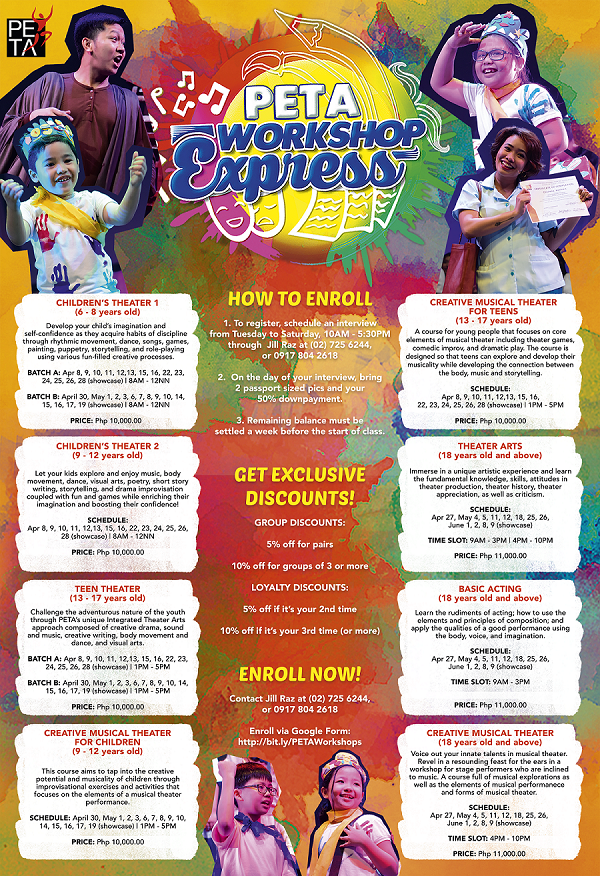 The Philippine Educational Theater Association (PETA) is opening up its stage with its annual Workshop Express. Here, children ages six to eight can enroll at Children's Theater 1 where they can develop their imagination and self-confidence. Nine- to 12-year-olds can attend the Children's Theater 2, where they can also practice poetry, short story writing, storytelling, and drama improvisation. For 13- to 17-year-olds, Teen Theater is open, where they can learn PETA's unique Integrated Theater Arts approach. Adults, ages 18 and above can enroll in Theater Arts, Basic Acting, and Creative Musical Theater workshops. For the complete details, visit their website.
Bakecraft Little Kitchen Crews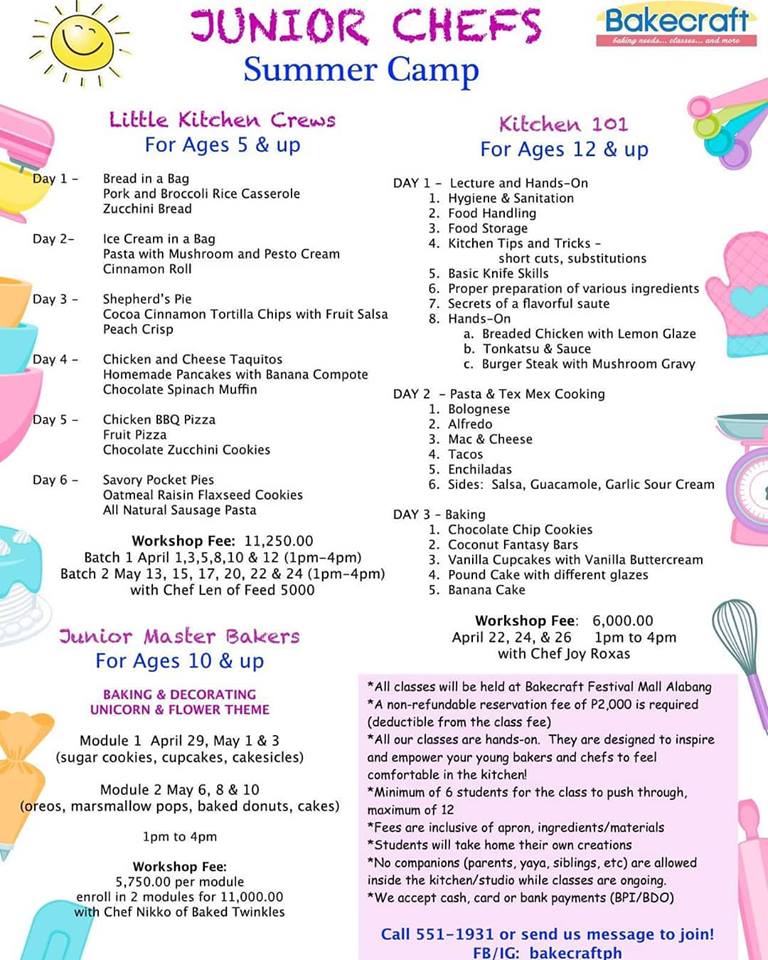 Ages five and above can learn how to cook, bake, and decorate a dish this summer with Bakecraft's Junior Chefs Summer Camp. For teenagers, they have Junior Master Bakers and Kitchen 101 for adults. To register, call 551-1931 or send a message on their Facebook page.
Creative Writing Workshop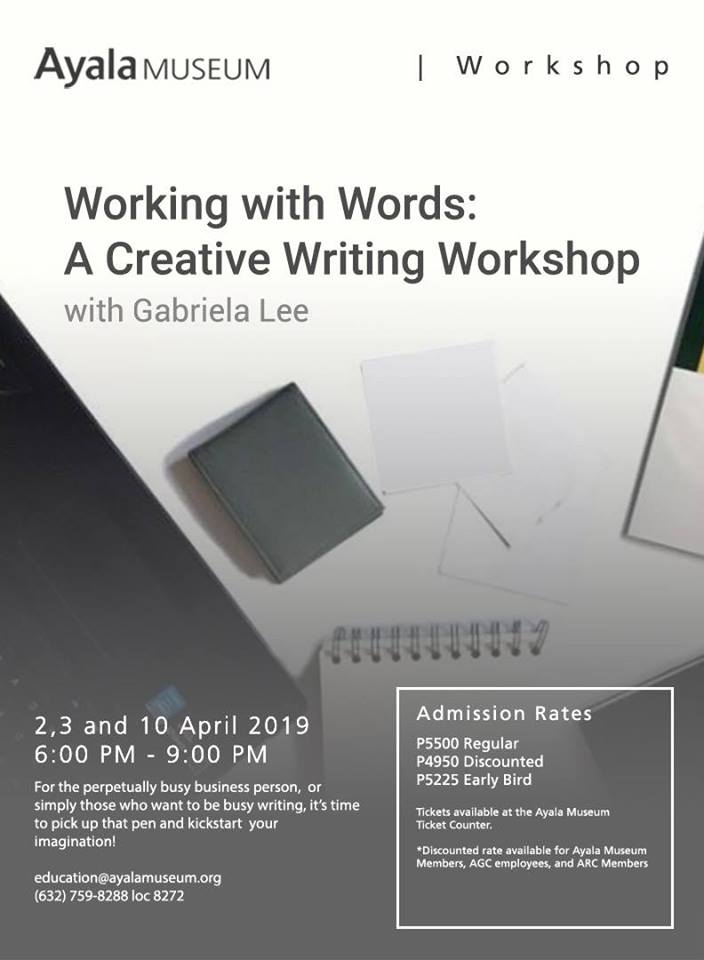 This three-day seminar and workshop will teach you the skills you need to begin applying creative writing techniques to your writing. Assistant professor of the Department of English and Comparative Literature at the University of the Philippines-Diliman Gabriela Lee will be at the helm of the workshop. To register, click here.
Adulting for Kids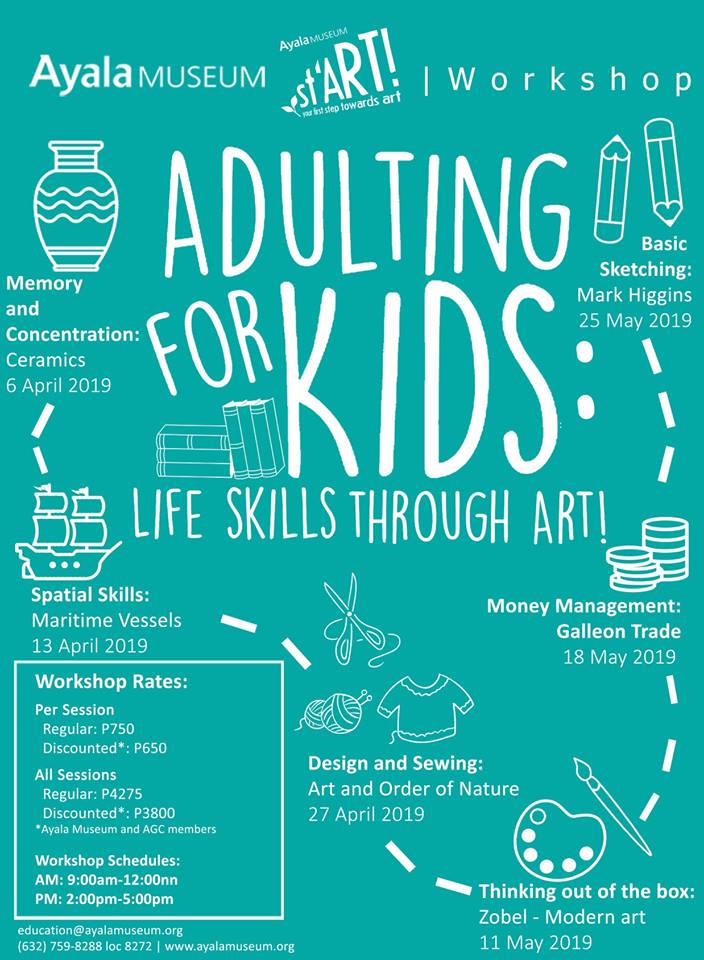 Let your kids learn valuable life skills through art. Each workshop (Memory and Concentration by assessing the museum's ceramics collection and their symbols, Spatial Skills by reading maps without a GPS, Design and Sewing, Thinking Out of the Box by learning the basics of acrylic painting and color theory, Money Management by learning the concept of trading, and Basic Sketching. This is for kids ages seven to 12. To register, click here.
Hiraya: Banda Kawayan Pilipinas workshop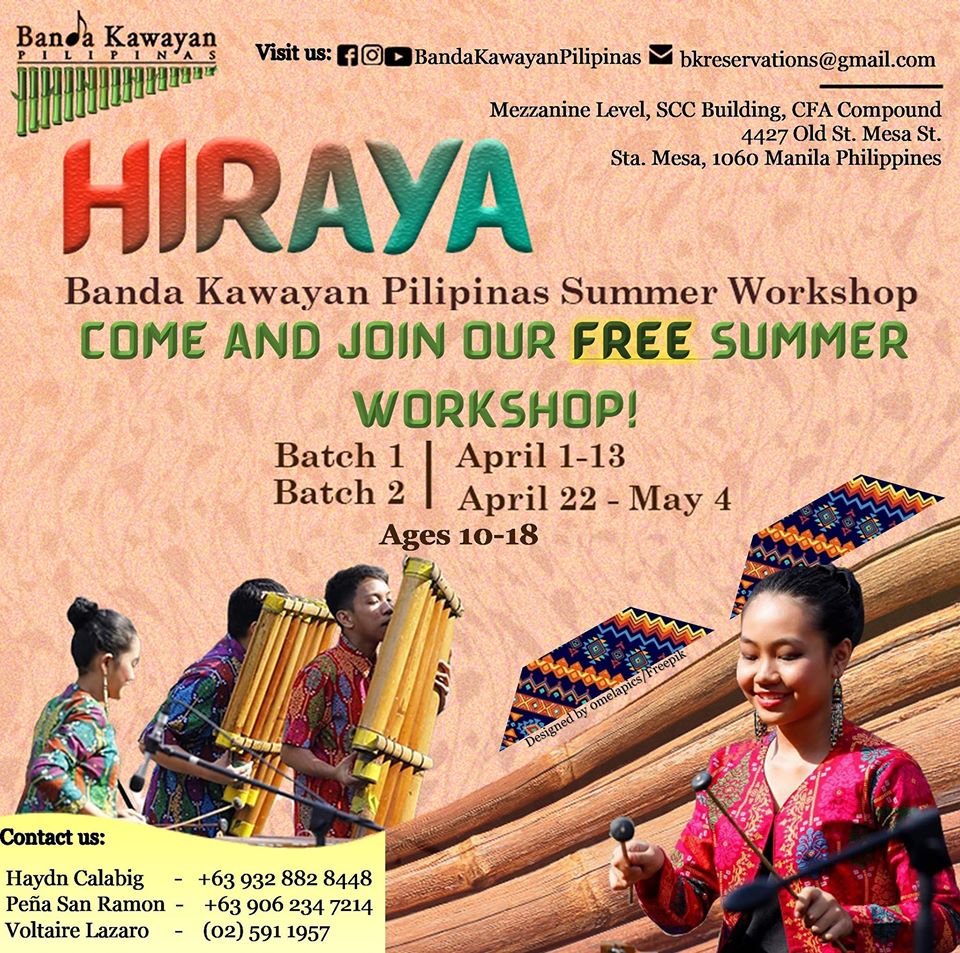 Now, here's something new to learn: how to play musical instruments fashioned out of bamboo and indigenous materials. Kids ages 10 to 18 are welcome to join. To register, click here.
The Archery Academy Summer Program

This program doesn't only teach kids the basics of archery, but also the life skills that come with it: focus, strength, balance, coordination, confidence, discipline, and competitive drive. For more details or book a trial and sign up, contact them at 0917-8037422 or send a message via Facebook.
Hiphop Hooray with Mia Cabalfin

Dancer and choreographer Mia Cabalfin is conducting her batch seven dance workshop at the Maybank Performing Arts Theater. All classes are for beginners—for kids, teenagers, and adults. To register, contact 0915-2431559.
Found Story Basic Writing Workshop

This course aims to introduce and cultivate the skill of telling stories visually. With Ms. Honee Alipio facilitating the workshop, you will get a crash course on Armando "Bing" Lao's Found Story Screenwriting method and style. A short screenplay shall be submitted by the workshop participant by the end of the class. To register, click here.
Urban Gardening Workshop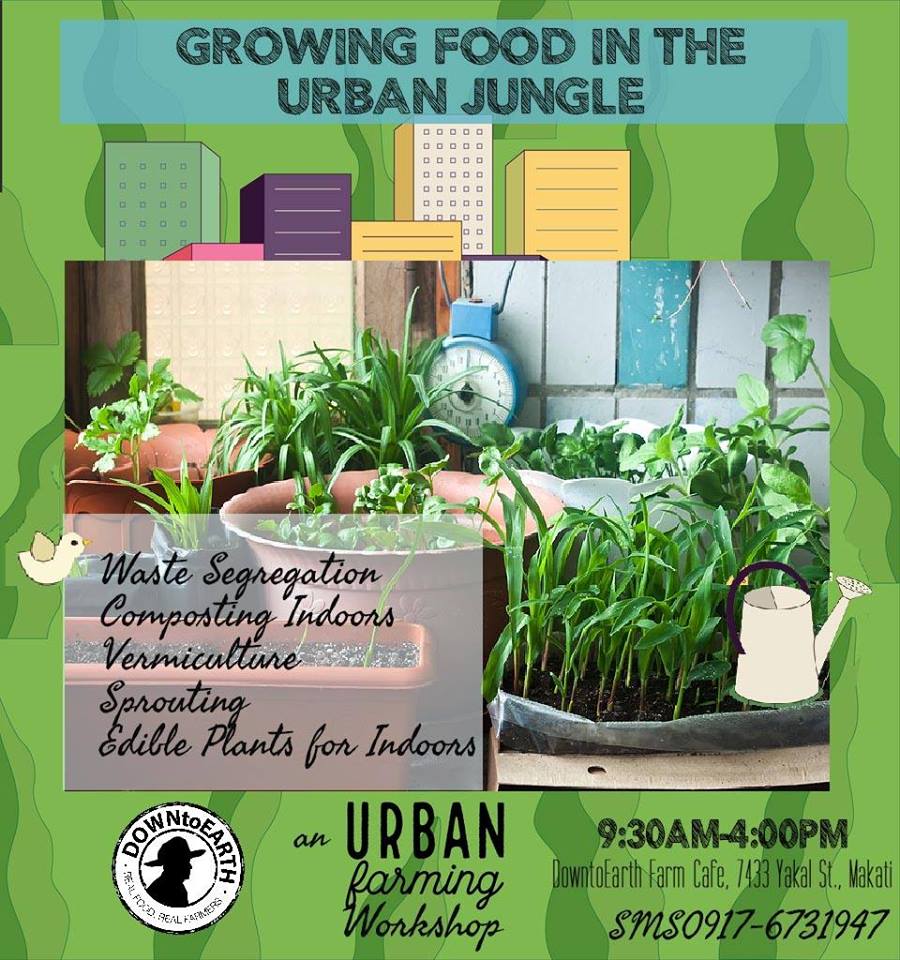 This workshop is especially for those interested in starting their own backyard garden, urban kitchen garden, or small farm while practicing sustainable, holistic and biodynamic methods, combining the wisdom and hands-on expertise of real farmers. To register, click here.
Young Chefs Boot Camp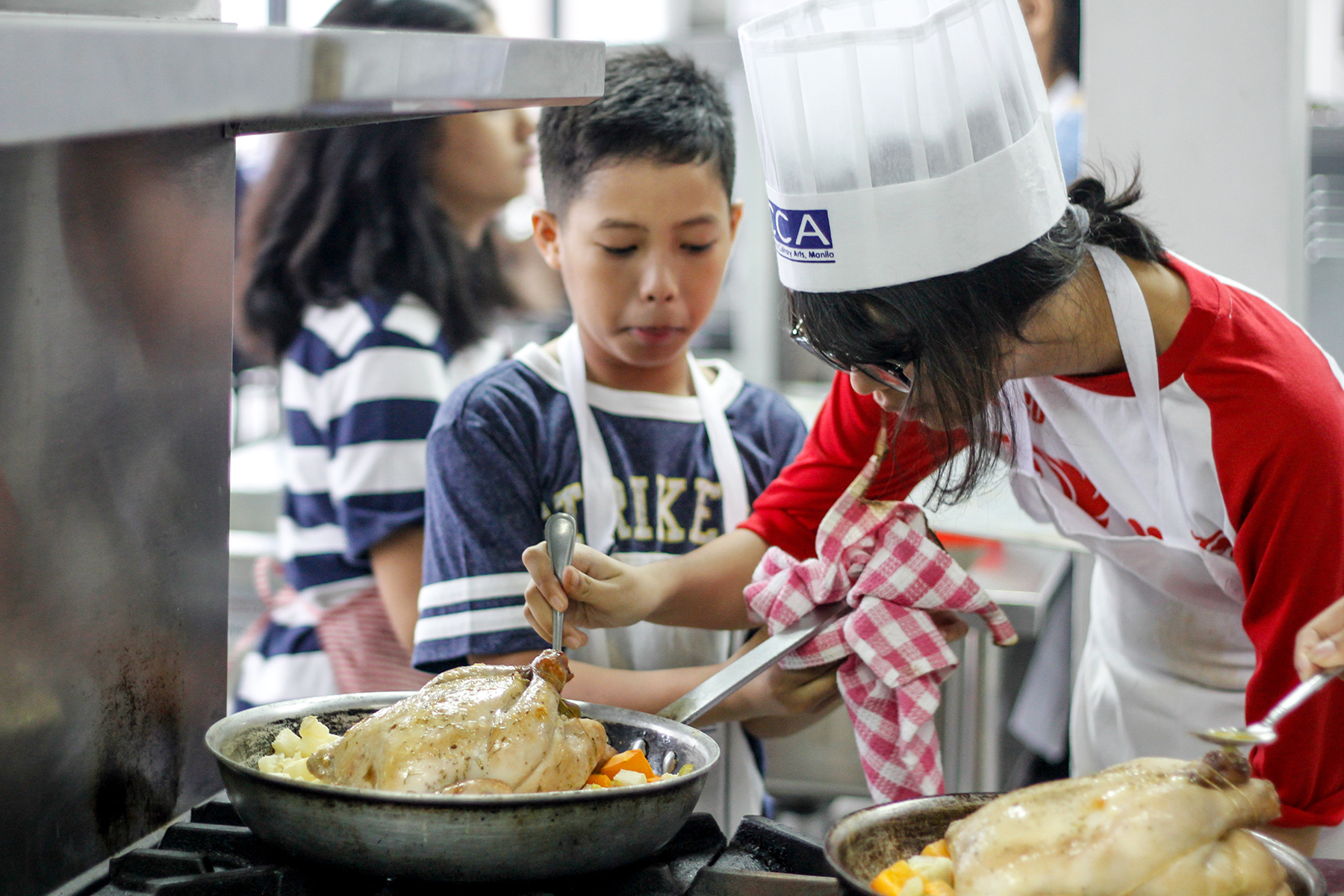 Kids as young as seven years old have a chance to learn basic culinary skills at Center for Culinary Arts (CCA) Manila's Young Chefs Boot Camp. From Apr. 1 at the CCA Farmers campus and Apr. 22 at the CCA Katipunan campus, kids can learn basic knife skills, new cooking techniques, kitchen safety and sanitation, as well as developing their palate. CCA also has a Young Upstarts course for kids aged seven to 10, while those aged 10 to 16 can choose from their Western Flavors or Asian Flavors courses. There's also a Baking and Pastry 101 course available. For inquirers, contact CCA Manila at 218-8566 or 426-4834.
Read more:
LOOK: Free farming seminars by the Department of Agriculture
How florists keep flowers fresh longer
How to throw a party without throwing too much waste
TAGS: dreamplay PETA Workshop Express summer workshops