LOOK: Human Nature launches refilling station
Finally!
Mar 27, 2019
Local personal and home care brand Human Nature has cultivated a strong following in the country since it started its journey in 2008—when its founders Anna Meloto-Wilk and her husband Dylan noticed the growing trend of affordable, natural, eco-friendly, and ethically-made products. The brand is now a mainstay in grocery store aisles and has a couple of concept stores, its flagship branch being on Commonwealth Ave., Quezon City.
And now, furthering its mission to be an ally of the environment, Human Nature just launched its refilling station at its SM North EDSA The Block and flagship stores.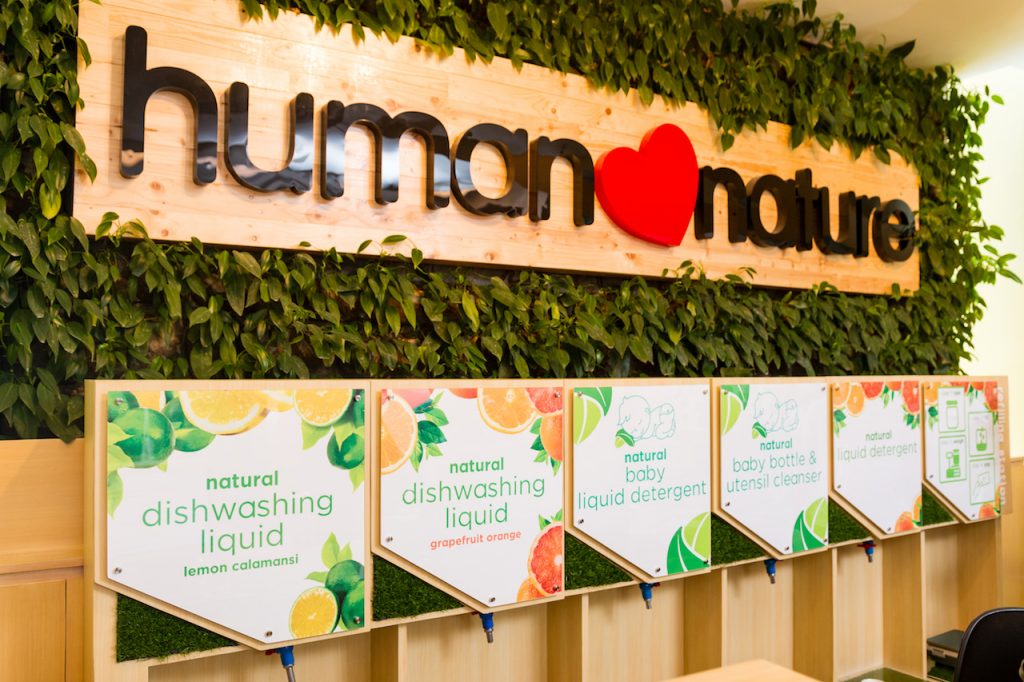 The concept isn't new. In fact, there's already a number of stores with refilling stations (We've written about Katha Lifestyle Store in Cubao and Humble Market in Mandaluyong. There are also sustainability fairs that has pop-ups offering refills to everyday essentials.). But to see a big brand like Human Nature execute this still has a different impact. It makes most of us think that, wow, reducing our waste through this concept is possible, not just a romantic idea.
For now, Human Nature offers to refill homecare products. This is because the Food and Drugs Administration has set pretty strict regulations on setting up refilling stations for cosmetics.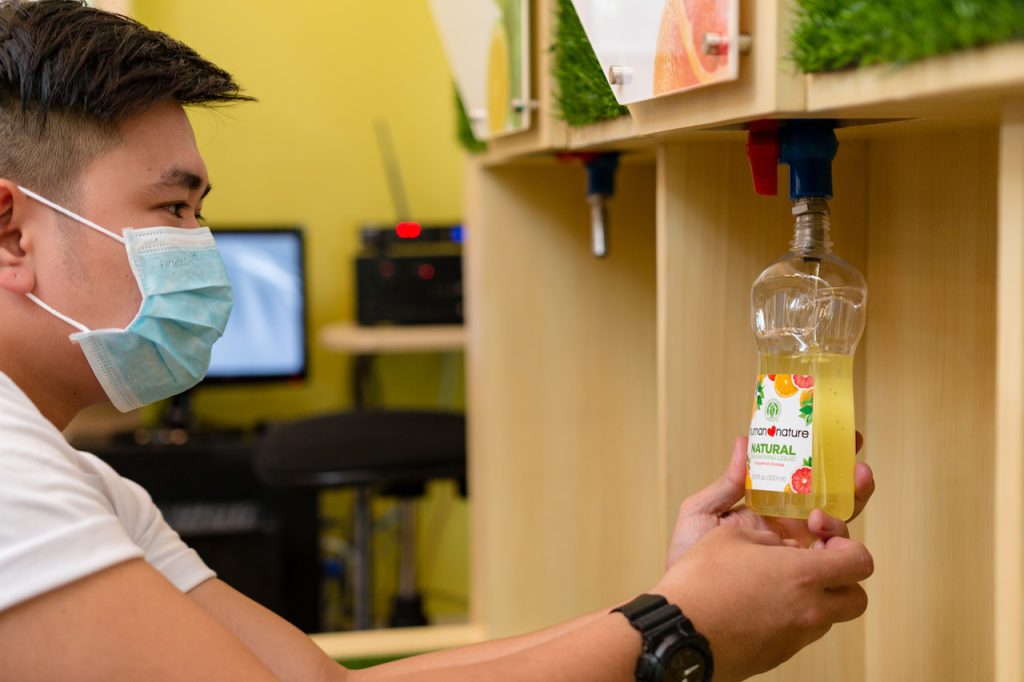 "It's not an enabling environment as of now because there are [government] policies that restrict refilling as of now," says Meloto-Wilk at the launch. She said that it's even easier to set up water refilling stations (which are much more delicate, by the way) than of cosmetics. "But we're willing to experiment and try [refilling] out. It's our imperative and responsibility to make changes and to not be complacent."
So they're sending a petition to the authorities about the current regulations—so the rules could be more responsive to the refilling setup. "It's also our responsibility as citizens to help our government update our existing regulations," says Meloto-Wilk. (Stay tuned for more news about this.)
As of now, they're only refilling the following: Dishwashing liquid (lemon calamansi and grapefruit orange variants), baby liquid detergent, baby bottle and utensil cleanser, and liquid detergent. They also only accept clean and dry Human Nature Home Care bottles because their materials passed the brand's testing standards and they are compatible and proven safe to use with their formula.
Here are the steps for the refilling station:
Tare. Give your container to the staff for weighing.
Fill. The staff will fill the container. One container = one product.
Weigh. The staff will weigh the filled container and stick the product price label on it.
Pay. Check out and pay at the counter.
The minimum refill amount is 500 ml. You can refill two 250 ml to meet the minimum. Those who'll avail the service will save more money, too, although the saving is "modest." This is because "most of the cost of the product is due to the formulation and not the packaging," they write on their website.
This is a great step towards sustainability on a larger scale started by a brand and social enterprise that care. Human Nature hopes to bring this concept to their other branches and, soon, to the barangays. It will just take a lot of research and development.
For more questions about Human Nature's refilling station, click here.
Read more:
New zero-waste grocery shop in Cubao Expo will offer delivery soon
These brands will keep you and the environment pretty
Humble Market makes a strong case for sustainable shopping
Read more by Yazhmin Malajito:
New sustainable store Loop. opens in Quezon City
7 shops where you can buy shampoo bars
5 shops you can buy collapsible cups from
TAGS: homecare human heart nature Human Nature refilling stations in manila skincare sustainability zero-waste