Last year, President Rodrigo Duterte signed Declaration No. 469, which proclaims April as the Filipino Food Month. It aims to make sure that our country's culinary tradition and treasures are "appreciated, preserved, and promoted to ensure their transmission to future generations and to support the various industries, farmers, and agri-communities" benefitting from it.
This is all thanks to the Philippine Culinary Heritage Movement (PCHM), a non-profit organization that champions the promotion and preservation of the Philippine cuisine. They lobbied for the petition for two years led by chef Jam Melchor.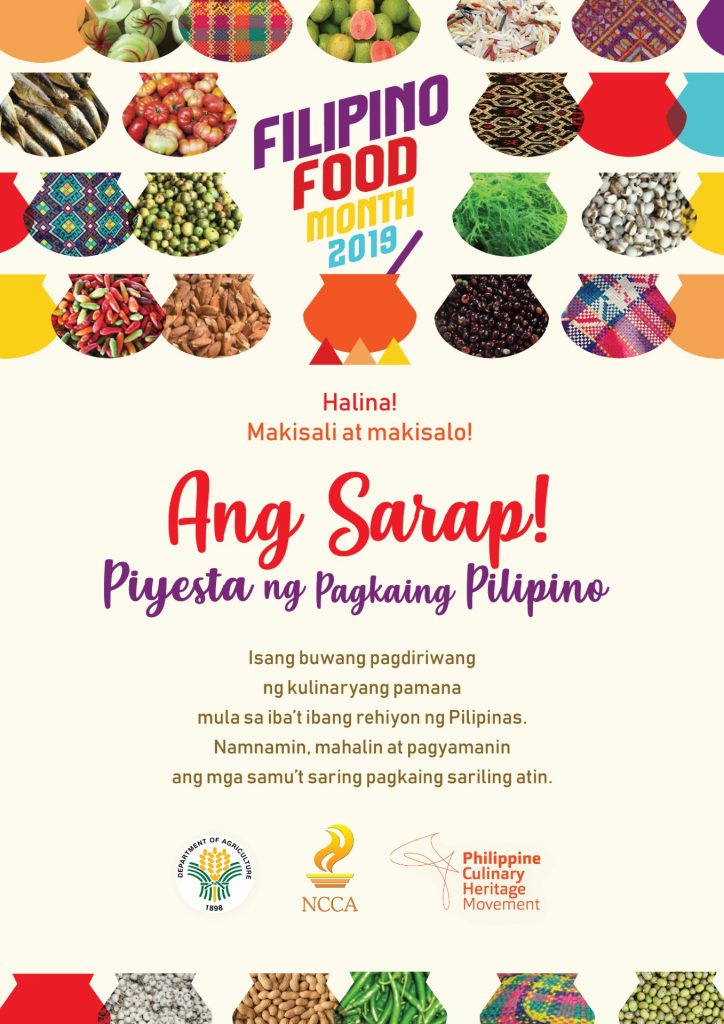 "This is our brainchild," says Melchor to Nolisoli.ph. So for the first celebration of Filipino Food Month or Buwan ng Kalutong Pilipino, "we want to make sure that the government agencies do what the celebration is intended for and help them implement activities." The National Commission of Culture and the Arts and the Department of Agriculture are tasked to lead the festivities.
Themed "Ang Sarap: Piyesta ng Pagkaing Pilipino," Filipino Food Month has the following activities lined up so far:
Apr. 1 – Sinag: Tracing Emilio Aguinaldo's Food Palate Exhibit, De La Salle University – Dasmarinas, Cavite (will run until May 31)
Apr. 5 – Namnamin Food Festival Pampanga, Pampanga State Agricultural University
Apr. 6 to 30 – Pista sa Guevarra's: Celebration of Filipino Food Flavors, Guevarra's Restaurant, San Juan City
Apr. 8 to 14 – Mangan Taku: Cordillera Food Fair, Rose Garden, Burnham Park, Baguio City
Apr. 10 to 12 – TienDA, Department of Agriculture Grounds, Quezon City
Apr. 11 and 12 – Capiztahan 2019, Villareal Stadium, Roxas City, Capiz
Apr. 13 – Bangsamoro Lunch and Lecture by Datu Shariff Pendantun III, Chef Jessie's Place, Pililia St., Makati City
Apr. 26 – Republic of Taste: A Gastronomic Journey in South Luzon, SM City Rosario, Cavite
Apr. 27 – The Filipino Food Connection: Creating Stories From Heirloom and Homegrown Flavors, Flame Restaurant, Discovery Primea, Makati City
Apr. 28 – Kulinarya: Tour of Quezon, Quezon Province
Apr. 29 – Ang Sarap: Philippine Food Festival Gala Night, Intramuros, Manila
Get more stories like this by subscribing to our weekly newsletter here.
Read more:
LOOK: Free farming seminars by the Department of Agriculture
World Street Food Congress pushes through in Manila in October
Toyo Eatery is the sole Filipino restaurant on Asia's 50 Best Restaurants list
Writer: YAZHMIN MALAJITO