A fine dining chef stages a comeback with a "carinderia" in Poblacion
Pengson's carinderia concept comes pretty close to a real one with its budget-friendly prices, and well, really good selection of Filipino food from sisig to kare-kare
info
Esqinita Modern Carinderia

Filipino

Mon. to Thu. 5 p.m. to 12 a.m., Fri. to Sat. until 2 a.m.

₱

P200 to P400
Every service at Esqinita starts with a quick meeting with chef Rob Pengson an hour before they open their doors.
It's only their second day officially. Chef Pengson starts by praising how good his crew looks in their uniform: a black polo shirt worn under a black apron. Then he proceeds by leading a round of applause for a job well done during their launch a few days ago which got positive reviews from local publications but quickly cautions against conformity. "Kapag feeling ninyo magaling na kayo, things get worse. Kaya you always need to get your ego in check."
Pengson was a celebrity chef during the 2000s up until the early 2010s. With good looks to match and a background in molecular gastronomy (then all the rage, thanks to Catalan chef Ferran Adria), he starred in many food commercials as well as put up a culinary school along with two other institutes for business. But that was until he decided to put it all off some two years ago, closing his famed The Goose Station restaurant in BGC.
Esqinita, dubbed as a modern carinderia, is sort of his comeback to the dining scene. It's a Filipino restaurant along Guanzon street in the bustling Brgy. Poblacion in Makati.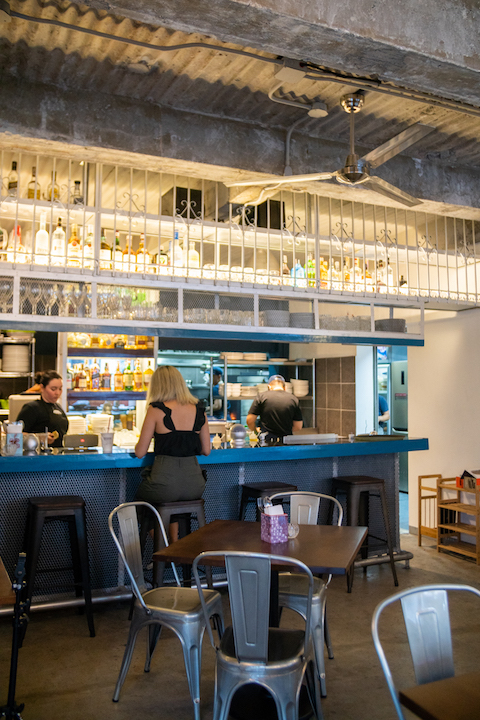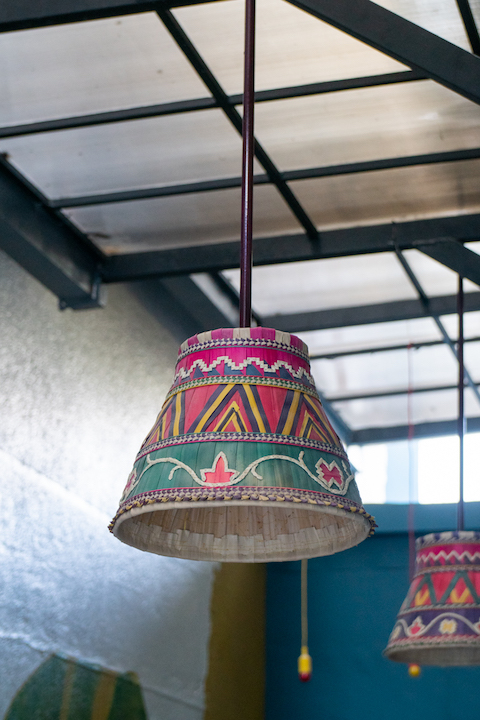 "Carinderia is for everyone, rich or poor. We wanted the food here at Esqinita to reflect that,"  Pengson says. "My background was more fine dining, but now I want to cook food that people could eat twice a week. It's not nakaka-umay or will not break the bank. We want Esqinita to be associated with affordability, comfort, creative food and also healthy."
He likes to think of their menu as "unapologetically" Filipino but healthy. They've rid of oils and sugar and opted for olive oil and natural sweeteners if none at all.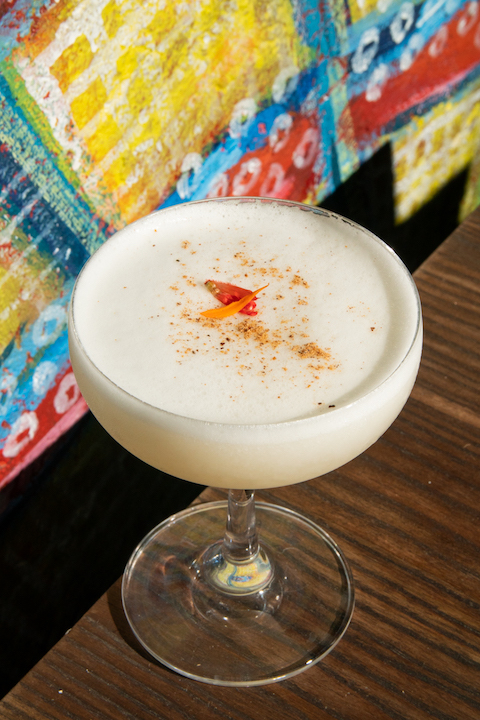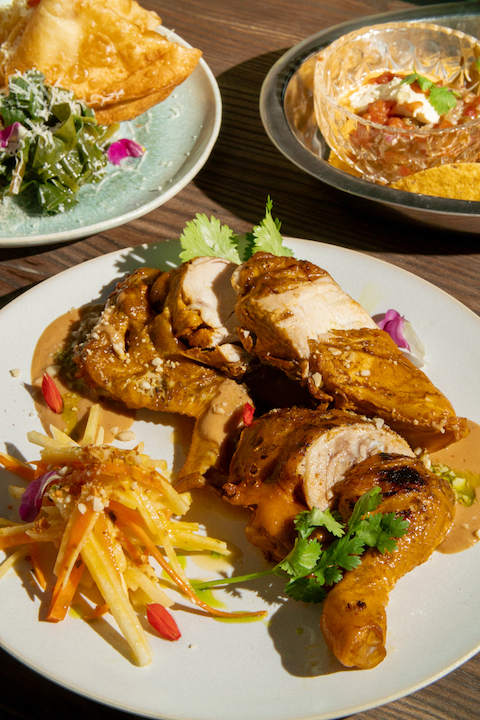 Even their bar drinks don't use sugary syrups. The Esqi cocktail a guyabano juice based drink is solely dependent on the fruit's natural sweetness that it's almost as if it's barely an extract.
But despite the substitution, the food itself is still palatable. Take their Hainanese inasal kare-kare, a big portion of tender grilled chicken with peanut sauce. If you look past the fact that it's chicken and not beef, you may mistake it for the real kare-kare—nutty, saucy, and savory.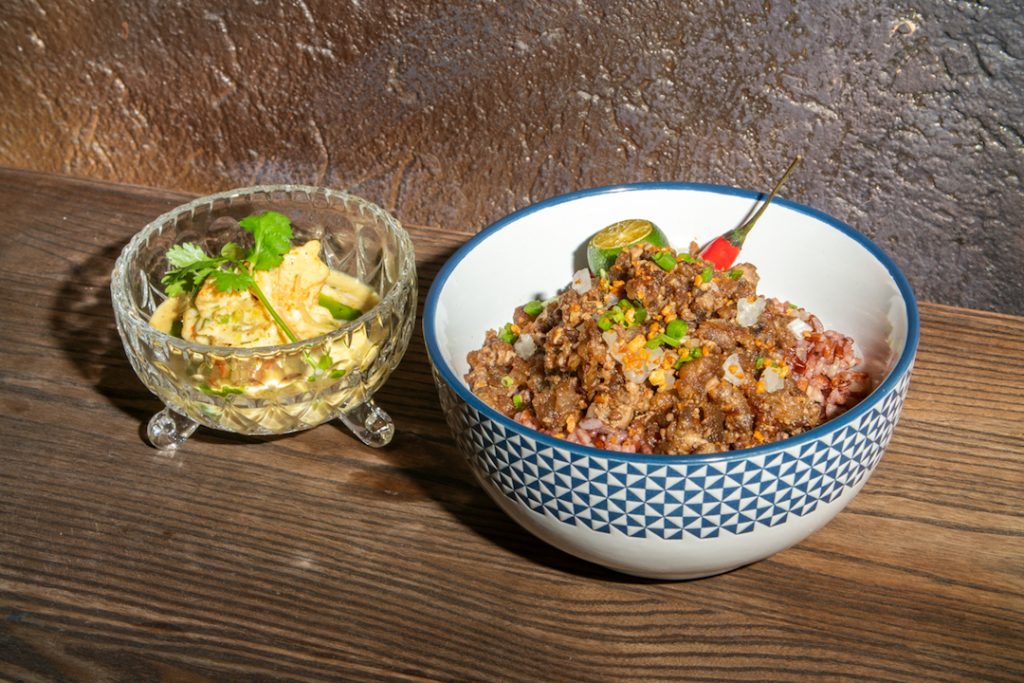 Although Pengson doesn't employ much of his molecular gastronomy prowess at his new restaurant (a shame really), he can't help but flex in other subtle little ways, like with the unexpected chemistry of pairing sisig rice with seafood curry. The acidity of the pork bits with brown rice blends seamlessly with the creamy-spicy curry creating a welcome cacophony of flavors in one's mouth.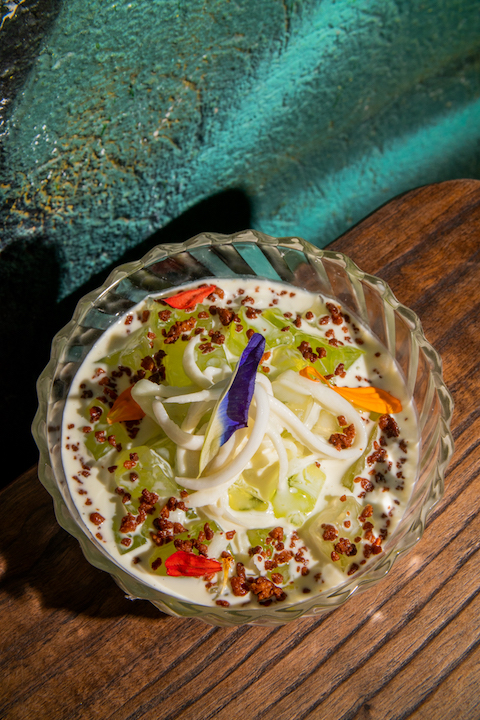 For dessert, buko pandan is served. Nothing too far from the traditional way it's prepared in households, save for the ingenious addition of latik bits that add texture as well as round up the sweetness of the jelly cubes and cream.
Adventurous diners may also try the peculiar alugbati crepe: two folded pieces of crispy crepe with a side of cheese and parboiled alugbati leaves. The slight bitterness cuts through the richness of the ricotta cheese. Although I did not like it very much as someone who prefers to leave his vegetables to their usual plates, Pengson's efforts are commendable.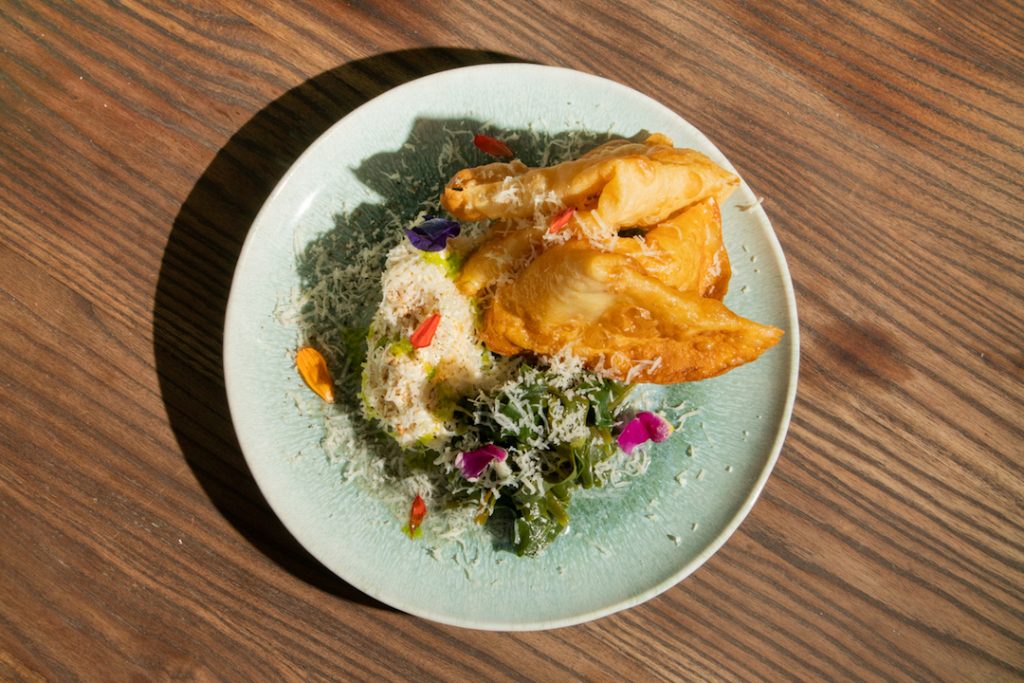 As we end our meal, Pengson comes behind the bar and starts concocting a drink in front of a camera. Part of his comeback is to establish a presence on social media by vlogging. After all, isn't it only fitting that a once staple of TV cooking shows naturally progress into hosting his own YouTube channel where he regales viewers with his wit and formidable cooking acumen?
Get more stories like this by subscribing to our weekly newsletter here.
Read more:
You can sit with Jesus and his disciples at The Last Supper table at Futurist
Why this Poblacion restaurant calls its grilled chicken anything but inasal
Sinigang can be soupless, wrapped in a burrito and still be amazing
TAGS: carideria Esqinita filipino cuisine Poblacion rob pengson
WHY GO?
Esqinita's menu is quite budget-friendly compared to most Poblacion spots without skimping on taste
MENU