Milk tea is served shaved in this Manila dessert shop
A cup of La+Tearia's shaved dairy and tea fix will turn any milk tea hater into a lover
info
La+Tearia

Dessert, Milk Tea

10 a.m. to 8 p.m.

₱

P89 to P95
The Filipinos' love for milk tea will not be dying down soon, and that won't be much of a surprise. Popping up in every corner in towns all over the metro are milk tea stalls competing with one another with their amped up versions of milk tea and brown sugar drinks. (READ: Where to get brown sugar milk tea in Metro Manila)
However, while chef Gerick Manalo and his business partner Jeri James Fazunila are milk tea lovers, they did not really want to join the already crowded competition. Instead, the young duo, who both have long been planning to set up a business of their own, decided to start a new milk tea concept themselves, leading them to making Manila's first shaved dairy and tea fix.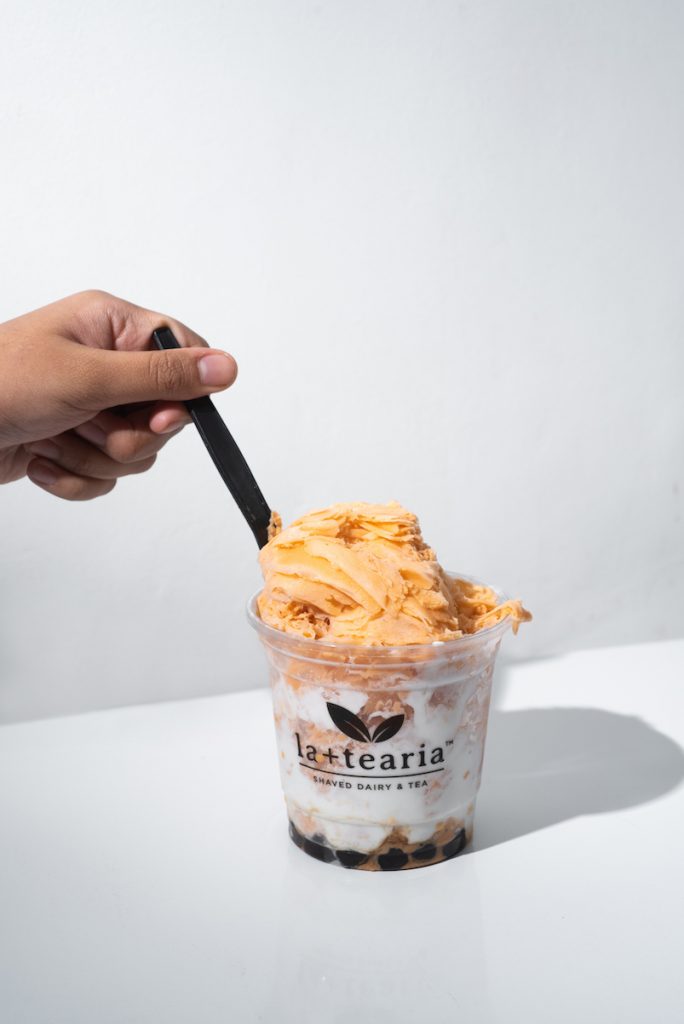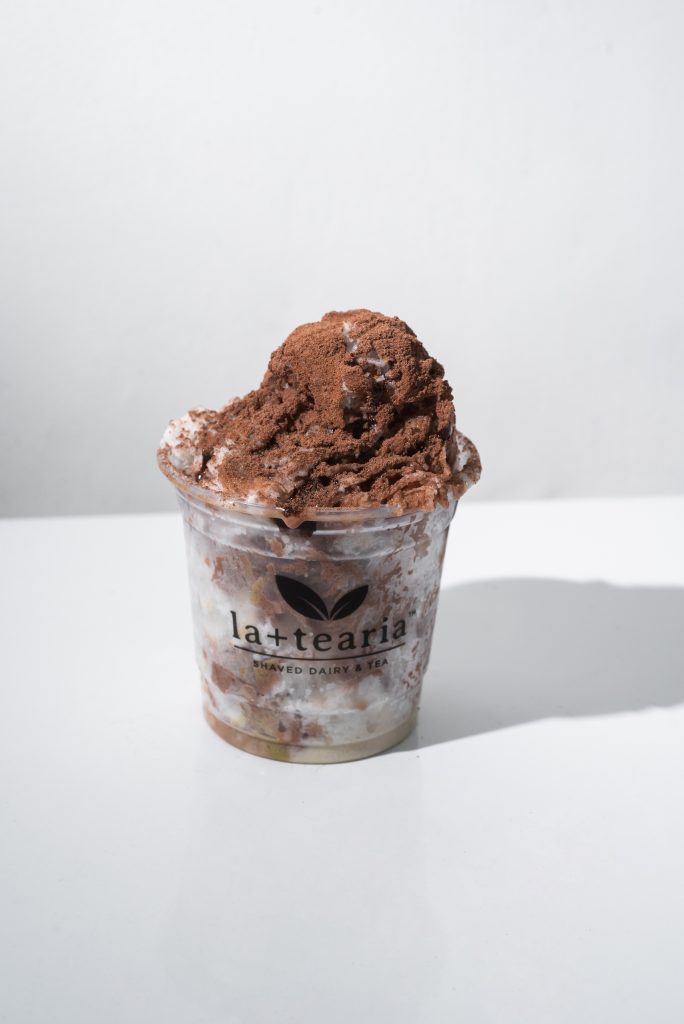 In a compact kiosk sandwiched between a 24/7 breakfast joint and a Korean restaurant at Taft, Manalo and Fazunila introduced La+Tearia, a dessert shop that offers a wide variety of shaved ice milk tea made only with natural ingredients.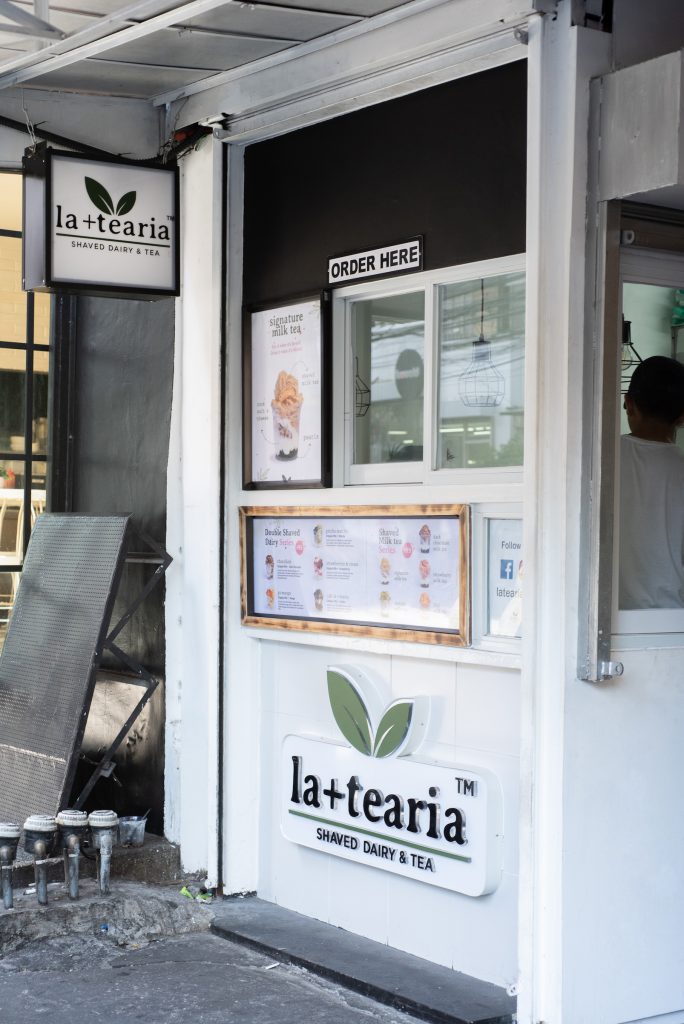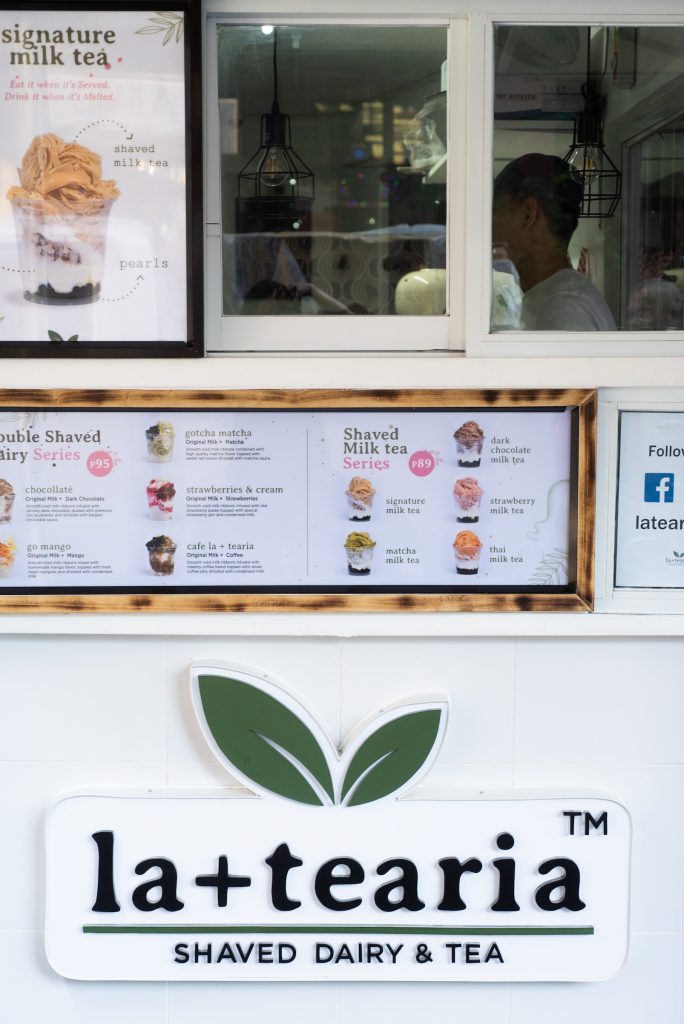 Their shaved milk tea is served not with a straw but a spoon in a cup of paper thin milk ribbons. At its base lie an ample amount of chewy black pearls. As of writing, La+Tearia has five flavors for their shaved milk tea: their flagship signature milk tea, matcha, dark chocolate, strawberry, and Thai.
"Like the store's concept, we really thought thoroughly the first series of flavors we will be releasing. We included popular flavors as much as possible," the chef said.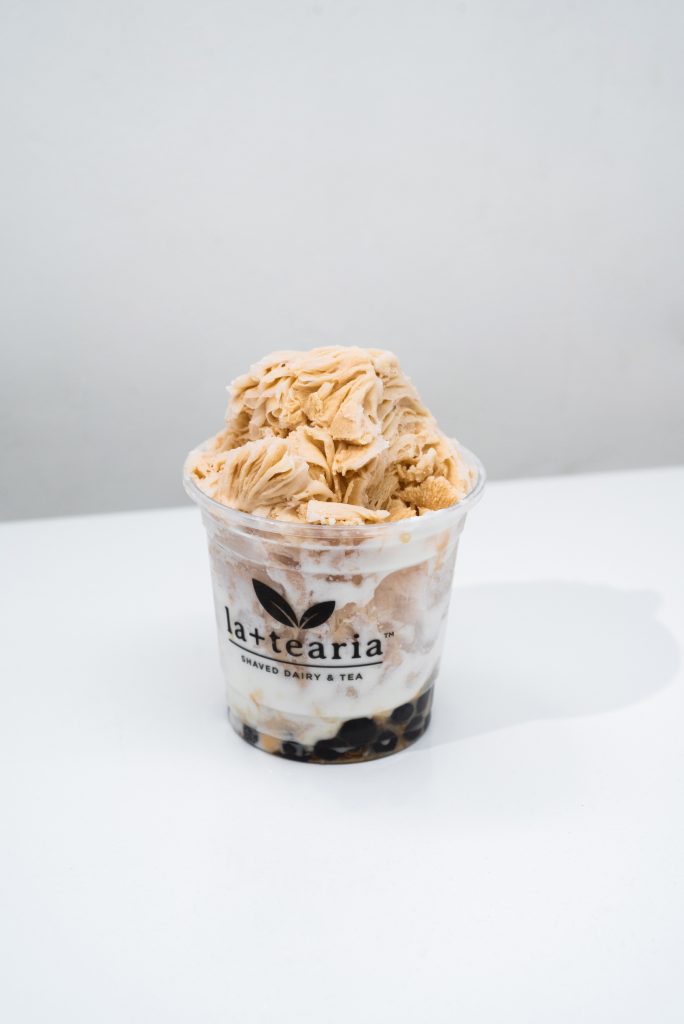 To be honest, I had my reservations before trying this milk tea (or any milk tea in general) because for most of my life, I had been dreading the combination of dairy and tea. It was something my taste buds never agreed to and I had always been vocal about this. That is until I tried La+Tearia's version.
Still very honestly speaking, the shaved milk tea actually changed my mindset (and possibly my taste buds). I've been coming back to it (for three times now, actually) and have been loving every scoop. The recipe is balanced—not too salty, not too sweet, or too pearly. It's just right and so light and easy on the stomach—something that you won't mind munching on especially in our current weather.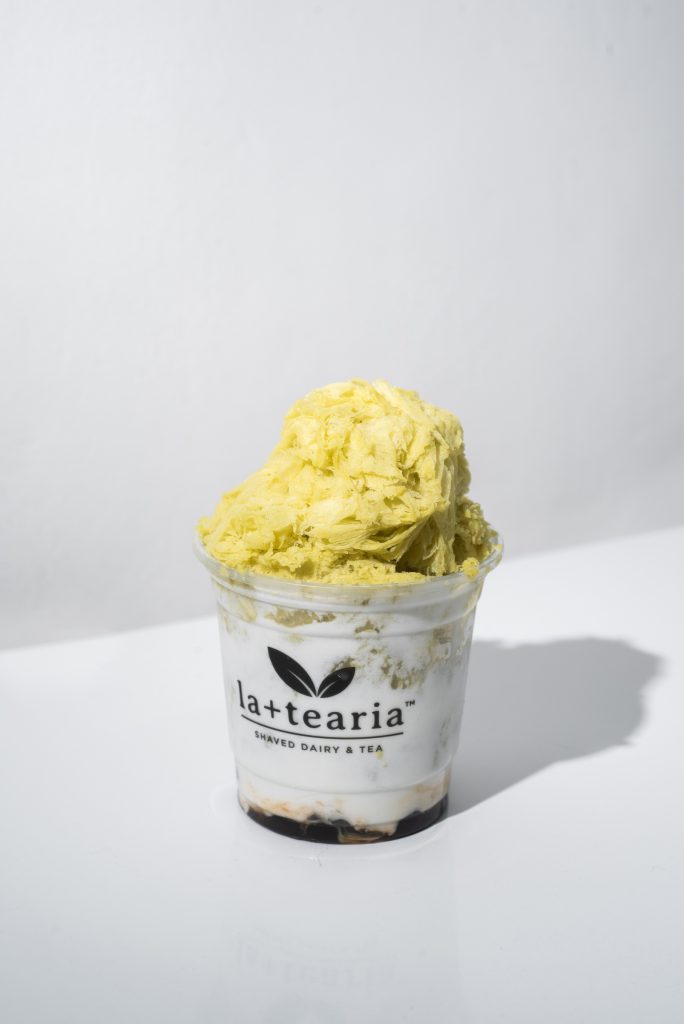 Eating it is like snacking on ice cream that has milk tea ribbons, pearls, and rock salt cheese which you won't worry about melting. It's an accurate reflection of the dessert shops tagline which is "Eat it when it's served. Drink it when it's melted."
"This way, you don't have to throw the dairy when it melts. Most of our customers just chug it—pearls and all," Fazunila said.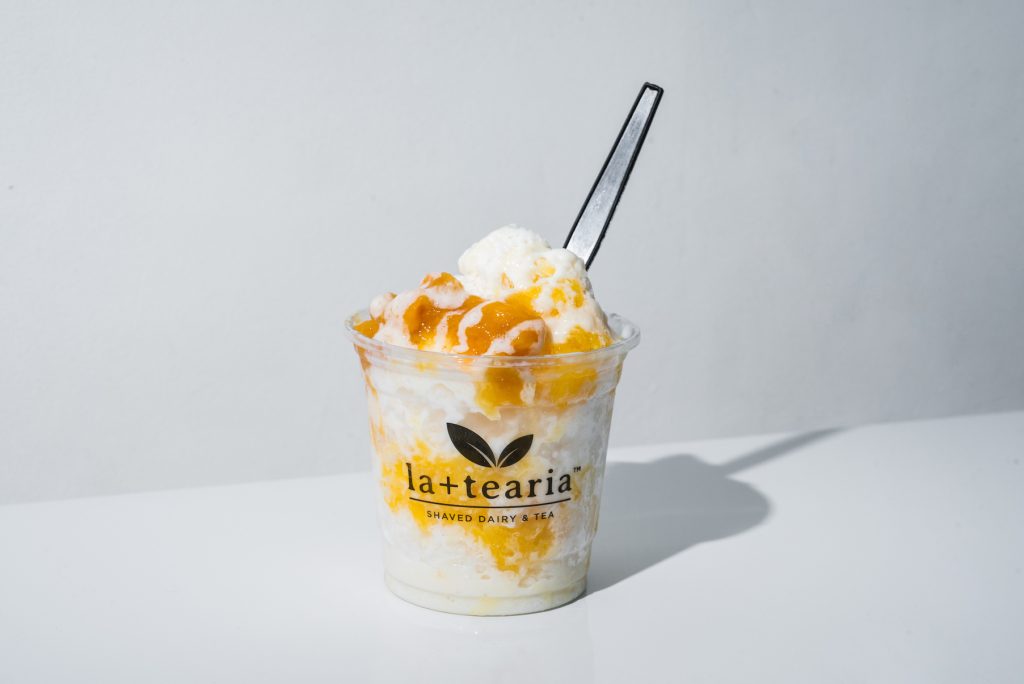 For those who aren't big fans of pearls in desserts, however, La+Tearia also has a Double Shaved Dairy Series which is composed of shaved frozen milk with two flavors "obtained from one ice block." When the outer layer—which is purely original milk—is shaven, it will create smooth iced milk ribbons, occupying the whole cup's body.
It will then be mixed with the dessert shops' own flavors that include Go Mango, the shop's addition to the never-ending mango craze in the country, Strawberries & Cream, made with strawberry puree and topped with strawberry jam, Gotcha Matcha, high-quality matca that's aptly bittersweet and topped with red beans, Cafe La + Tearia, a blend of coffee, coffee jelly, and cream, and the Chocolatté which is drizzled with smooth Belgian chocolate sauce.
Aside from the bestselling Chocolatté, which will surely give bliss for all sweet lovers, the Strawberries & Cream double-shaved dairy is a must-try. It  shows how natural and juicy the strawberries they used are. It gives a sweet and sour flavor that would remind you of the cold days you spent in Baguio. It's that good.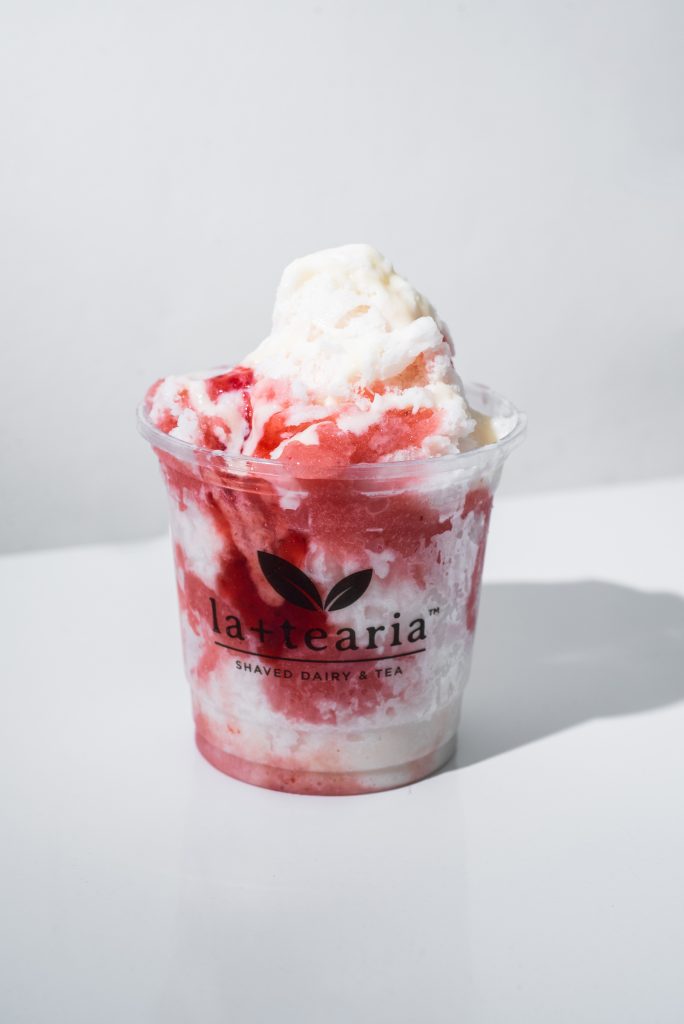 So when you find yourself passing by Taft, particularly the array of restaurants along Leon Guinto St., make a stop at La+Tearia. It's not exactly what you expect it to be and that just makes it even more worthy of the try. It's refreshing and new—a break from the liquified milk and tea combinations we've been lining up to all summer.
The owners are also planning to venture into the zero-waste scene real soon with reusable or recyclable straws. But for now, let's just continue our advocacy by using our own alternatives.
Get more stories like this by subscribing to our weekly newsletter here.
Read more:
Cosmic's secret club makes a case for a veganized Poblacion
Finally, ice cream you can take home without fear of melting
Five easy-to-do non-dairy ice cream for the weak
Read more by Amierielle Anne Bulan:
What's the best food and cocktail pairing? Professional chefs and shakers find out
Where to eat and go in Rizal: A day-long tour
Here's where you can have an Italian pizza made the traditional way
TAGS: business cup dessert dessert sweet eats ice ice cream kiosk La+Tearia manila milk Milk tea New restaurant Taft tea
WHY GO?
Their shaved dairy and tea series is like ice cream and milk tea combined; only this time, you don't have to choose between getting a frozen or liquid dessert because you'll have both.
MENU