This QC Chinese spot has heavy, customizable, and budget-friendly rice bowls
Toppings at Wow Wok include pork, beef, chicken, veggies, and shrimp
info
Wow Wok

Chinese

11 a.m. to 10 p.m.

₱

P100 to P300
The New York Magazine has dubbed rice bowls "the meal of the moment." They're "healthful, filling, and infinitely customizable, a blank canvas for inventive chefs and fast-casual chains " It's also a convenient choice for a meal especially for us Filipinos who are heavy rice consumers: It can be easily prepared, eaten on the go, and is compact, ideal for takeaway.
This is what Wow Wok aims to do. This new casual Chinese restaurant in Quezon City is conveniently situated inside UP Town Center, where most of the students, teachers, and office workers in the Katipunan area usually frequent for lunch and dinner. With this, it's armed with a menu that would capture different cravings, especially with its unfussy and ample rice bowls.
Wow Wok's rice bowls called Wow Chow Meals lets you fully customize your bowl. First, choose your main. It has six choices featuring various kinds of meats: sweet and sour pork, hot shrimp salad, honey lemon chicken, surf and turf which has shrimp and wagyu cubes, beef pepper, and eggplant tofu. Second, choose your base—fried rice or garlic noodles. Third, sides—two pieces of siomai or two pieces of spring rolls. Finally, pick your drink—peach iced tea or lychee iced tea. The best thing about these bowls is that each is priced at only P249 and that it doesn't skimp on ingredients.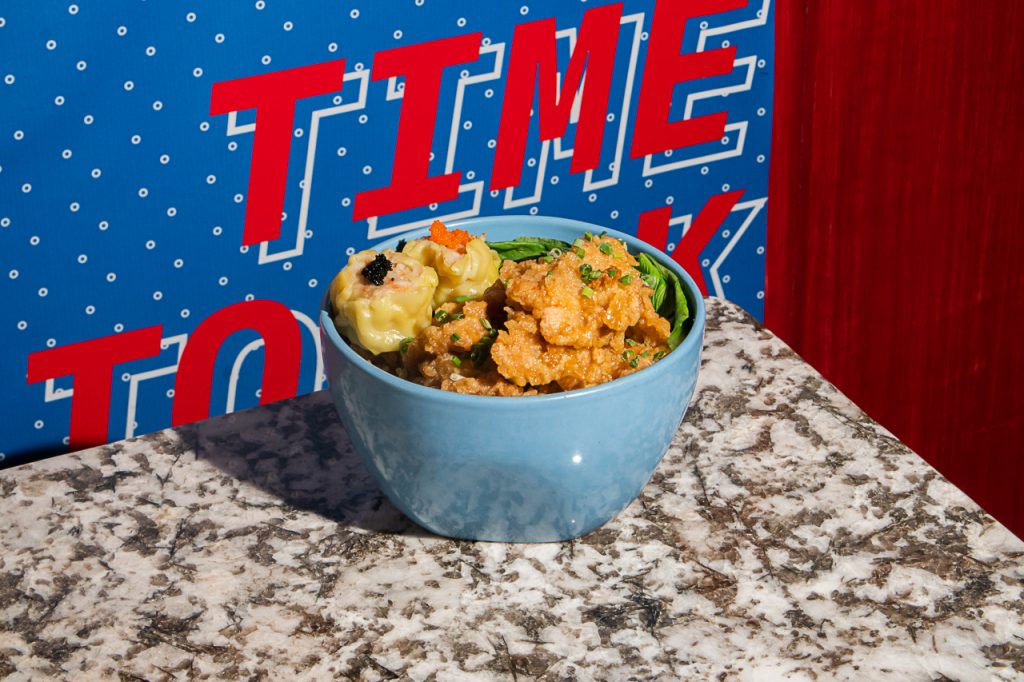 During our visit, we tried the honey lemon chicken, beef pepper, and hot shrimp salad. What stood out the most was the latter. The shrimps are drizzled with Wow Wok's signature sesame mayo, which brings a sweet, Asian flair to the tender seafood. We recommend you choose the mushy rice to go with it to counterbalance the rather intense flavors.
If you're looking for a refreshing viand and want to cut savory flavors on your palate, try the honey lemon chicken. The pieces of siomai on the side are also nice additions: They're plump and bigger than we expected.
If you're not in the mood for rice bowls, Wow Wok has six different and straightforward flavors of chicken wings to choose from. Six pieces of classic flavors are only priced at P199 (Five Spice, Spicy Szechuan, and garlic parmesan), while the signature flavored wings are at P249 (salted egg, haw flakes, and lemon chicken).
Get more stories like this by subscribing to our newsletter here.
Read more:
There is no chop suey in China—and other dishes that aren't actually Chinese
Self-heating instant noodles, cucumber Lays, and other snacks at this hidden Chinese Mini Mart
This Chinese chef can make hand-pulled noodles in two minutes
Read more by Yazhmin Malajito:
Have your next intimate get-together at this new private dining concept
Dine like a house guest at this Indian restaurant in Kapitolyo
This Escolta coffee shop is also an artists-run space for cultural education
TAGS: chinese restaurants in quezon city chinese takeout quezon city restaurants up town center restaurants wow wok
WHY GO?
The sizable hot shrimp salad rice bowl is a delicious quick bite especially for those who are on the go
MENU