Hey, vegans and lactose-intolerants: FRNK Milk Bar in Glorietta has non-dairy milk tea
At this milk tea place, alternative milks are king
info
FRNK Milk Bar

Craft milk

10 a.m. to 10 p.m.

₱

P85 to P200
When I entered college in 2012, milk teas are a huge thing. Every upperclassman's advice to us freshmen were tips where to get the best bang for buck milk tea (on Dapitan St. in particular, because it's THE best street around my uni). The craze kind of died when I graduated, but recently, there's a boom again, thanks to foreign brands opening branches in our shores.
Yeah, there are lots of international and local milk tea shops now, but almost none have options for those who are lactose-intolerant, gluten-sensitive, and vegans.
FRNK Milk Bar in Glorietta, the newly opened beverage spot on the ground floor of Glorietta 3, aims to fill this gap.
FRNK has a wide array of milk-based drinks, called craft milk, which are flavored with teas supplied by Kyoto-based tea company Morihan, as well as homemade syrups, sauces, sinkers (blue tea pearls, blue tea mochi, and basil drops), and fruit honey. And these craft milk beverages are customizable: Customers can either have their milk dairy (fresh or non-fat) or plant-based (almond or brown rice).
"People today have a lot of dietary restrictions and different health needs; thus, we have an assortment of milk options. Having these choices allows us to give our customers the freedom to choose what they want to put into their bodies, and still have good drinks without compromising," says FRNK's press release.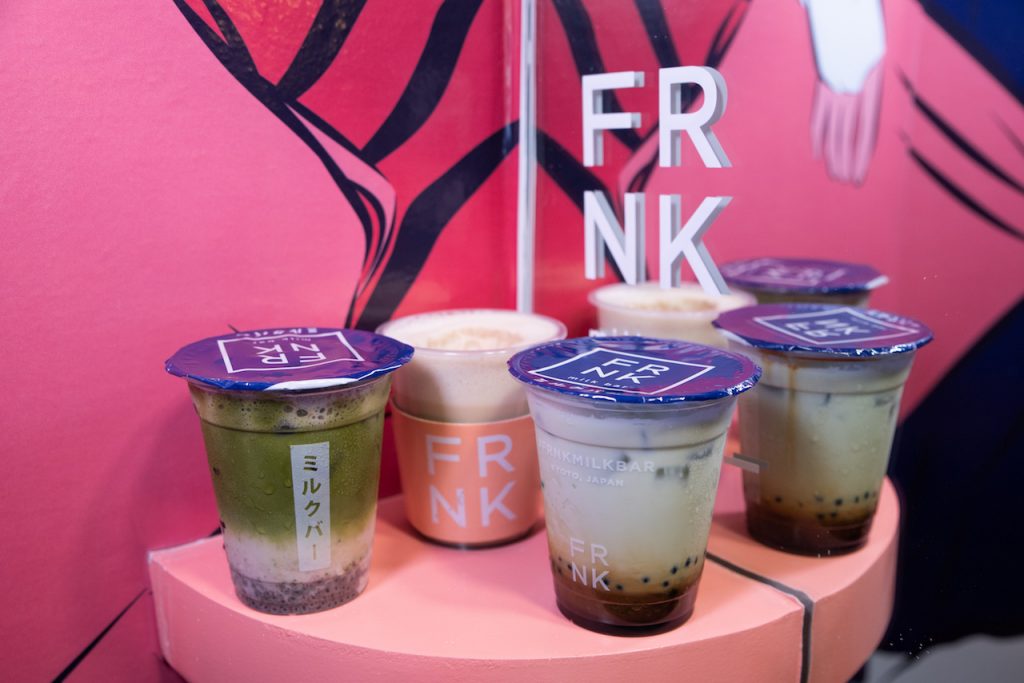 During the press launch, we tried these three drinks: Ichigo, Kokoa Spiced Popsicle, and Blue Lava Miruku. FRNK was swamped during that afternoon and perhaps that's the reason our drinks aren't as pretty as in its menu. Ichigo has uji matcha, considered one of the finest matcha in Japan, homemade strawberry jam (which isn't visible here), fresh milk, and basil drops, soft sinkers that are like bloomed chia seeds.
Kokoa Spiced Popsicle is FRNK's only hot beverage. It's a comforting cup made with cinnamon black tea and fresh milk, and it comes with a dark cocoa popsicle stick (not in the photo). Blue Lava Miruku, on the other hand, is the shop's take on the trendy brown sugar milk tea as it has brown sugar in iced shaken blue tea (butterfly pea tea), fresh milk, blue tea pearls, and basil drops.
The drinks are reasonably priced for as low as P85. FRNK's space can also sit up to 25 people, so feel free to hang out with your friends and family here—especially those who've been avoiding milk teas due to dietary restrictions. Spread the good news.
Read more:
This global milk tea franchise just opened at the Mall of Asia
The mango craze is real at Hui Lau Shan
Where to get brown sugar milk tea in Metro Manila
Read more by Yazhmin Malajito:
Have your next intimate get-together at this new private dining concept
This QC Chinese spot has heavy, customizable, and budget-friendly rice bowls
Dine like a house guest at this Indian restaurant in Kapitolyo
TAGS: cafe in makati frnk milk bar Isabelle Daza milk tea shops in manila restaurants in glorietta
WHY GO?
Go for the affordable and healthy milk teas—which base milk you can customize
MENU