The last time I heard of a food tour revolving exclusively around chocolate was probably in the movie Charlie and the Chocolate Factory (2005) (I was not yet born when 1971 version came out). I was 9 years old. It was only after graduating from primary school, after many reruns of the movie, that I realize there was no such thing as a chocolate factory tour in real life, much less oompa loompas or Willy Wonka himself.
Fast forward to 2019, my dreams of partaking in a chocolate tour has finally become a reality. Well, it's not actually a chocolate factory tour, but it's as close as I can get, so I'll take it.
One Friday afternoon in Poblacion, the famed food and nightlife destination, we took on a bar crawl with Auro Chocolate. Now, if it were a different time, I would have to explain who this chocolatier is, but after years of perfecting its craft, and after many international recognition (one recent award is a first in the country's chocolate-making history), Auro has become close to a household name in the Philippines with their locally-sourced bean-to-bar chocolates.
After much success in the local market (and an emerging presence in the international scene), Auro is cementing its status as a premier chocolate brand, first by establishing the Fab HQ in Magallanes Village, a mixed-use space that serves as their showroom, food incubator, cafeteria, and events place.
This time, they are partnering with Fat Girls Day Out, a web food guide founded by Paula Mariz-Ferrer and Bernice Termulo, to bring a new experience to local chocolate fans through an interactive bar crawl in Poblacion.
The Auro Bar Crawl, as it is called, is a weekly food tour happening on Fridays and Saturdays (4:30 to 7:30 p.m.) that takes participants to five different dining and drinking establishments in Poblacion with unique takes on Auro's chocolate products. But here's a twist. All dishes and drinks are infused one way or another with chocolates, but none of them are desserts.
"We are trying to do something different with chocolate," said Mark Ocampo, founder and managing director of Auro Chocolate, as he welcomed the 30 participants at the first stop, a new Thai restaurant called Khao Khai. "We want to show the diversity of cacao and how to incorporate it with many dishes other than dessert."
The day before, they have hosted the first batch of bar and restaurant hoppers. The bar crawl can accommodate 30 people, and slots (priced at P2,500) can be booked through Auro's website. 
Kelly Go, who's a co-managing director with Ocampo said they plan to change the menu and the destinations every four months. The Auro Bar Crawl currently tours around Khao Khai, Lampara, Polilya, Alamat, and Pedro Tap House.
Here are some of the chocolate-infused savory dishes (including vegetarian options) and alcoholic and non-alcoholic drinks you can try out at this food tour.
Khao Khai Thai chicken house
Filipinos and Thais alike are big on mango, especially green ones. In both countries, the pale sour flesh is peddled in the streets and comes with a shrimp paste or spiced salt dip. Khao Khai's version of this street food tames the salty bagoong by adding 77 percent dark chocolate to it.
If you don't mind getting a (thin) chocolate mustache then this drink is for you. Bangkok Fire is rimmed with 64 percent dark chocolate which balances out the subtle spiciness of the drink.
If you've been around this side of Poblacion, you know that this Neo-Filipino restaurant which turns into a bar come 10 p.m. is known for its experimental approach on dining. Bar crawlers are treated to their slow-cooked pork belly that's sous vide for almost two days resulting into a slice of super tender meat. It's topped with 64 percent dark chocolate cacao nibs for a contrasting texture and striking bittersweet taste.
Lampara's dessert chef Alphonse Sotero suggests you take a swig of their chocolate-infused Jim Bean Negroni in between bites to fully experience the complexity of chocolate in both items.

Polilya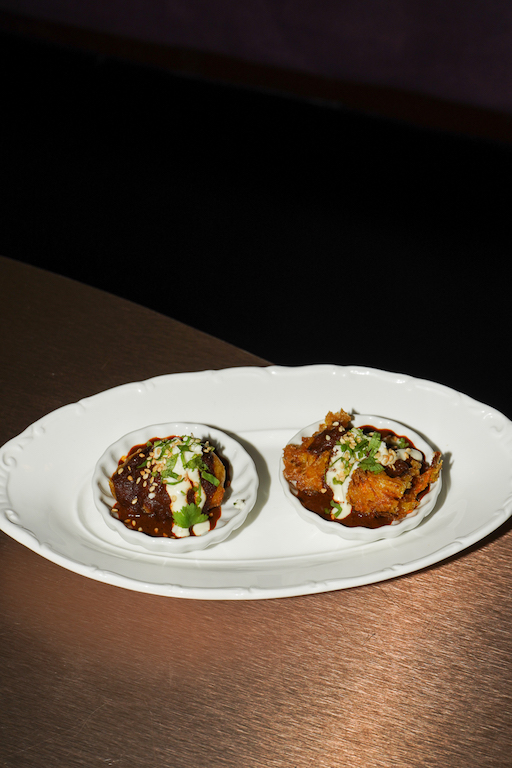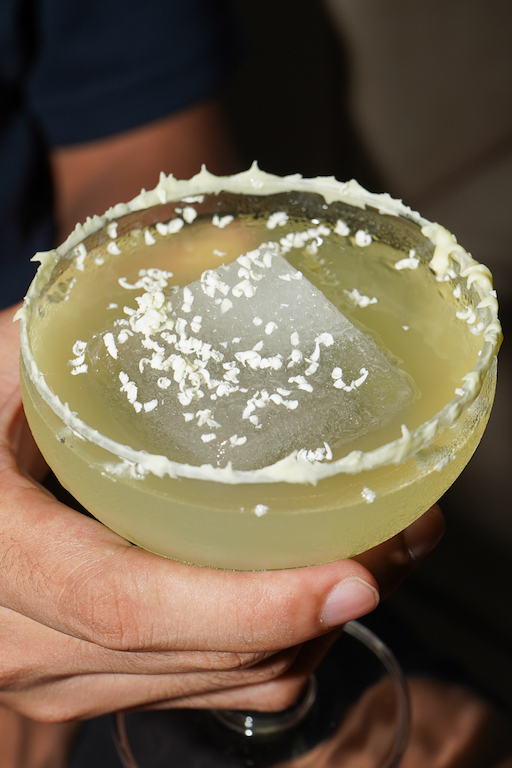 The neon-lit ambiance of this bar along Jacobo St. adds to the experience of having to munch a non-descript blob of meat which turns out to be deep-fried Hainanese chicken topped with a mole sauce made with 77 percent dark chocolate.
Read: Making Frida Kahlo's Mole Poblano
But the real deal (at least for me) here, was their vegetarian option, vegetable fritters with chocolate mole. It's a refreshing mix of greens (I did not identify owing to my near drunkenness after a shot of their seemingly tame 32 percent white chocolate).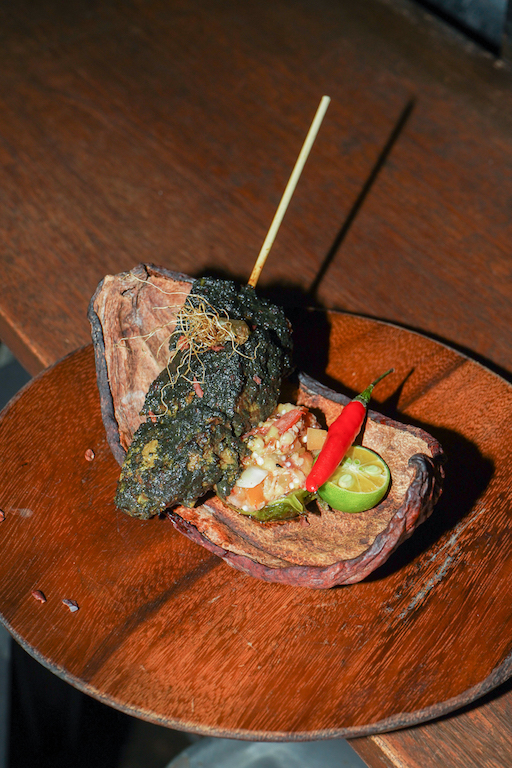 Due to the compact spaces of Alamat and Polilya, during this part of the tour, participants are separated into two groups of 15, taking turns going to these bars. Their featured dish is one inspired by the flavors of the south, particularly of a Tausug beef specialty cooked with burnt coconut called Tiyula sa Itum. Alamat's twist is the addition of Auro tablea in the braised rib finger and cacao bits in the ensaladang talong at adlai.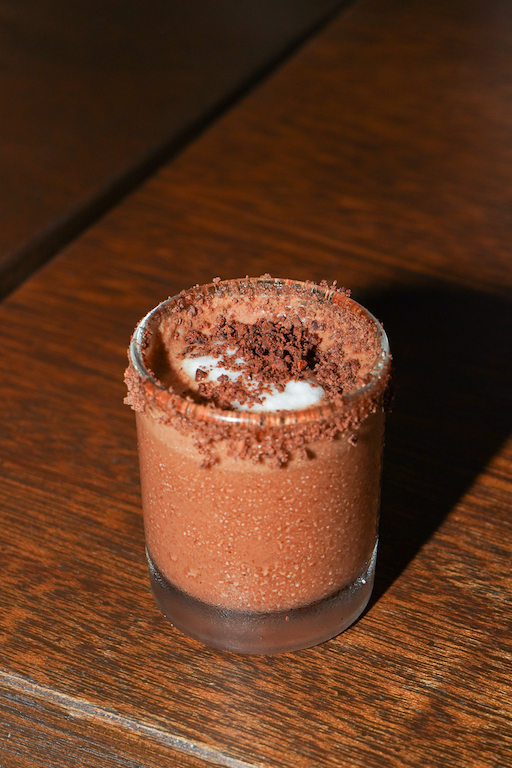 Their drink of choice is cheekily called the Auro Plata, a concoction of gin, white rum, pandan, cacao liquor, and chocolate sauce.
Pedro Tap House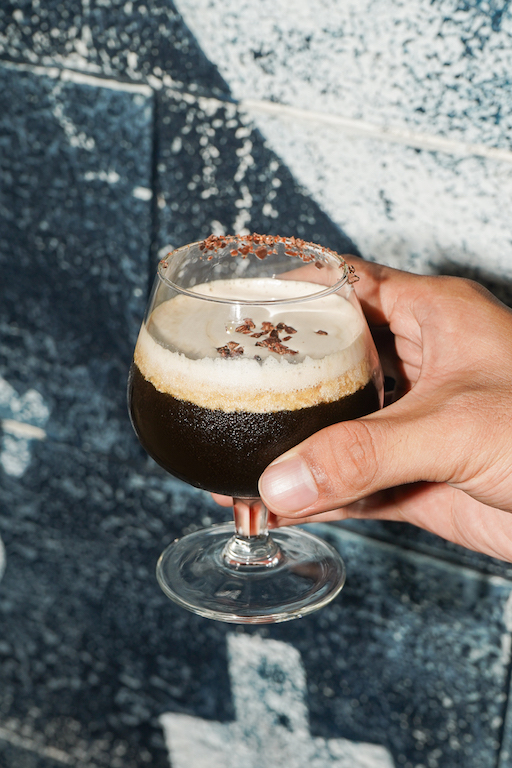 The last stop for this leg of the tour is in Matilde St. at Pedro Tap House. Of course, chocolate-infused craft beers were served. And perhaps the crowd favorite among the many drinks served that night was their Auro Midnight Stout, a mix of their coffee stout and bourbon topped with a frothy cream of melted 55 percent dark chocolate.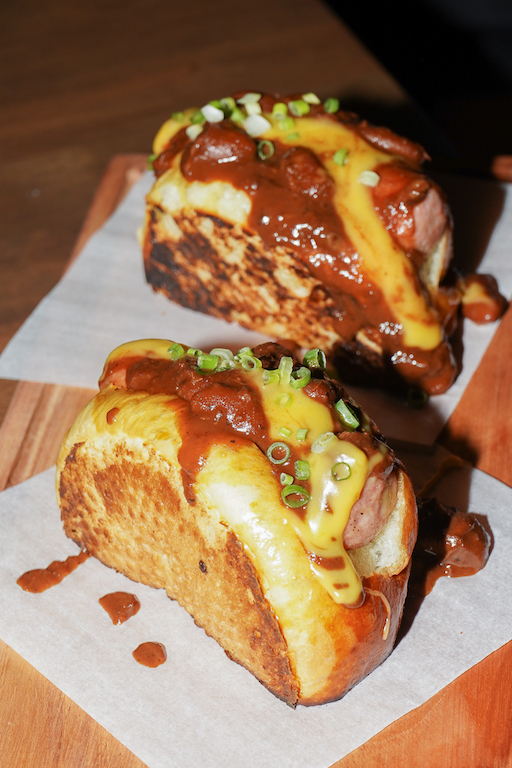 It is paired with a chili cheese dog made with the same dark chocolate variant, and a vegetarian red bean chocolate shepherd's pie.
Get more stories like this by subscribing to our newsletter here.
Read more:
Proudly Filipino chocolate company Auro opens shop in Japan
5 Poblacion spots to try for your next night out
Why Poblacion's gentrification is problematic
Writer: CHRISTIAN SAN JOSE
PHOTOGRAPHY SAMANTHA ONG