Plastic is everywhere. And we're not just talking about the massive piles of trash or the ubiquity of plastic in daily life. Scientists have confirmed our worst fears: that we are already eating bits and pieces of this non-biodegradable material.
But this is not surprising. In the country alone an estimated 40,000 tons of trash are generated daily based on a 2016 survey by the National Solid Waste Management Commission. Over a quarter of this is composed of plastic discards that wind up in rivers and other bodies of water, thanks to inefficient waste management practices and the lack of proper recycling facilities.
READ: Bottled water drinkers consume 90,000 more microplastics
We depend on plastic. Now, we're drowning in it. https://t.co/UQWzo4xLm4 #PlanetOrPlastic pic.twitter.com/ax6TBOASpq

— National Geographic Magazine (@NatGeoMag) May 16, 2018
Our plastic problem is so huge that National Geographic's "Planet or Plastic" cover story in 2018 cited three local areas as alarming case studies: the Pasig River, one of the top 10 rivers in the world conveying plastic waste into the seas; Valenzuela where trucks of plastic bottles are collected every day for recycling; and Manila Bay, whose shores become a catch basin for tons of trash after storms.
How did we get here?
The production of plastic started in the 1950s but the Philippines only caught on two decades later. Products ranging from personal hygiene staples to condiments packaged in single-use sachets allowed low-income Filipino families to avail of basic necessities in smaller quantities at a cheaper price. 
These throwaway containers are used and emptied within the same day (within minutes in some cases) but their effects on the environment when disposed of improperly last as long as it takes for them to decompose—up to 500 years.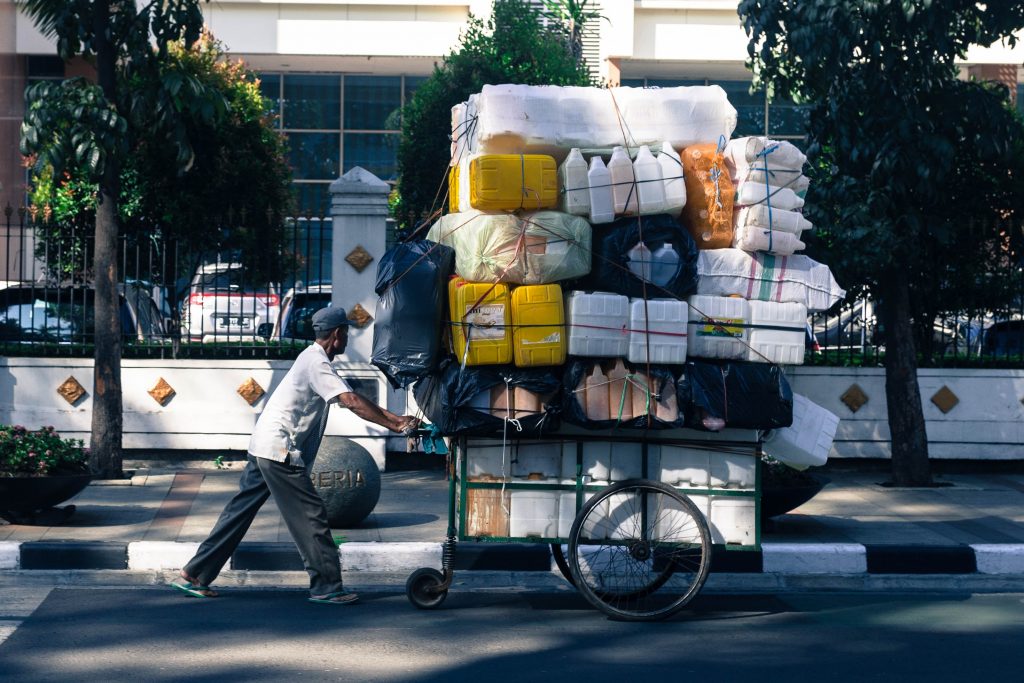 That's a lot of time compared to how easy it is to make them: a process that starts with extracting crude oil and natural gas in which building blocks called monomers are distilled from and then chemically bonded into polymers.
The pellets or pre-forms resulting from the polymers are then subjected to one of four main methods used to make plastic film, bottles, bags, and other containers: extrusion, injection molding, blow molding, or rotational molding. All of which starting with granules or pellets being heated then ejected through different ways depending on the output.
The next step is packaging in which the resulting yield is disinfected (if it's meant for food or water), branded with labels, and filled with products it's intended for.
The production line ends here but the "working life" of these plastics only begin once it's out in the market, continuing on after being purchased and used in households.
Built to last
But this is just the beginning of the whole plastic problem. What's causing additional damage than the production itself is disposal, a worrisome routine considering the material is built to last. 
While some plastic items are recyclable and can easily be heated and reformed, efficient collection and segregation still remain a challenge, not to mention the inadequacy of recycling facilities. So even if some materials are labeled recyclable, chances are they will never be repurposed, much less set aside for recycling. You might be better off turning them into ecobricks.
READ: LOOK: 8 classrooms built in Marawi using eco-bricks
Corporate calls
Environment advocates have long been clamoring for accountability from corporations who continue to produce plastic packaging and the need for concrete plans. 
"The only way we solve the problem is if we reduce the use of plastic in the first place, and single-use consumer goods packaging is really the place where we need to do that," Jacqueline Savitz of the environmental nonprofit Oceana told the Huffington Post.
In response to the growing plastic problem, Unilever, one of the multinational corporations operating in the country, has pledged to shift to 100% reusable, recyclable or compostable plastic packaging by 2025 in line with their Sustainable Living Plan to reduce environmental impact.
Noticing this disparity, Unilever Philippines has partnered with more than 280 barangays around the country to collect flexible plastic waste as early as 2012 with the Surf Misis Walastik. Through the initiative, participating households receive P10 worth of Unilever products per kilogram of flexible plastic.
So what happens to this heap after collection? It is turned over to a plastic recycling plant inside the Villar Social Institute for Poverty Alleviation and Governance Foundation in Las Piñas where it is shredded, washed, dried, melted, and molded into sturdy school chairs, which are donated to public schools.
To date, they have collected over 400 metric tons of flexible plastic, exceeding their 2018 collection of over 300 metric tons. This created over 16,000 school chairs from waste that have been diverted from landfills and waterways. A small feat in reducing the number of plastic, but a stride in the right direction.
Header image by Hans Braxmeier from Pixabay 
Read more:
Confirmed: Our plastic trash has already reached the deepest part of the sea
Actor Pepe Herrera shows the plastic-sunken state of Freedom Island
Metro Manila will be knee-deep in plastic within a year
Dear companies, recycling is not the answer to plastic pollution and you know it