This classic Bicolano dish is one of the most flexible (yet underrated) Filipino dishes out there—no questions asked. Aside from being easy to prepare, laing can be incorporated into any dish at any time of the day, as shown by a lot of food brands and restaurants nowadays.
Marica Buenaflor, the woman behind local food brand Que Rica, pointed out in a previous interview that laing  is "usually enjoyed as a side dish for grilled pork, grilled chicken, fried or grilled fish." To challenge this notion, she decided to introduce laing in a new light: as longganisa (stuffing).
READ: We are not lying: There's a longganisa stuffed with laing
Laing is also the star of this new restaurant in Malate, where it is served inside a giant baked prawn. The dish, aptly named Laing Inside, is practically an ode to those who think laing is anything but aesthetically pleasing as it presents the creamy-spicy dish truly Instagrammable.
READ: Mabini's wants to restore Malate to its former glory
There are also a lot of other fun ways to serve laing, which we rounded up here:
Laing kwek-kwek breakfast balls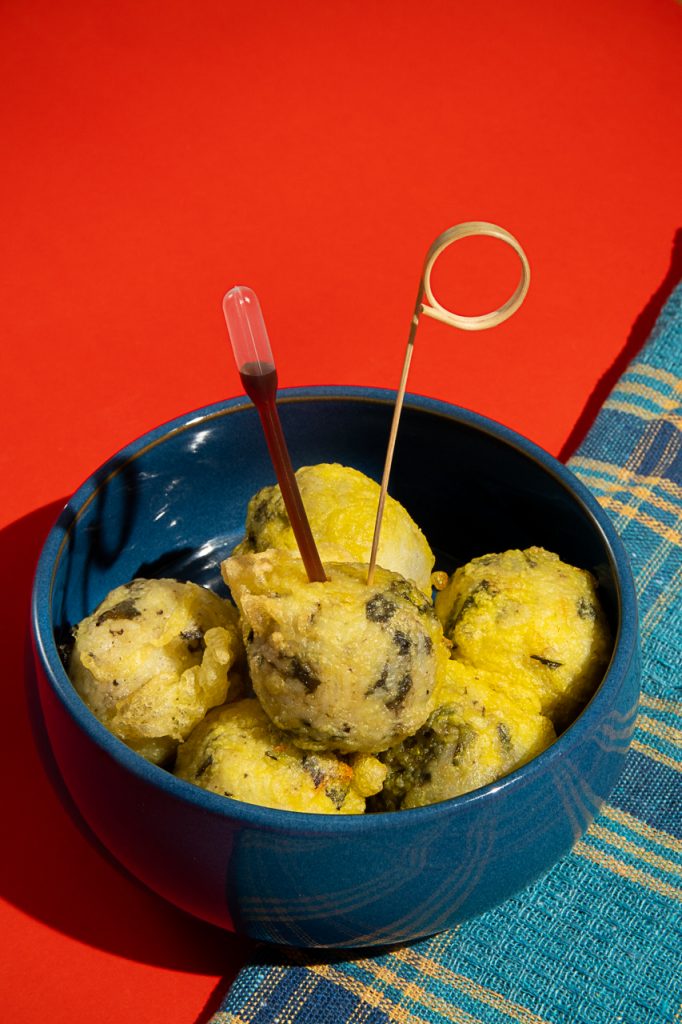 INGREDIENTS
(Makes 10 kwek-kwek balls)
2 pcs. any dried fish, fried, and cut into small pieces
10 pcs. quail eggs
2 cups cooked steamed rice
100g cooked laing
100g tempura batter
160ml of ice cold water
PREPARATION
Mix steamed rice with cooked laing. Place in refrigerator until cool.
Boil 2 cups of water. Turn the heat off once it boils and add 10 quail eggs. Cover and leave in off-boil water for exactly 2 minutes.
Peel the quail eggs. Set aside.
Keep a bowl of water on hand. Form rice balls using the refrigerated laing rice, quail eggs, and small pieces of dried fish as filling. Use water to clean hands with each rice ball formed.
Dip in cold tempura batter.
Deep fry quickly for 10 seconds in hot oil.
Serve with coconut vinegar as dip.
Laing with crab roe, adlai and crispy dilis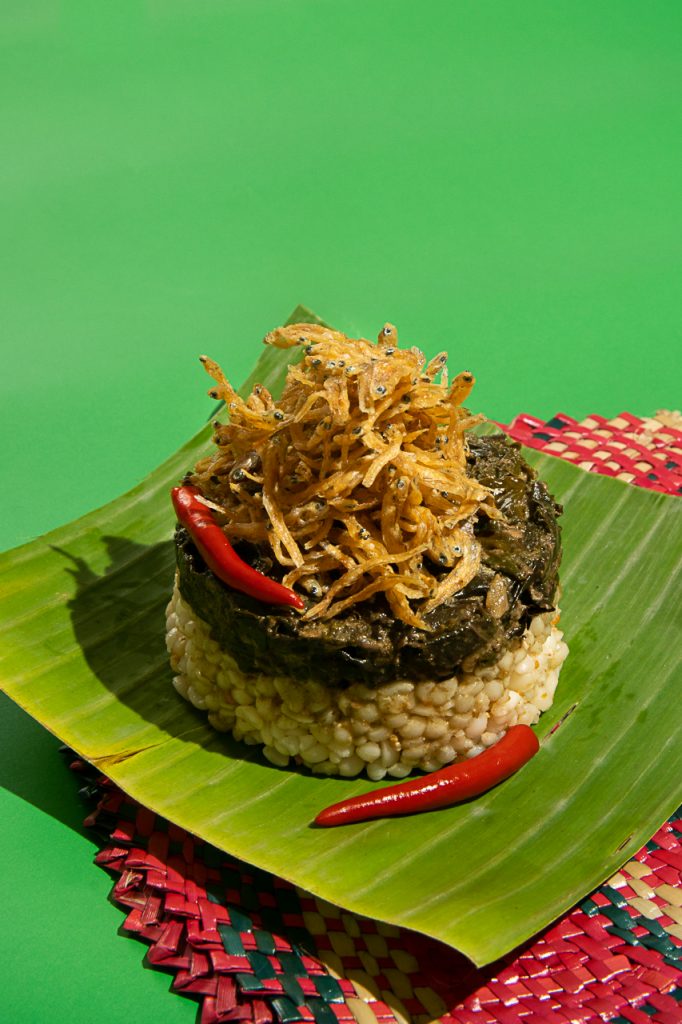 INGREDIENTS
100g cooked adlai
1 tbsp crab roe
80g cooked laing
15g dilis
PREPARATION
Deep fry dilis and set aside.
Mix crab roe with freshly cooked warm adlai in a mixing bowl.
Use a ring mold and place crab roe and adlai at the bottom.
Place cooked laing on top of the ring mold.
Arrange fried dilis on top.
Laing spring rolls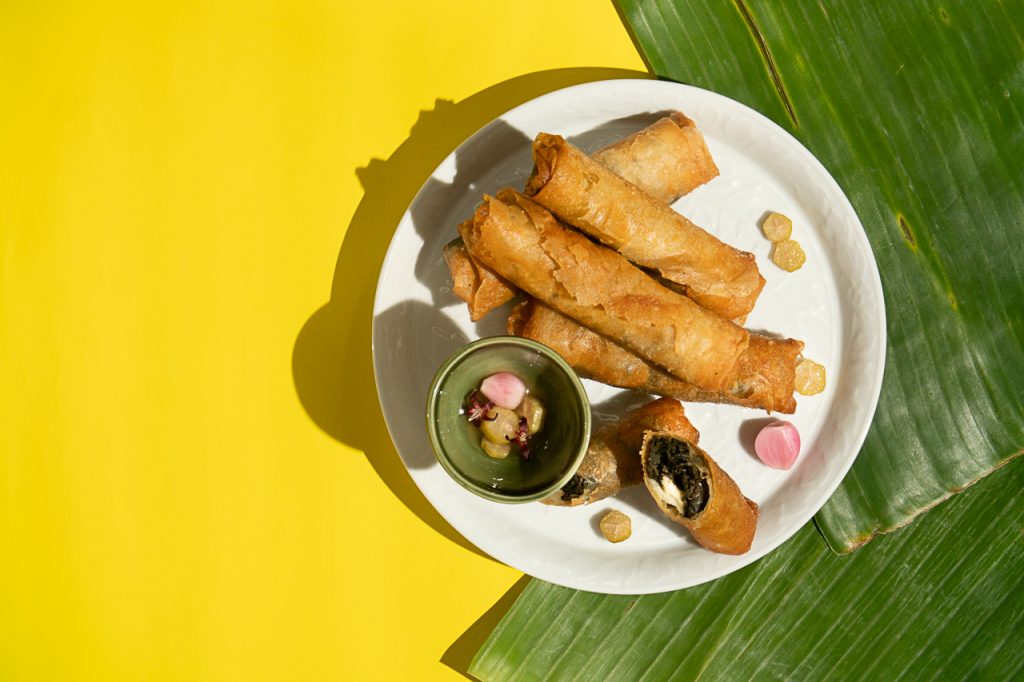 INGREDIENTS
(Makes 10 spring rolls)
20 pcs. lumpia wrapper, wrapped in a damp kitchen cloth to keep moist
400g cooked laing
100g kesong puti, sliced into strips
Cooking oil
PREPARATION:
Place 2 lumpia wrappers on a clean chopping board or plate.
Place 40g of cooked laing in the middle of the lumpia wrapper. Place a slice of kesong puti on top of the laing.
Fold the double lumpia wrapper in half with the laing inside. Fold the sides to seal the spring roll.
Deep fry for 2 minutes.
For the kamias relish:
Heat coconut vinegar and coconut sugar until the sugar melts. Do not boil. Add salt to taste.
Add sliced kamias, shallots, cloves, and peppercorn to the warm vinegar.
Cover and keep in pot until cool. Once cool, transfer in a small glass jar with a cover.
Keep in refrigerator for 2 days before serving.
This story originally appeared in Northern Living Journey Issue.
Read more:
The secret to this Tausug beef stew is burnt coconut
The secret to perfect hummus every time? Making it yourself
A year in food: Nolisoli.ph's top ten recipes of 2018
RECIPE MARICA BUENAFLOR
PHOTOGRAPHY SAMANTHA ONG