Good pizza only takes 90 seconds to make
Elbert's Pizzeria isn't busy trying to impress, they're busy doing what they're supposed to do—make good pizza
info
Elbert's Pizzeria

Pizza

11 a.m. to 11 p.m. daily

978-8325

₱

P500-P1,000
Most people, when hungry, might not opt to watch food videos. But I guess I'm not like most people—I love watching food shows while hungry. (Here's a good one to watch, by the way: Nolisoli Eats.)
Usually, I end up on Bon Appetit's channel. Recently, they created what I'd like to think is a very ambitious short web series: their star hosts/editors/test kitchen managers, each of them racking up millions of views on their own separate shows—in one series to make the perfect pizza.
I love these hosts. I love pizza. I was so down for this series. Making Perfect: Pizza.
I had one thought as I was watching it: where in the Philippines can I get anything as close to that?
A few weeks of unfruitful craving later, we found ourselves inside Elbert's Pizzeria. Yes, that Elbert, the same guy with the sandwich shop.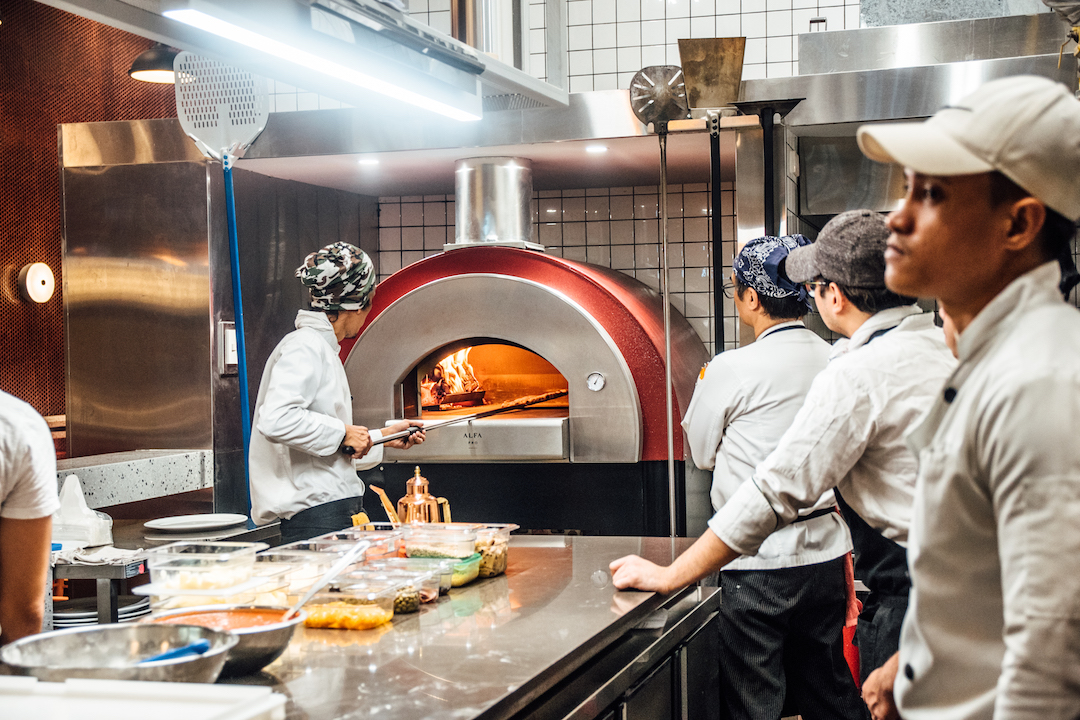 Manila paper still covered the pizzeria's facade when we dropped by, but entering through the glass doors, everything seemed just about ready to operate. The first thing you'll notice is the huge oven emanating heat that spread throughout the 14-seater space.
"We'll let you know once we're ready to start making pizza," they told us—they had just been heating up the oven when we arrived.
The first thing I learned from them about making pizza—(beyond all the talk about ingredients)—is that it actually only takes 90 seconds to make one. Ninety. Seconds. Now flashback to all the times you've had to wait 30 minutes for "pizza."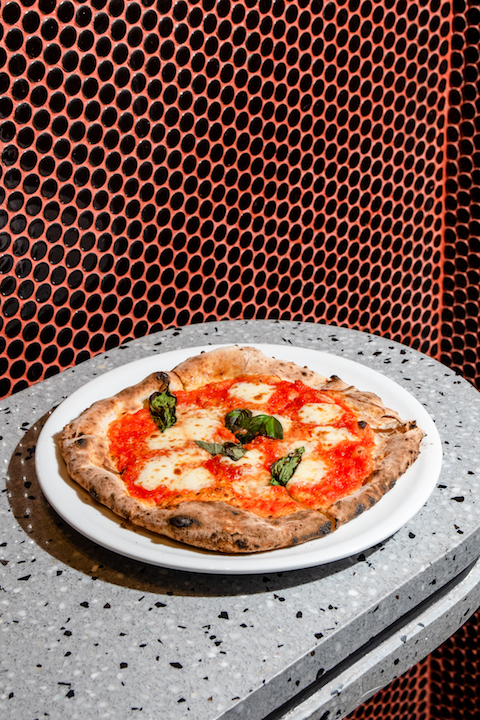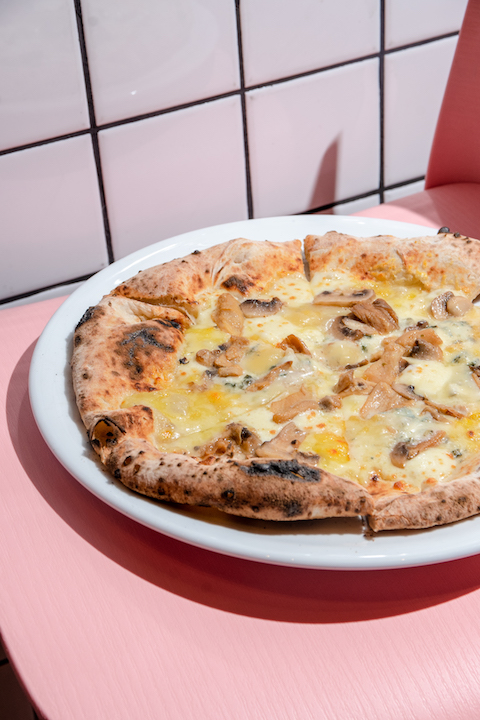 We first had the margherita, the classic neapolitan pizza. I did a mental checklist: thin crust with the char marks (leopard spots, as Bon Appetit's Claire Saffitz had called it); the sauce, made from canned tomato pulp was just the right amount of sweet and tart, and not too watery to make the crust soggy, complemented the crust. The toppings were left simple, not to overpower any of the other elements of the pizza.
The margherita speciale, which had buffalo mozzarella, parmesan, and yellow cherry tomatoes, for example, was also simple-looking but packed a different set of flavors. I'm all for the classics, but this easily overtook the original margherita in my list.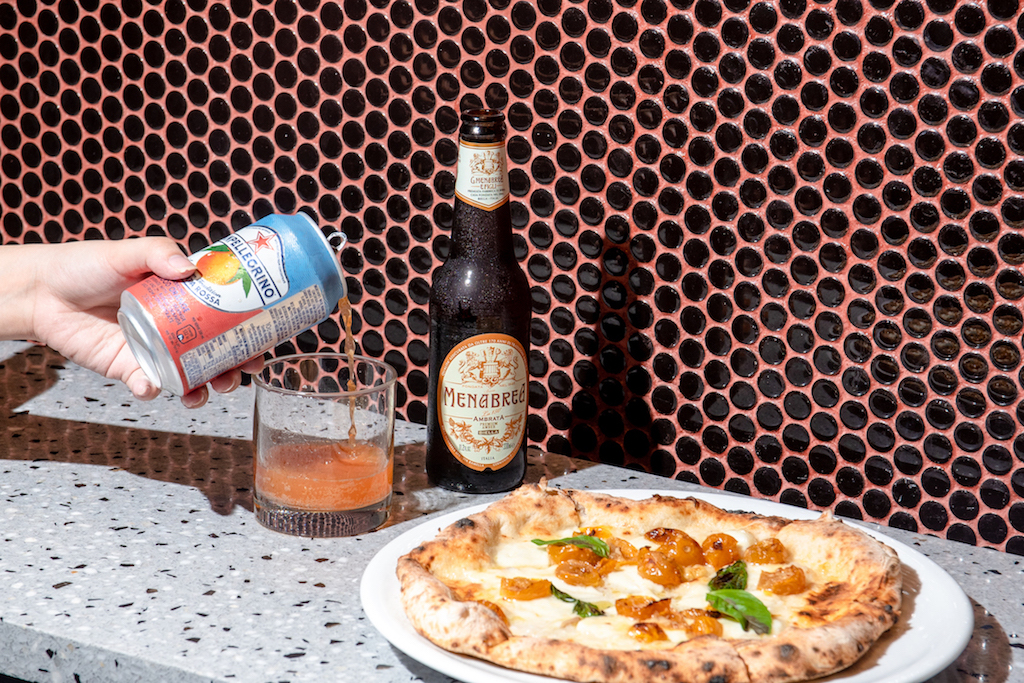 Elbert's pizzas weren't busy trying to impress. They were just trying to be what they're supposed to be—good pizza.
They're not the type of pizzas I'd probably order for delivery to an office party though, mostly because they're really best eaten straight out of the oven. So rather than bringing the pizza to the party, best bring the party to the pizzeria, instead.
Get more stories like this by subscribing to our weekly newsletter here.
Read more:
This sweet potato-filled pasta is the next best thing after Wild Flour Italian's brick-fired pizza
Can you still call it an Italian restaurant if it doesn't have pizza?
There's a hidden restaurant in BGC that serves Italian tapas
Read more by Pauline Miranda:
A Toyo-trained young chef opens his home for 16-course private dinners
This hotel's peking duck is doused in Dalmore whiskey
I messed up a cookie recipe and accidentally made a "new" one
TAGS: eats elbert's pizzeria Italian italian restaurants makati pizza restaurants where to eat in makati where to eat pizza
WHY GO?
Try their margherita speciale, a unique take on the classic pizza, that has two cheeses and yellow cherry tomatoes that balance out the flavors
MENU