The bustling urban city of Metro Manila is the last place where you would expect a well-designed and expansive home. Architectural history tells us that the best residential structures are hidden off in some tree-lined forest, a far-flung province—picture Frank Lloyd Wright's Fallingwater house in rural Pennsylvania.
Fact is, there is not so much space in the city where towering high-rise buildings don't rule the skyline. Not for architect Carlo Calma, whose new design—a personal project that's 10 meters high, and spans across 1,000 sq.m. of space—sits comfortably in the middle of Makati.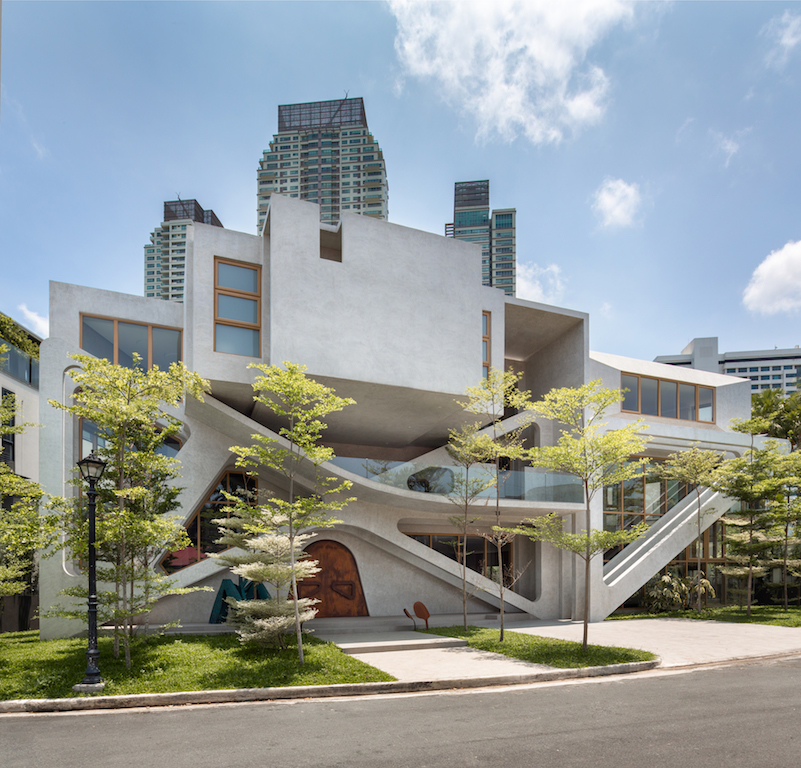 The Infinity House, as Calma calls it, evokes the geometric sensibilities of Dutch artist Maurits Cornelis Escher and the surrealistic works of Catalan architect Antoni Gaudí with its sharp edges and the seemingly disjointed natural accents—from the bare cement to the oxidized metal down to the banisters perforated with what looks like eyes.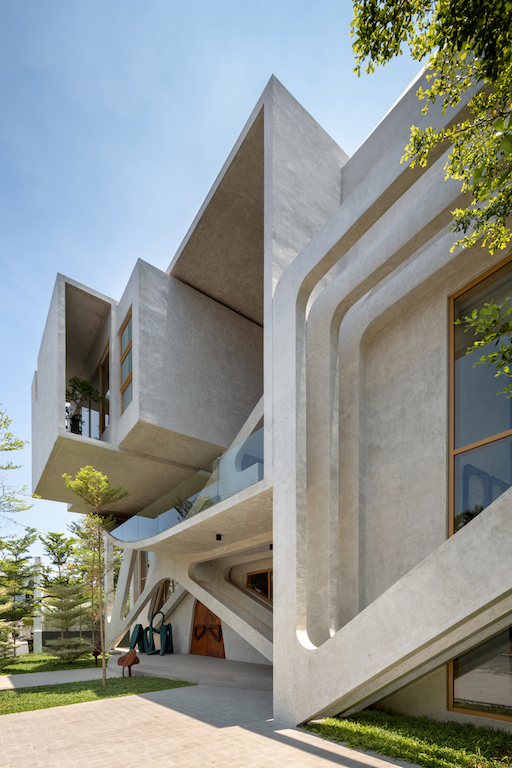 Entering the revolving door, an assemblage of soft-edged furniture takes up the left side with a cloud-like lamp suspended over a high ceiling. "My dad likes the corner sofa setting because the African Talisay trees become canopies and he tends to take naps there," the 38-year old architect says.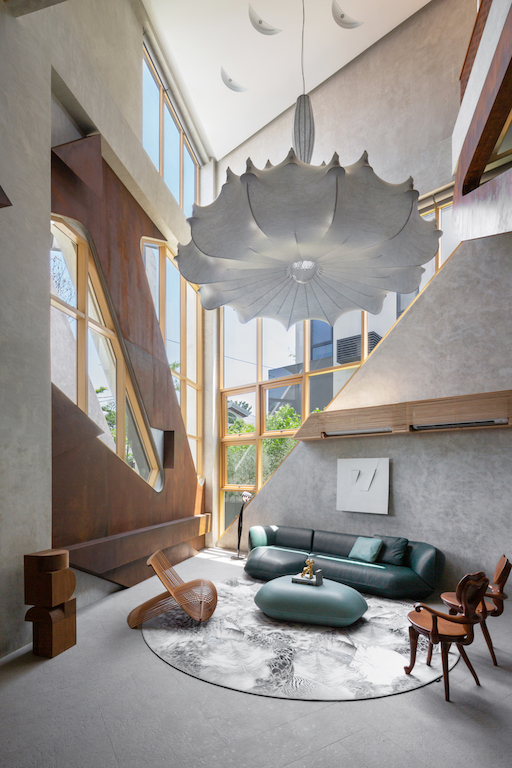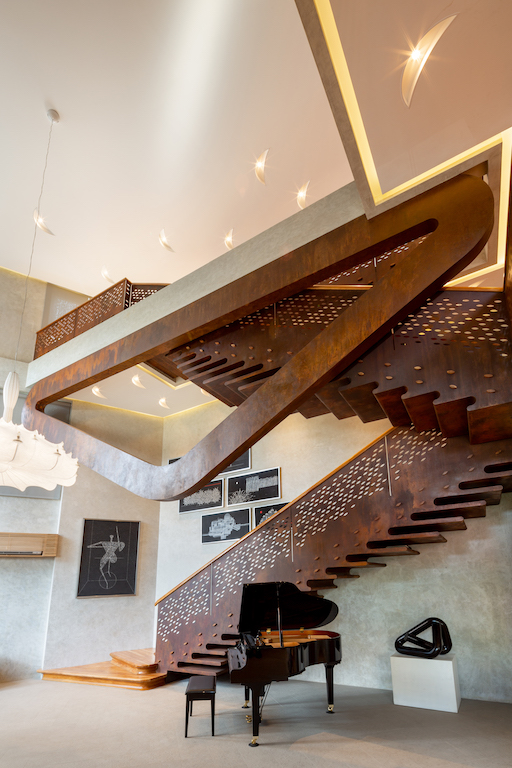 As one shifts their sight to the other direction, the ceiling drops to draw attention to the 18-seater dining area. That's just the ground level. Taking the stairwell, the rest of the three-storey residence beckons. 
The Calma residence is still an extension of the young architect's designs which call to mind futuristic, edgy, and often geometric shapes. These projects are also mostly located in urban areas and are often residential houses—from the Envelope House which challenges the notion of compact spaces to the mathematical Boolean House.
Given these, one might ask, "how would someone who effectively designs other people's dream houses, take on his own?" We asked architect Carlo Calma this and more on the eve of the announcement of a new recognition: being nominated for the World Architecture Festival—the Oscars of architecture—in its Future Projects – House category for his Infinity House.
Congratulations on the nomination. Could you tell us about your World Architecture Festival journey?
Thank you. It is actually our first time to join and we weren't even planning to submit an entry because sometimes our studio is just so busy for the next project and we don't really promote projects. But in this instance, we submitted and we are happy we were chosen in the shortlist. I think from now on we will be participating more. 
You are one of four Filipino nominees in different categories. What does it mean for you and your firm to be recognized at WAF? 
I feel honored and it's nice to see that our architectural designs here in the Philippines are recognized in the global stage. It is selected by around 175 judges around the world and I see some of my teachers in the UK are judges and it is kind of nice after a decade of architectural practice in the Philippines our mentors before have become our peers now. 
Let's talk about your Infinity House. How did that project come about?
It's actually my parents' home. I had an exhibit in Provenance Gallery called "Assemblages" back in 2016 with photographer Jay Yao where my dad saw one of my sculptures. He asked what it was, and I said it was a house—and now it is their house.
What are some of your influences coming up with the design of the house?
I call this an "architecture of exuberance"—it's a nod to fluid and organic forms such as the works of Gaudi and also the Brutalist movement but what I'm creating is in my own language of form, spaces, and effects.
There are a lot of elements in play at the Infinity House that it could almost overwhelm anyone who dares enter. But what materials were you most found of utilizing in this personal project?
I went for a contrasting effect with the raw concrete to the wooden window frames. I also like the weathered steel we used in the staircase and the peeling surface in the walls—it feels like the skin is peeling and showing its bones—a kind of naked architecture.
You've done a lot of residential and commercial work that are of many different forms and shapes. Would you say this house is wholly representative of your design philosophy and aesthetic? 
My works always blur the boundaries of art and architecture and inspiration of the everyday. This sculpture was a kind of fetishized object—it is now a space and home to create elicit new memories. So yes, I guess in a way, it is.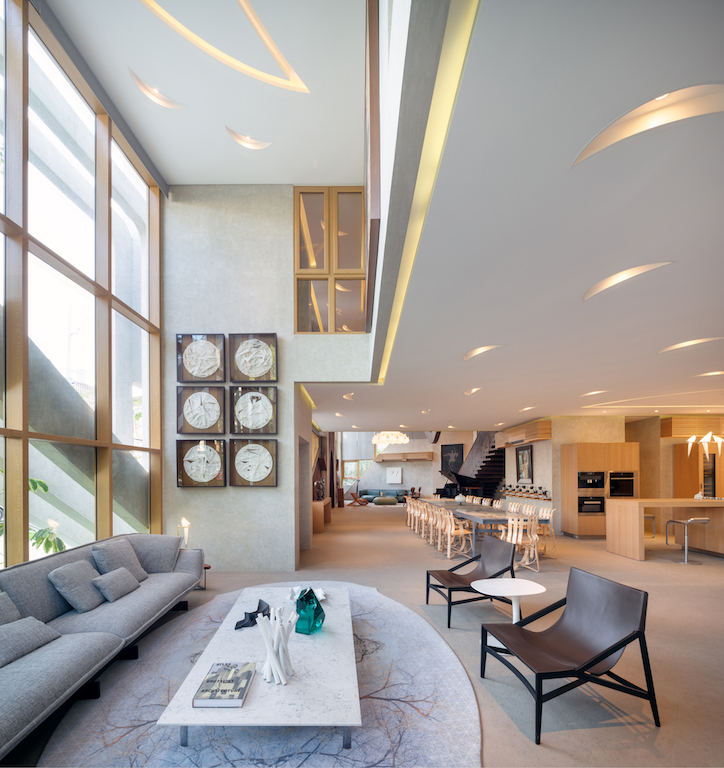 Unlike most recognizable architectural marvels, which are either public institutions or residentials hidden off in some distant location, yours is tucked rather comfortably inside an urban village. How did the fact that you are building on an urban landscape affect your design? 
One of the key elements I always consider is accessibility from the street thus the Infinity house is gated only by a pivot door and not a fence. In villages, there is this some sort of paranoia of surveillance even you are already in a secured village. By removing this gate or fence you open it up and it's a much modern approach in design. 
I think it is only reasonable to end this interview with the most obvious and yet satisfactory question: why the name Infinity House?
The "infinite" quality of the house lies in the use of persistent fluid details and how materials bend and fold in endless iterations that make the Infinity House feel almost like a flowing, breathing organism.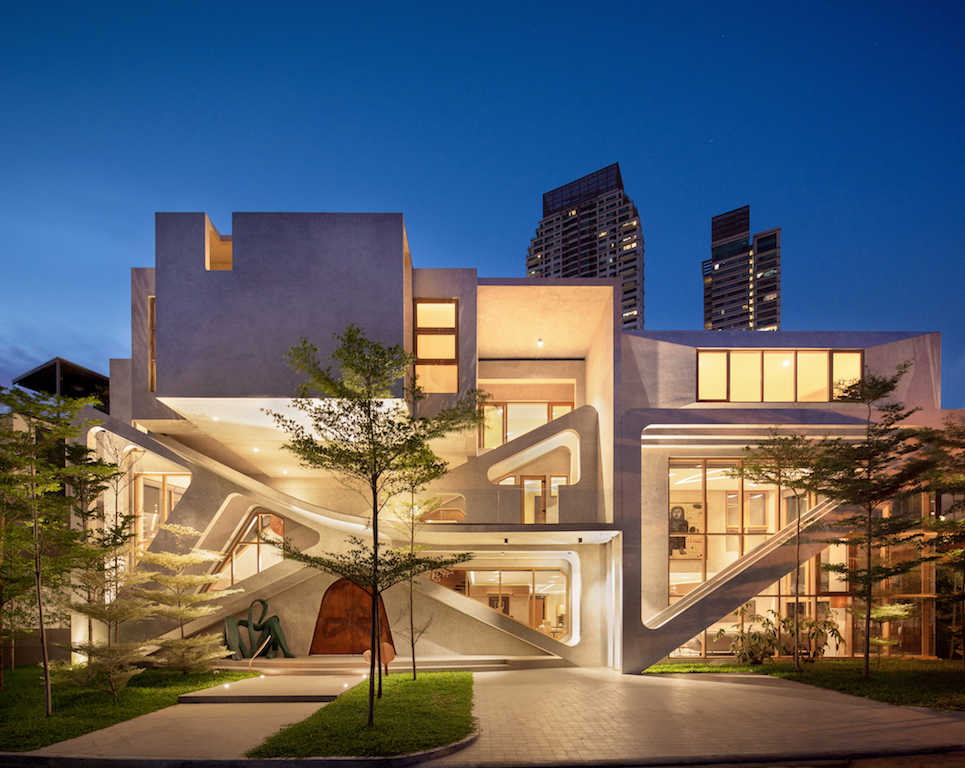 Get more stories like this by subscribing to our weekly newsletter here.
Read more:
Meet the Filipino architect reimagining domestic space in Hong Kong
A look into the Instagrammable home of Sunnies creative director Martine Ho
Architect couple in La Union turned a container van into a retro, functional abode
Writer: CHRISTIAN SAN JOSE
PHOTOS COURTESY OF CARLO CALMA PROPERTIES