Unli ice cream and P50 fries: Check out these food deals from July 13 to 19
You have our permission to go nuts
Jul 12, 2019
If you're a follower of obscure holidays (check out this Facebook page for a daily unique holiday reminder), you might know that the next few days will see quite a bit of food-related commemorations. In honor of this, we've compiled a list of food deals from Jul. 13 to 19.
Potato Corner
For National Fries Day on Jul. 13, Potato Corner is offering their jumbo fries for P50 in all of their branches. The P35 discount is available for all flavors except for their special truffle fries and the specialty flavors at the Potato Corner Lab in Glorietta.
Papa Diddi's
168 Maginhawa, cor Mapagkumbaba, Diliman, Quezon City
The unusual ice cream shop in Maginhawa (Read: Soy sauce, bibingka, and other unusual ice cream flavors will be your new favorite) is offering a "scoop all you can" promo on National Ice Cream Day, Jul. 15.
Tittos Latin BBQ & Brew
6 E Capitol Dr, Pasig
On Jul. 16 from 11 a.m. to 11 p.m., the Latin American joint Tittos is bringing back their Taco Tuesday deal. Customers can buy all their street tacos for P99 only.
Pancake House 
Pancake House is celebrating their 45th anniversary by bringing out a "Weekday Classics " promo from Jul. 15 to 19. For that entire week, the restaurant chain will be featuring one of their classic meals a day for only P145. On Monday, the set meal will be the House Special Set A which features their house spaghetti, pan-fried chicken, and tacos. Here's the schedule for the rest of the week: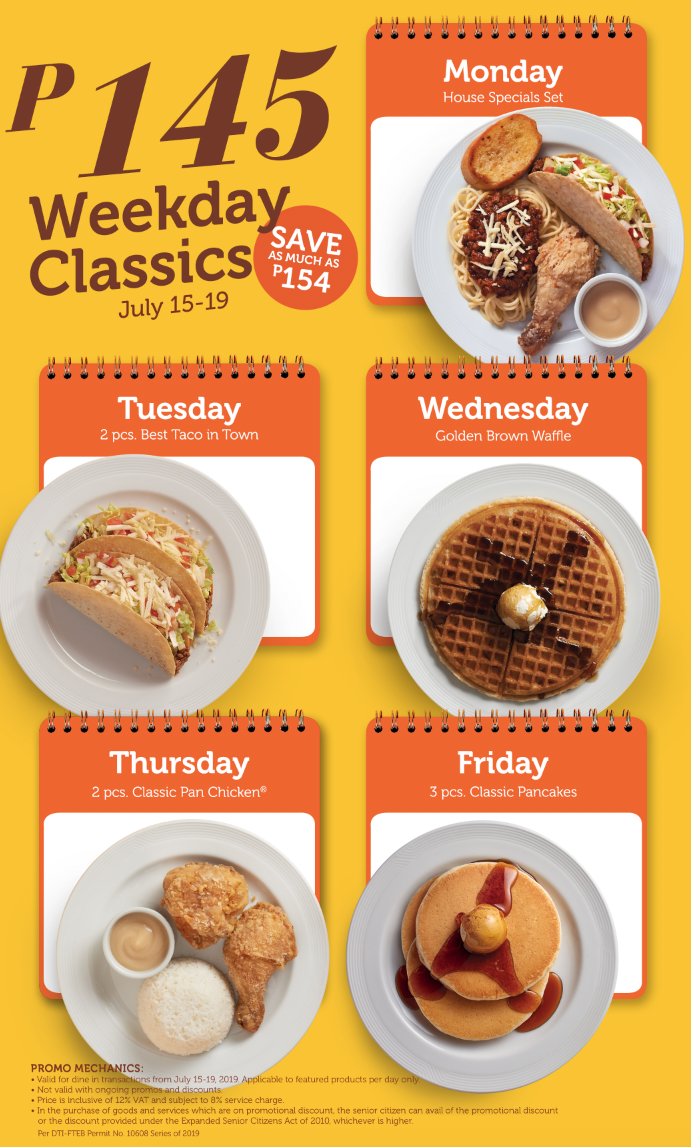 Featured photo courtesy of Brooke Lark on Unsplash
Get more stories like this by subscribing to our newsletter here.
Read more:
Five easy-to-do non-dairy ice cream for the weak
4 bars for a unique All Night experience
A rundown of the best happy hour deals in Pasig
Read more:
Khao Khai Thai doesn't believe in westernized Thai food
Ibarra's new limited edition watch is inspired by Jose Rizal's own timepiece
Homophobes, stay away from Marikina
TAGS: nolisoli.ph pancake house Papa Diddi's potato corner Tittos Latin BBQ & Brew