Shop vintage clothes, furniture, samples, and more at these sales happening this weekend
Shopping isn't necessarily a bad thing; especially when you're keeping it local and supporting a circular economy
Jul 19, 2019
I usually despise the mid-year. It's when I most slack around owing to the gloomy weather—I'd rather be sleeping than going out these days. But there's one thing I certainly love about this period: the sales.
I remember as a child I would save up all my allowance from January and pretty much the whole of summer to buy the shoes I've been eyeing since the year before at a discount. That's sort of my retail routine even until now. It's the only thing that gets me out of the bed even if it's raining.
Despite the changing retail landscape, and the sudden awareness towards sustainability, buying less but quality clothes, the sale season persists. And I have to admit, sales are my only exception next to buying designer and custom-made and swearing by vintage stores. Because really, rather than have these brands burn down these unsold garments, won't you rather use them until you can't?
Here are four sale events these weekend that we're eyeing and will definitely make time for not just because they're local but also because they're in my exception list. 😉
For vintage furniture, clothes, and art
OKYO: Casa Canlas One-Day Sale – Jul. 20, Saturday
I'm a sucker for anything vintage. A prior history adds to the character of things, whether it's clothes, furniture, or art. This weekend, Casa Canlas in Valley Golf Antipolo is having a sort of garage sale with music and cocktails. Since it's a little off the beaten Antipolo track, I suggest you use Waze and key in Parkridge Estate Clubhouse.
For preloved stuff, vintage samples, stocks, and more
Really Really Really Free Market – Jul. 21, Sunday
In case, you don't know this by know, creative space Pineapple Lab has been organizing these free markets together with Fashion Revolution, where you could literally take anything you want from a bunch of preloved stuff. This weekend, they're taking it to the north in Quezon City at the Racket Room Collective in Cubao.
Eairth Pop-up at Pineapple Lab – Jul. 20, Saturday
View this post on Instagram
This pop-up is the closest you can get to an ukay with vintage samples, stocks, and more surprises from local clothing brand Eairth. It will be taking place at Pineapple Lab. Perfect for those who missed their first vintage sale at the Futurist in Poblacion.
For something designer at a discount
Joseph Mid-year Sample Sale – Jul. 20, Saturday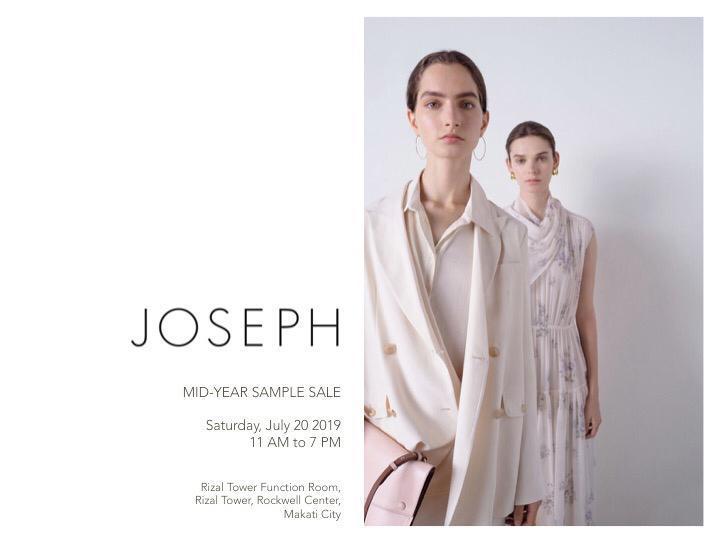 One of the keys to maintaining a good wardrobe without splurging too much (apart from taking advantage of sales) is choosing good, minimalist staples—and that's exactly what designer brand Joseph is about. Luckily for you, they're having their mid-year sale at Rockwell Center this weekend.
For something a little exclusive
Assembly VIP Shopping Event – Jul. 19 to 21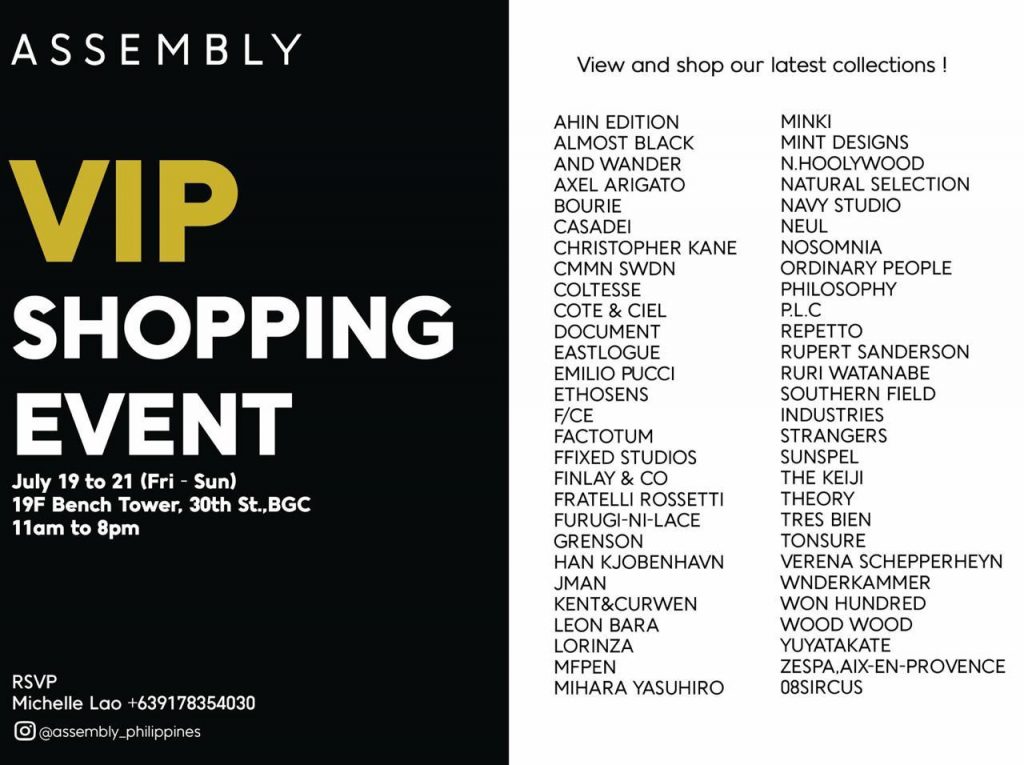 You didn't hear it from us but multi-label store Assembly is having a VIP shopping event this weekend featuring the latest collections from brands such as Theory, Tres Bien, Christopher Kane, and 50 other designers. It's happening starting today at the Bench Tower in BGC.
Header photo courtesy of Cyle Tobias from Pineapple Lab
Get more stories like this by subscribing to our weekly newsletter here.
Read more:
4 shops where you can buy upcycled clothes
A vintage shop in Poblacion with museum-quality Pitoy Moreno and Ramon Valera
Why you shouldn't be ashamed of using second-hand items, VP's daughter or not
TAGS: assembly casa canlas eairth joseph pineapple lab sales