5 waste-free places to shop for your home essentials
A sustainable lifestyle is just within your reach with these refilling stations
Aug 13, 2019
With each passing day, a sustainable lifestyle becomes more accessible to people from all walks of life. There is a growing number of eco-friendly spaces cropping up across the metro, and refilling stations for all kinds of products are setting up shop in different malls and stores alike.
To show that it is possible to kick start a sustainable lifestyle without breaking the bank, we've wrapped up five refilling stations for all of your everyday needs. From pantry essentials to home and skin care, you never have to worry about leaving waste ever again.
The Naturale Market
Burgos Circle, Forbestown Road, Taguig City
0917-8109829
www.facebook.com/thenaturalemarketph
The Naturale Market is a collection of sustainable goods sourced from all over the country, aimed at waste reduction and promoting ethical consumption. The store, which recently opened in BGC, is bringing in a wide array of skin care and clothing from brands all over the country. The Naturale Market also boasts a home refilling section, which contains a selection of pantry essentials, sustainable soaps, and more.
Roots Katipunan
Unit 106, FBR Building, Katipunan Ave., Quezon City
0917-8013907 / 0925-8432569
www.facebook.com/RootsKatipunan
Roots Katipunan is a versatile space that offers a wide range of products from homegrown businesses, which utilize sustainable and environmentally-friendly practices. In line with this, the entrepreneurial hub launched a dry pantry goods refill station in January, which offers a wide range of coffee beans, nuts, and various superfoods for various lifestyles. In partnership with Outcome Zero PH, the space also offers a zero-waste toothpaste refilling station.
Happy Earth Store
Lane 101, Masterson Ave., Cagayan de Oro
www.facebook.com/HappyEarthStore
Nestled in Masterson Avenue, Happy Earth Store prides itself on being Mindanao's first zero-waste grocery store. The store offers a wide array of sustainable products package-free, and shoppers are encouraged to bring their own containers or rent out some of the shop's own containers. As a way to promote a zero-waste lifestyle, Happy Earth Store offers refill stations for vegetable oils, spices, and various cleaning supplies.
Ritual
Languages Internationale Building, 926 Arnaiz Ave., Makati City
734-5486
www.ritual.ph
Founded in 2010, Ritual continues to forward an eco-friendly lifestyle by making Filipino products that are organic, eco-friendly, and sustainable. The store also sells a wide array of home care products, which are repackaged into repurposed gin bottles. Ritual also sources kitchen essentials such as sea salt, cacao, varieties of coffee, sugar, rice, and produce from small-scale farmers that are ordinarily not sold elsewhere. 
Humble Market
YDG Coffee, Mandala Park, Shaw Blvd., Mandaluyong City
506-1464
www.humblemarket.ph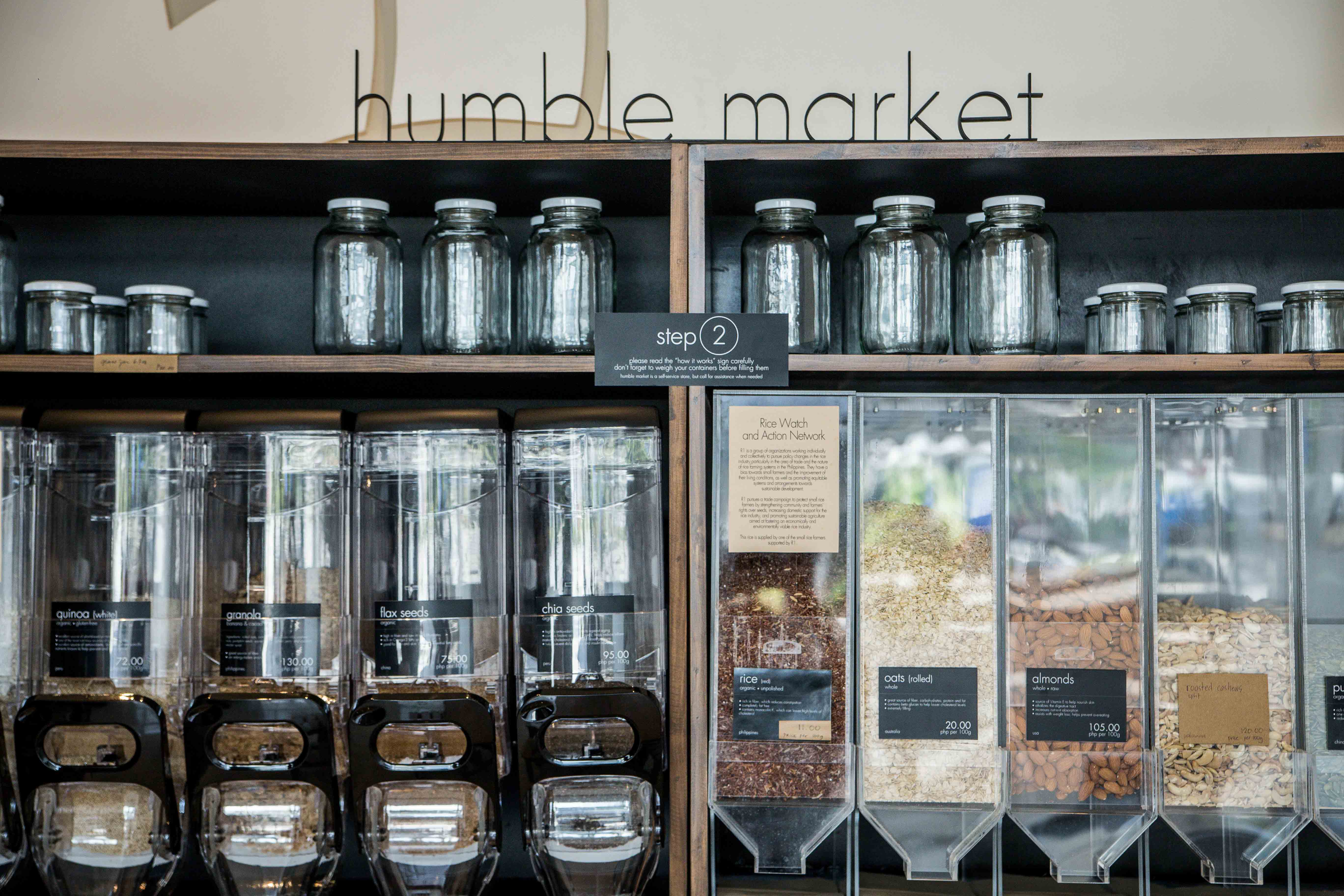 Humble Market is a modest space that aims to solve two of the country's emerging problems: the volume of single use consumer waste and the various health issues that affect young and old people alike. The store prides itself in forwarding a zero-waste shopping experience by allowing shoppers to bring their own containers and take what they need, while supporting the local artisans where their products are sourced from.
Header photo courtesy of Danica Condez
Get more stories like this by subscribing to our newsletter here.
Read more:
Why do cosmetic brands find it difficult to set up refilling stations?
LOOK: Human Nature launches refilling station
How can supermarkets practice sustainability?
LOOK: Zero-waste sari-sari stores in Negros that have refilling stations
TAGS: Happy Earth Store humble market refill stations ritual roots katipunan sustainable living The Naturale Market zero-waste